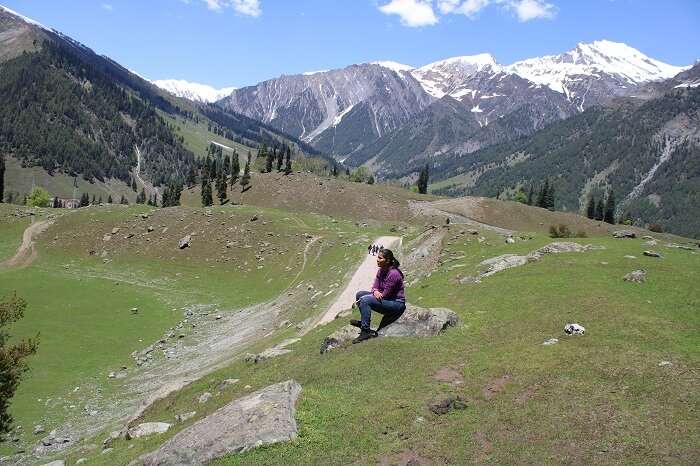 I am very excited to share my experience with all of you. In the first place, I took up this trip because I was quite keen to go on a solo trip and I chose Kashmir as my destination above all those beautiful cities of Europe because I always felt Kashmir was no less in beauty and experience. I also wanted to explore and showcase how safe it was for a woman to go on a solo trip to Kashmir. My experience was amazing with the people out there and the place is truly heavenly! 
Table Of Content
Package Details Of My Solo Trip To Kashmir
Trip Type: Kashmir
Cost: INR 21,600
Duration: 6 days, 5 nights
No. of people: 1 Adult
Inclusions: Breakfast, Dinner, Hotel, Transfers, Sightseeing, 1-Hour Shikara Ride
Exclusions: Airfare, Lunch, Entry Fees, Laundry, Guide Charges, Personal Expenses, Gulmarg Gondola Ride
Itinerary Of My Solo Trip To Kashmir
Day 1: Arrive Srinagar, City Tour
Day 2: Visit Gulmarg
Day 3: Visit Sonmarg
Day 4: Visit Doodhpathri
Day 5: Visit Pahalgam
Day 6: Daprture From Srinagar
5 Places To Visit On A Solo Trip To Kashmir
Here are some of the wonderful places I explored on my solo trip to Kashmir:
1. Srinagar: The Land Of Speechless Beauty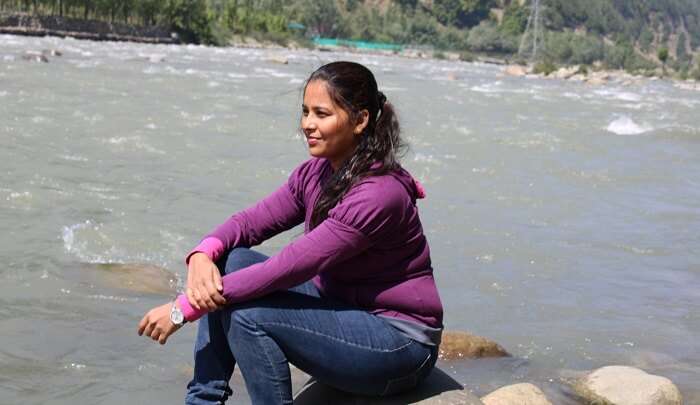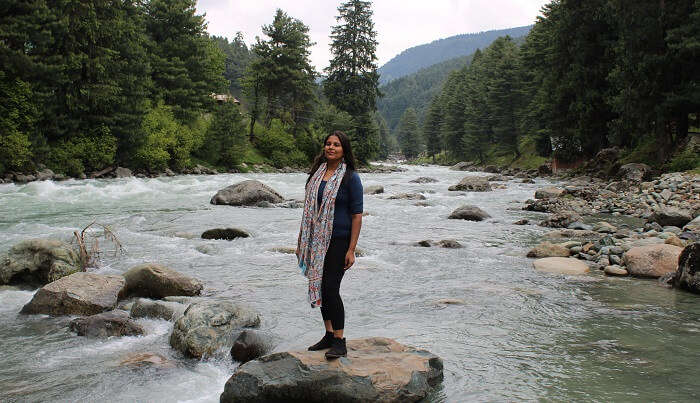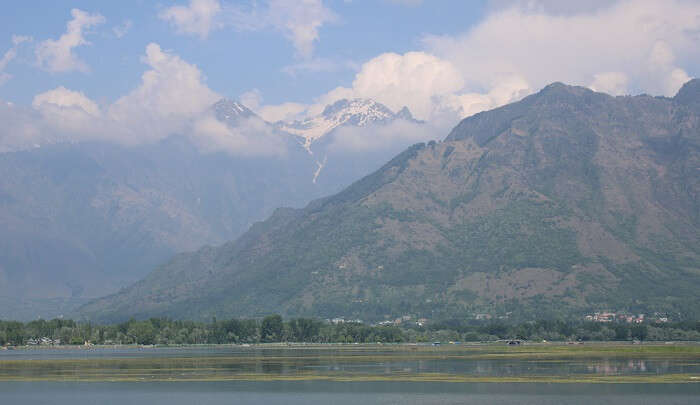 On the first day of my solo trip to Kashmir, I went out to explore the city of Srinagar. The sightseeing tour took me to the iconic and gorgeous mughal gardens. I visited the famous Shalimar Bagh, Nishat Bagh, Botanical Gardens, Parimahal, Cheshmashahi, and Hazratbal. I was amazed to see the Asia's biggest Tulip gardens in Srinagar. Situated on the banks of the Dal Lake, all these gardens look absolutely spellbinding with vibrant colours, floral fragrance and the mesmerising Zabarwan hills forming the backdrop.
Tulip Festival In Kashmir 2022: A Handy Guide To Welcome Spring At Asia's Largest Garden!
2. Gulmarg: True Heaven On Earth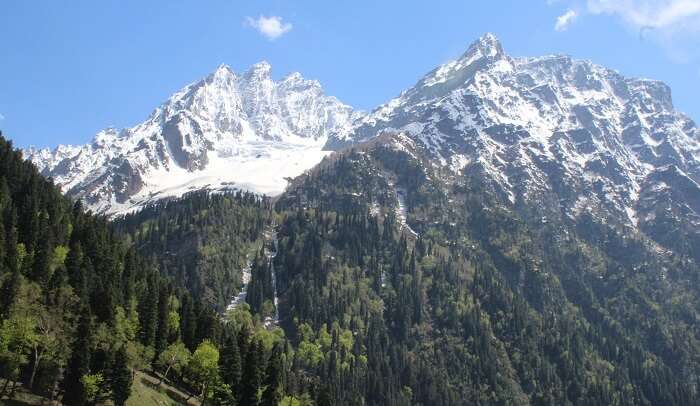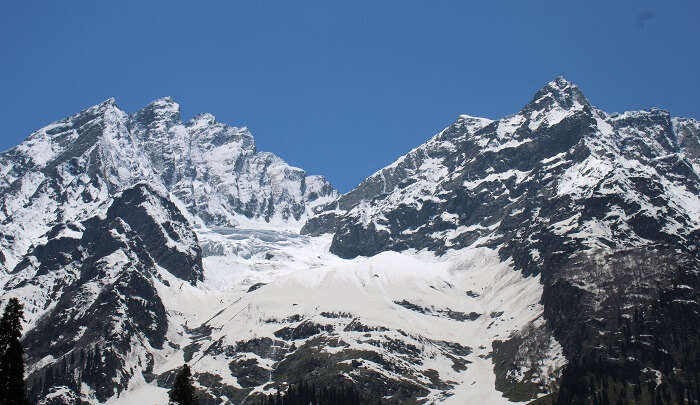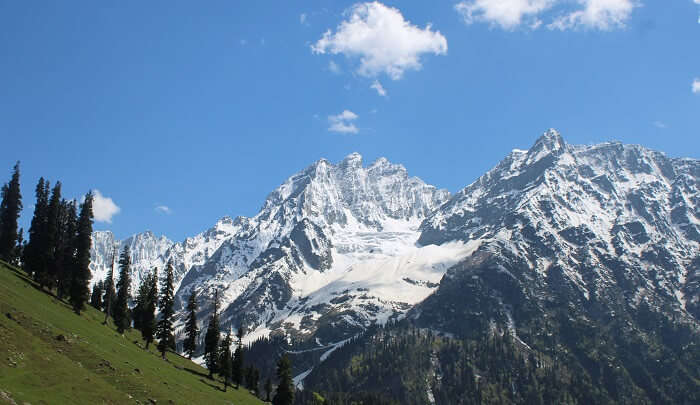 Gulmarg which translates to 'Meadow of flowers' was indeed one of the most charming places to visit in Kashmir. Located at an altitude of 2730-meters above sea level, this is a paradise for skiing enthusiasts. The weather was pleasant and the view was stunning. If you ever visit Gulmarg on your solo travel in kashmir valley, like me, make sure you visit the popular 18-hole Golf Course and experience a Cable car ride. You would also be breath taken by the view of Nanga Parbat that dominates the skyline of this region with height of 26,000 feet.
Their Trip To Kashmir In January 2022 Tells Why You Must Not Miss Snowfall In This Paradise
3. Sonmarg: A Place With Alluring Vistas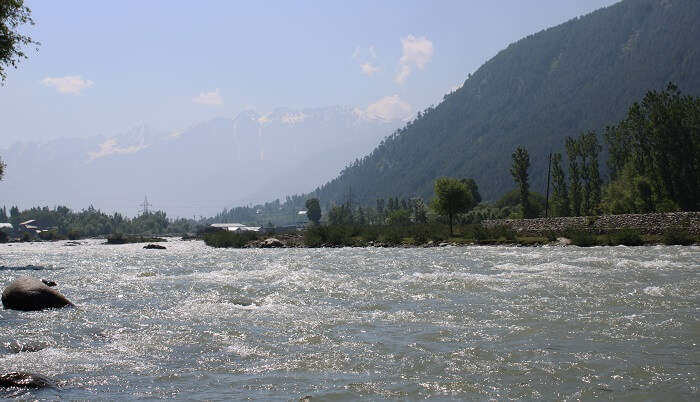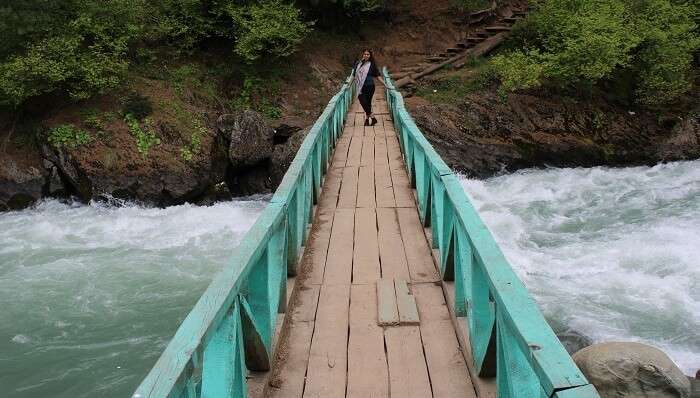 Sonmarg in Kashmir is yet another gem among the exotic destinations in this heaven on Earth. My excursion to Sonmarg gave me an opportunity to witness some of the most breathtaking sights on my single woman trip to Kashmir. This 'Golden Meadow' is located in the Sindh Valley with landscapes featuring beautiful mountain fauna and enchanting mountains. The best way to explore Sonmarg is through the natural trails. This is also the starting point for various exciting treks to some a few Himalayan lakes located on the higher altitudes. One can also take a horse riding journey up to Thajiwas glacier and enjoy sledding on snow.
Visited Kashmir In September Yet? This Pocket Guide 2022 Will Tell You All About It
4. Doodhpathri: A Valley With Unmatched Beauty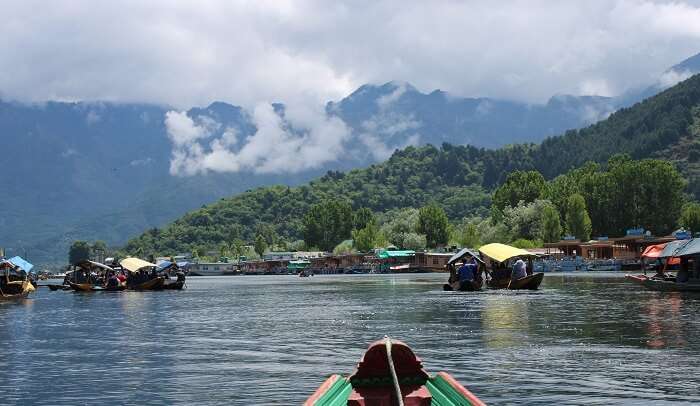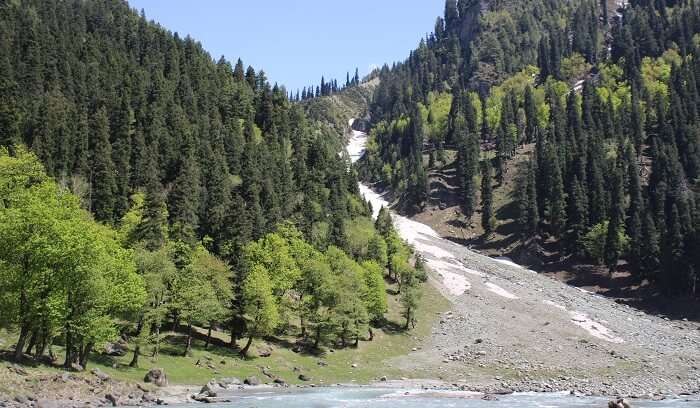 Doodhpathri also known as the 'Valley of Milk' is a mesmerizing hill station in Kashmir. Located at an altitude of 8,957 feet above sea level, it falls in Budgam district. I instantly fell in love with its wide green meadows and pine trees covering the hills. This is one of the best places to relax and refresh your mind, espcially while solo traveling to Kashmir.
6 Haunted Places In Kashmir That You Should Not Visit Even In The Daylight
5. Pahalgam: A Place To Die For!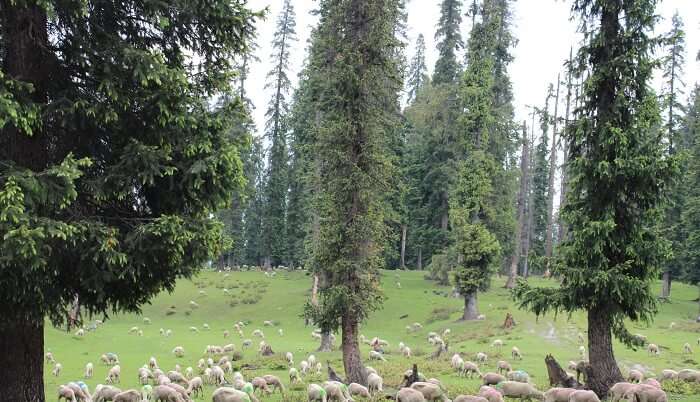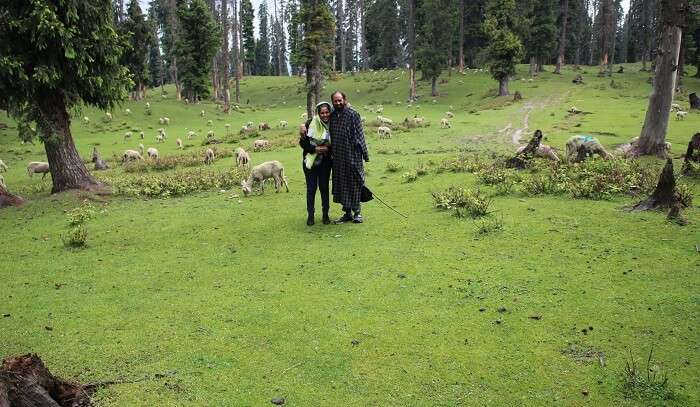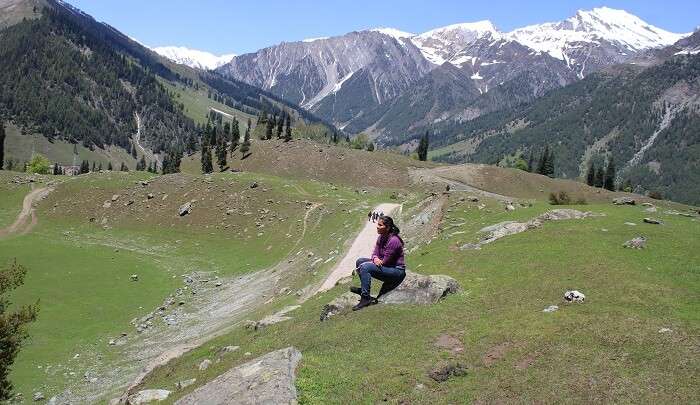 I was too excited to visit the 'Valley of Shepherds', Pahalgam. There are a plethora of things to do in Pahalgam. I visited the exotic saffron fields in the historic town of Pampore. Another highlight of this visit was the Awantipura Ruins that dated back to 1100 years. There is an old temple built by the King Awantivarman, dedicated to the Hindu Lord Vishnu. I also got a chance to explore the rustic countryside. With so much beauty surrounding me, I was very satisfied with my 6 days in Kashmir in May.
Kashmir Food: These Scrumptious 20 Dishes Will Introduce You To Zaika-e-Kashmir In 2022!
Our Hotels In Kashmir
I stayed at Dal Lake and in Srinagar on my solo trip to Kashmir. The location of the hotel was apt and safe. The rooms were hygienic and well maintained. The hospitality of the hotel was appreciable in terms of hoteliers and the chauffeur. I have to talk about my chauffeur (Manzoor Bhai) who was so protective of me everywhere and every time. He was just a phone call away if I wanted something.
Kashmir Food: These Scrumptious 20 Dishes Will Introduce You To Zaika-e-Kashmir In 2022!
Kashmir Weather In May
As I visited in May, the weather was very cool and sometimes a little sunny. But still, it was a nice time to visit for my solo trip to Kashmir.
10 Festivals In Jammu And Kashmir: A Peek Into The Rich Kashmiri Culture (2022)
You can also take a solo trip to Kashmir, like Shruthi, anytime! It is all about your journey. If you have been waiting to experience something like this, plan a trip to Kashmir right away. Explore yourself along with exploring the places in Kashmir.
My Answers To The Frequently Asked Questions About Solo Trip To Kashmir
Which is the most beautiful place in Kashmir?
I would suggest that instead of going to all the places where most of the tourists visit, explore the far side villages of Kashmir, which are more beautiful. Some of the most beautiful places of Kashmir include:
Srinagar
Pahalgam
Gulmarg
Leh
Nubra Valley
What can I buy in Kashmir?
Some of the products that you can buy from Kashmir include:
Woolen clothes
Carpets
Silver jewelry
Dry fruits
Woodcarved products
What is the famous food of Kashmir?
I visited those restaurants which serve local Kashmiri food, as I wanted to experience and explore as much as I can and know more about the place. Prices were reasonable and the quantity was more than sufficient. Food tasted extremely good. Kashmiri Kewah is necessary to try for that weather and keeps you warm. Kashmiri Wazwan is something different and tasty to try in local restaurants on your Kashmir trip. Some of the famous Kashmir food, include:
Rogan Josh
Dum Aloo
Modur Pulao
Yakhni Lamb Curry
Kashmiri Muji Gaad
Is it safe to travel to Kashmir for solo women travelers?
People of Kashmir were good everywhere, especially when it comes to women – safety is in place. However, make sure you still do not take everything for granted and go out late at night. I did not feel anything different, as the environment was so homely.
People Also Read:
Haunted Places In Kashmir Kashmir In September Restaurants In Kashmir
Comments
comments