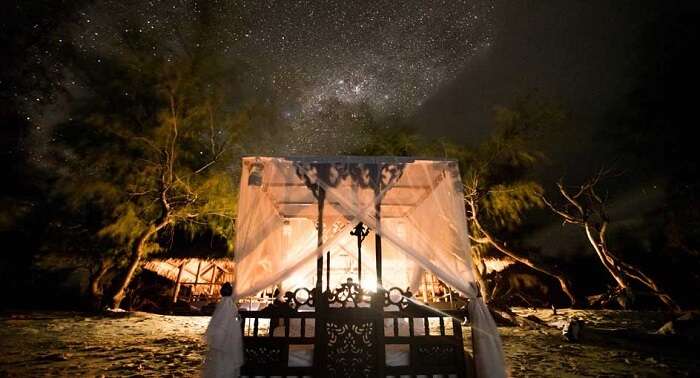 If you have ever wanted to run away with your lover to a secluded island, the Star Bed experience on Medjumbe Island awaits you.
Staying in a hotel room or a luxury resort is too passe! Eloping to the Medjumbe Island Mozambique where an ultra-luxurious experience awaits for the lovebirds is the new trend.
Star Bed Experience is a new theme launched by the Anantara Medjumbe Island Resort where they take their guests on a Robinson Crusoe styled adventure on the remote Quissanga Island which is equipped with opulent luxuries and romantic experiences.
The main attraction of the whole experience on Medjumbe Private Island is a luxurious four-poster bed underneath the open sky and dressed in the finest linen where you can spoon and snooze with your lover.

But that's not all!
Start your luxurious adventure on the island with a 15-minute ride to Quissanga Island on a traditional dhow boat. If you are lucky, you will also get to see humpback whales, turtles, and dolphins.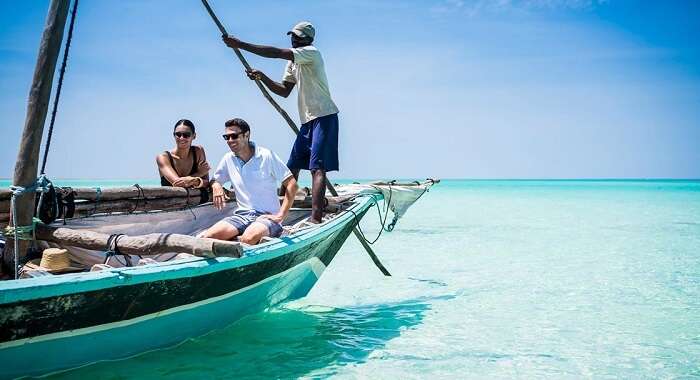 Be your own guest at Quissanga Island where you can soak your feet wet in the sea, or take a romantic stroll on the beach. Enjoy a gourmet picnic spread filled with Mediterranean salads, seafood kebabs, and chocolate brownies accompanied by the endless ocean views.
With an additional cost, you can also hire a professional chef on the island who will pamper you with flame-grilled meats and exotic seafood.
Each and every experience on the island is made to savor romantic moments with your lover on the island. The new Star Bed Experience On Medjumbe Island seems like a lovely affair to have some private moments with your significant other.
If this seems too much for your taste, check out these other international destinations to plan your honeymoon or a romantic getaway suiting to the kind of experience and the budget you want.