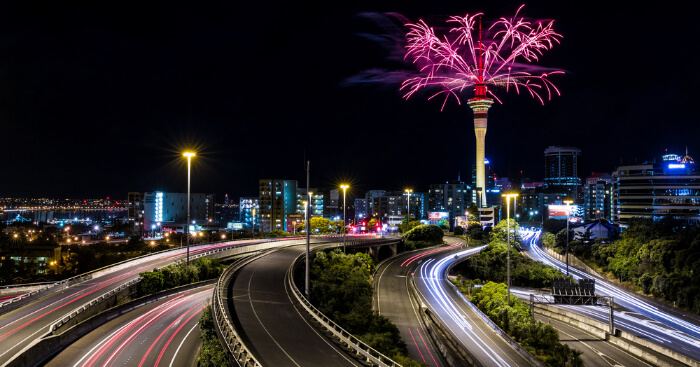 In the South West of Pacific Ocean is this stunningly beautiful country called New Zealand. You must have heard of the happening festivals in New Zealand organised in different parts of its two mainlands – North and South Islands. New Zealand is a treat to the eyes with diverse scenic beauty having mountains, wide green pastures, lakes, rivers, beaches and even volcanic zones.
Just like its name, indicating a "new zeal" or new excitement, the country's spirit is reflected in its hundreds of festivals celebrated throughout the year. These festivals are usually a celebration of New Zealand's culture and its openness to other cultures. An amalgamation of great music, crazy food & beverage, vivid forms of performing arts and activities setup amidst breathtaking scenic beauty.
Be smart! Plan your holiday around these 10 high-energy festivals in New Zealand
New Zealand's incredible scenic beauty plays host to some of the amazing music, food, cultural and vintage festivals throughout the year. Below are 10 most happening festivals in New Zealand to add to your bucket list.
1. Rhythm & Alps (music)
Are you crazy about mountains and music? Rhythm & Alps fest is kind of festival you can roadtrip to. It is one of a kind camping festival that brings together world-class bands, DJ's and festival-goers to witness the new year's eve together. The camping facilities includes hot showers, food village, chill zone, swimming hole, phone charging and much more. Come to Rhythm & Alps fest to be rewarded with one of the most unique music and festival experiences on the planet.
Major Attractions: Matt Corby, The Cat Empire
When: 29 – 31 December, 2018
Where: Robrosa Station, Wanaka, South Island
Entry Fee: INR 5000 – 34000
2. WOMAD(music)
Image Source
WOMAD – World of Music, Arts and Dance is an internationally established festival that celebrates the world's many forms of music, arts and dance. The festival's central aim is to excite, inform, and create awareness of the worth and potential of a multicultural society. An interesting twist you would see during this festival is 'Nova Energy Taste The World' where artists swap instruments and microphones for cooking utensils and unusual ingredients.
Major Attractions: Artists CD signing sessions, global village, living library
When: 15 – 17 March, 2019
Where: TSB Bowl of Brookland, New Plymouth
Entry Fee: INR 15000 – 18000
Must Read: New Zealand In Winter: Know How To End The Year On A Perfect Note With This Guide!
3. Rhythm and Vines (music)
Gisborne is the first city in the world to see the the New Year, as it is on New Zealand's East Cape. A 3 day long international music festival, Rhythm and Vines, is the first festival in the world to welcome in the first sunrise of the new year.
Major Attractions: Previously featured artists like SET MO, Soaked Oats, Jack Berry, Netsky, Wilkinson
When: 28 – 31 December, 2018
Where: Waiohika Estate, Gisborne
Entry Fee: INR 20500 – 34000
4. Homegrown(music)
Jim Beam Homegrown is probably New Zealand's one of the longest running and popular music festivals with 5 stages and about 50 bands rocking the stages each year. This is the ultimate festival to check local Kiwi music in New Zealand's happening capital, Wellington.
When: 23 March, 2019
Where: Wellington Waterfront, NZ
Entry Fee: INR 5500 – 9600 (excluding booking charges)
Suggested Read: Places To Visit On A 10 Day Honeymoon Trip To New Zealand
5. Marlborough Wine Festival (Food)
Some say that 'Wine is a bottled poetry'. If that's true for you then the Marlborough Wine & Food Festival is your must – attend event. This is New Zealand's original and longest running wine festival, held in its largest wine-making region. Enjoy the opportunity to sample a unique selection of world-class wines, delicious local cuisine along with some music. All in one of Marlborough's oldest and most picturesque vineyards – Brancott Vineyard where 40 local wineries get together for a huge party.
When: 9 Ferbruary, 2019
Where: Brancott Vineyard, Marlborough
Entry Fee: INR 4000
6. Hokitika Wildfoods Festival
If you are the kind who who can go to any extent to have the real experience of different cultures then Hokitika Wildfoods festival is of your interest. This is celebration of all things wild from the West Coast. The festival brings in usual wild treats with other exciting gourmet options on the menu, with the aim to expose your palate to something new. Some of the mouthwatering dishes include marinated tuna, whitebait patties, gourmet sausages, smoked salmon, an assortment of game meats, a traditional Maori hangi and various international cuisines. The festival also includes a Feral Fashion Competition, After Party and music performances by various famous artists on the Mainstage.
Major Attractions: Sons of Zion, My Baby, The Slacks, The River Jesters, Dee May And The Saints and New Zealand Army Band.
When: 9 – 10 March, 2019
Where: Weld Lane, Hokitika Beach Front
Entry Fee: INR 3000
Suggested Read: New Zealand In December Is Too Much Fun. Pick Your Reasons And Plan A Trip Now!
7.Wellington on a Plate (Food)
Wellington on a Plate (WOAP) is an epic food festival which is not limited to just one place or one day. It's a region wide culinary takeover. Wellington's restaurants, venues, laneways and even car parks become hosts to this wild celebration of food and beverage. Burgers are a popular food choice in Wellington. The festival has exclusive set menus with experimental burgers, creative cocktails, variety of Garage Project wines, over 100 exciting events and pop ups.
Major Attractions: hands-on masterclasses, free food-themed 'grammable' exhibitions, international chef collaborations, multi-course preparations
When: 10 – 26 August 2018
Where: Wellington (various venues)
Entry Fee: No tickets needed
8. Marchfest (Beer)
MarchFest is a unique craft beer and music festival set in a beautiful environment. Unlike other beer festivals, all the beer that is brought in Marchfest are exclusively made for the fest and have never been tasted before. Top North and South brew10 Cool Festivals in New Zealand To Make Your Tour A Celebrationeries participate in the event and over 20 brand new beers are introduced in the event. The festival features a strong music line up.
Major Attractions: Kids Zone and the Brew Zone
When: 9 March, 2019
Where: Founders Heritage Park, Nelson-Tasman
Entry Fee: INR 3000
Suggested Read: #HoneymoonGoals: Those Confused About Their Honeymoon Destination MUST READ This Now!
9. Victorian Fete (Vintage)
New Zealand has a history of being a British colony. Though its regions are "coming out" to the world, there are occasions when they look back and remember the gone days. The Victorian Fete is one such occasion during which they take a step back in time and sample the nostalgia of the Victorian era right in the heart of the Oamaru's Victorian Precinct. The festival-goers show up in vintage – style victorian full-dresses during the procession. You can try your hand on riding a Penny Farthing. Have a leisure time enjoying amazing food, wine, beer and world class whisky. You can also shop for traditional and antique craft pieces.
Major Attractions: Activities: Book Binding, mask making, Morris Dancing displays – a parade
When: 18 November, 2018
Where: Oamaru's Victorian Precinct, Oamaru
Entry Fee: INR 700
10. World Buskers Festival (Free)
The Bread & Circus – World Buskers Festival is one of a kind event that brings up world famous busking pitches to world – class programme of local, national and international acts. A large number of street performers, comedians, fringe artists, musicians and visual artists from NZ and abroad come together in this entertainment festival. The World Buskers Festival is organised in various parts of NZ and world.
When: 10 January – 3 February, 2019
Where: Otautahi Christchurch
Suggested Read: New Zealand In Pictures: Capturing The Breathtaking Beauty Of Kiwiland
There's a saying, "If you want to buy a slice of heaven, you need to make New Zealand your home." You will agree! Just google the place on your smartphone right now, and find yourself falling in love with New Zealand right then. This destination has the potential to satisfy the wanderlust in you. New Zealand is calling to celebrate life, where are you?
Further Read: 10 Fun Things To Do In New Zealand
Comments
comments