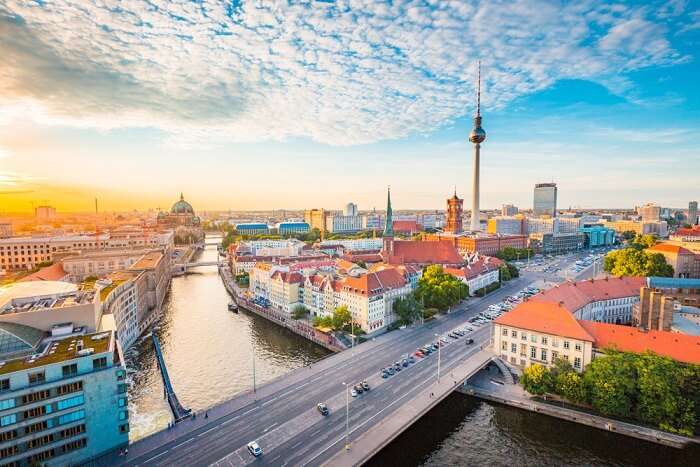 Something that really makes summer in Berlin different from the other places in Germany is that you have something or the other to do. Berlin is a busy city and it offers a lot of different options to both locals and tourists.
When in other cities, you have a cinema, sushi or maybe a place to eat or so, Berlin has a whole lot of other options. In fact, there are so many choices that you may often find it quite difficult figuring out what to do. There is no need to be confused now as here is a handy guide containing some of the things you should do when you are in Berlin during the summer.
Summer In Berlin: 10 Best Places To Visit
While you're out and about in the scenic land of Berlin, make sure you try all the best experience the city offers and visit all the gorgeous places in this German land!
1. Turkish Market

Located in Neukölln, the Turkish Market stays open on Tuesdays and Fridays only. The market is filled with rows of fresh fruits and vegetables at dirt cheap prices. There are also freshly made snacks, handmade fabrics, and clothing accessories. The place offers a glimpse into the Turkish culture. The atmosphere is really unique and is something you will not find elsewhere. If you are going to the market, try to visit in the evenings. That is when the price gets really low.
Must Read: Berlin Street Food: For A Tour Down The City's Most Exquisite Cuisines To Pamper Yourself
2. Museums

Whether you are family or friends, Museums are the best places in Berlin to spend time at. You can have an entertaining evening visiting the museums and learning different things. A walk around Museumsinsel near Alexanderplatz can be quite romantic. If you are planning to visit museums, you can get your tickets online to avoid long queues. Don't forget to visit the famous ones!
3. Viktoriapark Kreuzberg

Despite being a city, there is no shortage of green spaces in Berlin. Viktoriapark Kreuzberg is one of the more popular parks in Berlin. It has a small hill which you can climb to see the entire city of Berlin. The view can be breathtaking. During summer, you may have the trees obstructing your view. However, right before spring, the view can be quite amazing. The park also has a beer garden. Located close by are a ton of cafes and restaurants. It is the perfect place for a day trip.
Suggested Read: 6 Places To Go Shopping In Berlin To Enjoy Retail Therapy
4. Boating

One of the best things about Berlin is being able to rent a boat without having a license. All you need to do is pay a deposit and get your life-jacket. Once you are done, you can take your boat to the Spree river and hang out with your friends and family. When you are boating, you will also come across some famous landmarks, such as the statue of the Molecular man and the Fernsehturm. You can also take the boat for a short trip to Neu Venedig.
5. Swimming

Even though Berlin is not chaotic or dirty, it can be sometimes relieving to get out of the city. Summer months in Berlin can be a little crowded. So, you can just escape by taking a train and visit one of the many lakes that are around the city. Wannsee is the most popular lake. Moreover, you can also visit Müggelsee, Grunewald or Krumme Lanke. The latter two are quieter, and it ideal for summer camps in Berlin. It's also great for those who love walking and hiking through forests. Teufelsberg is also another place for nature lovers. When you visit a lake in Berlin, you need to comfortable with nudity as a lot of locals swim, play water sports, or chill by the lake naked.
Suggested Read: 10 Castles In Berlin That Will Captivate You By Their Charm And Grandeur!
6. Aerial View

If you love the city more than the greenery in the forest, then Berlin surely has a lot for you. There are a lot of small trips inside the city that you can make even with a very restrictive budget and still get amazing views of the city. For instance, less than twenty euros can get you to the top of the Park Inn hotel and you can see the city and the horizon from the top. The Fernsehturm will be right in front of you.
7. Beer

A trip to Germany cannot be complete without drinking a pint of beer. Berlin offers you thousands of variants of beers. There is a brewery in the city, called Brauhaus Lemke, where you can explore different samples. Moreover, the place also has a comprehensive menu that serves Eisbein or pork, Schwäbische Käsespätzle, which is a type of pasta, Flammkuchen, a type of pizza with a crispy base and with a top of sausages, and Apfelstrudel. If you really want to get to know traditional German food, then you should visit this place.
Suggested Read: 10 Castles In Berlin That Will Captivate You By Their Charm And Grandeur!
8. Mauerpark Flea Market

Flea markets are like summer festivals in Berlin. These are set up in parks where you can find everything from homemade jams, clothes, musical instruments, antique furniture, and a whole lot more. There is also a stage for karaoke singers, or for people who perform other acts. If the flea market does not interest you, you can still visit Mauerpark for its warm and lively atmosphere.
9. Fassbender & Rausch

If you are a fan of chocolates, then go to Fassbender & Rausch. You will get to taste different chocolate based foods, such as hot or iced chocolate drinks, chocolate cakes and a whole lot more. You can even see the Fernsehturm, the giant Berliner bear and the Brandenburger Tor – all made from chocolates.
Suggested Read: 10 Best Villas In Berlin That Offer A Luxurious Stay Experience!
10. Bars And Cafés

Berlin has a lot of options when it comes to cafes and bars. However, different places have different environments. For instance, Simon-Dach-Straße has rock music playing in the background and is great for people who want to catch up with friends and family. Near Oranienstraße, you will find slightly more sophisticated places that is popular with tourists. Bars near Rosenthaler Platz are more popular with younger people. Most places in Berlin is not very posh. The city itself is quite laid back. If you are looking for something really posh, then head over to the Kurfürstendamm area.
Tips For Summer In Berlin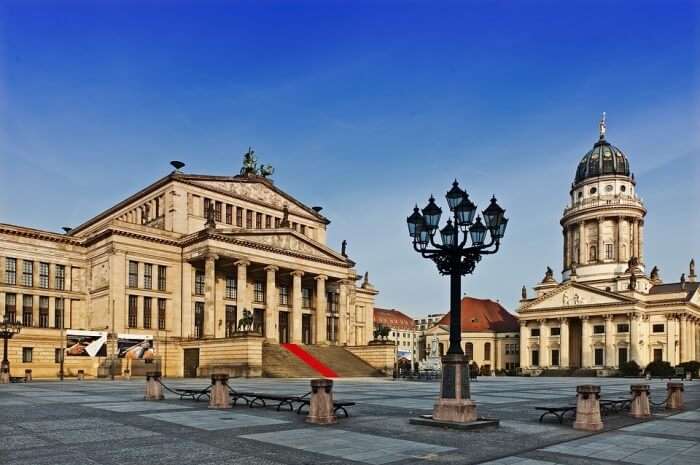 Visiting Belin in summer? Here are some tips for you:
Attend Fête de la Musique to celebrate the starting of summer. This festival starts on 21 June and you can attend many music concerts for free in this festival.
Head to the roof or to the parks and enjoy summer while basking in the sun and relishing cocktails or mocktails.
Beat the summer heat by relishing delicious ice creams at the famous spots.
Don't forget to watch a movie under the sky while trying tasting street food
Further Read: 9 Best Homestays In Berlin To Sit, Relax And Enjoy The Beauty Of The Country!
These are some of the best things to do in Berlin in the summer. The city offers a lot to be explored. Summer in Berlin is quite comfortable and can be fun. So, get going now and pack your bags! Plan your trip to Europe for a thrilling holiday experience with your loved ones and who knows, you might end up surprising them after all!
Frequently Asked Questions About Summer In Berlin
What are the best places to visit in Berlin in Summer?
Some of the best places in Berlin are Eastside Gallery, Reichstag Building, Memorial to the murdered jews of Europe, Berlin Cathedral, Museum Island, Brandenburg gate, Checkpoint Charlie, Berlin War Memorial and more.
What are the Berlin dishes that you must try?
You must try the following dishes in Berlin such as Currywurst, Spätzle, Schnitzel, Bratwurst, Bockwurst, Eisbein, Maultaschen, Königsberger Klopse, etc.
What is the best time to visit Berlin?
The most ideal time to visit Berlin is from May to September as this is the time when the weather is really pleasant.
What are the best things to try in Berlin?
You can try some of the best things being in Berlin such as participating in an art appreciation session on Museum Island, enjoying the gorgeous sunset from the top of the TV Tower Berlin, visiting the Brandenburg Gate, witness the Berliner Dom, witness East Side Gallery's paintings, and visiting the Reichstag building.
Why is Berlin so popular?
Berlin is a tourist's favourite as this one has some of the best nightlife, an intriguing history, the world famous beer and some really interesting sights to fall in love with.
What clothes to pack for a summer in Berlin?
If you are packing for your Berlin vacation then you must pack: Light rain jacket, T-shirts/Tank tops, Skirts/shorts, Long pants/Jeans, Light sweaters, Sandals, Sneakers, Bathing suit, etc
---
Looking To Book An International Holiday?
Book memorable holidays on TravelTriangle with 650+ verified travel agents for 65+ domestic and international destinations.
---