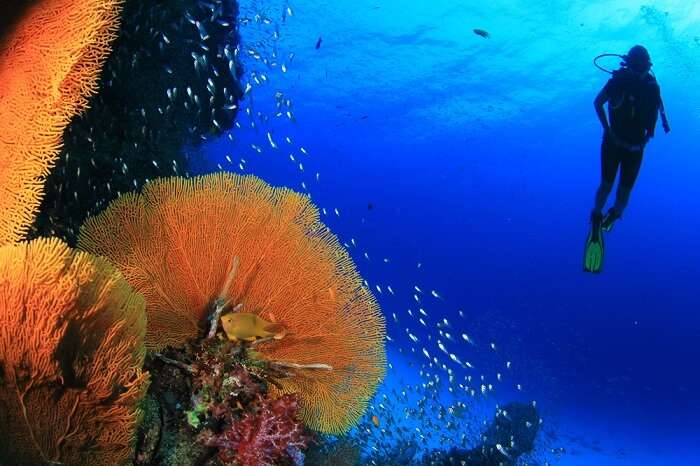 If anyone who is looking for a perfect destination to enjoy and explore marine life then it's time for them to put Swallow Reef on their bucket list. Swallow Reef (Layang-Layang Island) is an aquatic atoll of Spratly Islands supervised by Malaysia which is also known Pulau Layang-Layang in Malaysia. It is located almost 300 kilometers of northwest of Kota Kinabalu, Sabah. Swallow Reef is a world-renowned diving and fishing destination as the creation of different coral reefs has made breathtaking underwater scenery. People have named Layang-Layang Island as 'Big fish and wall diving Mecca of Southeast Asia' because diverse creature ranging from micro to macro size are found here which makes it the best destination for the scuba diver. It's easy for people to tick off Swallow reef Malaysia from their bucket list because of its inexpensiveness and comfortability which is why this place has been listed as one of the top best diving locations in the whole world.
What To Do At Swallow Reef Malaysia
This place has a lot to offer to scuba diver as almost anything can be seen in the water of Layang-Layang which includes seahorses, dolphins, turtles, and what not. Also, short-finned pilot whales have gained popularity these days. Many people get fascinated by hammerhead shark which is found in a majority of a number between April and May, making these months the best time for travel. This period of a month is a mating season for hammerheads. However, each year Layang Layang resort gets closed for a visitor from November to February due to heavy monsoon rain. This place is not only the best spot for scuba diver but also for non-diver as they can enjoy avid bird watching or snorkeling.
Must Read: 11 Indian Restaurants In Malaysia For An Excellent Gastronomic Experience
---
Malaysia Holiday Packages On TravelTriangle
Go on a trip to Malaysia. Explore it's lush green landscapes, tropical rainforests or magnificent underwater world. Book customized packages by expert agents on TravelTriangle. Inclusive of airport transfers, cab, resort, sightseeing and meals. Lowest Prices Guaranteed. Book Now
---
Facilities At Swallow Reef Malaysia
Here are the facilities available at Swallow Reef Malaysia that you can enjoy during your stay on this beautiful island:
1. The Swallow Reef Airport
Swallow Reef Airport (Layang-Layang Airport) is situated on Swallow Reef in the Spratly Islands of the South China Sea which is about 300 north of Kota Kinabalu. The airport is for dual-use which offers both to Civilian and military aircraft. The airport was designed and built by the Malaysian Government in the period 1991 to 1995 with an intention of tourism development.
The private airlines for daily flight are managed from Kota Kinabalu Terminal 1 Airport to Layang Layang. Directs flights are available from China, Tokyo, Seoul, Bangkok, Bali, Hongkong, Kuala Lumpur, and Manila. The nearest access point is to the state of the Malaysia Federation located in the island of Borneo. It is highly approved to book a flight in advance as there are only couples of charter flights trip per week to Layang Layang. Layang Layang is only available from March till August as it is closed during the time of monsoon season from September till February.
Suggested Read: Shopping In Georgetown Penang: 7 Best Places To Buy The Best Of Everything in Malaysia
2. The Swallow Reef Resort
A little gem within the deep blue sea, fondly known as "The Jewels of the Borneo Banks" offers undisturbed diving adventure in safe water on Swallow Reef resort. Layang-Layang Resort (Swallow Reef Resort) is a 3-star private Island Resort which is designed perfectly and built along the concept of the traditional longhouse on this coral-blessed island. With only the Swallow Reef Hotel on the island, Layang Layang resort offers an extraordinary local stay experience enveloped in new generation comforts and convenience. There are 86 new traditionally renovated rooms reflecting the beautiful style of Borneo tribes. All the accommodations like refrigerators, telephones, private hot showers and TVs with air-conditioned rooms make the stay more convenient. Fax and international telephone services are also available. There are many areas to socialize and relax on the resort with an enormous restaurant serving traditional Asian and Continental fare as well as a bar, reading corner and conference room. The resort can host up to 200 people for seminars, banquets, meetings, conferences and group functions.
Suggested Read: Loagan Bunut National Park Guide: Explore The Realms Of Malaysian Wildlife
3. Exploring The Swallow Reef Resort
The resort also offers a wide range of activity for non-divers. Aside from water-based adventurous activities like snorkeling and kayaking, a leisure session at the swimming pool or the resort's spa called Raba Raba House, seasonal bird watching sessions can also be enjoyed. Different migrating birds including egrets, crested terns, swallows, and more birds can be observed within a large lagoon from Bird Island Sanctuary. Most of the migrating birds have migrated to the island within the lagoon for their annual breeding season. These birds are one of the extra unique attractions at Layang Layang.
Special permission for the TV or commercial production activities and entry of personal yachts must be taken from the navy. They should be informed or application should be done at least three months in advance before commencement.
Suggested Read: Crocker Range National Park: A Guide To Explore The Diverse Ecosystem Of This Malaysian Paradise!
Best Time To Visit Swallow Reef Malaysia
The one main reason why people visit Swallow Reef is for scuba diving. The good time to dive in is from February to October. Swallow Reef provides the best experience of the marine life through scuba diving offering the best packages that are offered by the Layang Layang Resort. With Layang Layang Resort diving is easy as all the dive accessories are available for rent. PADI Scuba classes are offered for those who want to experience the wonderful world of diving. The dive center is run by qualified and experienced instructors. All the divers are needed to sign a Reef Conservation Policy and obey the strict Environmental Conservation Program prepared by the dive center. The maximum dive depth is 40 meters. If the diver is found to be exceeded the dive depth, the diver should face a 24-hour diving ban. Each dive is done under the supervision of a dive master or boat driver. Divemaster monitors the dive computer of the diver to make sure the maximum depth is not exceeded. Alcohol consumers are banned for the rest of day for diving. There is an annual photography contest to attract marine photographer. One with the best photographs is awarded prizes. There are about twelve dive sites which are 5-10 min away from the dive center and are accessed by boat. The temperature of the water is around 30 degree Celsius. Every dive brings surprises with turtles, sharks and manta rays.
Suggested Read: Hiking In Malaysia: 10 Best Places That'll Add More Thrill To Your Vacay In 2022
Swallow Reef (Layang Layang) has gained popularity in recent years as one of the best dive destinations of Malaysia. This coral-blessed island of Layang Layang has intrigued many people to discover the wonders of the underwater world. This is one of the places where different researches and environmentalist can benefit as this place is of full surprise with different flora and fauna. The most common reason for people to visit Layang Layang is for scuba diving. As this place is located in the middle of nowhere (you obviously need a swallow reef map), the ocean waters are unpolluted and clear. Divers are mesmerized by the underwater world as they get surprised in each dive.
Further Read: Sarawak Gawai Festival: Witness The Zeal And Vigour Of This Local Malaysian Event
Different species of the migrating birds like the swallow, brown foot, egrets, etc. can be found within the lagoon of the island. The large lagoon has taken over by these migrating birds for breeding. Layang Layang is especially known for hammerhead sharks. The best like to see is in May during their mating season. As there is only one resort in the island, the facility of the resort is very comforting and modern which provides spa and swimming facilities for non-divers. If you are a nature lover, this island will walk you through nature and marine life. Plan a getaway to Malaysia with family and friends and enjoy the majestic views of nature in the peaceful Swallow Reef Island.
---
Looking To Book An International Holiday?
Book memorable holidays on TravelTriangle with 650+ verified travel agents for 65+ domestic and international destinations.
---