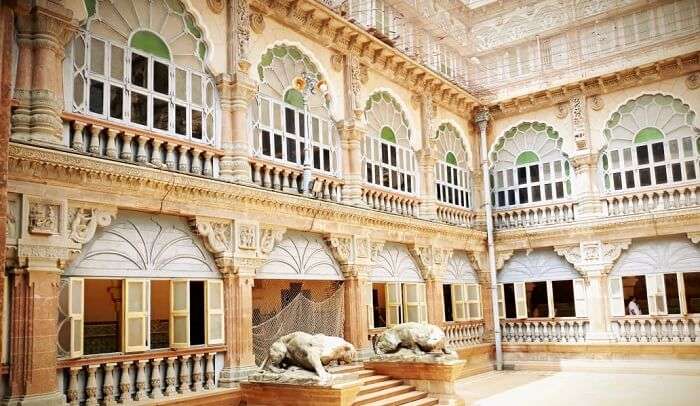 forts all boast if its grandeur and class. One of the most sought after places by pilgrims in south India is the city of Mysore. Let's delve into the stories to know more about the beautiful temples in Mysore.
5 Temples In Mysore
Mysore basks in pride of influence of the Chola dynasty, the stunning Dravidian architecture, and scenic beauty and peace are everything you look for in a pilgrimage tour. Have a look!
Chamundeshwari Temple
Nandi Statue
Chennakesava Temple
Srikanteshwara Temple
Venugopala Swamy Temple
1. Chamundeshwari Temple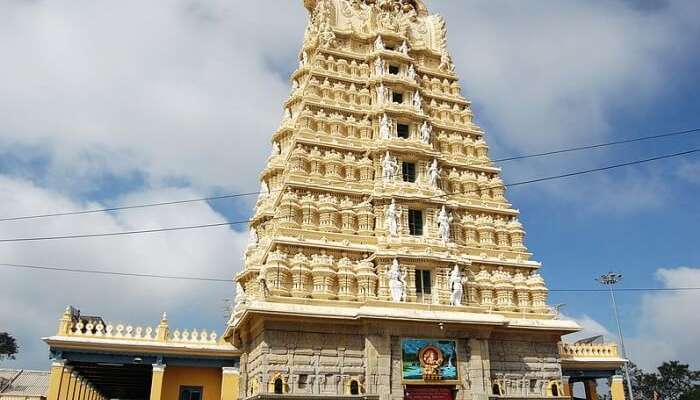 Chamundeshwari Temple is counted among the best temples in Mysore. Located at a prime location on the chamundi Hills, Chamundeshwari Temple is an artistic delight. Devi Chamundi is a form of goddess Durga who is a fiery goddess who slew the demons. Mysore folks worship her with great reverence and pride. Devi Chamundi is also known to provide Shakti (strength), and the temple is also called as the shakti peeth. In Vedic times, it was called the Krouncha Peetham. The area of Chamundi Hills hosts hundreds of species, and the lush green sceneries will take your breath away. The temple is built in an ancient Dravidian style with a beautiful Navrang Hall, Mandapa, and Prakara.
Timings: 7:30 AM – 2:00 PM, 3:30 PM – 6:00 PM, 7:30 PM – 9:00 PM
Best time to visit: Between 7 PM at 8 PM when the lights of Mysore palace are on
Address: Chamundeshwari Temple, Chamundi Hill, Mysuru, Karnataka 570010
Must Read: 30 Things To Do In Mysore Perfect For Experiencing The City In 2020!
2. Nandi Statue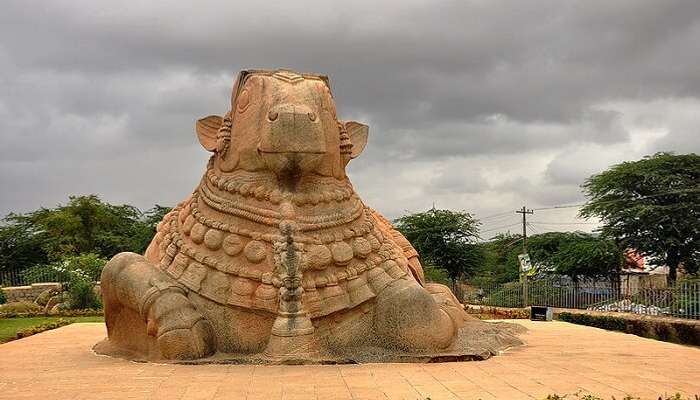 The colossal wonder, a Nandi statue stays perched on top of the Chamundi Hills. The Nandi is 16 feet in height and 24 feet long. Nandi is, according to Hindu mythology, the carrier of Lord Shiva. Nandi is widely worshipped throughout South India. This wonder is carved out of a huge stone boulder, and near it is a Lord Shiva temple under an intricate boulder. This is one of the famous temples in Mysore. An intricate design of bells and garlands adorn the Nandi statue, and pilgrims from all over the country perform puja worshipping Nandi. This shrine is the site of abhisheka, where the priest offers blessings to Nandi during festivals.
Timings: (i) 7:30 am to 2:00 (ii) 3:30 pm to 6:00 pm (iii) 7:30 pm to 9:00 pm
Dresscode: No dress code as such, but traditional attire is encouraged. Remove the footwear before going near Nandi and move around it in a clockwise direction.
Address: Chamundi Hill Rd, Chamundi Hill, Mysuru, Karnataka 570010
Suggested Read: 10 Places To Visit Near Mysore For A Great Vacation In Karnataka
3. Chennakesava Temple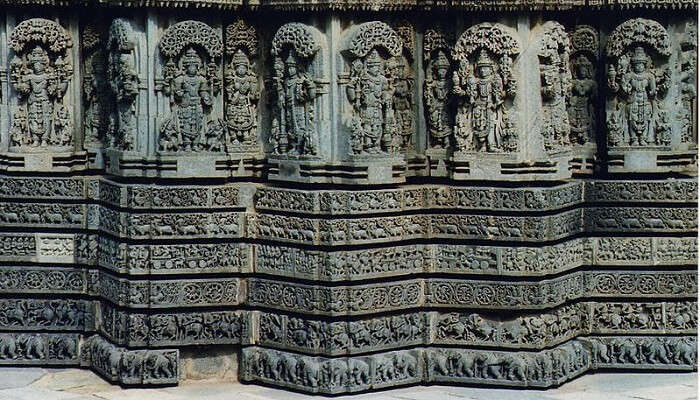 This temple is located near the Mysore town and is famous among the temples in Mysore. Chennakesava Temple has a beautiful Hoysala architecture that will fascinate the beholder. It has also been nominated as a UNESCO world heritage site. This temple is dedicated to Lord Vishnu. This is a trikuta temple with three beautiful shrines. The walls of the temple depict the stories of Ramayana, Mahabharata, and famous mythological tales. The temple also has 16 different types of ceilings.
Timings: 9 AM to 5.30 PM
Dresscode: October to March
Address: Somanathapura, Karnataka 571120
Suggested Read: 15 Best Hotels In Mysore That Offer A Royalty-Like Stay For Every Type Of Traveler
4. SriKanteshwara Temple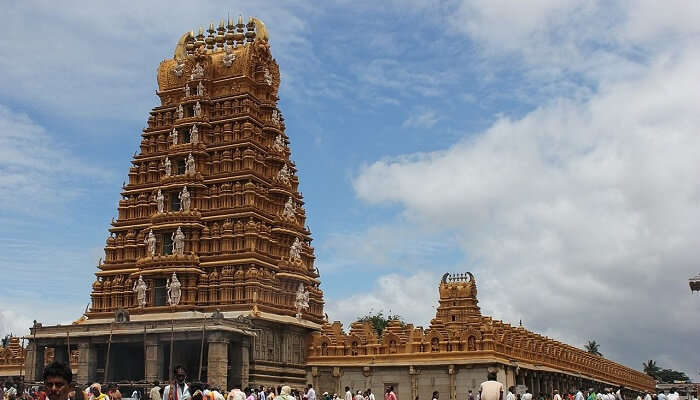 It's present in Madurai district amidst mountains, and to reach there, one has to climb 300 steps. Local tribes conduct puja in this famous temple of Nanjangud, which is a town 25 km from Mysore. This is indeed one of the best temples in Mysore. Srikanteshwara temple has a shiva linga, which in ancient times was worshipped by sage Gautama. This temple has a stunning Dravidian style gopura. The Shiva linga is grand, majestic, and more than a hundred years old. The temple also has many beautiful deities of Natraja, Ganesha, and Parvathi. A prasad made of jaggery, ghee, and rice is served here.
Timings: 6am–8:30pm
Best time to visit: During the Jatre, the twelve-monthly fair
Address: Nanjangud, Karnataka 571301
Suggested Read: 10 Best Homestays In Mysore For A Relaxing Sojourn
5. Venugopala Swamy Temple Mysore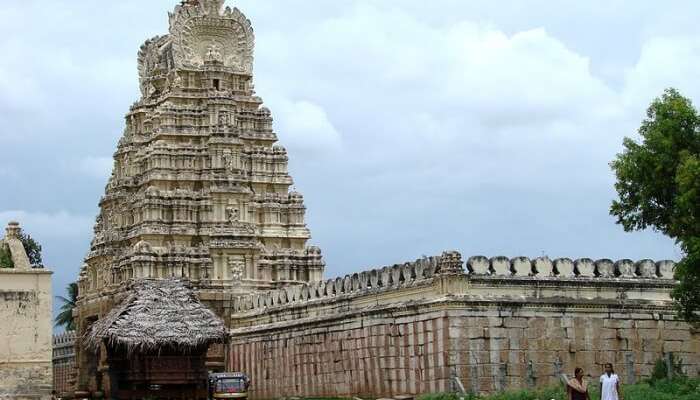 One of the most sought-after tourist's spots in Mysore, this is located near the Venugopala Swamy Temple at Hosa Kannambadi, near Krishna Raja Sagara Dam. This temple was submerged underwater, and a new village and temple were reclaimed on top of it. The temple has the deity of Venugopala Swamy, Lord Krishna playing the flute as a cow-herd — a mythological wonder and a fascinating story. The restored temple has a vast premise. The surrounding area serves amazing crab delicacies. Venugopal Swamy temple Mysore is a must-visit to experience the power of Lord Krishna.
Timings: 9:00 am to 6:00 pm
Best time to visit: An hour before sunset
Address: KRS BACKWATER, Mysuru, Karnataka 571607
Further Read: Shopping In Mysore: Top 10 Things To Buy (2020)
These famous temples in Mysore should be on your dream travel list. Mysore hosts thousands of pilgrims every year. The architectural wonders, the history, and the rule of different dynasties have made this a vibrant town rooted in culture. It's time you plan a trip to Mysore that tells stories and fantastic mythological tales. Visit the magnificent Mysore today.
Frequently Asked Questions About Visiting Mysore and The Places Around
Q. What is the best time to visit Mysore?
A. The best time to visit is from October to mid of June.
Q. What are the must-try foods of Mysore?
A. Idli, Dosa, Shavige Bath, Pongal, Chutneys and Pickles, Vangi Baath
Q. At what time Mysore Palace opens?
A. Mysore Palace opens at 10 AM and closes at 5:30 PM.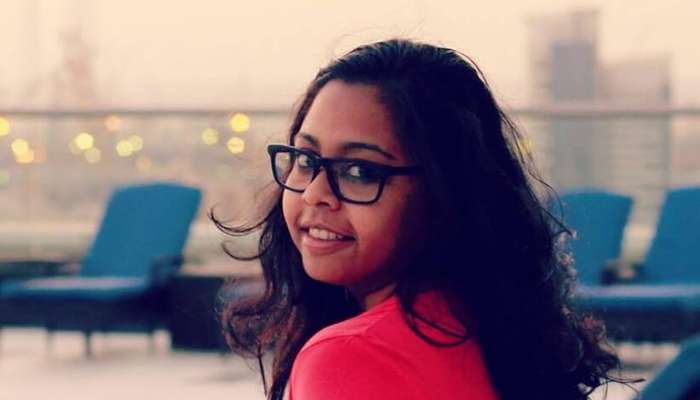 Comments
comments