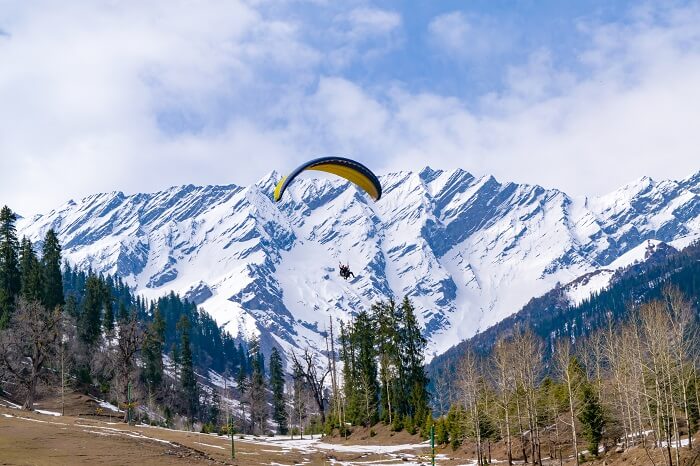 Be it summers or be it winters, Solang Valley is one of the most gorgeous and adventurous places to visit in Manali. It's not just another skiing paradise, but a lot more than that when it comes to the unique experiences it offers. So, irrespective of whether you're an adventurous junkie or a calm nature admirer, this is the best place to visit for your next holiday.
From the best season to visit to the top experiences you must indulge in, this little guide has got it all. Have a look!
Best Time To Visit Solang Valley
A place worth visiting all round the year, that's exactly what makes this place the perfect holiday destination. However, the best time to visit Solang Valley depends on why you wish to go uphill. If you're looking to indulge in activities like paragliding, gondola, and more, the lush green summers are the ideal time. But, if you're a winter lover and feel like tasting the thrill of skiing and skating, the snowy weather between November to February makes for the perfect time to plan your trip.
While the snow enhances the beauty of Solang Valley in December, the summers here flaunt warm afternoons, and cold mornings & evenings.
Must Read: 10 Best Places To Visit In Himachal Pradesh In December For A Snowy Retreat!
Ideal Duration For Holidaying In Solang Valley
While Solang Valley can be fully explored and experienced in a day, the ideal duration for holidaying here is two days and one night. With this amount of time, you can easily indulge in all the activities, relax under the stars, and then proceed further to the nearby places without any hassle.
Adventurous Things To Do In Solang Valley
With a plethora of activities to do throughout the year, this place offers an experiential holiday for people of all age groups. While winter is famous for skiing, summer is for zorbing and paragliding. So, irrespective of when you escape to this gorgeous haven, here are the top thrilling things you can indulge in during your holiday:
Activities To Do In Solang Valley In Summer
1. Paragliding
Of all the things to do in Solang Valley in summer, paragliding is the most thrilling experience to indulge in. With two jump stations – one on a low and other on a higher level, this adventure lets you fly like a bird quite literally.
Price: INR 600 to INR 800
---
Himachal Holiday Packages On TravelTriangle
Head to Himachal to witness lush valleys surrounded by snow-capped hills. Indulge in skiing, paragliding, and other adventure sports. Book holiday packages inclusive of airport transfers, cab, resort, sightseeing, and meals to Shimla, Manali, Kasol, Dharamshala, and more.
---
2. Zorbing
There is no activity that matches the fun of hurtling down the hill in a transparent ball with your loved one, and so zorbing is one must-have experience here. Rolling up and down the lush green hills in summer creates sensations in the body, which make it all in all a pulsating experience.
Price: INR 350 and above
Suggested Read: Camping In Manali: A Guide For An Adventurous Experience Beyond The Call Of Mountains!
3. Quad Biking
What makes summer more fun in Solang is the thrilling experience of riding an ATV, which anyone can do. From being driven along with a trained driver to riding the bike on your own or with your loved ones, it is the perfect thing to do if you believe in pushing your limits.
Price: INR 900 to INR 1000
4. Camping
Curling up in a cozy tent pitched right in the middle of lush green meadows is one of the best things to do in Solang Valley in summer. From snuggling in a sleeping bag like a backpacker to relaxing on queen size beds at different altitudes, you can have all kinds of experiences here.
Activities To Do In Solang Valley In Winter
5. Skiing
Of all the Solang Valley activities, skiing is the most thrilling experience to indulge in. Solang being known as a skier's paradise offers the perfect opportunity to enjoy the white snow landscapes from different levels, and board through it for unlimited fun.
Price: INR 300 and above
Suggested Read: 20 Best Cottages In Manali For Peace And Seclusion On Your Much-Needed Hilly Escape
6. Snowmobiling
Also known as sledding, this is one activity that literally lets you float over the snow and have fun in it like a kid. You can ride it across and even take a Solang Valley sightseeing tour on it. And just in case if you've done this activity a zillion times before, this place can the best playground for you.
Price: INR 500 and above
7. Gondola or Solang Ropeway
While the gondola or the Solang ropeway ride is not an activity on its own, it is a short journey up the mountain-top worth experiencing. This state-of-the-art cabin glides along the rope at a speed of 6m/s and takes you to the top for indulging in a few kinds of adventure sports from a height.
Price: INR 450
8. The Winter Skiing Festival
If there is anything else that'll let you witness or experience everything that this gorgeous valley offers, it is attending the yearly Winter Skiing Festival. The land of snow becomes the playground for all the skiers, and activities like zorbing, horse riding, and snow motor biking can also be enjoyed.
Location: Atal Bihari Vajpayee Institute of Mountaineering and Allied Sports
Suggested Read: Our Love For The Mountains Was Personified On A Family Trip To Himachal Pradesh
Top Places To Visit Near Solang Valley
Irrespective of how long or short you plan to stay here, there are a few places nearby, which are absolutely worth witnessing during your most romantic things to do in Venice for young couples that will only make you want to plan your Himachal holiday.
1. Great Himalayan National Park
A little far from the valley is located this park in Kullu, which is a perfect blend of nature and adventure. With trekking, bird watching, camping, rock climbing, and more, there are a lot of activities to indulge in here if the ones in Solang did not quench your thrill thirst.
Distance Between Solang Valley And Great Himalayan National Park: 77 kilometers
2. Rohtang Pass
Suggested Read: 20 Gorgeous Places To Visit In India This December
The gateway to the stunning Lahaul and Spiti Valley, Rohtang Pass is another wonderland situated in the heart of Himachal. While there aren't any accommodation options here, you can freely pitch your own tent and relax under the stars any time between the months of May to October.
Distance Between Solang Valley And Rohtang Pass: 42 kilometers
3. Kothi
If the crowd in Solang is what you're looking to escape from for a couple of days, then Kothi village is the ideal place to visit. The magic of nature can be easily witnessed here, and the old-world charm can be reminisced too.
Distance Between Solang Valley And Kothi: 5 kilometers
Best Hotels In Solang Valley
1. Solang Valley Resort
Situated 8,500 above the sea level and 8 kilometers from the Inter State Bus Terminus, this luxury resort offers a captivating experience and lets you admire nature in all its glory. From letting you indulge in thrilling activities to making you feel homelike in its elegant rooms, it is certainly one of the best Solang Valley resorts to stay here.
Price: INR 7,500 and above
TripAdvisor Rating: 4.5/5
Location: Solang Valley, VPO Palchan, Manali, Kulu District, Burwa, Himachal Pradesh
Website | Reviews
Suggested Read: Their Amazing Family Vacation Proves Why Himachal Is Still The Perfect Hilly Holiday Destination In India
2. Solang Ski Resort
With cozy deluxe rooms to elegant family suites, the Solang Ski Resort offers pretty much everything that's made of comfort and peace. The friendly hospitality and world class amenities here make it one-of-a-kind place that offers the ideal getaway break.
Price: INR 1,899 to INR 4,499
TripAdvisor Rating: 4/5
Location: PO Palchan, Solang Valley Manali, Manali, Himachal Pradesh
Website | Reviews
3. Hotel Solang Holiday Inn
Surrounded by the picturesque valley and spectacular ski slopes, this budget hotel offers modern amenities and homelike comfort. Apart from offering outdoor activities, it lets you admire the snow clad mountains from indoors.
Price: INR 2,600 and above
Location: Solang Valley, Solang, Himachal Pradesh
Website
However, if you wish to stay somewhere nearby, accommodation options like The Clifftop Cottages, The Highland Park, and Orchid View Resort are the best hotels near Solang Valley that offer an equally great comfort.
Food In Solang Valley
If restaurants like the Solang Holiday Restaurant doesn't tickle your fancy much, you can also try savouring the local cuisines in the dhabas or maggi at the local tea stalls in the valley. However, do expect a lot of locals around.
There are also a lot of famous cafes and restaurants nearby like the IL Forno, Johnson's Cafe, Toasted and Roasted, Chopsticks, and more which you can explore if you're a foodie and have got some extra time up your sleeve.
Further Read: Rohtang Pass Is Certainly Not For The Faint Hearted. Here's Why!
How To Reach Solang Valley
By Air
The nearest airport to Solang Valley is Kullu-Manali Airport in Bhuntar, which is around 63 kilometers away from here. If you're coming by air, you can hire a car or taxi from here to reach the valley in two to two and a half hours.
By Train
The Joginder Nagar Railway Station is the nearest station to Solang Valley, and is situated at a distance of 175 kilometers. You can easily take a cab from the station and drive till here.
By Road
There are innumerable buses that ply to Manali from Delhi daily. From state seater-buses to semi-sleepers of private operators, you can take any bus to cover the 548 kilometers to reach Manali, and then a any local transport to get to Solang. However, you can also drive your own car and have a fun road trip.
Tips For Visiting Solang Valley
Check the Solang Valley weather once before booking your trip, and get your itinerary planned accordingly.
Pack light cotton clothes or warm woolens along with a windcheater depending on the season in which you're planning to visit here.
If you're visiting during the peak season, which is winters, make sure you book your accommodation well in advance.
Carry a good camera with extra batteries so that you could capture every bit of the beauty that this place flaunts.
Pack all your essential medicines, a torch, a mosquito repellent, and toiletries.
If you wish to travel further to Rohtang Pass, don't forget to obtain the Rohtang Pass Permit.
There are a few handicraft shops that sell junk jewelry and wooden crafts. You can keep some time scheduled for exploring these stalls and shop all that you want.
Still got queries about Solang Valley? Here are the answers to a few!
Q 1. What is the best time to visit Solang Valley Manali?
A. While you can visit here throughout the year, the best time is the winter season, i.e. between the months of November to February as this is the ideal time to witness the beauty of the place covered with snow, and indulge in famous adventures like skiing, trekking, snowmobiling, and more.
Q 2. What are the major attractions in Solang Valley?
A. The major attractions in Solang Valley are the Atal Bihari Vajpayee Institute of Mountaineering and Allied Sports, which is a skier's paradise, the adventure activities like paragliding, snowboarding & zorbing, camping under the stars, and the gondola or the Solang Ropeway.
Q 3. Is Solang Valley a safe place to visit with family?
A. Being one of the popular places near Manali, Solang Valley attracts tourists in large amount throughout the year. The locals are also friendly and quite hospitable, which makes it a safe holiday destination for families.
---
Looking To Book A Holiday Package?
Book memorable holidays on TravelTriangle with 650+ verified travel agents for 65+ domestic and international destinations.
---
Comments
comments