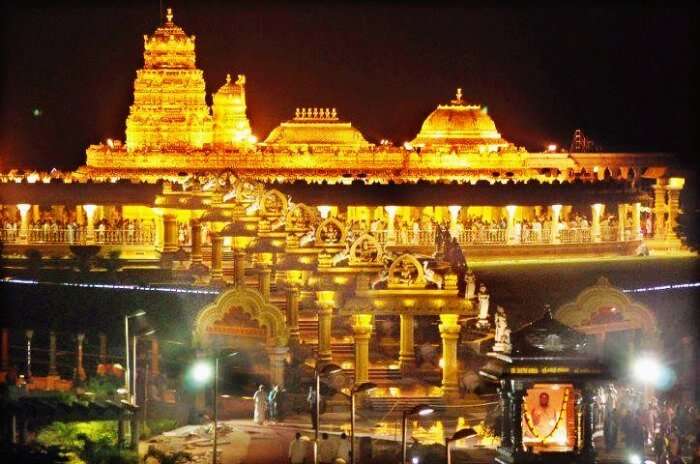 Intricate carvings, ancient inscriptions, glorious idols, and mystical environment greet the pilgrims who travel from different corners of the world to the holy city of Tirupati. Situated in Andhra Pradesh, this land is the abode of divine temples. Dravidian style architecture of multistoried entrance towers and huge complexes fascinates every tourist who comes to pay homage at the sacred shrines. Scroll below to discover the seven most popular temples in Tirupati and what marvels you can expect to find in them.
7 Popular Temples In Tirupati
Take a look at some of the most respected holy shrines in the city of Tirupati. See what makes Tirupati one of the most famous pilgrimage sites in India. Find both Hindu and Jain temples in Tirupati in this list.
Venkateswara Temple 
Padmavathi Temple 
Govindaraja Temple 
Kapila Theertham 
Kalyana Venkateshwara Temple 
Kodandarama Temple 
ISKCON Temple 
1. Venkateswara Temple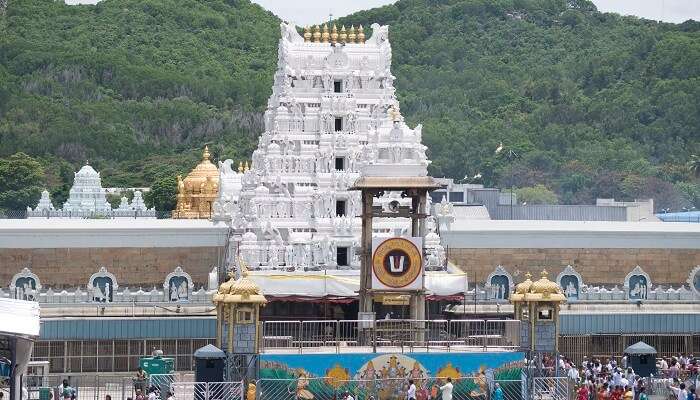 Popularly known as Tirupati Balaji Temple, the Venkateswara Temple in Tirupati dates back to 800 AD and is one of the wealthiest Tirupati temples of the world. Resting peacefully on the seventh peak of Tirumala Hills, just to the north of the flowing Sri Swami Pushkarini River, this temple is visited by thousands of pilgrims every day. This temple was built in commemoration of Lord Venkateswara. Believed to be an incarnation of Hindu god Vishnu, Lord Venkateswara took birth on Earth to destroy evil and restore peace and harmony. To date, his effigy stands inside the temple complex, and it is said it will remain there during the entire period of quarrel and disharmony, the Kali Yuga.
A silvery facade greets the eye as one enters the complex. Constructed in ancient Dravidian style, the architecture of this temple is composed of intricate carvings all over the walls. The temple has another entrance that is painted golden, a complete contrast to the main silver entrance. Pilgrims coming from all walks of life pay their homage to Lord Venkateswara by singing hymns and chanting prayers. The blessings of God are offered in the form of food known as prasad. The temple is illuminated with lights and candles on grand festivals and is revered as one of the most magnificently built temples in Tirupati.
Location:  S Mada St, Tirumala, Tirupati, Andhra Pradesh 517504
Timings: 2:30 am – 1:30 am
Main Deity: Lord Venkateswara
Must Read: 25 Best Places To Visit In Visakhapatnam To Relish The True Charm Of This Coastal Gem!
---
South Weekend Holiday Packages On TravelTriangle
---
2. Padmavathi Temple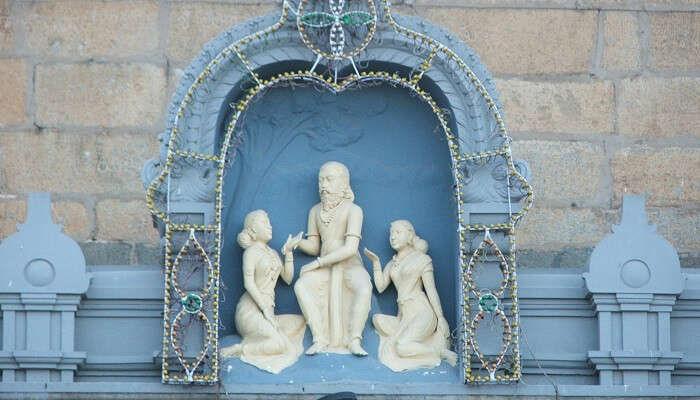 The list of Hindu temples in Tirupati is incomplete without mentioning Padmavathi Temple. A pearly white five-storied tower forms the fascinating entrance to the divine Padmavathi temple. Pilgrims on their way to visit Sri Venkateswara Temple first stop and pay their respects to Goddess Padmavathi, the incarnation of Goddess Parvati. Said to be the wife of Lord Venkateswara in Kali Yuga, this temple is present in close vicinity of Tirupati Balaji.
The complex of the temple has a large lake called Padma Sarovaram. Bathing in its waters with full devotion is considered divine as this the lake where Goddess Padmavathi is said to have appeared as a golden lotus flower. On special festivals and grand celebrations, a huge crowd gathers to take a dip and pray in the old waters of Padma Sarovaram. Miniature temples belonging to other deities like Sri Krishna Swamy are also present inside the premises.
Location: Sannidhi St, Tiruchanur, Tirupati, Andhra Pradesh 517503 
Timings: 5:00 am – 9:00 pm
Main Deity: Goddess Parvati
Suggested Read: 8 Charming Places To Visit In Vizag In Summer For Your Trip To Andhra Pradesh
3. Govindaraja Temple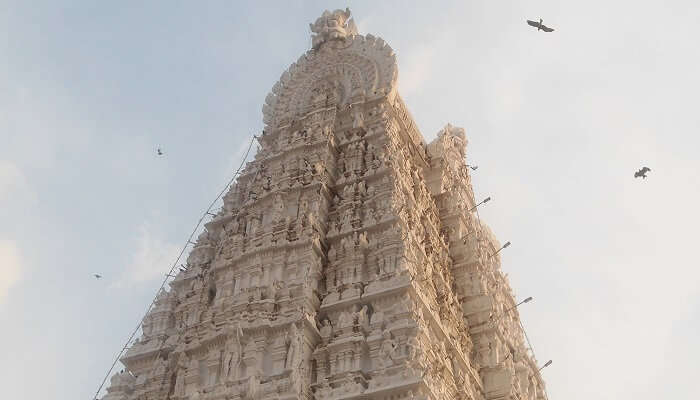 Once upon a time, a great saint named Ramanujacharya saw Lord Govindraja Swamy in his dream. Pilgrims come here every year to worship Lord Govindraja to pray for the wealth and prosperity of their families. The monumental beauty of its architecture attracts many tourists. Starting from its entrance to its inner courtyards, all aspects of this structure are designed beautifully and because of its architectural wonder, it is popular as one of the famous temples in Tirupati.
The entrance of this temple has a seven-storied tower with the holy pot of Kalash built on its top. Carvings of scenes depicting the life of Lord Vishnu as Venkateswara and stories from Hindu legends like Ramayana are chiselled all over the stone complex of the temple. Bustling crowds fill the courtyard as they chant hymns and seek the blessings of their lord.
Location: Chittoor 
Timings: 5:00 am – 8:30 pm
Main Deity: Lord Govindraja
Suggested Read: Araku Valley Guide: 6 Must Experiences To Go Off The Beaten Path In Andhra Pradesh
4. Kapila Theertham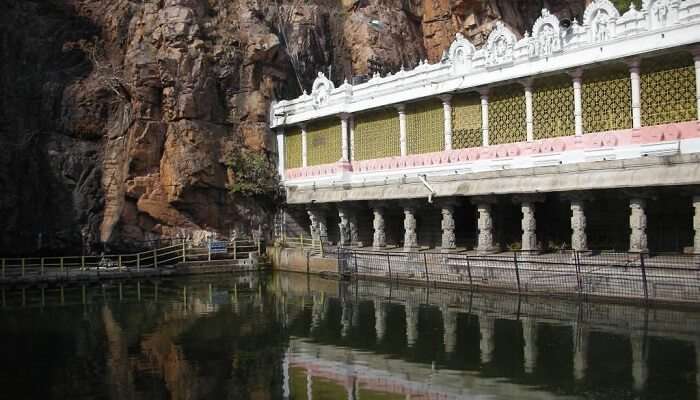 Cradled at the foothills of Tirumala Range is the ancient temple of Kapila Theertham which is one of the most important Tirupati temples. With the waters of the sacred Sarovar filling the centre of the complex, and the sparkling waters of Kapila waterfall making gushing noises as they fall from the top, the scenic beauty around this temple is breathtaking.
The construction of this temple took many years, with prominent empires like Pallavas, Vijayanagaram, and Tirumala Mahants working towards its preservation. Thousands of Shiv bhaktas (devotees) bathe in the Sarovar waters to wash away their sins and start a new life. They also pay their homage to Maharishi Kapila by offering flowers on Kapila Linga. Aartis are presided over by priests with the devotees singing hymns in praise of Lord Shiva. On the auspicious occasion of Shivratri, the temple is decorated with scented flowers and glowing diyas.
Location: Kapila Theertham
Timings: 5:00 am – 9:00 pm
Main Deity: Lord Shiva
Suggested Read: Mahabalipuram Temples: Visit These 10 Breathtakingly Beautiful South Indian Souls
5. Kalyana Venkateswara Temple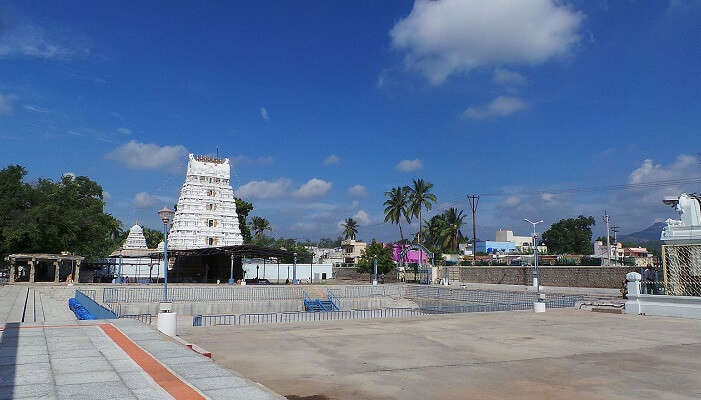 Also renowned as Srinivasa Managapuram, the Sri Kalyana Venkateswara Swamy Temple is a temple of both spiritual and national importance. Said to be constructed somewhere in the early 16th century, this Vaishnavite temple is devoted to Lord Venkateswara, the incarnation of Hindu God Vishnu born to restore harmony in Kali Yuga.
Touched by the sage's devotion and humbleness, Lord Venkateswara blessed this place. He declared that if any ardent devotee cannot make it to his abode at Tirumala Hills, they can travel to this place and be blessed with his boon. Since then, the pilgrims who are unable to visit Tirupati Balaji Mandir due to any reason, travel to this temple to seek the blessings of Lord Vishnu. The time of Kalyana Utsavam is considered highly auspicious for love life. Pilgrims wishing for a perfect life partner, and newlyweds seeking blessings for a happy married life, pay a visit to this temple.
Location: Tirupati
Timings: 5:30 am – 7:30 pm
Main Deity: Lord Venkateswara
Suggested Read: 10 Amazing Things To Do In Pachmarhi For A Fun-Filled Getaway In The Heart Of India
6. Kodandarama Temple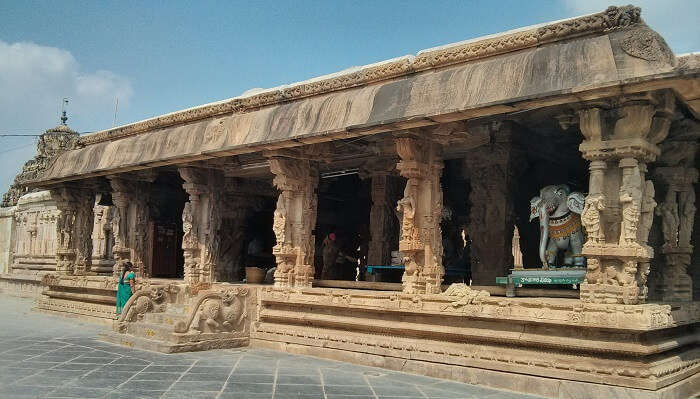 A dash of golden colour in a pearly white structure forms the landscape of Kodandarama Temple of Tirupati. Dating back to many centuries ago, the temple was originally built by the kings of the Chola dynasty. It was later re-developed by the rulers of Vijayanagara kingdom. The temple worships the great king of Ayodhya, Lord Rama.
A popular legend also says that this temple was built after Jambavan went inside an illuminating cave and found a radiating idol. The compound of this temple has a shrine commemorating Lord Rama. Two miniature shrines of Goddess Sita and Lord Lakshmana are also constructed in its vicinity. There are inscriptions on the stoned walls of the temple, depicting the life of the gods. Every year during the festival of Brahmotsav, pilgrims perform aartis and decorate the idols.
Location: Tirupati
Timings: 5:00 am – 8:30 pm
Main Deity: Goddess Sita and Lord Lakshmana
Suggested Read: 15 Places To Visit Near Madurai: The Gateway To Enjoying South India's Beauty
7. ISKCON Temple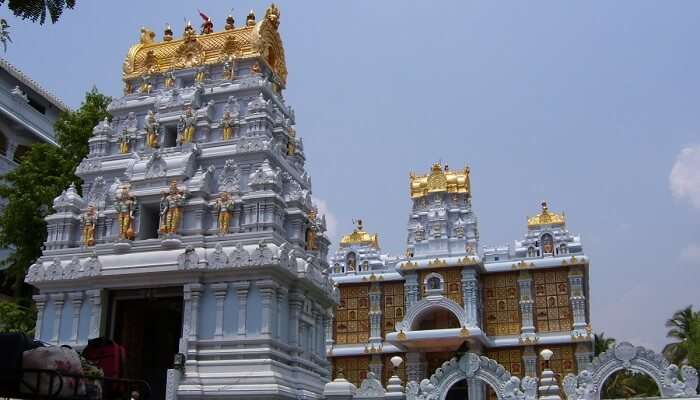 Lavender blue structure with golden doors and arches form the enchanting architecture of ISKCON temple of Tirupati. Unlike other temples in Tirupati, the Radha Govinda Mandir is just a decade old and was built by the largest followers of Lord Krishna in the world, ISKCON (International Society for Krishna Consciousness).
The interior of this temple comprises multicoloured walls and paintings depicting the glorious legends of Lord Krishna. Radiant marble effigies of Lord Krishna and his beloved Goddess Radha are seated inside the hall. The idols are lovingly decorated with fine jewellery, flowers and beautiful fabric. As you enter the complex, you will hear melodious chants of Hare Rama Hare Krishna. Pilgrims praying devotedly at the temple are offered free vegetarian food as a blessing of God. The food is said to satisfy the hunger of the needy and bless them with a happy life. The temple also has a guest house for those who wish to stay in the serene ambience of the temple.
Location: Tirupati
Timings: 4:15 am – 9:00 pm
Main Deity: Lord Krishna
Further Read: 43 Famous Historical Places In India To Visit
So these are some of the most divine temples to visit around Tirupati. These temples take you on an expedition of tranquillity and bliss and help you in getting rid of the negative emotions in your mind. So whether you want your wish to be fulfilled or you're just seeking for some divine bliss, these temples in Tirupati should be a must-visit in your list when you're taking a trip to Andhra Pradesh.
Disclaimer: TravelTriangle claims no credit for images featured on our blog site unless otherwise noted. All visual content is copyrighted to its respectful owners. We try to link back to original sources whenever possible. If you own rights to any of the images, and do not wish them to appear on TravelTriangle, please contact us and they will be promptly removed. We believe in providing proper attribution to the original author, artist or photographer.
Please Note: Any information published by TravelTriangle in any form of content is not intended to be a substitute for any kind of medical advice, and one must not take any action before consulting a professional medical expert of their own choice.
Frequently Asked Questions About Temples In Tirupati
How many temples are there in Tirupati?

There are numerous Hindu temples in the city of Tirupati. These temples are devoted to various Hindu gods and goddesses and are admired for their architectural designs.

Is there any dress code for visiting the temples?

When visiting the temples in Tirupati, you need to make sure that you wear proper attire. Women devotees can wear sarees and suits. Men devotees are expected to wear a dhoti or a lungi with uttareeyam or kurta pyjama. Wearing western dresses like Bermudas, shorts, skirts, etc. are forbidden.

Are there any rules to be followed when visiting a temple in Tirupati?

Yes, there are some general rules that you follow when visiting a temple in Tirupati. Never wear any footwear in/around any temple complex. Also, cellphones are prohibited in the temples even if kept on silent mode. Don't consume non-veg and alcohol when you are in Tirupati. Do not wear flowers when visiting the Tirupati temples.

How many days are required to explore the city of Tirupati fully?

If you want to visit all the temples in Tirupati, 2-3 days are good enough for exploring this pious city.

What is the best mode of transportation to travel in Tirupati?

One can use buses to travel locally. There isn't a metro there yet, though there are numerous trains that run locally. These trains, however, are not much preferred for visiting temples. Auto-rickshaws are also a popular choice in this city.

What are the famous tourist attractions can one visit Tirupati?

Some famous sight-seeing in this city are Sri Venkateswara Swamy Temple, Srivari Padala Mandapam, Sri Venkateswara National Park, Sri Padmavathi Ammavari Temple, Swami Pushkarini Lake, TTD gardens etc.

What places near Tirupati is the best to explore?

The city of Tirupati is closely connected with Chennai, Bangalore and Hyderabad. It also has many beautiful lakes, waterfalls, museums etc. waiting to be explored.
---
People Also Read: