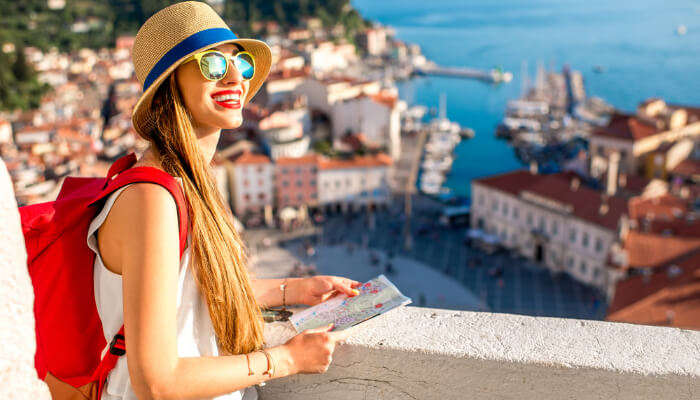 Traveling Europe on a budget can be overwhelming and daunting. For starters, getting there can be quite a challenge. It is hard to find an affordable, clean hostel where you can meet and fraternize with other travelers. Not to mention, the cost of eating out is high. Luckily for you, we have compiled a guide to cut down on your daily expenses on your Euro trip. Keep it handy on your backpacking trip! If you're wondering how to travel Europe on a low budget, sit back and read our easy-breezy guide.
When To Go To Europe

If you want to take a budget trip to Europe, you should visit sometime between March to May and September to October. This is the shoulder season in Europe. During this time, the prices are lower, the weather is good, and the crowds are fewer. Avoid visiting Europe in the summers since it is peak season in Europe and prices of accommodation and flights inflate during this time.
5 Things To Do In Europe On A Budget
Wouldn't you like to know how to visit the Louvre without paying anything? We have put together a list of 5 things to do if you're traveling Europe on a budget:
1. Visit Free Museums And Galleries
The Royal Mile in Edinburgh houses several interesting museums for you to visit, such as The People's Story, the Writer's Museum, and The Museum of Childhood. There is no entry fee for these museums, so you don't have to worry about money. Other free museums include Dublin's National Gallery on Merrion Square, the Museum of Natural History, and Kilmainham.
10 Best Flea Markets In Europe That Reflects The European Culture
2. Climb Filopappou Hill

Filopappou Hill is located only 15 minutes away from the gates of Acropolis. It is the best place in Athens to get a view of the Parthenon. It boasts of the best views in the city. The entry to Filopappou Hill is free and the climb isn't strenuous. There's a good view of the city from the top as well
3. Hear Jazz Bands For Free

The jazz scene in Krakow is sensational. You can attend a majority of the shows held in the clubs, pubs, and bars for free. On most nights, you will be able to find a local jazz musician playing tunes somewhere in the city. If you want to listen to the best jazz music ever, head to Rynek Glowny area.
7 Of The Best Winter Airbnbs In Europe Where You'll Enjoy A Snug Stay
4. Visit Belfast Castle

Belfast Castle is an off-the-radar attraction. It is not a centrally located attraction, but you should add it to your itinerary if you're a history buff or an aesthete. Its elegant sandstone building is surrounded by stunning grounds and its mountain trails are perfect for a day out. The entry to the castle is free.
5. Catch The Glockenspiel Show

If you have 15 minutes to spare, head to Glockenspiel. It is one of Munich's quirkiest attractions. You can catch the show twice daily at 11 AM and midday. It is located in one of the city's most prominent squares. During the show 32 life-size figurines act out the Cooper's Dance (a local tradition). Large numbers of people flock here to check out the free shows each day. This is among the best places to travel in Europe on a budget.
Indian Restaurants In Vienna: A Taste Of Home In The Heart Of Europe
5 Things To Do In Europe On A Budget

Finding spots to eat within your budget is easier than you think. You can find kiosks in train stations, bus stations, and pedestrian areas selling sandwiches, sausages and pizza slices for INR 309-541. Food is cheaper in the east as compared to the west. You can cook your own food for INR 5,000 per week. Supermarkets like Lidl, Penny Market, Profi, and Aldi sell groceries at discounted prices. If you want to save money on meals, you can also pick up some cheese, wine, meat, or bread and go to the park for a picnic.
Where To Stay In Europe On A Budget
Paying over INR 7,000 for a room you will hardly be in most of the day doesn't make much sense. There are several forms of accommodation that don't require you to share your room with a bunch of snoring strangers. Here are a few of them:
1. Staying With Locals

There are several hospitality networks, like Couchsurfing, Stay4Free, and Global Freeloaders, which allow you to stay with locals for no cost. It is a good opportunity to interact with locals and learn about the culture and history of the place. You may be offered a bed, a couch, or at the most, a space. This is one of the best choices to save on your Europe budget trip.
9 Lakes In Norway Worth Exploring On Your Dream Vacation To Europe
2. Home Exchange

You can check out the popular website Home Exchange to switch homes with a family from another nation. This way works best for older travelers who own a home. People usually worry about security, but it is important to remember that the other family trusts you with their home too.
3. House Sitting

If you're uncomfortable with exchanging homes, you can consider house sitting. You can watch and maintain somebody's house while they are vacationing, and in exchange, you get a free place to stay at. After signing up for one of the services like Mind My House, House Carers, or Luxury House Sitting, you can find a place and work out an arrangement with the homeowner.
7 Villas In Germany For A Luxurious Holiday In Europe You've Always Dreamed Of
4. Apartment Rentals

If you long for calm surroundings and a place to work, there's nothing better than booking an apartment rental. You get your own space to cook your meals, workout, complete your freelance assignments, and more. They are double the cost of a hostel dorm room, but if you're a traveling group or a couple, it is perfect for you.
Cheap Ways To Get Around Europe
Europe's weak currency exchange rate and the surge in the sharing economy have made traveling Europe on a budget possible. There are primarily four ways to travel in the country: by bus, by plane, by train, and by hitchhiking.
1. By Megabus

A cheap way to get around Wales, Scotland, England, Brussels, Paris, and Amsterdam is to take a Megabus. If you book a ticket at least a month in advance, it will cost you as little as INR 86. However, you can buy a ticket one day prior too. That will cost you between INR 430-1,721.
10 Famous Winter Festivals In Europe That Are Perfect Spots Of Happiness In 2022
2. By Busabout

You can also use the hop on/hop off bus service called Busabout to get around Europe and meet other backpackers. You may get on and off whenever you like along one of their set routes. A two-week pass, which allows you to travel all of Europe with a set number of stops, will cost you INR 20,480. The pass occasionally includes group activities and comes with a guide. If you cover six cities in two weeks, it will cost you INR 3,425. The only downside is if you want to visit a city that is not on their route, you will have to shell out extra.
3. By Flixbus

For as low as INR 385, you can also book a pass for Flixbus. You can travel to 20 European countries and thousands of cities on this bus, which includes amenities like plush seats, electrical outlets, and Wi-Fi. It is the cheapest way of traveling Europe on a budget, and that too in style.
10 Churches In Netherlands Which Offer A Glimpse Of The Ancient Structures Of Europe
4. By Flight

It is one of the cheapest ways for traveling Europe on a budget. You can fly budget airlines like Vueling, Ryanair, EasyJet, Flybe, Norwegian Air, and Wizz Air. These airlines are very particular about baggage limits and a hard copy of the boarding pass. If you're traveling with a lot of baggage, it would be cheaper to fly with one of the larger airlines.
5. By Eurail

Traveling by Eurail is far more scenic than any other mode of transport since you can watch the charming landscape go by. It is one of the most extensive rail systems in the world. Nothing can beat Eurail in terms of price if you're traveling from one city to another. For longer journeys, like Berlin to Munich, Eurail tends to be expensive. In this case, getting a rail pass is an ideal option.
Head To San Marino Now: The Fastest Growing Travel Destination In Europe
6. By Hitchhiking

The best way for getting around Europe is hitchhiking. It is common in Europe, especially Bulgaria. Also, it is a lot safer than you would imagine. It is important to exercise caution while hitchhiking. Use common sense and always trust your instincts. If you feel unsafe, bail out as quick as possible.
Tips For Traveling Europe On A Budget

Take a hard look at these 5 creative ways to cut down your expenses and have more money for traveling to Europe with family on a budget:
1. Buy a metal water bottle instead of buying plastic bottles for the sake of the environment. Your health and your wallet will thank you too.
2. Cutting down the amount of coffee and alcohol you drink will bring down your expenses considerably. Consider drinking alcohol before you head to the bar so that you drink less there.
3. Movie theatres are ridiculously expensive in Europe. Consider binging movies on Netflix instead.
4. Collect Groupon, grocery coupons, and loyalty cards which will reduce the price you pay at the register.
5. Building a network on Couchsurfing by attending the local meetups can help you find free accommodation when you travel.
10 Best Norway Restaurants To Try All Delicacies On Your Next European Vacation!
You won't have any problem filling your time while traveling Europe on a budget. There are a plethora of ways to get around the country and unlimited things to do here. Our primary objective behind compiling this guide was to help answer your queries on how to travel Europe on a budget. Book your Europe vacation with TravelTriangle to avail exciting deals and discounts and customise your holiday according to your requirements.
For our editorial codes of conduct and copyright disclaimer, please click here.
Frequently Asked Questions about Traveling Europe On A Budget
Where can I go in Europe for free?
The following are the places in Europe that are free to be explored: 1. St. Peter's Basillica in Vatican City 2. The Pantheon in Rome 3. British Museum in London 4. Schonbrunn Gardens in Vienna 5. Gellért Hill Cave in Budapest 6. War Museum in Athens
What is the cheapest place in Europe to visit?
The following are the most inexpensive places in Europe: 1. Kraków, Poland 2. Riga, Latvia 3. Český Krumlov, Czech Republic 4. Bucharest, Romania 5. Belgrade, Serbia 6. Kaunas, Lithuania 7. Zagreb, Croatia 8. Argos, Greece
Is it safe to visit Europe post Covid?
You need to follow all the mandatory travel guidelines mentioned by the authorities to ensure a safe travel experience. Avoid crowded places and keep sanitizing your hands after touching surfaces. Maintain social distancing and remain masked in public places.
People Also Read
Hong Kong On A Budget Singapore On Budget Paris On A Budget
---
Looking To Book An International Holiday?
---