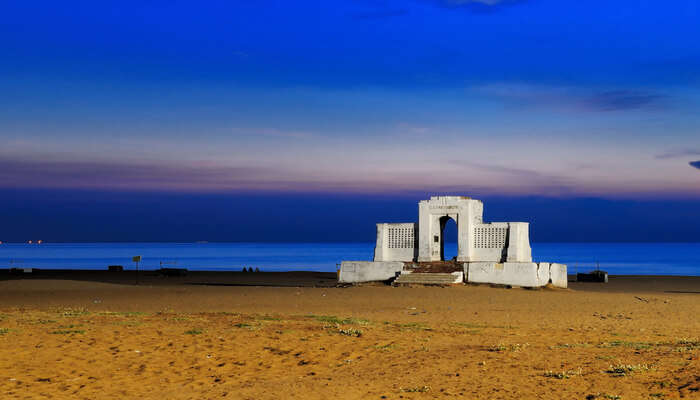 Tirupati is a very beautiful city situated in the heart of the Indian state of Andhra Pradesh. It is known to be a haven for Hindu pilgrims and the very popular Sri Venkateswara Temple sits atop the Tirumala Hills peak. Another sacred temple that goes by the name Sri Kapileswara Swamy Temple is widely visited as well and it's a temple dedicated to Lord Shiva. Besides being a religious place, it is also known to be a great holiday destination for guests with families and couples too. It will be hard to believe but there are many beautiful beaches near Tirupati that people are unaware of. So, if you are always in search of quaint beaches then here is a list that might help you out.
Top 6 Beaches Near Tirupati
Take a look at these handpicked destinations that you can explore on your vacation to Tirupati. Whether traveling with friends or family, these places are just best for a stop.
1. Mypadu Beach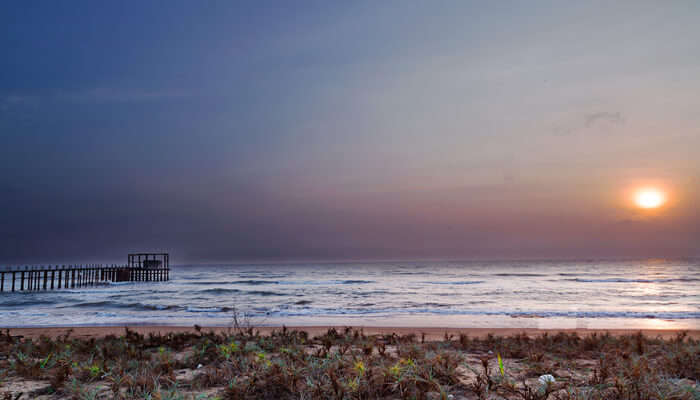 Mypadu Beach is one of the finest beaches in the region owing to its pristine seawater and golden-brown sand. This magnificent beach lies on the coast of Bay of Bengal which is about 25 km from Nellore. Besides the tourists wandering the beach, there are also many local fishermen seen around. It is a perfect haven for couples as the beach is not often crowded but is reputed and recognised for its mesmerising views and captivating scenery. The visitors are often seen taking a stroll across the beach and being here with your loved ones can be quite peaceful as the beautiful location is just perfect to spend quality time and contemplate about life.
The beach is managed by the Andhra Pradesh Tourism Development Corporation. Water lovers can simply swim right in the ocean while others may avail the opportunity to get indulged in recreational activities on the beach itself. The natural fresh air uplifts one's spirit let alone the adorable coastline which is adorned with several coconut trees. To make the best of this place, you can certainly get yourself a room at one of the nearest resorts which at the guest houses which is run by the government. This adorable beach is known to be a perfect spot for sunbathing and the sunrise or sunset can be witnessed here which is undoubtedly something worth your time.
Location: Mypadu, Indukurupeta Mandal, Nellore, Andhra Pradesh 524313
Distance: 128 km from Tirupati
Must Read: Visit These 6 Breathtakingly Beautiful Hill Stations Near Tirupati In 2019
2. Marina Beach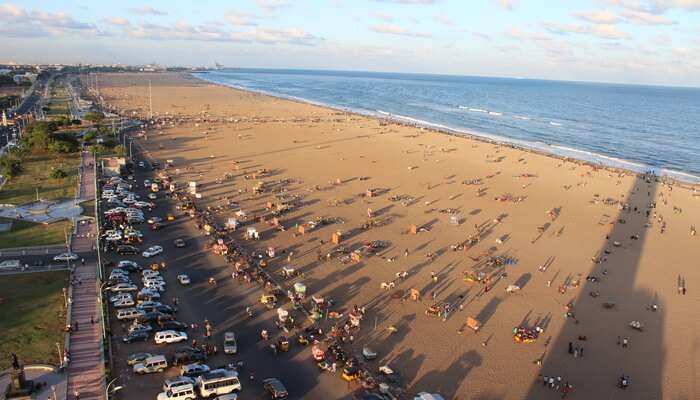 There is no doubt in the fact that Marina Beach is one of the best beaches near Tirupati. Owing to its 13 km stretch, it has certainly qualified to be the longest natural urban beach in the entire country. This fascinating natural beauty lies right along the Bay of Bengal. Being the second largest beach in the world, it is also known to witness almost 30,000 visitors every day making it the most crowded beach in India. The scenic beauty and the serene sight make it undoubtedly the best attraction to be added in every visitors' bucket list and as an add-on, the white sandy shore and the beach's landscape is a view to behold. This has to be the finest place to be with your loved ones and enjoy the cool evening breeze passing across your face while chewing the delicious sundal and murukku.
There are plenty of shops known to sell some amazing gifts that can be brought as souvenirs to please yourselves. One of the most memorable and very fascinating views is that of the sun crawling into the sky and eventually disappearing into the ocean. There isn't anyone who must have been here and left with disappointment as this paradise is a perfect haven for visitors with friends or family, couples and even to solo travellers this is a great place to visit. Next time if you are in the area or nearby, make sure not to miss the opportunity to witness such a heavenly place blessed with natural beauty.
Location: It is located in Chennai, Tamil Nadu, right along the Bay of Bengal
Distance: 137 km from Tirupati
Suggested Read: Planning To Visit The Tirupati Temple? Make Sure You Avoid The Following Dates!
3. Breezy Beach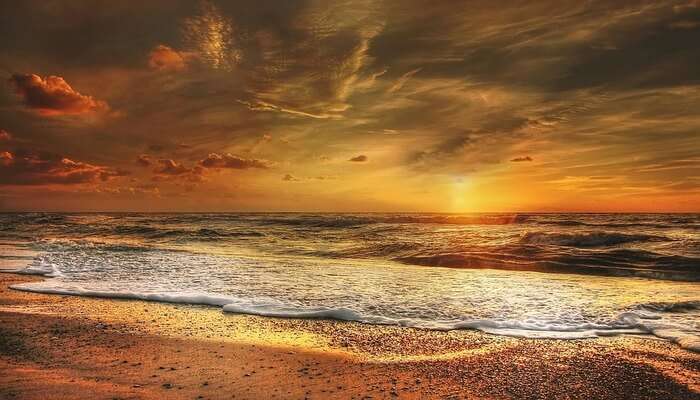 Recognised as one of the finest beaches in the region, it is gracefully resting in a remote and serene neighbourhood of Valmiki Nagar in Chennai. It is comparatively smaller than other beaches and for obvious it is less crowded, which makes it a great place for couples or solo visitors to find their much-required time alone. If you are seeking for a peaceful evening, without a doubt this has to be the perfect gateway towards your path of rejuvenation.
Being located at a quiet yet peaceful location, this beach has to be a perfect hotspot for tourists with friends and family. This beach is recognised for attracting an endless number of tourists and in recent years it has grown to be more popular. While you walk across the beach, the mesmerising breeze passing by shall hit your face which will give you a very pleasant and refreshing feeling. The Breezy Beach in Chennai is a perfect tourist attraction which is widely appreciated by almost every tourist or local resident who has visited the so-called heavenly place. If you are seeking a refreshing and an amiable experience then make sure not to miss a trip to Breezy beach while you are in Chennai for work or leisure.
Location: Valmiki Nagar, Chennai, Tamil Nadu 600041
Distance: 154 km from Tirupati
Suggested Read: 9 Best Hotels In Tirupati For A Tranquil Retreat In The Heart Of Tamil Nadu!
4. Elliot's Beach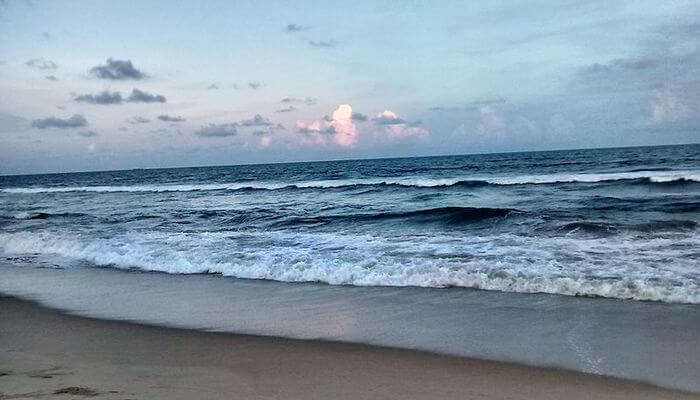 This is another finest beach located in Besant Nagar, Chennai which also goes by the name of Besant Nagar Beach or Bessie. The place is named after Edward Elliot who was once the Chief Magistrate, Superintendent of Madras and also the Governor of Chennai during the British Era. It is known to form the very endpoint of the famous and very beautiful Marina Beach shore. As an addon, the Velankanni Church and the Ashtalakshmi Kovil right within the vicinity is worth visiting. Besides being beautiful and a famous tourist attraction, it is also known to be one of the cleanest beaches in Chennai.
It is known to be a hotspot for water lovers and there are plenty of activities to try here which will get you occupied most of your time yet giving you an immensely pleasurable experience. The visitors can get lost amid the beautiful and naturally blessed environment and spend some quality time with their loved ones. It is said that, during colonial times, it was a place limited to white people. The beach is often occupied mostly by local college students and some of the guests with families to experience a good time while sipping a cup of tea or coconut water with those delicious snacks and mouth-watering cuisines served at the beach's restaurants. As a security measure, there is a police outpost and all-terrain vehicles mostly dedicated to preventing drowning mishaps. The beach is also known to be often visited by tourists or travellers for sunbathing.
Location: Besant Nagar, Chennai, India
Distance: 153 km from Tirupati
Suggested Read: Bookmark These 8 Romantic Things To Do In Kodaikanal For A Blissful Trip In Tamil Nadu!
5. Nettukuppam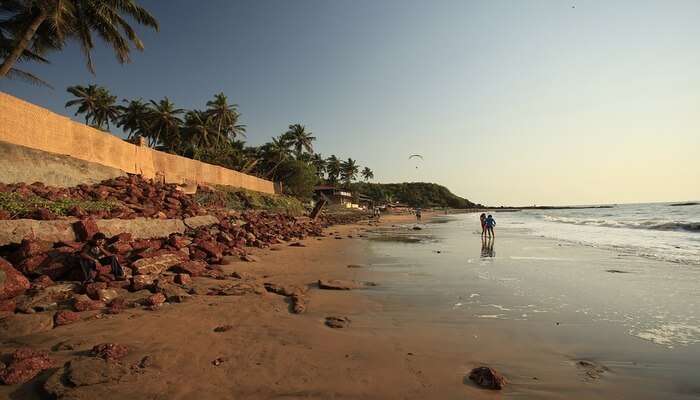 Gracefully resting in the northernmost tip of Chennai, this adorable beach is known for its mesmerising beauty yet not tarnished by encroaching crowds. This place is perfectly ideal to spend a quality and peaceful time with your near and dear ones while the passing breeze and fascinating are just add-ons to the already beautiful naturally blessed Nettukuppam beach. In the absence of hawkers or many crowded tourists, it is for sure a haven for couples or to a solo visitor seeking some time alone. This beach hardly witnesses a huge crowd and it mostly experiences a few groups of people or some kids playing football or other water activities. There are people attracted to this who are mostly seeking rejuvenation as the silence and tranquilities experienced here is nothing but bliss. It is said to be a perfect hotspot to travel here with friends or family during summer evenings.
It is also known to own vantage point which offers a great view of the pleasant skyline of Chennai. There is a popular local myth revolving around decades which believes the skyline to be a broken bridge known to be built in pursuit to behold a dredger at the creek's mouth ages ago. Experiencing the refreshing sea breeze while the cool waves hit your face, witnessing the beauty of nature sitting on the pier and tasting the various delicacies served at the nearby stalls are some of the best activities which can be tried by the tourists while they come here to spend some quality time. For photographers, this place is known to be a paradise. If you are planning to visit the region then make sure not to miss visiting this heavenly blessed beach.
Location: It is well resting at the northernmost tip of Chennai
Distance: 135 km from Tirupati
Suggested Read: 20 Mesmerizing Hill Stations In South India That Are A Must Visit In 2020
6. Promenade Beach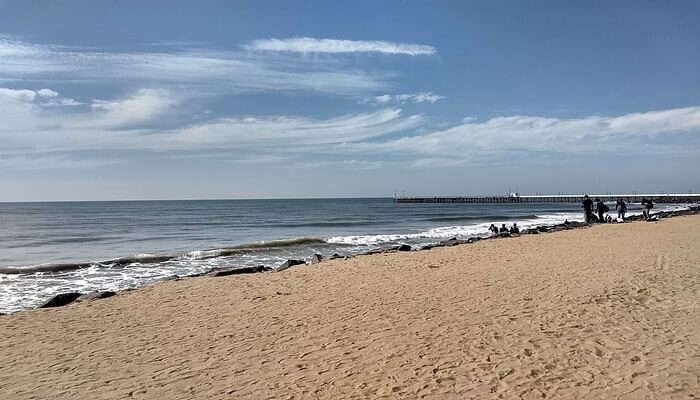 Image Source
This is one of the finest beaches in the nation which is stretched over 1.2 km from the War Memorial right to the Duplex Park on the Goubert Ave in the beautiful and gracious city of Puducherry. Owing to its perfect location and its natural beauty, the beach witnesses huge crowds throughout the year out of whom, groups playing volleyball, skating, jogging and swimming are the ones who are mostly responsible for occupying this beautiful paradise. It is quite reputed and recognised for owning various significant landmarks such as the War Memorial, the heritage Town Hall, the statue of Mahatma Gandhi, the statue of Joan of Arc, the remains of the old pier and certainly the very beautiful Dupleix Statue and the undoubtedly beautiful customs house.
There are some remarkable restaurants known to serve authentic traditional food and for the seafood lovers, they can visit the magnificent Le Café. Visitors can purchase handicrafts and street food from hawkers and right to the opposite side of the beach there is a mesmerising heritage building of the reputed Tourist Information Centre. With so much to offer to its guests, the Promenade Beach is nothing but a paradise for beach lovers where they have the opportunity to spend a great time with their near and dear ones.
Location: It is a popular stretch of beachfront right in heart of the city of Puducherry along the Bay of Bengal
Distance: 249 km from Tirupati
Further Read: 6 Types Of Places To Visit In Tirupati On Your Next Expedition!
While you are in Tirupati, a city known to be a sacred home to Hindu pilgrims, there are many beaches nearby which are so beautiful and adorable that you would wish to miss visiting it again. Make sure to carry a decent camera while you are heading to one of these beaches so that you can take some of your pictures back home clicked here as a souvenir or as a mark of pride and memory. So, what are you waiting for? Head to Tirupati for a vacation with you friends or family. Make sure that you cover these beaches near Tirupati.
Frequently Asked Questions About Beaches Near Tirupati
Q. Are Tirupati beaches worth visiting?
A. Yes, it is worth a visit owing to its beauty in diversity. It is known to be a perfect tourist attraction to experience quality time with near and dear ones. It has a lot to offer and the potential is limitless. 
Q. Where is Marina Beach located? 
A. It is located in Chennai, Tamil Nadu, right along the Bay of Bengal.
Q. What is the best time to visit Elliot's Beach?
A. It is recommended to travel throughout the year however the summer evenings are known to be the best.
Q. What is Promenade Beach known for?
A. Swimming, playing volleyball, jogging or talking a walk across the beach are some of the activities often witnessed here.
Q. Which are the best things to do in winters?
A. Well, apart from visiting the famous tourist attraction in and around Tirupati, it is recommended to visit the nearest beaches in Tirupati which are known for their natural beauty and mesmerising surroundings.
Q. Are there any entry fees to the beaches near Tirupati?
A. There are no such fees to enter any beach located near Tirupati however the tourists are recommended to be aware of the closing time and to be careful near the water to avoid any drowning mishaps.
People Also Read:
Beaches Near Vasco Da Gama Beaches Near Pune Beaches Near Hyderabad
Comments
comments