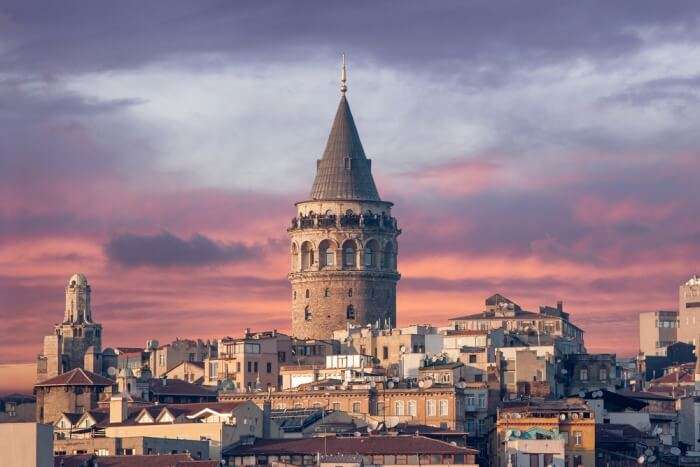 Humans have been constructing towers from the early prehistoric times. And while most of these towers were primarily built to serve as a watchtower, their uses have changed completely over the years. Some of these towers, with their architectural features, historical importance or with some other unique features, have gained immense popularity and have attracted tourists from different corners of the world. Hence, here is a list of the famous towers in the world that receive tourists in big numbers each year, with their beautiful structure and architecture.
14 Famous Towers In The World
This article presents some of the most spectacular of the world's towers that one should see in order to observe their beauty and excellence. Hence, here is a list of the most famous towers in the world that are incredibly stunning and excellent.
Axum Stelae
Svanetian Towers

Minaret Of Jam
Qutub Minar
CN Tower
San Gimignano Towers
Galata Tower
The Two Towers of Bologna
Belem Tower
Three Pagodas
Spiral Minaret
Big Ben
Leaning Tower of Pisa
Eiffel Tower
1. Axum Stelae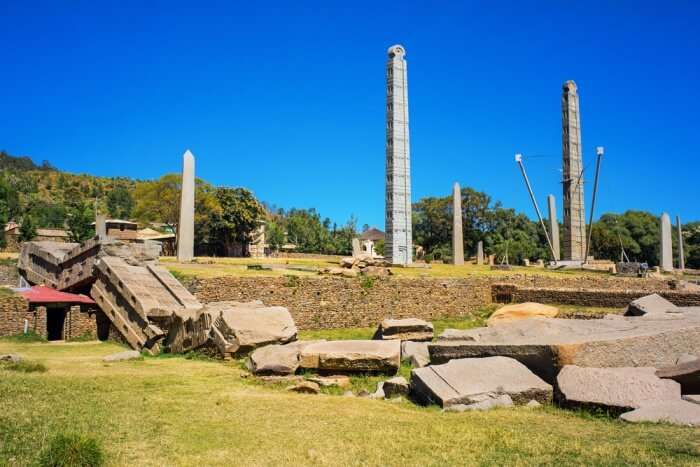 Axum in Ethiopia houses a series of numerous towers that are known as Stelae. These Stelae are considered as the funerary monuments for the ancient rulers of Axum. Amongst the series of towers around the world, the tallest Stelae is 79 feet high and is believed to be constructed for King Ezana. One of these Stelae was removed during the Second World War by the Italian army. However, it was reinstalled again a few years back.
Date built: 300-500 AD
Location: Axum, Ethiopia
Must Read: 10 Marvelous Rock Formations In The World Which Will Leave You Mesmerized!
---
Looking To Book An International Holiday?
---
2. Svanetian Towers
Built as a structure for defence against northern tribes as well as against natural calamities like avalanches, these are a number of towers situated in northern Georgian province. The inhabitants of this remote area believe that each of these towers acted as a safe place to hide for every Svan family in case of an attack. While all these towers are very old, the oldest one is around 1,200 years old.
Date built: 800-900 AD
Location: Svaneti, Georgia
3. Minaret Of Jam
Once part of a mosque constructed way back in the 12th century, this is a stunning minaret in Afghanistan. The mosque here got destroyed in a terrible flood. However, the minaret was not affected. And a few traces of the mosque, that were remaining even after the flood, were destroyed by Mongol invaders sometime later. It was actually very surprising and shocking, that this minaret survived this as well, and is today standing still even after all the events that took place in the area.
Date built: 1101-1200 AD
Location: Jam, Afghanistan
Suggested Read: 11 Largest Castles In The World That You Must Visit At Least Once In A Lifetime!
4. Qutub Minar
It is the second tallest minaret in the world, which is made up of bricks. Situated in the capital of India, the Minar was commissioned by the Delhi's first Muslim ruler, Qutb al-Din Aibak. This is one of Delhi's major tourist attractions and receives visitors from various parts of the world. It stands about 237 feet high and has around 379 steps that take you to the top. After its commission in 1193, the minar was finally completed in 1386.
Date built: 1192
Location: Delhi, India
5. CN Tower
One of Canada's most popular and most visited structures, the CN Tower in Toronto's downtown stands amongst many skyscrapers, showcasing exquisite beauty and brilliance. This concrete observation and communications tower was built beautifully, on former Railway Lands. Built in 1973, the 1815 – foot – high tower boasted of being World's tallest freestanding structure for 32 long years before the top spot was captured by Burj Khalifa.
Date built: 1973-1976
Location: Toronto, Canada
Suggested Read: 26 Best Places To Visit In July In The World To Pamper The Travel-Enthusiast In You
6. San Gimignano Towers
San Gimignano is a village situated in the rolling hills of Tuscany in Italy, that is also called 'Medieval Manhattan'. The reason behind this unique nickname is the 14 fascinating stone towers in the village that have stood strong and firm for many centuries. Originally, there were about 70 towers built in the village for the purpose of defense from attacks. However, some of the towers started to fall down or while some got demolished, as the number of towers decreased and only 14 of them remained.
Date built: 11th and 13th centuries
Location: San Gimignano, Italy
---
Planning your holiday but confused about where to go? These travel stories help you find your best trip ever!
---
7. Galata Tower
Istanbul in Turkey is a spectacular city with beautiful buildings and famous monuments. One such fascinating structure is the Galata Tower, standing tall at about 220 meters. It features a conical-shaped top, making it look extremely attractive. There is an amazing restaurant as well as a café at the top, from where one can enjoy Bosphorus Strait's breathtaking views. Built way back in 1348, the structure is still standing strong and manages to attract many tourists every year
Date built: 1348
Location: Istanbul, Turkey
Suggested Read: 20 Famous Bridges In The World That Are The Icons Of Modern Architecture
8. The Two Towers of Bologna
There was a time when Bologna's skyline featured as much as 180 tall towers. But over the time, the number has terribly declined as only 20 towers still stand today. Out of these 20 towers, Asinelli tower and the Garisenda tower, are very famous and attract tourists from all around the world. The Asinelli tower is around 318 feet high, while the Garisenda tower is about 157 feet high. However, the height of the Garisenda was about 196 feet, until it was reduced in the 14th century for safety purposes.
Date built: 1109-1119
Location: Bologna, Italy
9. Belem Tower
Built on the northern bank of the Tagus in Lisbon, Portugal in the initial years of the 16th century, the Belem tower acted as a defense structure to protect the Portuguese capital. A number of Portuguese explorers would begin their journey of discovering new routes and lands from this tower, using it as a starting point for their navigation. Also called the 'Tower of St. Vincent', this fortified tower is also a UNESCO World Heritage site.
Date built: 1515-1519
Location: Lisbon, Portugal
Suggested Read: 31 Best Places In The World To Celebrate New Year Party
10. Three Pagodas
Having survived the brunt of a number of catastrophes, both natural and man-made, these three pagodas in Dali, China are some of the world's best-preserved Buddhist structures. Built during the time when King Quan Fengyou was in power, the pagoda in the middle is the oldest, and also the tallest amongst the three pagodas. It is about 227 feet high, while the other 2 pagodas are each 140 feet high. The middle pagoda was built between 824-840 AD while the other two pagodas were built a long time after that in the 10th Century.
Date built: 824-840 AD (middle pagoda) & 10th century (side pagodas)
Location: Dali, China
11. Spiral Minaret
A feature of the Great Mosque of Samarra, one of the world's largest mosques, the Spiral Minaret is a very unique and beautiful structure, both in terms of its structure and its design. Standing tall at 162 feet, it was originally connected to the mosque by a bridge which is not in existence currently. Made of sandstone, its ascending spiral conical design manages to attract a lot of visitors from around the world.
Date built: 848-852 AD
Location: Samarra, Iraq
Suggested Read: 10 Most Famous Caves In The World That'll Leave You In Awe With Their Natural Beauty
12. Big Ben
Big Ben is undeniably, the world's most popular clock tower, that is around 150 years old. Situated in Westminster, London, the tower houses a whopping 13-ton bell inside it. The name 'Big Ben' comes from the man responsible for this tower, Sir Benjamin Franklin. This famous tower can be easily spotted in various movies and tv shows, which is amongst the prime reasons why the tower is extremely famous and is known to people all around the world.
Date built: 1859
Location: Westminster, London, United Kingdom
13. Leaning Tower of Pisa
This tower in Pisa, Italy, is actually famous because of its unusual and unique structure. The reason behind its tilted structure is actually an inadequate foundation. The tilt began to show during its construction and as a result, the engineers had to make a change in their plans. So, upper floors' one side was built taller than the other side which helped in compensating the tilt. This move proved brilliant as the structure became both, safe and unique. Its unique structure still manages to grab the attention of tourists all over the world. One has to take 296 steps to reach to the top of this tower.
Date built: 1173-1372
Location: Pisa, Italy
Suggested Read: 60 Best Honeymoon Destinations In India
14. Eiffel Tower
The Eiffel Tower is undoubtedly, one of the world's most beautiful and most visited landmarks. Designed by Gustave Eiffel, it stands about 1000 feet high. The reason behind its construction was that it was the entrance for Paris' International Exhibition, that took place in the year 1889. It boasted for a long time as the tallest tower in the world until New York City's Chrysler Building's construction was completed in 1930. A total of around 200 million people have visited the Eiffel Tower since its construction. With this grand structure located in the beautiful city of Paris, it is no wonder that the monument is known to almost each and every corner around the world.
Date built: 1887-1889
Location: Paris, France
Further Read: 40 Most Romantic International Honeymoon Destinations On Your Budget
These are the most stunning and famous towers in the world that are visited by numerous tourists every year, just to observe their beauty and magnificence. Book your trip with TravelTriangle and visit these brilliant structures and enjoy their exquisite architecture. Do not forget to share it with your friends.
Disclaimer: TravelTriangle claims no credit for images featured on our blog site unless otherwise noted. All visual content is copyrighted to its respectful owners. We try to link back to original sources whenever possible. If you own rights to any of the images, and do not wish them to appear on TravelTriangle, please contact us and they will be promptly removed. We believe in providing proper attribution to the original author, artist or photographer.
Please Note: Any information published by TravelTriangle in any form of content is not intended to be a substitute for any kind of medical advice, and one must not take any action before consulting a professional medical expert of their own choice.
Frequently Asked Questions About Famous Towers In The World
What are the most beautiful towers in the world?
There are 5 most stunning towers in the world and these are as follows: 1. CN Tower, Toronto, Canada 2. Burj Khalifa, Dubai, UAE 3. Big Ben, London, UK 4. Oriental Pearl Tower, Shanghai, China 5. Eiffel Tower, Paris, France
What was the reason behind building Eiffel Tower?
A French engineer and architect Alexandre-Gustave Eiffel designed and constructed this iron tower in the year 1889. The focus behind the construction of this tower was to reveal the importance of the metals iron and steel in the front of the world was the reason behind the great industrial advancement of that time.
What are the tallest towers in the world?
The tallest towers are, 1. Burj Khalifa, Dubai 2. Shanghai Tower, Shanghai 3. Makkah Royal Clock Tower, Mecca 4. Ping An Finance Center, Shenzhen
How many Eiffel Towers are there in the world?
There are 12 Eiffel Towers all around the world.
Which tower is taller than the Eiffel Tower?
Burj Khalifa of Dubai is taller than the Eiffel Tower. The height of Burj Khalifa is 829.8 meters whereas the Eiffel Tower is 324 meters tall. The first structure is holding a record of being the tallest tower in the world.
---
Looking To Book A Holiday Package?
---