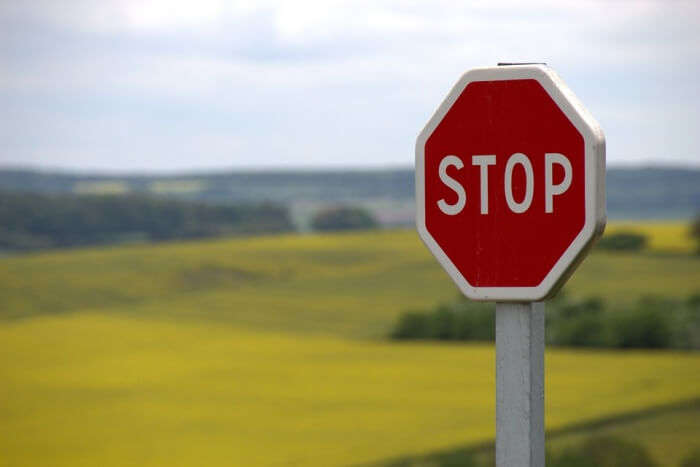 Cambodia, a country in South-East Asia is known for its mountains, coastline, markets, culture, tragic past, and the very famous Angkor Vat. The country is very keen on etiquette, modesty, and respect. So, there are some dos and don'ts that one must follow during their visit to the blissful nation.
Being a responsible citizen, it is everyone's duty to take care of certain things when visiting a country as a tourist. Therefore, it is important that you consider some of the essential things not to do in Cambodia if you want to make your travel experience worth it without any hassles.
13 Things Not To Do In Cambodia
Before you plan your vacation and decide upon all the things you can do in this country, make sure you are aware of what not to do in Cambodia to make your visit go smoothly.
1. Avoid Carrying Single Currency
2. Don't Go For Elephant Rides
3. Avoid Drinking Tap Water
4. Avoid Feeding Or Giving Money To The Beggars
5. Do Not Disrespect Monks
6. Don't Take Your Skin For Granted
7. Don't Rely Totally On Internet
8. Strolling Casually Into The Temples Isn't Allowed
9. Don't Neglect The Hygiene
10. Avoid Clicking Pictures Of Food
11. Don't Touch Someone's Head Or Show Feet To Them
12. Avoid Dressing Immodestly
13. Don't Forget Your Etiquettes
1. Avoid Carrying Single Currency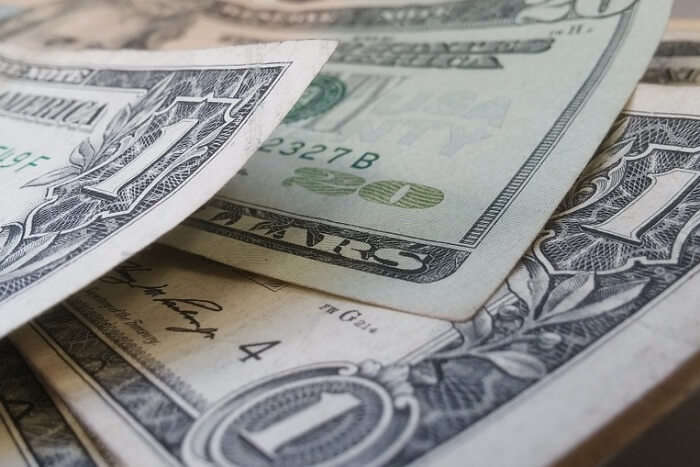 Anything that costs more than $1 is to be paid in dollars and that makes it necessary to carry US dollars while the change less than $1 is returned in Riel. So, carry both currencies at all times. While some ATMs may give you the option of choosing whether you want the money in US Dollars or Riel, most will give out cash in dollars itself.
Must Read: Take Tips From Rahul's Romantic Trip To Cambodia And Vietnam
2. Don't Go For Elephant Rides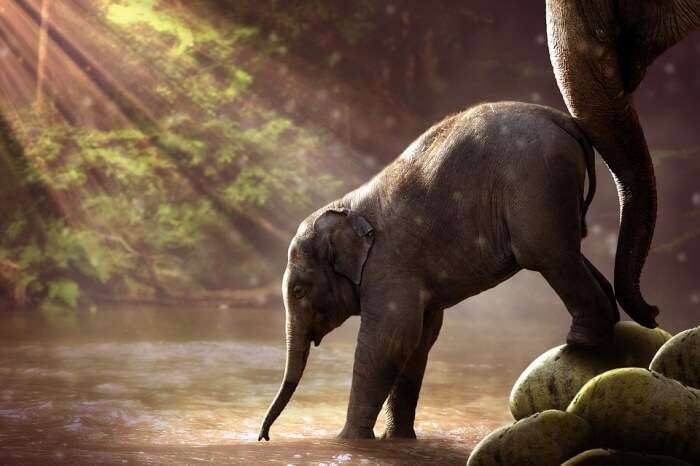 You will be offered elephant rides everywhere but please don't succumb. It is really painful for the animals and such activities if promoted by tourists might make the condition worse for the creatures. The elephants are snatched from mothers after birth and trained and tortured to be fit for riding. So, don't promote such inhumanity by being a part of it.
3. Avoid Drinking Tap Water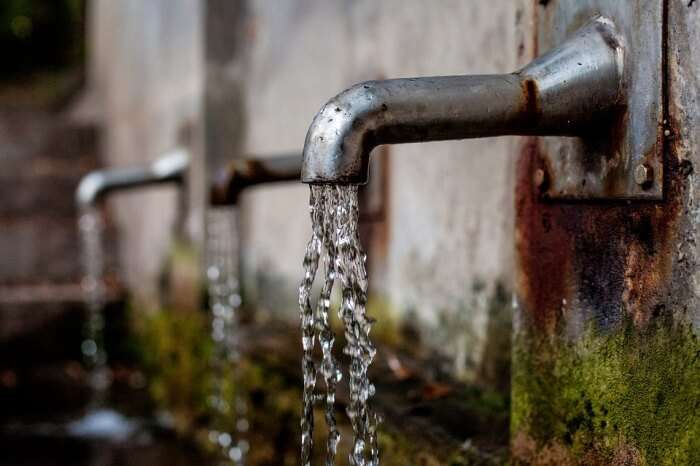 This is one of the aspects that might as well come under Cambodia warnings and dangers. The tap water is unhygienic and if taken, can cause a severely upset stomach. So, it is advised to buy bottles of water from the market and drink from them at all times.
Also, it is suggested to buy large bottles to reduce plastic usage rather than small bottles every few hours or so. Be hydrated and go green!
Suggested Read: 10 Most Romantic Places In Cambodia That Will Spoil You Both For Life!
4. Avoid Feeding Or Giving Money To The Beggars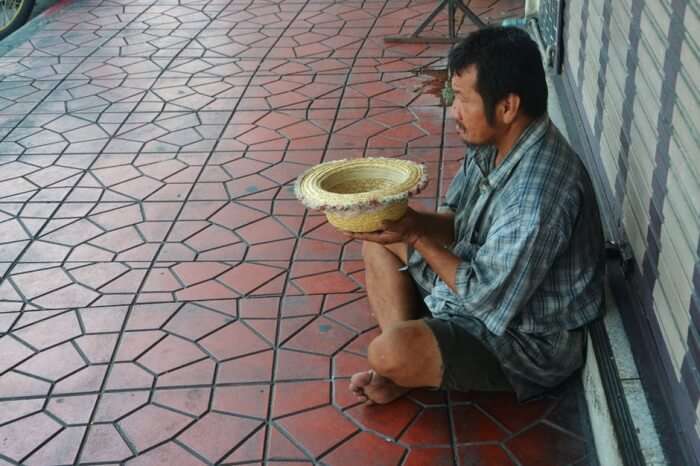 Don't buy food or anything else for someone who comes to you asking for help, especially someone that comes to you holding a baby and asking to be fed or to feed the baby. The things they ask you to buy usually cost quite a lot. So, be careful and don't fall prey to such scams.
Also, don't give money to kids as it will promote such deeds and devalue education as an alternative in the form of begging will be provided.
5. Do Not Disrespect Monks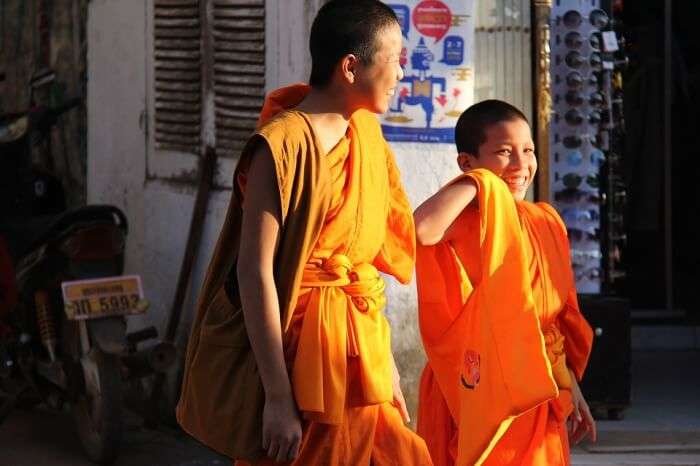 Monks are revered in the Cambodian culture and the same is expected to be understood by tourists – to be mindful of the local culture. One is to take the picture of a monk only after asking permission. Females are particularly requested to be very careful around them and not touch or sit too close to a monk or hand them anything.
If seated with them, one must always try and sit lower than the monk and let him be seated first. Also, when talking to a seated monk, sit first and then converse. You'll find monks pretty much everywhere in Cambodia, so it is important to know how to behave around them without offending anybody.
Suggested Read: 7 Reasons That Will Compel You To Travel To Cambodia In Summer
---
Planning your holiday but confused about where to go? These travel stories help you find your best trip ever!
Real travel stories. Real stays. Handy tips to help you make the right choice.
---
6. Don't Take Your Skin For Granted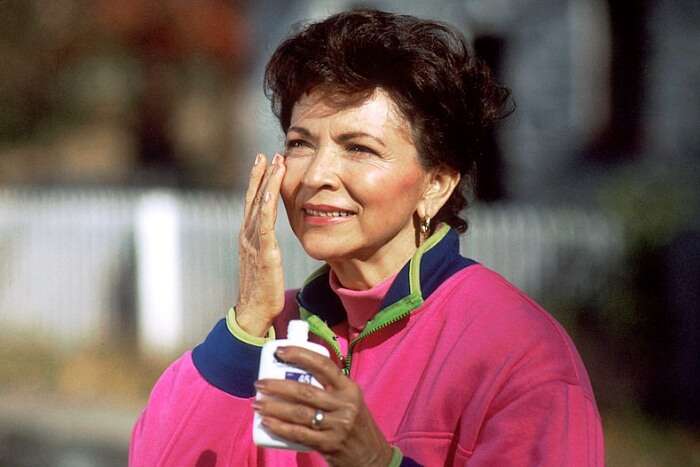 If you are confused about what to bring when traveling to Cambodia especially when it comes to your skin, then this is for you! Carry sunglasses and something to cover your face or apply sunscreen when visiting the beach.
The air is quite polluted and while traveling one is sure to get dust in eyes, nose, and mouth. People with breathing problems and allergies must carry required precautions like anti-allergens and face mask to prevent any mishap.
7. Don't Rely Totally On Internet
The internet service is not so good, so it is recommended not to depend on the internet completely. The service even if available is quite slow and unreliable. Take precautions, don't expect GPS to work. The few places that you might find WiFi also has very poor quality. So, if you work on the internet, be ready with a backup.
Suggested Read: Amazing Villas In Phnom Penh That Will Pamper You Throughout Your Holiday In Cambodia
8. Strolling Casually Into The Temples Isn't Allowed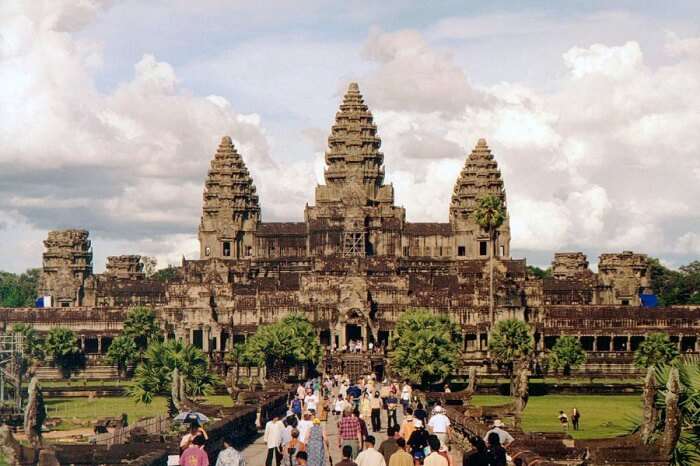 Cambodia is a very conservative nation and one cannot just stroll into temples. One needs to get a temple pass to visit Angkor Vat. The pass is sold in one-day, three-day, and seven-day variants and is to be used on consecutive days.
The pass needs to be taken care of if lost, it needs to be purchased again. Also, you must dress properly before entering any temple, pants or skirts long enough to go below the knees and t-shirts will work. However, deep necklines and t-shirts with religious prints are to be avoided.
9. Don't Neglect The Hygiene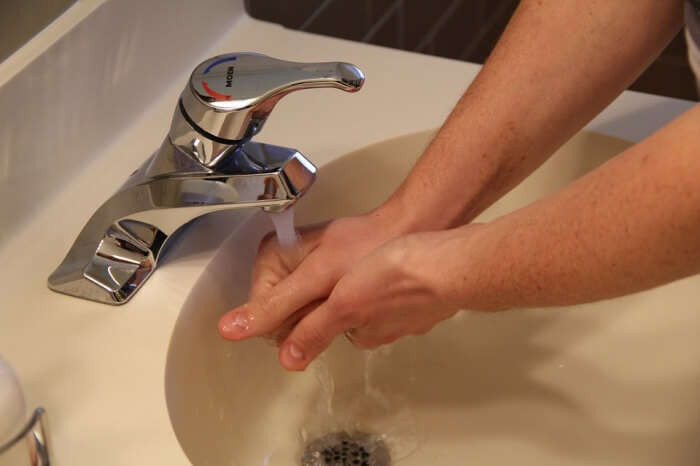 You may not find proper sanitization or well-maintained toilets everywhere so be prepared for all scenarios. Carry hand sanitizers and tissues to safeguard against diseases due to unhygienic exposure. Also, the place is full of mosquitos, so keep a mosquito repellent handy and use it regularly. Be safe.
Suggested Read: 18 Best Things To Do In Phnom Penh On Your Cambodian Vacation in 2022
10. Avoid Clicking Pictures Of Food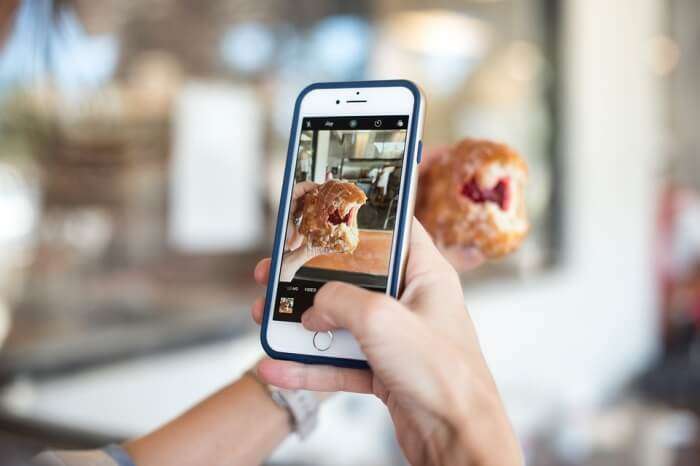 People here do eat all kinds of stuff like snakes, crickets, and spiders and tourists often try it too. However, if you try and take photos of this food at Pub Street, you might be charged by the vendor. Bon Appetit.
11. Don't Touch Someone's Head Or Show Feet To Them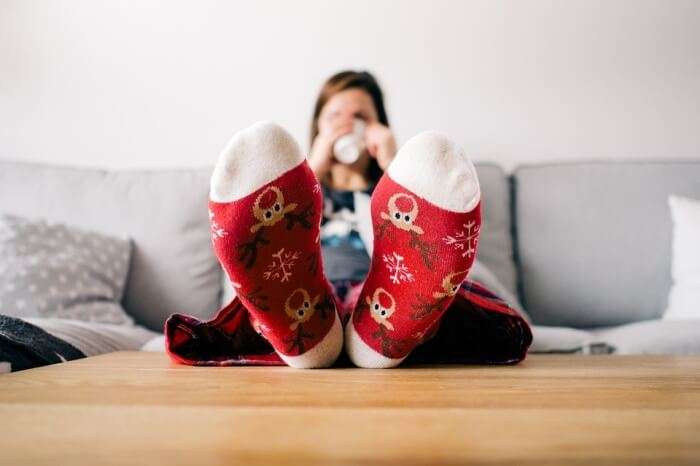 The head is considered a person's most sacred part and hence is not to be touched, even to ruffle kids' hair. On the other hand, feet are considered the least sacred and dirty and thus are not to be pointed at anyone. Even when you're sitting in front of anyone, the feet are to be folded underneath your body to avoid offending the person.
Besides this, use right hand to hand things over to people and while eating. Also, pointing at someone is considered very rude in the culture so take care.
Suggested Read: 10 Villas In Cambodia That Are Perfect For A Nap After An Eventful Day Of Your 2022 Vacay
12. Avoid Dressing Immodestly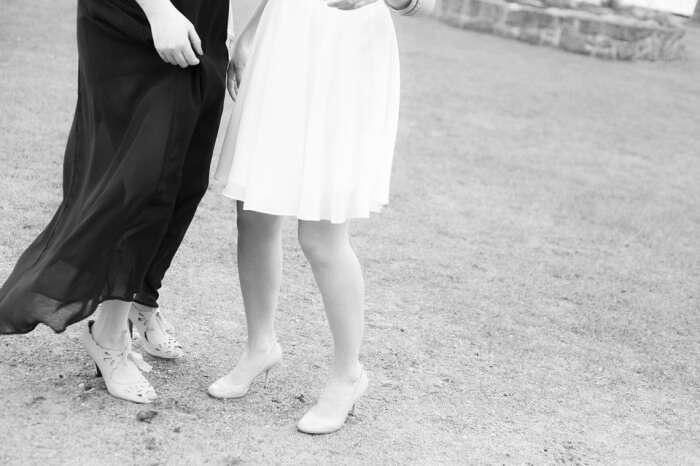 The people in Cambodia are quite modest in both attire and beliefs. Tourists are advised to keep a modest dress code so as not to offend the locals or draw attention. Short shorts, tights, plunging necklines, miniskirts, and other revealing clothes are discouraged to be worn.
13. Don't Forget Your Etiquettes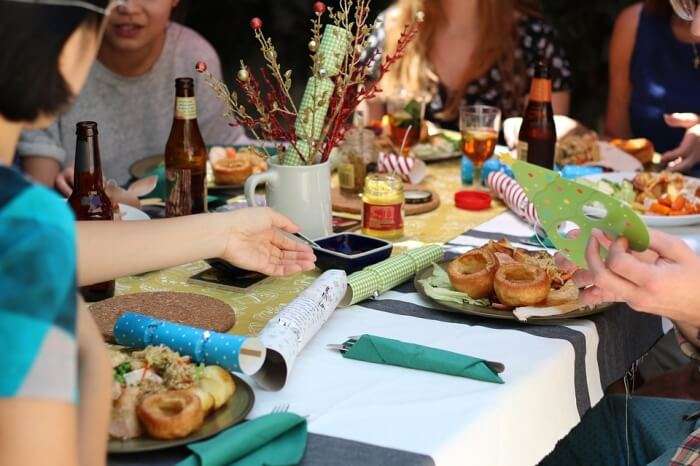 Etiquette is taken very seriously in Cambodia and is quite easy to practice once you get the gist of it. The main point is respect elders, monks, and pretty much everyone. Take off your shoes when entering someone's house, business place, or a temple and remove your hat once inside. Let elders lead everything. Don't turn your back against the statues of Buddha to take pictures (only after taking permission).
Although there are no taboo topics of conversation, it is a common etiquette not to talk about politics, war or business when eating at a table. These are sensitive topics taking Cambodia's past and war-torn history into consideration and pretty much everyone has been affected by the recent genocides there. Look around, see how locals do it and follow suit.
Further Read: A Complete Tour Guide To Koh Rong Island, A Paradise In Cambodia
These pointers will help you during your visit to Cambodia, making for a memorable trip without any hassles. The main motto that you need to remember when thinking of things not to do in Cambodia is to be respectful to all, follow etiquettes, and show courtesy.
---
Looking To Book A Holiday Package?
Book memorable holidays on TravelTriangle with 650+ verified travel agents for 65+ domestic and international destinations.
---