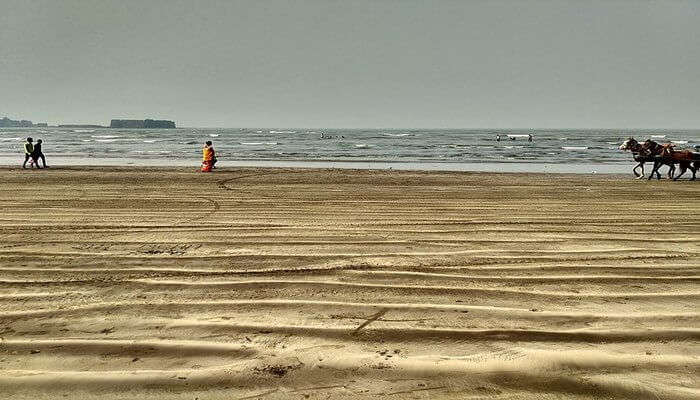 Cover Image Credit: Wikipedia
Alibaug is a coastal town in Raigad District of Maharashtra in Western India. With a coastline that runs along the Arabian Sea, this region paves the way for travellers to delve into a variety of water sports. Being the central place of Raigad District, famous for its beaches, historical heritage and temples dedicated to Hindu gods, tourists have several things to do in Alibaug.
A visit to this interesting place will make you feel as if you have reached somewhere a paradise that has much to offer with its natural resources and beautiful appearance. It has been fast emerging as a major tourist destination in the country with numerous activities to do in Alibaug where people come to feel the surreal nature and for their own peace to avoid all sorts of itsy-bitsy and disturbing elements of life. It is here that anyone can enjoy the serene climatic conditions and nature to the most.
14 Best Things To Do In Alibaug
Enlisted below are notable things to do in Alibaug where you can enjoy and make the best of a trip. Read them and select what all fun things to do in Alibaug are you going to choose. Keep scrolling!
1. Kolaba Fort

An old military fortification in the Konkan region, Kolaba Fort is a place you mustn't forget to visit during your trip. This fort takes you to the past to assess important historical facts related to this fort and the region. A visit to this fort is one of the best things to do in Alibaug. If you are travelling during low tide, then it can be easily reached on foot. Hire a boat in case you are there during high tide to keep yourself safe and enjoy this place to the most.
Location: 1-2 km from Alibaug, Raigad District, Maharashtra
How to Reach: It is reachable by sea from Mumbai. Regular ferry services are available from Mandwa and Rewas with 45 minutes of travel.
Visiting time: 10:00 AM to 5:00 PM
Accommodation: Many hotels are available around the vicinity of Alibaug which you can choose from.
Best Time to Visit: Starting November till July.
Ideal For: Sightseeing, strolling and historical awareness. Also, it is ideal for family bonding and for leisure escapades with friends.
19 Alibaug Resorts For The Times You Crave An Indulgent Staycation
---
Looking To Book A Holiday Package?
---
2. Sarkhel Kanhoji Angre Samadhi

It had been built in the memory of the great Maratha Admiral Kanhoji Angre. Considered a beautiful tourist attraction in Alibaug, this Samadhi is a standing example of the ancient Maratha Architectural marvels. As a tourist, you should definitely plan a tour to visit one of the best places in Alibaug to know the history of Sarkhel Kanhoji Angre.
How to Reach: If travelling from Mumbai, the most convenient and fastest way to Alibaug is via ferry or catamaran from the Gateway of India. From Alibaug, Sarkhel Kanhoji Angre Samadhi is just around 2 km away.
Visiting time: 3:00 PM to 6:00 PM
Accommodation: There are many hotels available around the vicinity of Alibaug which you can choose from.
3. Varsoli Beach

Image Credit: donvikro for Pixabay
Although Varsoli Beach is not too popular yet it remains in the limelight due to its isolation. Stay at various resorts and cottages – enjoy the white sandy beach, enjoy a boat ride and engage in fishing, in short, there are various things to do in Alibaug near beach. It is the most suitable beach to enjoy seething climatic conditions thus spend quality time while also involving in a variety of adventure sports activities.
Location: Varsoli is situated on the outskirts of Alibaug which is just 2 km to the North of the Beach.
How to Reach: Several private tour operators arrange daily trips to the beach. Buses are available that run in between Mumbai and Alibaug. The nearest railway station to Alibaug and Varsoli is "Pen" which is connected to Panvel then to Mumbai and also to the Indian Railways Network.
Visiting time: All the days of the week, from 5:00 AM to 7:00 PM
Ideal For: Nature lovers, relaxation with family and friends and adventure sports
Accommodation: The nearby areas of this beach are packed with many resorts and cottages which offers the best vacation experience to tourists and travellers.
10 Cottages In Alibaug Loaded With Luxury And Comfort
4. Kihim Beach

Major attraction of Kihim are its sandy beaches where visitors flock to enjoy the momentous moments of cool and calm atmosphere. Bird lovers feel the exotic bird species which are abundantly found in this area. A variety of butterflies are also found here. Those interested in water sports and adventure games enjoy the best time here. Indeed, it is the best place for plenty of things to do in Alibaug with family that you can cherish later.
Location: 11 km North of Alibaug, Raigad District, Maharashtra.
How to Reach: Kihim is about 10 km from the Alibaug Bus Depot.
Visiting time: All the days of the week
Accommodation: You can find the average board and lodging facilities throughout the village except for the month of December.
Ideal For: Family and Friendly relaxation and water adventure sports.
5. Hirakot Lake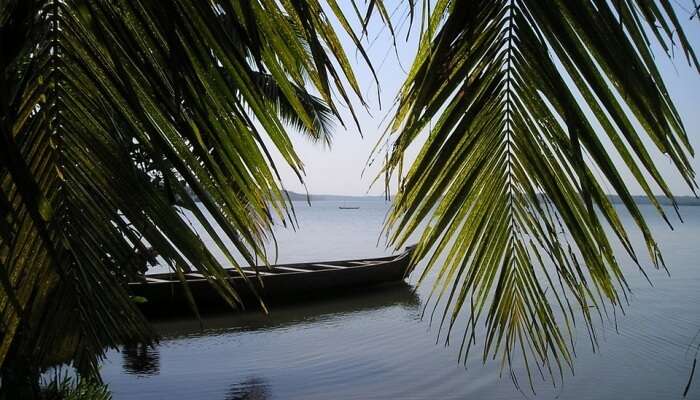 Image Credit: Simon for Pixabay
The large freshwater, Hirakot Fort with its manicured garden surrounding it is a scenic beauty not to miss out on. Visitors want to spend peaceful and serene moments observing its tranquillity. You also have easy access to the nearby Hirakot Fort and several other tourist destinations of Alibaug that are located at a reasonable distance from here.
Location: It is situated in the centre of Alibaug City.
How to Reach: 95 km away from Mumbai by road via NH66. The most convenient way to reach here is via ferry.
Accommodation: Alibaug City offers many hotels to choose from.
Ideal For: Strolling, water sports activities and boat rides with family and friends.
Top 10 Restaurants In Maharashtra For Tasting The Best Foods Of This Indian State
---
Planning your holiday but confused about where to go? These travel stories help you find your best trip ever!
---
6. Hirakot Fort

A visit to this fort is one of the best things to do in Alibaug, Maharashtra. Old Hirakot Fort is also known as a "Diamond Fort". This fort is built with big blocks of basalt which give out a shiny look. Tourists can also watch this historical monument from its base and capture some notable marks from the war. It makes you feel the historic recounts.
Location: Alibaug City, Raigad District, Maharashtra.
How to Reach: 95 km away from Mumbai by road via NH66. The most convenient way is via ferry service.
Accommodation: Alibaug City offers many hotels to choose from.
Ideal For: Strolling and observing the historical artefacts with friends and family.
7. Alibaug Beach

Considered most visited beaches in Alibaug, Alibaug Beach is known for its unique and spectacular view of Sunrise and Sunset besides the nearby Kolaba Fort where travellers visit to understand the region's history. This beach has been thoroughly maintained and well prepared thus augur the tourists to indulge in a variety of water sports in Alibaug. So, if you are wondering which are the best things to do in Alibaug for couples, this beach is your ultimate haven. 
Location: Alibaug City, Raigad District, Maharashtra.
Best Time to Visit: Starting November to July.
How to Reach: Alibaug is located 68 miles south of Mumbai. It can be reached by road via Mumbai – Goa Highway. The journey takes 3 to 4 hours ride from Mumbai depending on the traffic. It takes about an hour to reach Mandwa Jetty by ferry or 20 minutes by speed boat from the Gateway of India. Another 30 to 45 minutes of bus ride going south. Ferries operate year-round, except during the monsoon season from June to September.
Accommodation: The city offers a variety of accommodation options that range from cottages to hotels.
Ideal For: Relaxation, strolling and water adventure sports.
30 Forts In Maharashtra That Will Let You Experience Its Rich Heritage In 2023
8. Mandwa Beach

Image Credit: TerriAnneAllen for Pixabay
Mandwa Beach offers you a lot to make your days amazing with both water and land activities. This serene and pristine beach is a great place to walk along the coast. Also, involved in various water sports here – one of the best things to do in Alibaug, Maharashtra.
Location: 35 minutes away from Alibaug, and 104 km away from Mumbai.
How to Reach: Direct ferry services from Mumbai to Mandwa are available.
Best Time to Visit: Between November to March
Accommodation: Several budget to luxury hotels are available near Mandwa Beach.
Ideal For: Strolling and water adventures for family and friends.
9. Alibaug Beach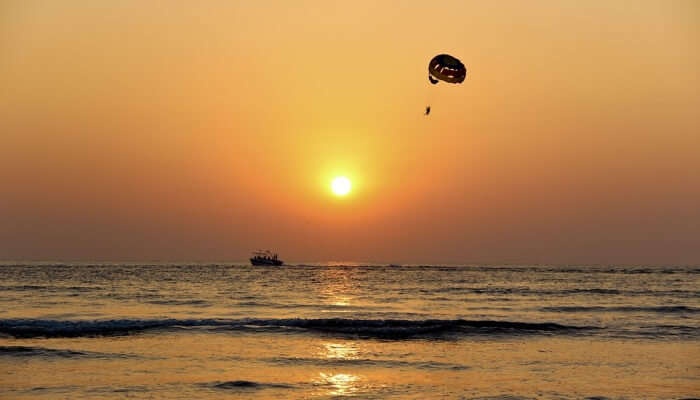 Image Credit: Pexels for Pixabay
Exciting water sports await you at Alibaug Beach. From parasailing to kayaking to Banana Boat ride or Scuba diving, there are unlimited options for fun and entertainment. Indeed, your involvement in all such activities would make it a great day of relaxation, fun and frolic. The adventurists can try their hands at jet-skiing as well.
Best Time to Visit: From November to June
Ideal For: Daring and adventurous water sports.
8 Best Malvan Resorts That Add Comfort To Your Beach Vacation In Maharashtra!
10. Alibaug Temples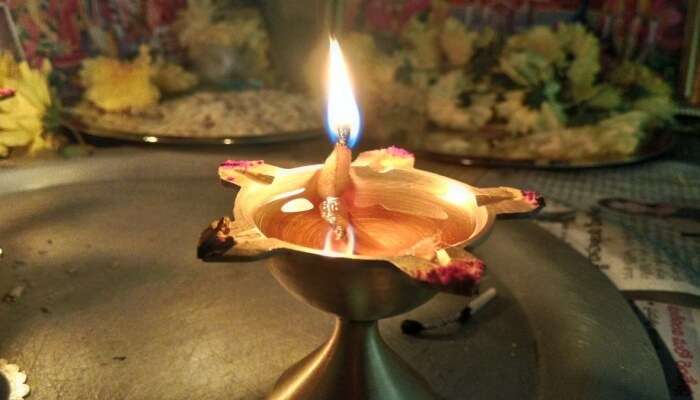 One of the top things to do in Alibaug is to visit several temples and get close to divinity, in case you are inclined towards God's faith. It can be a great moment for you to remain spiritually charged besides involving in other activities from trekking to strolling and peaceful relaxation. You can visit any of the temples mentioned below for worship. You can even reserve a few places nearby for the various things to do in Alibaug at night beside temple visits. Here are a few temples you can visit in Alibaug while on your trip:
1. Kanakeshwar Temple
2. Shri Balaji Temple
3. Shri Kaalamba Devi Temple
4. Datta Mandir
5. Ganesh Mandir
6. Maari Aai Temple
Ideal For: Praying to Lord Shiva and other deities.
How to Reach: By private vehicles, taxis and auto-rickshaws.
Best Time to Visit: Usually Kartik Poornima or any other Hindu festival remains a perfect occasion for a visit but you can worship anytime.
11. Camping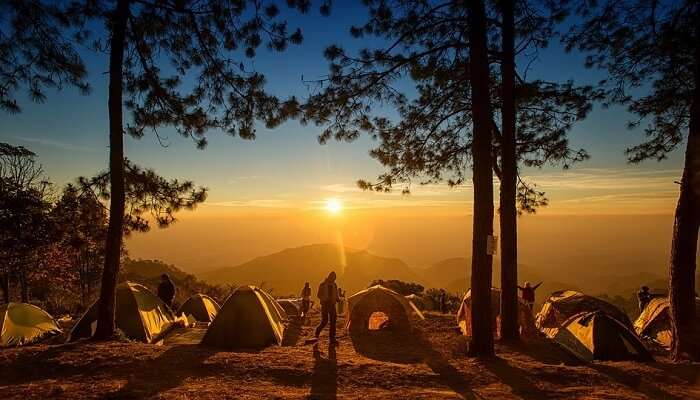 Image Credit: chanwity for Pixabay
One of the best things to do in Alibaug in one day, camping lets you enjoy in the lap of nature. If you are traveling to Alibaug with your friends then one of the best activities that you can indulge in is camping. Camping is about mesmerizing views, bonfire, music, meeting new people, and more. You also get to end the day perfectly with a starry night to gaze on. So, what are you waiting for? Scribble down this activity for your next vacation in Alibaug.
Location: Any beach in Alibaug
Ideal for: Friends
9 Awesome Places To Visit Near Alibaug For A Short Retreat In 2023
12. Kayaking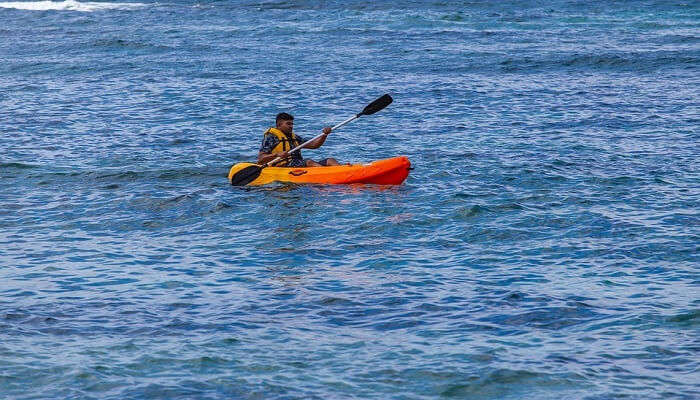 Image Credit: TheOtherKev for Pixabay
If you are looking for cool things to do in Alibaug then you must consider doing kayaking in the waters of Alibaug. This is considered as one of the best water activities to do in Alibaug so make sure that you include it in your itinerary. With this activity, you get a close view of the Alibaug nature that resides along its waters. Whether planning a vacation with your friends or your partner, this is a must-to-do activity.
Location: Mandwa Beach, Alibaug
Price: INR 300 per person
Ideal for: Adventure seekers
13. Trekking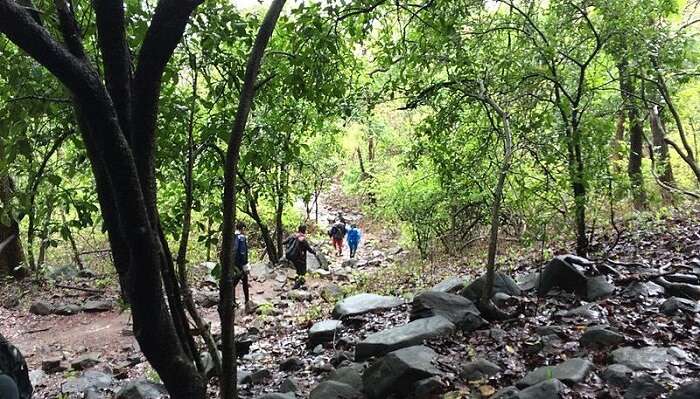 Another one on the list of adventurous activities to do in Alibaug is trekking around the forts and exploring the dense forests. Combine this with camping and you have got a perfect thrilling activity to indulge in. You can explore the untrodden paths at Sagargad Fort or Karnala Bird Sanctuary which offer the most picturesque views of nature. While trekking at these places, you will find several photographers nature lovers like you exploring the place.
Location: Sagargad Fort
Ideal for: Adventure buffs
10 Exotic Villas In Alibaug Where Staying In Gets A New Meaning In 2023
14. Shopping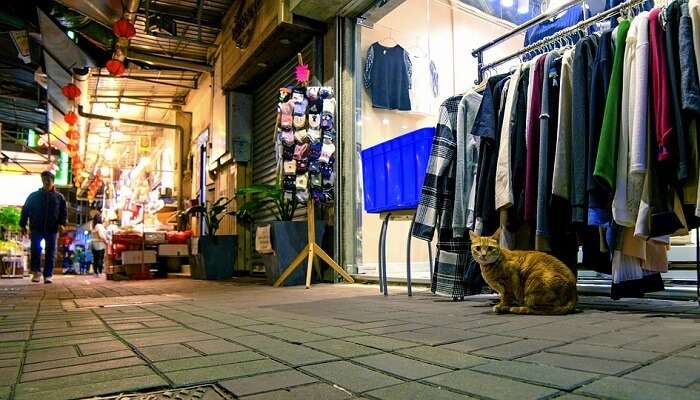 Image Credit: JimBear for Pixabay
A trip to any place remains incomplete without going shopping which is why it is one of the top things to do in Alibaug. The place is famous for its street shopping from where you can buy several souvenirs that too at cheap rates. Apart from this, you will also see antiques, handicrafts, jewelry, and other stuff being sold by locals at beach shacks and in markets. After shopping in Alibaug, you can also relish the local dishes that are made out of seafood.
Ideal for: Shopaholics and families
Alibaug, replete with colonial history, is famous for its beaches, temples and monuments. A trip to Alibaug – this quaint little town in the Konkan region is going to be refreshing as there are plenty of things to do in Alibaug. Play in the sand, surf or snorkel in the gurgling waters at this beach to have a complete physical and mental relaxation.
For our editorial codes of conduct and copyright disclaimer please click here. 
Frequently Asked Questions About Things To Do In Alibaug
What makes Alibaug an amazing tourist destination?
The presence of numerous forts, beaches apart from the Magnetic Observatory and even some of the temples of various gods and goddesses make Alibaug a favourite haunting destination for the tourists. A few temples and monuments are located on the hillocks, making it an experience to climb and have a panoramic view of the surroundings.
Is Alibaug safe for the tourists?
Being a tourist attraction, Alibaug poses its own set of hardships to the tourists, like any other tourist destination. Tourists are advised to be vigilant, though the general local population is quite cooperative.
What kind of food is available in Alibaug?
Being a coastal place, Alibaug has lots of seafood options to savour. Fresh and delicious, the cuisine is a special experience for the highlanders. North and South Indian cuisine is also available at the various eateries in the place.
Which is the best time to visit Alibaug?
November to July is the best time to visit Alibaug to enjoy the beaches. From August to October, you can explore the region in the rainy days, which exposes you to the lush green beauty of Alibaug. The weather from November to February is cold and dry thus provides a perfect ambience for sightseeing. Visit and enjoy the best things to do in Alibaug.
Do we have to book in advance for water sports at Alibaug beaches?
Not necessarily, but it will be helpful if you plan and book in advance. It will save time and you are assured of adhering to your plan.
Which are the best and affordable beach resorts in Alibaug?
Alibaug has numerous beach resorts starting from INR 2,500 to INR 9,000 a day. Tourists can book in advance according to the budget and have a comfortable stay. They can enjoy the delicious food at any of these numerous resorts especially at the Ghanvatkar Resort, Shree Holiday Resorts, Paradise Resort, Windmill Resort and Radisson Resorts to name a few.
---
Looking To Book An International Holiday?
---
People Also Read:
Things To Do In Pune Things To Do In Mumbai Things To Do In Belgaum