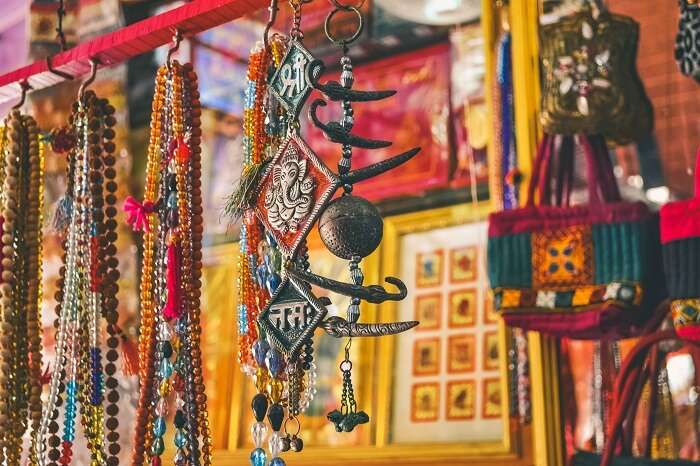 The Gujarat state is a region full of culture and art whose cities are as vibrant and colourful as its history. While Bhuj is usually a pitstop for most of the travelers who wish to visit the Rann of Kutch, there are many reasons as to why you should take out a few extra days for exploring this unique city.
From the wetlands to the white desert, include these best things to do in Bhuj that offer a variety of beautiful landscapes for every wanderlusting soul.
10 Interesting Things To Do In Bhuj
1. Visit The Siddha Shree Dhoramnath Monastery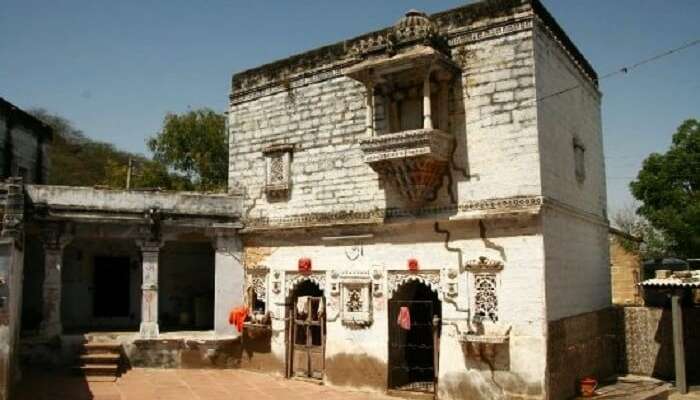 If you are looking for peaceful things to do near Bhuj, visiting the Siddha Shree Dhoramnath Monastery is the best place to visit. Meditate for hours, take a walk in the 14th century old monastery, feel the peaceful vibes all around at this isolated place that will make you forget the city life.
2. Explore The Bujori Crafts Village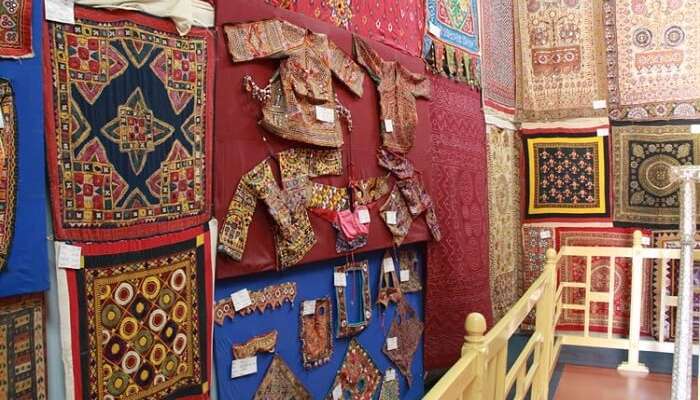 Bhuj and nearby areas are famous for their handicrafts and art which is still practiced in many of the villages here. A day spent with artisans is one of the best things to do in Bhuj that is a must on your itinerary. From tie-dye and block printing to wearing and embroidery, learn more about the beautiful technique of handmade work done by all skilled artists of the village.
Location: Near Bhujodi Village, Off. Bhuj-Anjar Highway, Bhuj
3. Relish A Delicacy At Shankar Vada Pav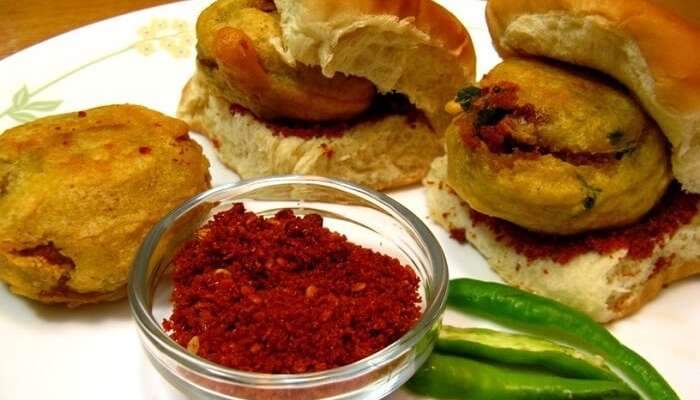 If your tastebuds crave for spicy food, Shankar Vada Pav is one that you must try out. A classic snack for this region, and a very famous eatery in Bhuj, Shankar Vada Pav is an old food stall where scores of tourists come to taste the food. Clearly, a favourite food stall for everyone, if you have not tasted the mirchvada you have missed out on one of the best things to do in Bhuj.
Location: Old Dhatia Falia, Bhuj, Gujarat 370001
Timings: All Days – 9 AM to 9 PM
4. Shop For Handicrafts At Mr. AA Wazir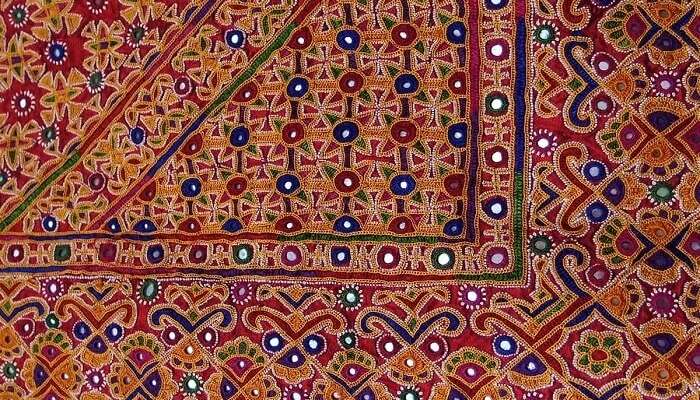 Whether you're interested in textiles or not, a visit to the connoisseur of antique embroidery – Mr. AA Wazir should be part of your itinerary and an absolute must in your list of things to do in Bhuj. Displaying a collection of over 3000 pieces of embroidered pieces with intricate work, he is always happy personality for a chat session about his talent and passion.
Location: Plot 107B, Lotus Colony, Bhuj
5. Be A Part Of The Rann Utsav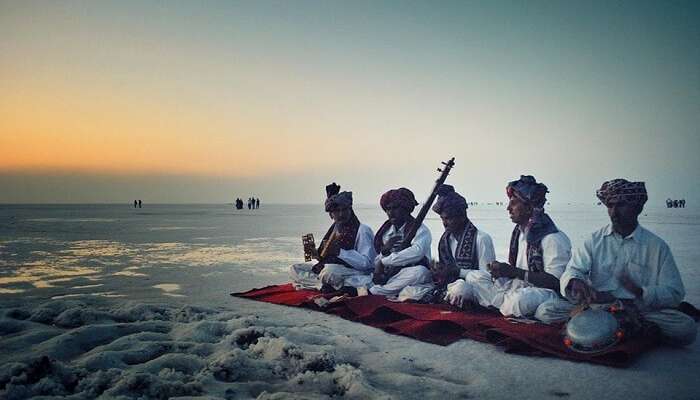 While looking for things to do around Bhuj, do not miss out on attending the Desert Festival which is much famed as the Rann Utsav in India. Held every year around February or March, there are plenty of activities at this world famous festival such as display of traditional handicrafts, cultural events, live performances, adventure sports, and lots of authentic dishes to eat. However, make sure you do not miss out on witnessing a sunrise or a sunset at the white desert which is one of the most popular things to do in Bhuj, Kutch.
6. Discover The Charm Of Vijay Vilas Palace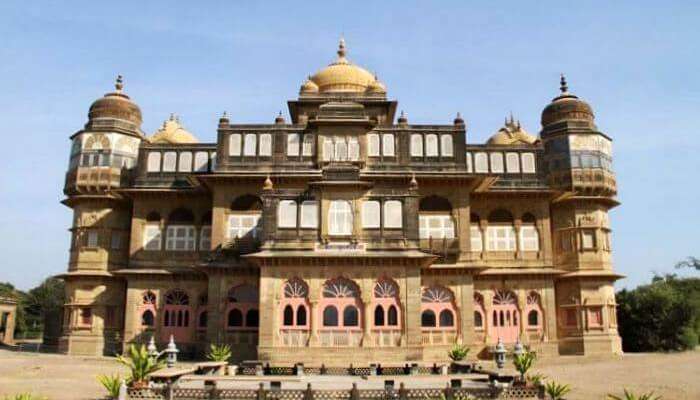 Known for its detailed structure and dome rooftops, Vijay Vilas Palace is a quaint palace located in Mandvi that is all about cultural heritage. The most interesting fact is that many Bollywood films have been shot in this gorgeous palace depicting the fusion architecture. Make sure you note down taking a guided tour of this palace on your list of essential things to do in Bhuj.
Location: Vijay Vilas Palace Road, District Kutch, Mandvi Rural, Gujarat 370465
Timings: Friday to Wednesday – 8 AM to 6 PM
7. Enjoy Camel Rides & Beach Camping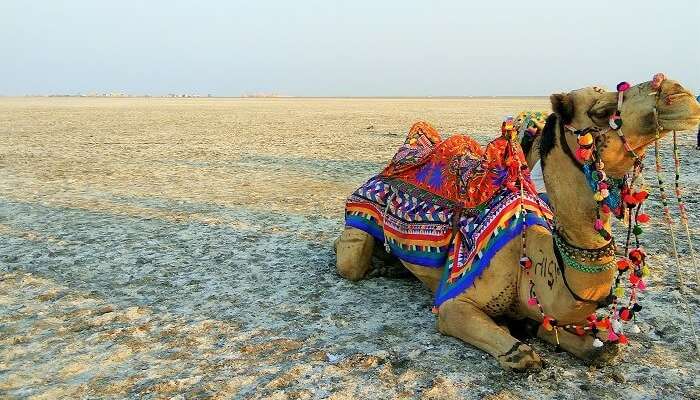 Being in the westernmost part of the country, one must try going on a camel ride at the Mandvi beach which is a famous local activity. These rides are quite inexpensive, and while it's fun to ride along the beach you might also spot a few pelicans. Beach camping, exploring the windmills, and nature walks are some of the fun things to do in Bhuj.
8. Visit The Royal Cenotaphs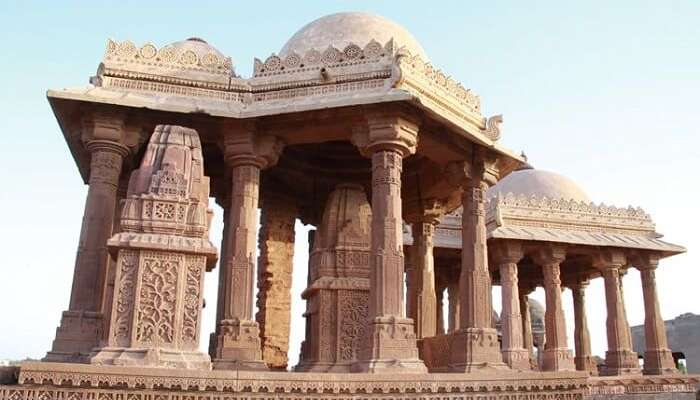 Located in a secluded part of the town near the Hamirsar Lake, touring the age-old cenotaphs which once used to be the main attraction due to the elaborately carved structures known as Chattris is one of the top 10 things to do in Bhuj. Visit this hidden treasure and discover the untold stories of the ancient times that the dome-shaped pavilion reflects.
Location: Southwest of Hamirsar Lake, Bhuj
9. Admire The Architecture Of Sharad Baug Palace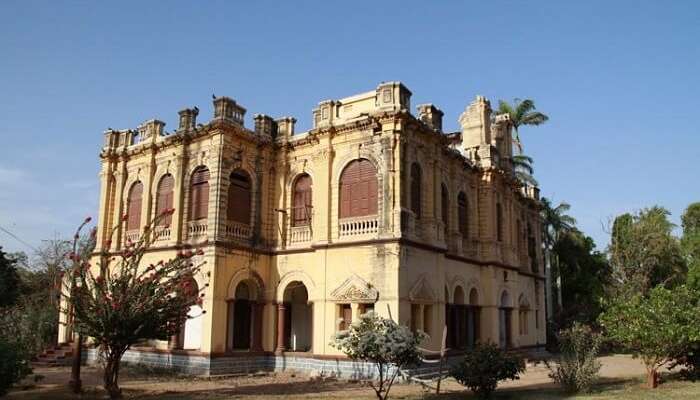 On the western side of the Hamirsar Lake lies the beautiful Sharad Baug Palace set amidst green courts and tennis lawns that is a must for everyone to explore. One will not only fall in love with the palace but will also be surprised to witness a converted museum that will take you back in time. Admire the intricate Italian inspired architecture and Indian tapestries and make sure you include visiting this palace on your must things to do in Bhuj.
Location: Sanjog Nagar, Bhuj, Gujarat 370001
Cost: INR 25 per person
Timings: Saturday to Thursday – 9 AM to 12 Noon, and 3 PM to 6 PM; Closed on Fridays
10. Indulge In City Shopping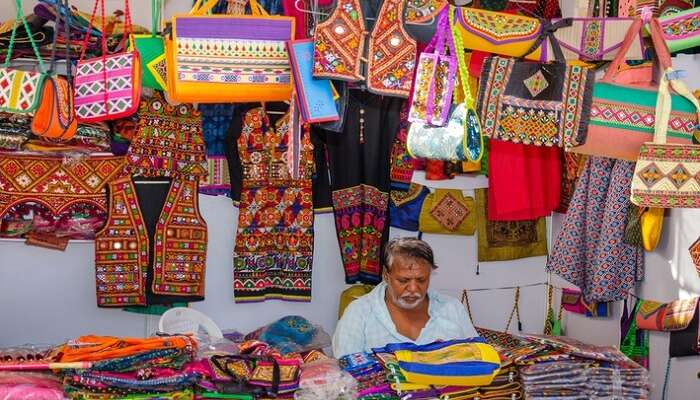 A holiday is always incomplete without going on a shopping spree at the local markets. Especially in a town like Bhuj, one can check out the embroidered fabrics, glass beadwork, leather products, and vegetable dyed articles, and more. Go for a relaxed walk in the evening and take a stroll across the marketplace to witness the natives dressed in their colourful outfits.
While you can always do day trips to Bhuj from nearby main locations such as Kutch and Gandhidham, Bhuj is a simple town that one must visit for at least two to three days. And if you think we missed out on any of your favorite things to do in Bhuj, let us know in the comments below!
Frequently Asked Questions About Things To Do In Bhuj
Q. Where is Bhuj located?
A. Bhuj is located in the westernmost state of India, in Gujarat. Although for most it is just a pitstop on their way to Kutch, we suggest you take out some time to explore the city. 
Q. What is the best time to visit Bhuj?
A. October to February is the best time to visit Bhuj as the weather is pleasant and one can explore the city quite comfortably. Summer months are really hot and monsoon too is hot and humid making it unsuitable to visit the destination during those months.
Q. What can I do in Bhuj?
A. There are quite a few interesting things to do in Bhuj. From exploring the Bujori Crafts Village to being a part of the Rann Utsav or exploring the majestic Vijay Vilas Palace or enjoying a Camel Ride, there are many things that you can do in Bhuj. 
Q. What can I shop for in Bhuj?
A. You can shop in and around the city as there are many interesting spots to do so. Glass beadwork, pretty embroidered fabric, great leather products and vegetable dyed products are some of the popular things that you can shop for in Bhuj.
Q. Where is Vijay Vilas Palace?
A. The famous Vijay Vilas Palace is situated in Mandvi which is just 32 kilometres away from Bhuj. The palace is famous for its iconic structure and is one of the most famous landmarks in Gujarat.   
Q. How can I reach Bhuj?
A. Bhuj Railway station is located within the main city and connects all the major ports. The Bhuj airport is a domestic airport which connects the city to all the major cities in India. If you wish to travel by road then there are many state transport buses plying to the destination.
Q. When is the Rann Utsav celebrated?
A. Rann Utsav in Bhuj is celebrated during the months of February or March every year. Also known as Desert Festival, this festival lures thousands towards this town. 
Comments
comments