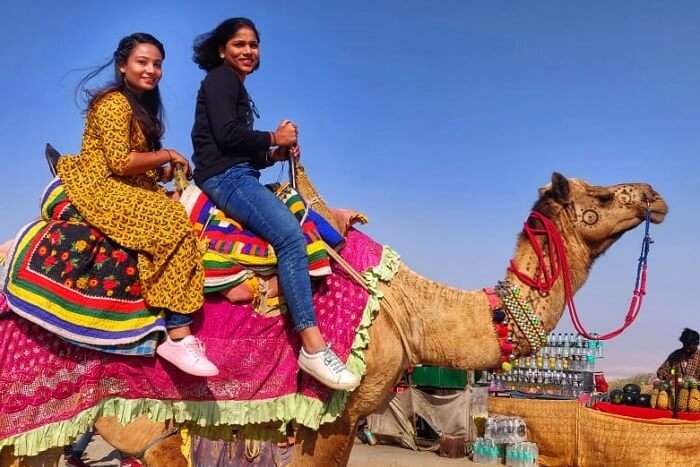 There isn't a better time to visit Kutch than during the famous Rann Utsav. A carnival bursting with colours and vibrancy, this festival is conducted once every year in Kutch, Gujarat. Imagine the white expanse of Rann under the moonlight as the cool winter breeze caresses your face. This was the image, Anupriya and here sister had in mind while planning a Rann of Kutch travel escapade. Read on to see how they made the most of their trip to Gujarat.
The Rann Utsav had always fascinated my sister and I but with our busy schedules we never really made plans. This was until a few months ago when we decided to drop it and take a well-deserved break. We already knew where we wanted to go, and we knew just who to approach! TravelTriangle has been a favorite for quite some time so we were already looking for packages. We had the most amazing time touring places like Ahmedabad, Bhuj and Kutch.
Table Of Content
Details Of Our Gujarat Trip
Trip Type: Family Trip
Cost: INR 37750
No. Of People: 3
Duration: 4 Nights 5 Days
Inclusions: Accommodation, Breakfast, Airport Transfer, Government Taxes, Cab For Sightseeing
Exclusions: Dinner, Lunch, Airfare, personal Expenses
What Our Itinerary Looked Like
Day 1: Arrival in Ahmedabad and Sightseeing
Day 2: Drive to Bhuj and check-in
Day 3: Sightseeing In Bhuj
Day 4: Drive To Kutch and sightseeing
Day 5: Departure back home
 52 Intriguing Tourist Places In Ahmedabad For Your Gujarat Getaway In 2022
Weather In Ahmedabad In May
We spent 5 days in Ahmedabad and I have to weather was quite pleasant. We visited in January so it's wasn't very cold. The sun was out but it was still pretty windy, making it the perfect weather for sightseeing. It is certainly a great idea to carry your jackets and shawls because the nights get chilly.
Must-See Places On A Trip To Gujarat During Rann Utsav
The places near Ahmedabad are quite underrated when it comes to tourism. I feel like if you want to enjoy the best of natural beauty as well as enjoy a spiritual experience, these are the best places to visit in India.
1. Ahmedabad: A Day Of Peace And Tranquility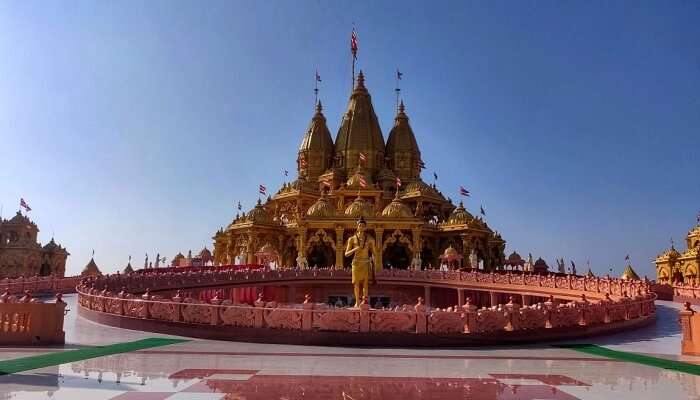 After making the journey all the way from Kerala, we hopped off our flight and made our way to the hotel. We were staying at the Hotel Le Grande In Ahmedabad which was right up our alley. We checked into our room was are spotlessly clean and comfortable. After unwinding for a but, it was time to head out and see the best of Ahmedabad.
Our first stop was the Akshardham Temple where we were left speechless by the grandeur and beauty of it all. After spending some time here, we were on our way again to visit the Adalaj Stepwell which has many stories attached to it. The temperature inside is said to be 6 degrees cooler than the inside because of the architecture. Certainly one of the most interesting places to visit in Ahmedabad. Later in the day, we also visited the famous Sabarmati Ashram to spend some time in solace. And to end an already eventful day, we visited some of the local markets and riverfront park as well.
 20 Best Resorts Near Ahmedabad: Guide To Your 2022 Vacation Hotspots
2. Bhuj: Enjoying The Scenic Drive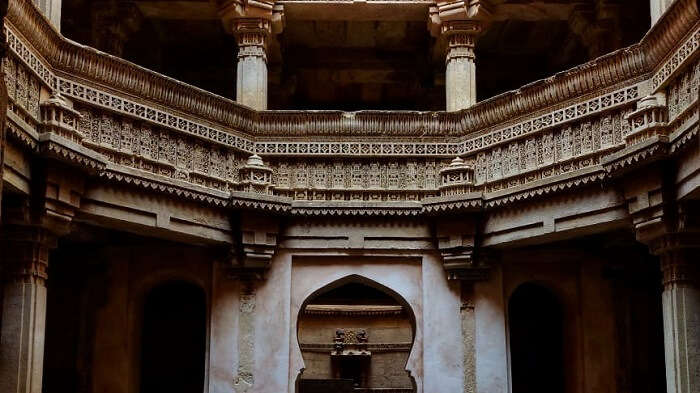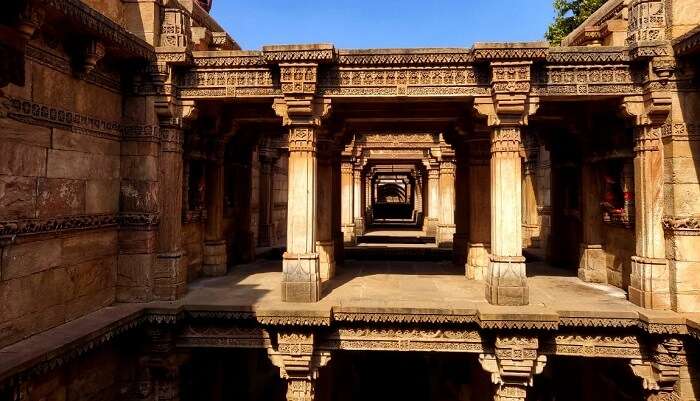 After spending a day in Ahmedabad it was time to pack our bags because the next destination on our list was Bhuj. And my oh my, the drive was simply beautiful. We crossed some colourful mustard and salt fields on the way and made sure to capture some pictures as well. We also stopped by some of the Jain Temples on the way to collect out blessing.
We checked into our hotel, Treetop Residency to relax for a bit. After a while, we decided to head out and visit some of the tourist attractions in Bhuj. We stopped at the Prag Mahal and Aina Mahal both truly spectacular displays or architecture. We had a wonderful evening and made the most of our time here. Soon, we headed back to our hotel to catch up on some sleep.
 A Romantic Trip To Gujarat: Exploring The Rann Of Kutch!
3. Bhuj: Up The Mountain We Go!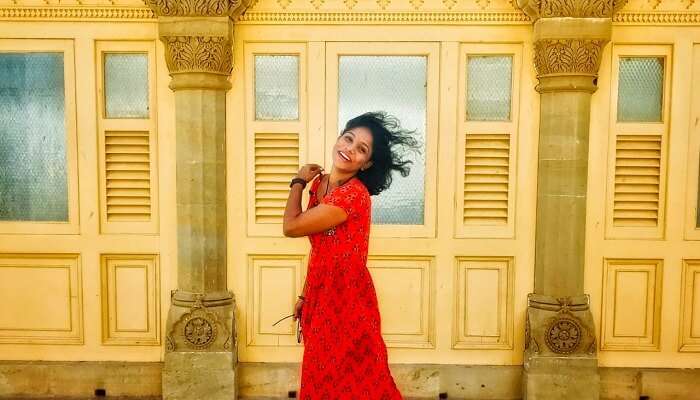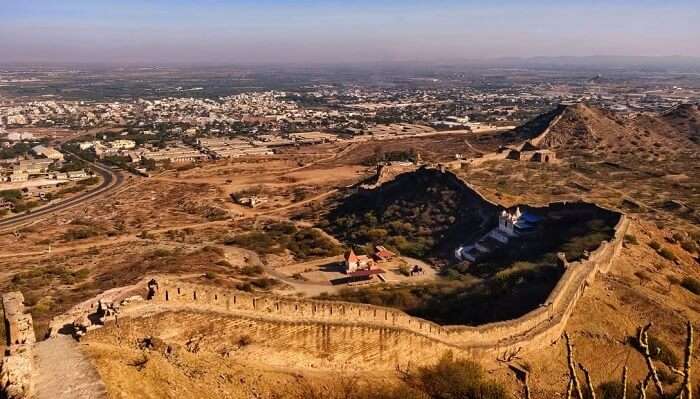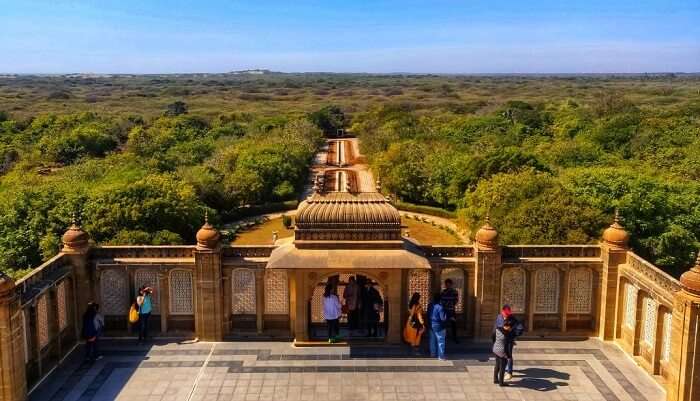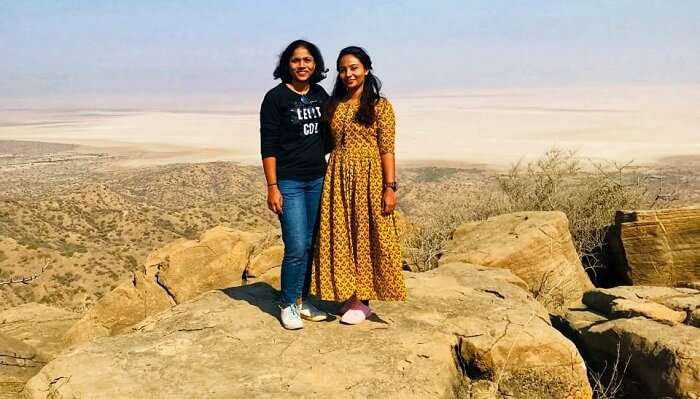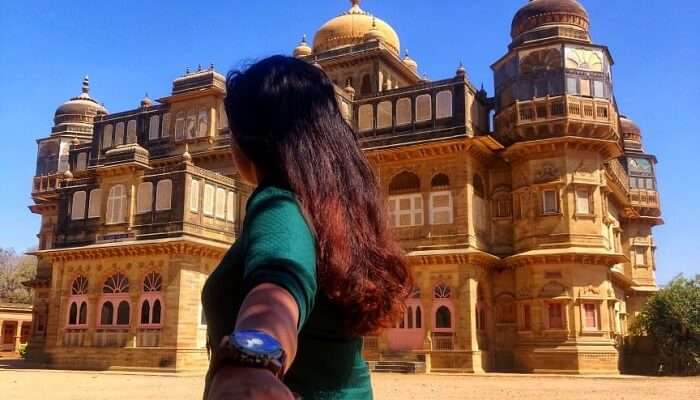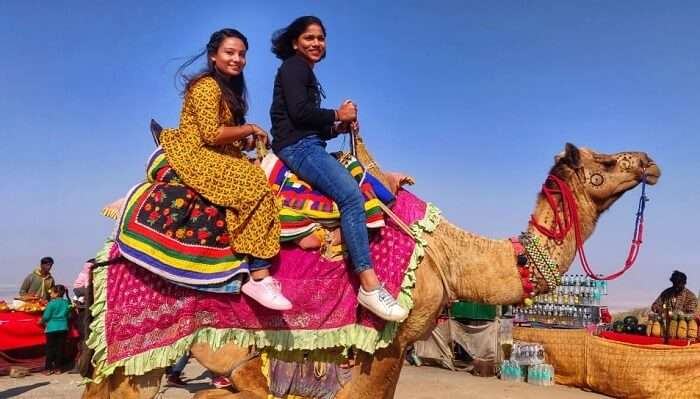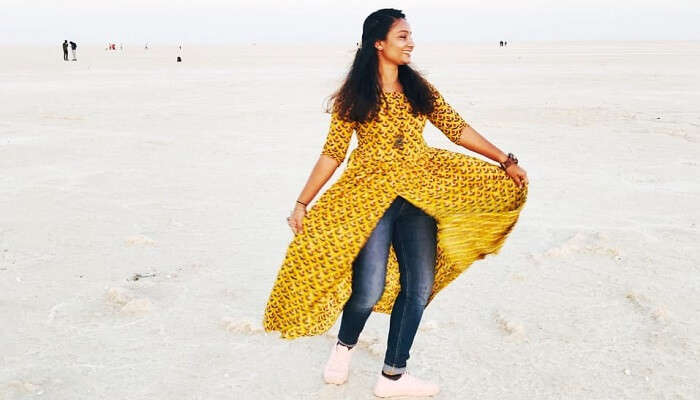 We woke up early in the morning, put on our shoes and made our way to Bhujiya Dungar which is located in the outskirts of the city. Today was all about trekking, so we geared up and start our way to the top. And while it was tiring, getting to the top was totally worth it, the view was simply amazing. This is one the best things to do in Ahmedabad and us imply exhilarating.
Next up, we visit the Vijay Vilas Palace which is set by the Mandvi Beach. After exploring the palace we head to the beach to relax for some time. We also enjoyed a traditional Gujaarti thali which just finger licking good!
Shopping In Ahmedabad: 15 Places (2022)
4. Kutch: The 'Bhunga' Experience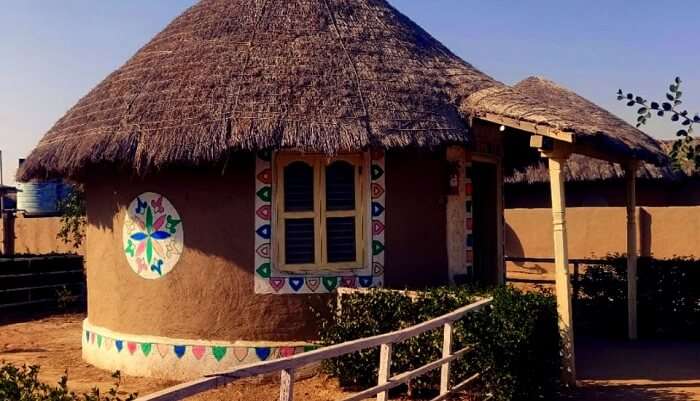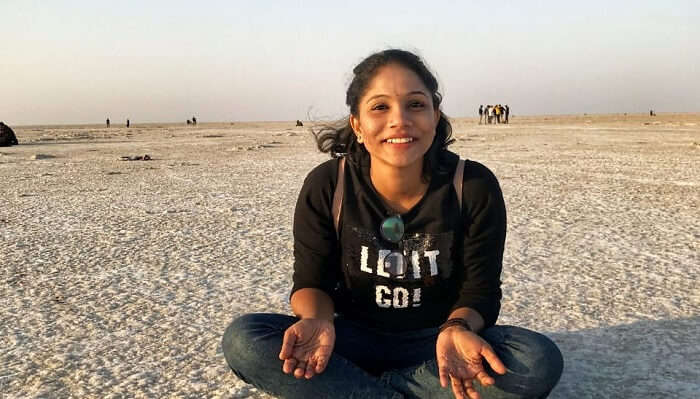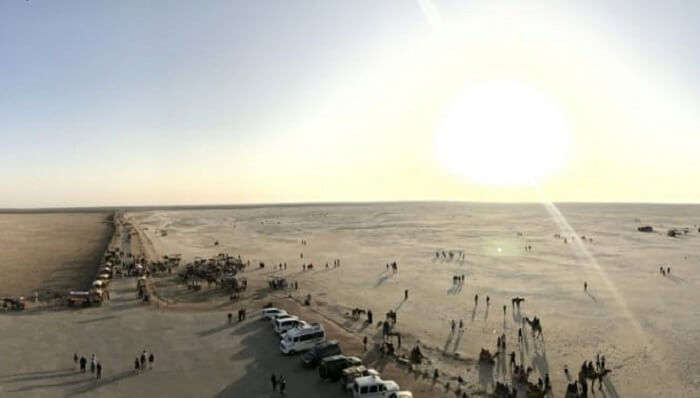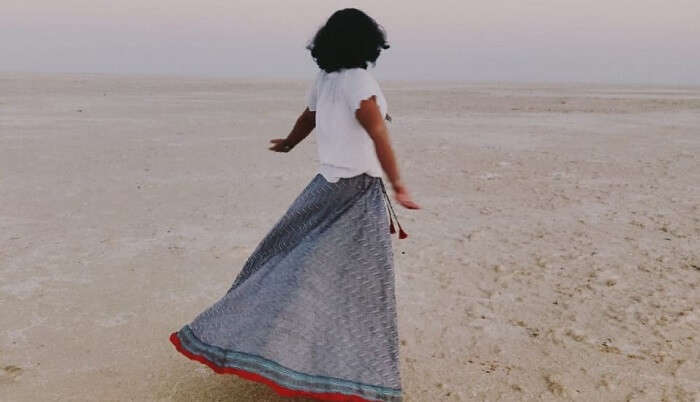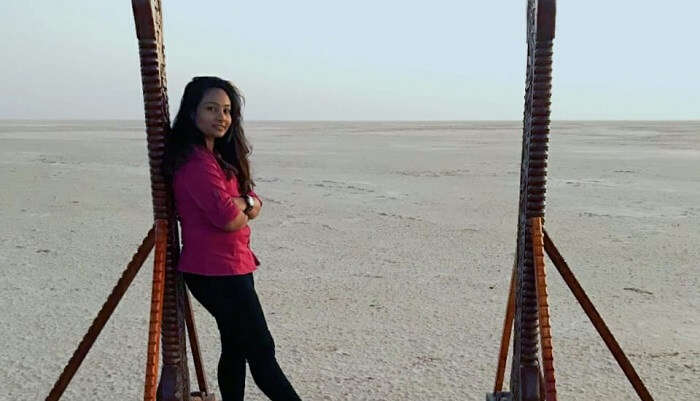 The last two days of our trip were spent in the beautiful Kutch. The first place on our Rann of Kutch travel itinerary was Kalo Dungar which is a black hill and known to be the highest point of view in Kutch. We were lost in the mesmerizing and panoramic views of the city from up there. Later we checked into our hotel named Gateway to Rann. This was a different and unique stay because rooms were actually Bhungas which is a traditional circular house in Kutch.
After checking in, we head out again to get a glimpse into the Rann Utsav festival that was being celebrated. Our driver was so helpful and even told us about some of his experiences. We shopped, enjoyed the sunset and indulged in some delicious street food. The entire atmosphere was so vibrant and welcoming, we felt truly amazed!
The next day, we were to return home and so we made our way back to Ahmedabad where we were to catch out flight. On the way we made one last stop in Bhuj to visit the Kutch Museum and for the last time, indulge in some tempting Gujarati street food. All in all, we had an amazing time and a memorable Rann of Kutch travel experience.
 Tanmay's Honeymoon Trip To Diu: Witnessing The Unspoilt Glory Of Gujarat
Shopping In Ahmedabad
During our first day in Ahmedabad, we visited some of the local markets of the city. You will find plenty of traditional items in the markets along with antique jewelry and Patola Sarees. Oh, and of course, how can I forget Shopping Mela at Rann Utsav. Colorful stalls and shops line the streets selling little trinkets and beautifully designed jewelry.
Food In Ahmedabad
Oh, if you plan to take a trip to Ahmedabad and Rann of Kutch, make sure to indulge in some of the local delicacies. The traditional Gujarati Thali is a must and something I wouldn't miss out on! Everywhere you go, you will find plenty of street food vendors selling Khaman, khandvi and much more. Stop for a bite!
Hotels In Gujarat Where We Stayed At
As we covered at three destinations during out trip, we stayed at three different hotels. In Ahmedabad we stayed at Hotel Le Grande In Ahmedabad. We enjoyed our experience here and the rooms were very comfortable. In Bhuj, we stayed at the Treetop Residency. We feel like the services here could have been better. Nevertheless, we made the best of the situation. Onto our last destination, we stayed at the Gateway to Rann which has to be the best experience so far. We stayed in a Bhunga which looked small from the outside byut was spacious and well-equipped inside. We would definitely recommend this hotel to those planning a stay in Kutch.
Rann Of Kutch Travel Tips
Make sure to carry your sports shoes if you want to go trekking
Plan your trip around the Rann Utsav festival, you will surely enjoy
Definitely get a taste of the local food delicacies
 Ahmedabad To Mumbai In Just 2 Hours: See What's Making It Possible!
Our Experience With TravelTriangle
What can I say, it was amazing! I have been following TravelTriangle for quite some time now. When my sister and I approached them, they gave us plenty of options to choose from and let us customize our package as well. All the bookings were handled well and we didn't face any hiccups at all!
 12 Hill Stations Near Ahmedabad To Escape For A Chilling Getaway In 2022!
There certainly is something about the beauty of Kutch that draws travelers from different parts of the country. And how can we miss the delicious food and shopping experience in Ahmedabad. Rann Utsav has to be one of the biggest celebrations of the city with vibrant stalls lining up the streets. If you too want to have the best Rann of Kutch travel experiences, plan your trip to Ahmedabad with TravelTriangle.
Answering Your Queries About Gujarat
What can we see in one day in Ahmedabad?
There are various Tourist Places In Ahmedabad and I would suggest visiting the Adalaj Stepwell for sure, it's an interesting place. You should also pay a visit to Sabarmati Ashram for sure. The pleasant weather and calming environment will leave you refreshed and rejuvenated.
What is the best time to visit Gujarat?
I would say winters are certainly the best time if you want to avoid the heat. We visited in January and that the weather was perfect for sightseeing. It starts to get colder in the evening so you should carry your jackets.
What happens in Rann of Kutch festival?
The city is painted in colours and a carnival for dance and music is organized. The beautiful white sand glistens under the moonlight and the sight is simply stunning. You can also indulge in shopping at the Mela and find yourself some chunky jewelry and attractive handicrafts.
How do I get to Kutch?
The shortest way to get to Kutch would be from Bhuj which is 70 kms away. We were also traveling from Bhuj and found it to be a comfortable journey.
---
People Also Read:
Family Trip To Tawang Family Trip To Sikkim Family Trip To Andaman
Comments
comments