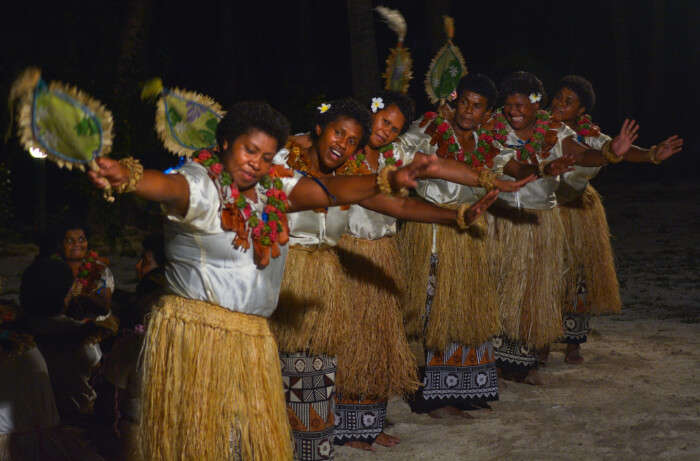 Home to 333 tropical islands right in the middle of the endless waters of South Pacific, Fiji is more than a travel destination, it's happiness in its finest form. From the alluring culture to the authentic flavors of Fijian delicacies, Fiji has so much to offer to travelers. Located in the South Pacific Ocean, there are more than 300 islands profuse with breathtaking natural beauty and flora-fauna. Even a week in this paradise will be less to discover. But while you are at it, here's how you can make the best of your time. Come and explore the things to do in Fiji for an awe-inspiring vacation
Top 20 Things To Do In Fiji
With abundant flora and fauna and tribal culture, Fiji offers a variety of unique and thrilling experiences to its visitors. Get some ideas for your next vacation below:
Experience The Culture Of Nadi
Helicopter Tour Over The Mamanuca Islands
Hike Through Colo-i-Suva Forest Park
Suva Municipal Market
Snorkeling In Castaway Island Or Mantaray Island
Coral Reefs Of Monuriki
Wakaya Island
Sigatoka River Safari
Explore Navala Village
Romantic Dinner Cruise
Fijian Cuisine
Garden Of The Sleeping Giant
Fire Walking Festival In Suva
Cave Tour Of Cannibals Cave
Explore The Beaches
Birdwatching
Surfing
Skydiving
Banana Leaf Massage
Have A Beach Wedding
1. Experience The Culture Of Nadi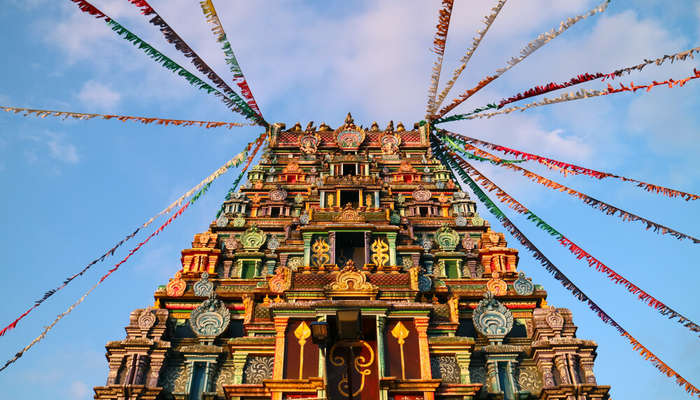 The multicultural town of Nadi lets you experience the authentic culture of Fiji. A great place to enjoy the delicious cuisine, shop, and relish authentic drinks, Nadi is a lively tourism hub on the west coast of the gorgeous Viti Levu. Exploring the open-air souvenir market which sells wooden kava bowls, hand-painted sarees, cannibal forks etc is among the most exciting things to do in Fiji.
Things to do in Nadi: Take a bath in the mud pool, try ziplining, and go snorkeling
---
Looking To Book An International Holiday?
Book memorable holidays on TravelTriangle with 650+ verified travel agents for 65+ domestic and international destinations.
---
2. Helicopter Tour Over The Mamanuca Islands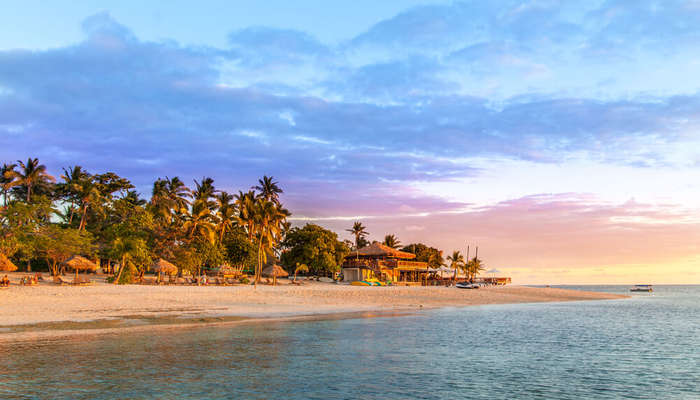 One of the best things to do in Fiji is discovering the vibrant island from above. If you want a unique view of Fiji, you can take a helicopter tour from Nadi International Airport to the Mamanuca Islands. You can get a breathtaking view of a string of islets that spread to the northwest of Viti Levu Island. Sure it is expensive, but those aerial views from the helicopter are oh-so-sensational! Plus it sure saves you time as you can span over whole Fiji in a helicopter.
Helicopter ride charges: INR 18,000 for a 25-minute teaser tour
Suggested Read: Shopping In Fiji: 10 Perfect Places For Unlimited Shopping
3. Hike Through Colo-i-Suva Forest Park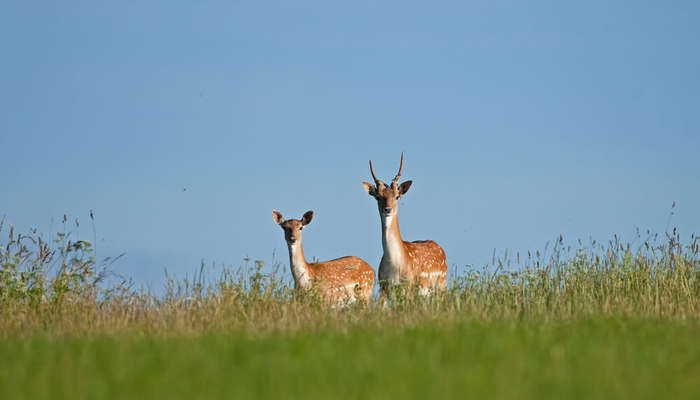 A thriving national park that boasts a crystal clear river set amidst the serenity of rainforests, Colo-i-Suva Forest Park is an ideal place for hiking. If you want to add a hint of adventure to your trip, hiking through the rich forest is one of the best things to do in Fiji Islands. A hike through Colo-i-Suva Forest Park doesn't take more than an hour at average speed.
Things to do in Colo-i-Suva Forest Park: Hiking, rope swinging, exploring waterfalls and swimming holes
4. Suva Municipal Market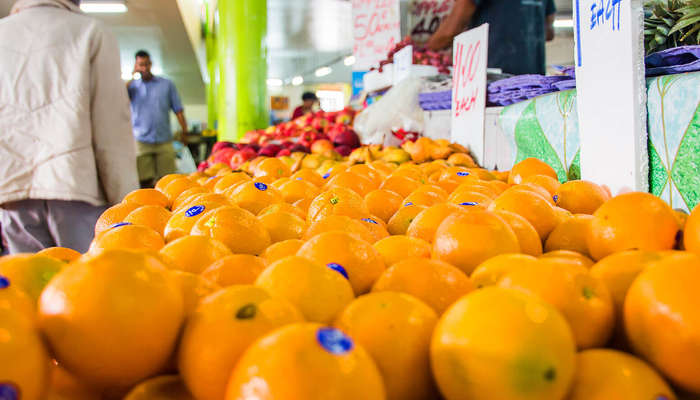 Image Source
One of the best activities to do in Fiji is exploring the lanes of the ancient and bustling Suva Municipal Market. An experience not to be missed, Suva remains busy throughout the day. Established in the 1950s, this market gets even more fascinating for street photographers and those who want to buy fresh fruits and vegetables at reasonable rates. Wander through the lanes of the market. Who knows what you might stumble upon?
Suva Municipal Market timings: 6:00 am to 6:00 pm but the best time to visit is between 8:00 am to 2:00 pm
Famous for: Fresh tropical fruits, vegetables, and seafood
Suggested Read: Fiji Island Resorts – 10 Perfect Abodes For An Exotic Vacation
5. Snorkeling In Castaway Island Or Mantaray Island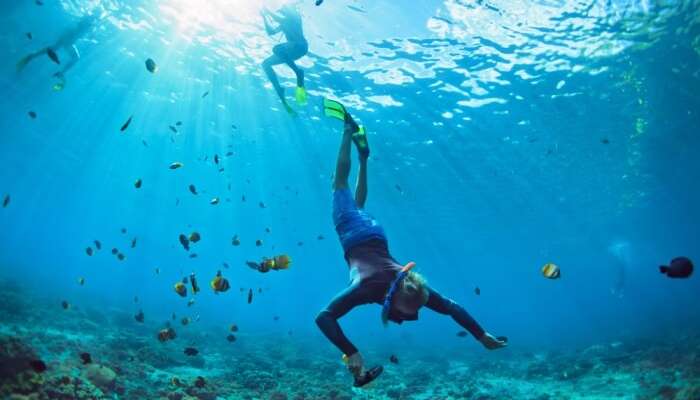 More than these islands' palm-fringed beaches, it's the snorkeling in the crystal clear waters that'll make you fall in love with the island. With so many islands in Fiji, it gets hard to pick the one where you can go snorkeling, but you can never go wrong with Castaway and Mantaray. The marine life of these islands knows how to put on a show. Snorkeling is one of the most exciting things to do in Fiji.
Snorkelling charges: You can take a cruise day tour that includes many water sports, food etc.
Book Australia Packages from TravelTriangle
6. Coral Reefs Of Monuriki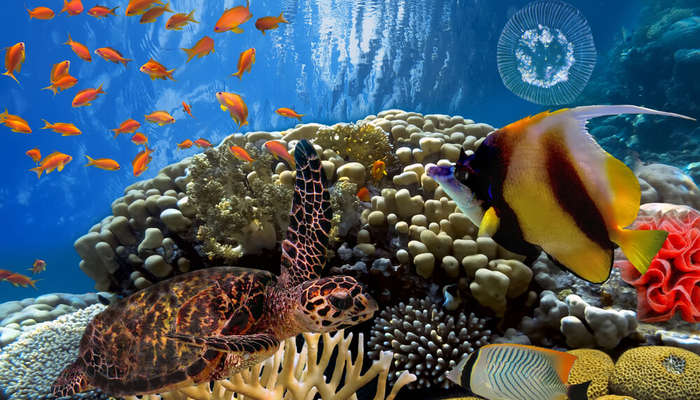 Known as the soft coral capital of the world, Fiji (especially Monuriki) is a mecca for those who want to explore the marine life by deep sea diving in the blue and unspoiled oceans. A vivid rainbow of hard and soft corals, a family of colorful fishes will leave you speechless. Dive deep into the sea and be mesmerized with the colorful unique corals that lies beneath the ocean. It is a precious underwater exposure worth stumbling upon!
Suggested Read: Islands You Can Visit Without A Visa!
---
Planning your holiday but confused about where to go? These travel stories help you find your best trip ever!
Real travel stories. Real stays. Handy tips to help you make the right choice.
---
7. Wakaya Island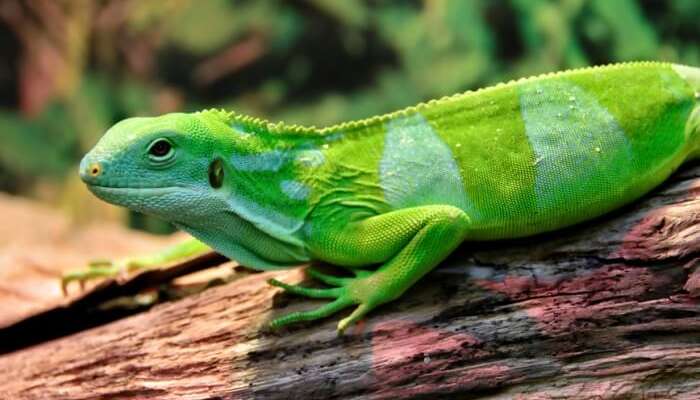 An undisturbed and serene island, Wakaya Island is replete with white sand beaches, azure lagoons, high cliffs, and a variety of flora and fauna. If you want to unfold into freedom under the wide blue skies, Wakaya Resort & Spa on the Island will offer you all you want. Fishing, sea kayaking, snorkeling, scuba diving, reef viewing, paddle boating, hiking, and nature walks are some exciting things to do in Fiji you can try on Wakaya Island. Spend a day or two on the island have the best time of your life on this picturesque island in Fiji.
Wakaya Resort & Spa tariff per night: INR 2,23,000
Must Read: Celebrating Christmas In Fiji: Places, Traditions, And Just About Everything To Indulge In
8. Sigatoka River Safari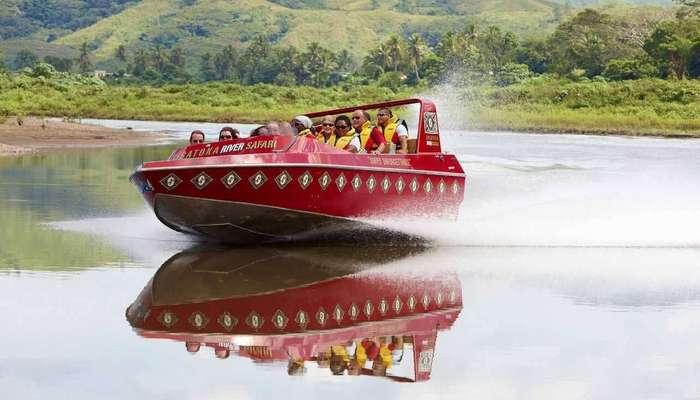 Image Source
If you want to get deep into the interiors of Fiji, a Sigatoka River Safari is among the top things to do in Fiji. The journey usually begins from the coastal town of Sigatoka, and on the way, the coach-driver and captain provides you interesting and rich information about Fijian culture and history. The picturesque ride will bring you closer to the rich culture of Fiji in many ways. Go far-far away from the crowd and have an amazing time on the cruise.
Sigatoka River Safari charges: INR 8,500 per person
Suggested Read: Best Islands For Honeymoon: Across The World & Full Of Love!
9. Explore Navala Village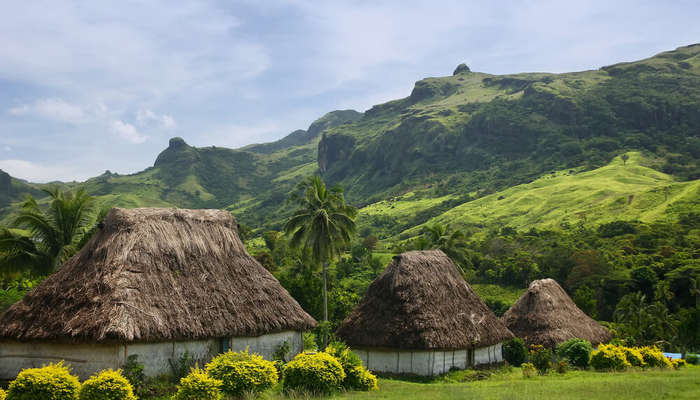 An authentic Fijian village, Navala is home to rugged, grassy mountains that look like a piece of expensive art. As soon as you enter the village, you are welcomed in a traditional way with a kava ceremony and then given an extensive tour of the village. You can take pictures with locals, climb coconut trees, explore the village trails, get wet in the rivers. A night or two in this village can show you the Fijian way of life while absorbing the relaxing and peaceful atmosphere.
Navala village tour cost: Starting from INR 9,000
Suggested Read: Fiji Nightlife: 10 Popular Nightclubs For A Great Entertainment Experience
10. Romantic Dinner Cruise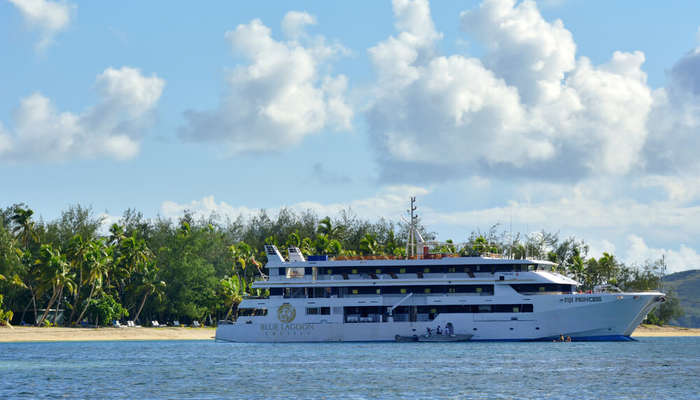 If you're traveling to Fiji with the love of your life, one of the top things to do in Fiji for you should be taking a romantic dinner cruise ride on the calm waters of the Pacific Ocean. Enjoy the peaceful and picture-perfect Fijian sunset and relish the delicious cuisine cooked using local ingredients. Fiji is known for its turquoise blue waters and resplendent views of the ocean. The area is so rich in biodiversity. The best way to explore it all with your spouse is on a romantic dinner cruise.
Dinner cruise charges: INR 5,500 per person
Dinner cruise timing: 5:30 pm to 8:30 pm
Suggested Read: 10 Best Islands In Europe For Honeymoon
11. Fijian Cuisine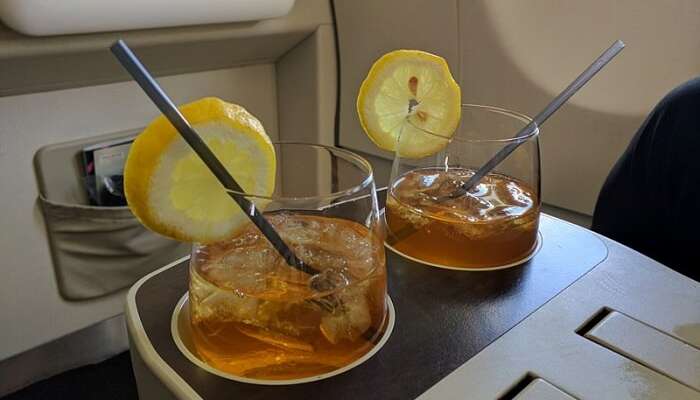 Fish and root vegetables are quite important for Fijian cuisine. Therefore, one of the things to do in Fiji 2019 is to relish the flavours of authentic Fijians have unique ways to cook these mouthwatering dishes using local and fresh ingredients. The most delicious dishes you must try in Fiji are Lovo (a traditional meal cooked in an underground oven); Kokoda (a fresh fish soaked in coconut milk, marinated in lemon juice and spices); grilled mahi-mahi fish (fish found in deepwater either grilled or pan-fried); rourou (a dish made from taro leaves cooked in coconut milk and served with fish); Cassava chips ( made from the root of a local, starchy vegetables).
Best restaurants in Fiji: Bonefish Seafood Restaurant (Nadi), Nadina Authentic Fijian Restaurant (Denarau Island), Saffron Tandoori Restaurant Fiji (Suva), Tu's Place (Nadi), Sentai Seafood Restaurant (Nadi), Lulu Bar Restaurant and Cafe (Denarau Island), Eden Bistro & Bar (Suva) etc.
12. Garden Of The Sleeping Giant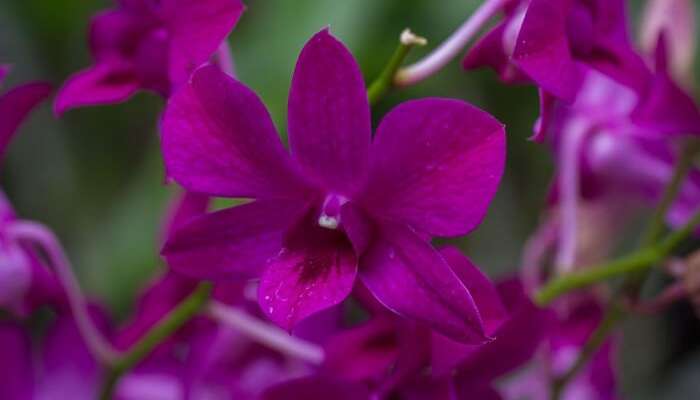 One of the best things to do in Fiji and a best kept horticulture secret of Fiji, the Garden of the Sleeping Giant is home to 30-40 varieties of Asian orchids. You can easily spend a day walking on the canopy-covered boardwalk through the landscaped lawns, seeing the calm lily ponds, and listening to the croaking frogs.
Garden of the Sleeping Giant timing: 9:00 am to 5:00 pm Monday to Saturday | 9:00 am to 12:00 pm Sunday
Garden of the Sleeping Giant entry fee: INR 520
Suggested Read: 10 Places To Visit In Fiji In 2019 That Form The Heart Of This Country!
13. Fire Walking Festival In Suva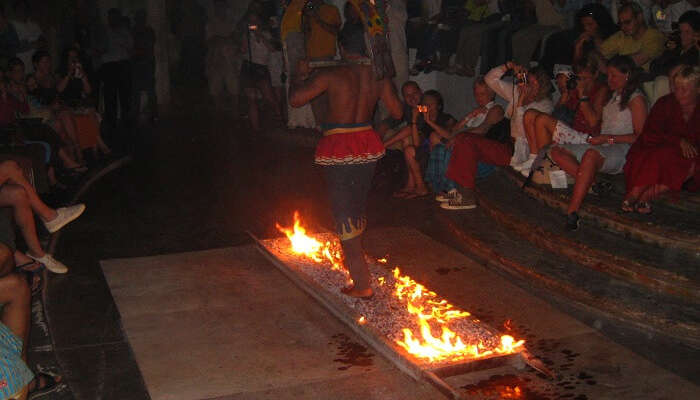 Image Source
One of the unusual things to do in Fiji is to see the fire-walking festival that is held in the Mariamma Temple in Suva. It is a festival of South-Indian origin where yellow clad pilgrim gather at Suva Point, take a bath in the sea, and walk in the field. There are other eerie activities like piercing their body parts with skewers. The devotees put yellow turmeric on their face which is a sign of prosperity.
When: It happens during July & August
14. Cave Tour Of Cannibals Cave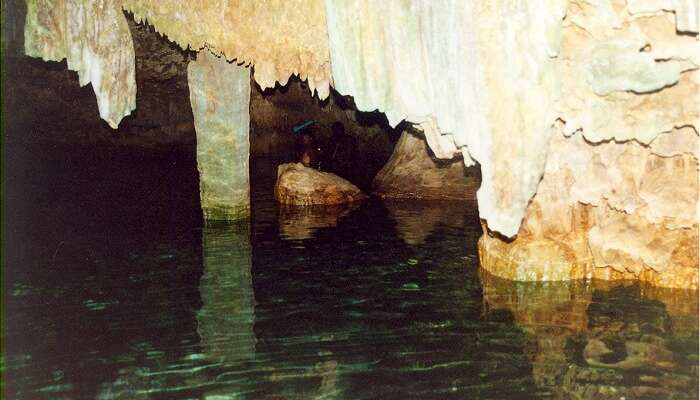 Image Source
If you are into exploring weird things, then you may find cave tours one of the fun things to do in Fiji where pagan worship and cannibalism take place. Did that pique your interest? If yes, then you should definitely go for one of these tours where you will stumble upon the history of cannibalism and history of warfare. One of the best things about these caves is they are not asphyxiating. The caves have easy access with plenty of air to breath and no bats and crawlies inside.
Duration of tour:45 minutes-1 hour
Suggested Read: 14 Things To Do In Fiji In 2019 That Let You Absorb The Essence Of The Island
15. Explore The Beaches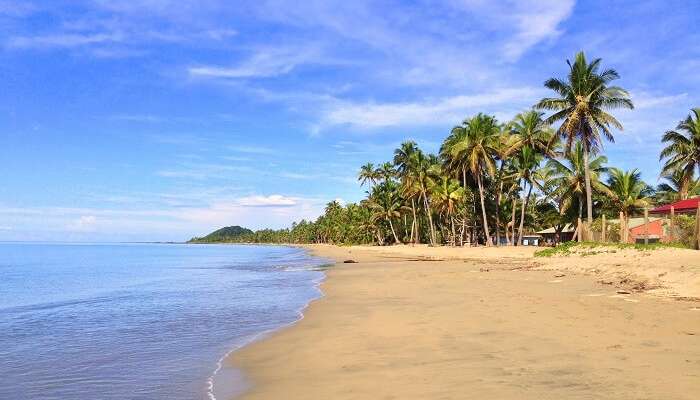 Image Source
How can we talk about Fiji and not mention its spectacular beaches! Fiji has some of the most alluring and pristine beaches in the world. It's mini white paradises are the perfect spot for you to get a gorgeous sun tan, take a stroll with your partner, or go for a swim! Simply slap on some SPF and have a peaceful time basking on any of its numerous white shores till the sun goes down.
Popular beaches in Fiji: Castaway Island, Honeymoon Beach, Horseshoe Bay, Liku Beach, Namale Private Beach, Natadola Beach, Yasawa Island Beach, and many more.
16. Birdwatching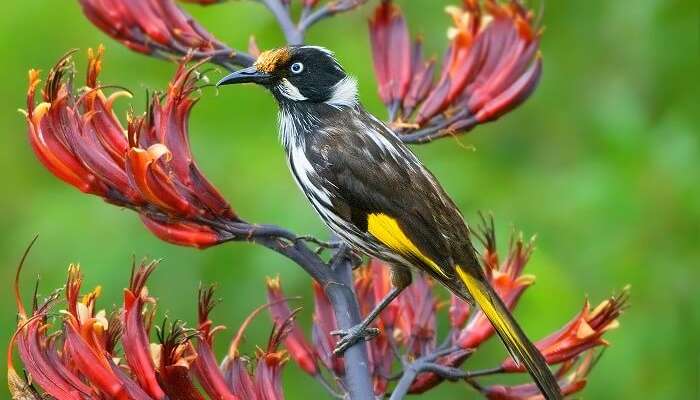 Image Source
Fiji is the home of a huge number of exotic bird species, which even includes the rare collared lory and the red-throated lorikeet. Most of the endangered species have been moved to the eco-parks in order to provide them protection and nourishment. It's a fabulous place for bird enthusiasts and lovers of aviaries who wish to see these exptic creatures in their natural habitat. Pay these conservation parks a visit and catch Fiji's exotic avifauna in action. You won't need to tread deep into thick jungles and crane your neck for hours to be able to catch these species high up in the trees.
Location: Kula WILD Adventure Park
Website
Suggested Read: 10 Restaurants In Fiji Where You Get To Indulge In The Delicious Cuisine
17. Surfing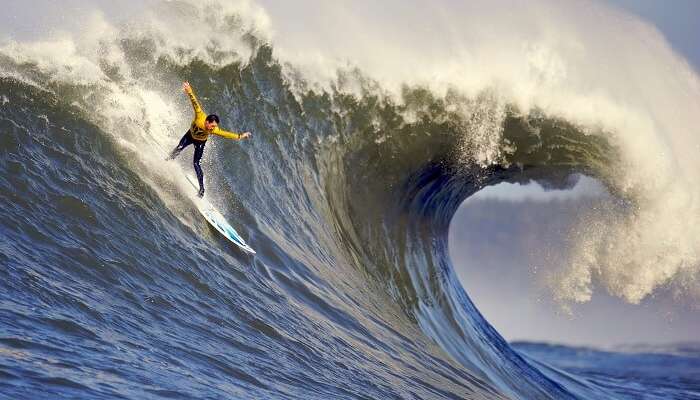 Image Source
Fiji never lets a surfer leave disappointed! If you're looking to catch some waves, Fiji is the perfect place to be. The best time to go surfing in Fiji is between the months of May to October when you'll be greeted with considerably colossal breaks in waves all the time. You can go surfing at Cloudbreak, which happens to be a renowned surf spot in Fiji, and has been ranked among the top 10 most challenging waves across the world. But, be careful! Fiji's monumental waves can leave even the experienced surfers in serious doubts about riding the surf! Even the professional surfers who tread these waters face tough challenges while handling the waves here.
Location: Cloudbreak, Mamanucas, Fiji
18. Skydiving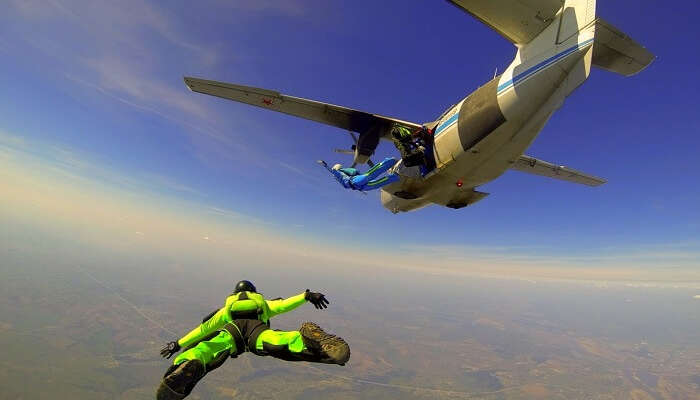 Image Source
If you'd rather be jumping off planes than riding the waves, then Fiji has something for you as well! You can sign up for a smashing skydiving experience at the Fiji's islands for an adrenaline rush like none other during your free fall as well as some stunning views of the coral reefs, turquoise waters, and sandy beaches from up above, an experience not many islands around the world offer. Though some might say the experience is a little on the pricey side, it doesn't change the fact that this once-in-a-lifetime experience is worth every penny and you must not leave Fiji without trying it!
Starting price: INR 17,000/-
Suggested Read: The Ultimate Guide For Your Honeymoon In Fiji
19. Banana Leaf Massage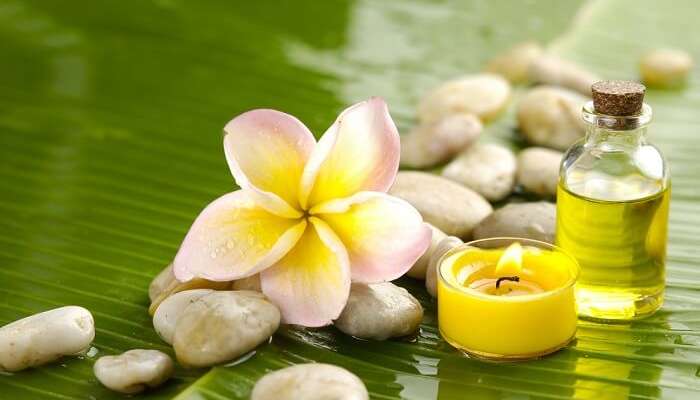 You may have experienced all sorts of spa therapies and massages, but you'll never have experienced something so unique and wacky as a banana leaf massage. For starters, they actually wrap you up in a huge banana leaf (you thought it's called 'Banana Leaf' massage for fun?). Then they coat natural brown sugar and virgin coconut oil all over you, which will make you feel like you're being seasoned for the oven! But don't worry! You'll forget all about your fears, sorrows, and the whole world once the soothing head massage begins! The massage will be accompanied with strategically-placed natural sounds and music that will infuse a feeling of positivity and calm in your soul, making you feel totally refreshed after the session.
Where to try: Rainforest Spa at Koro Sun Resort
Starting price: INR 2,400/-
20. Have A Beach Wedding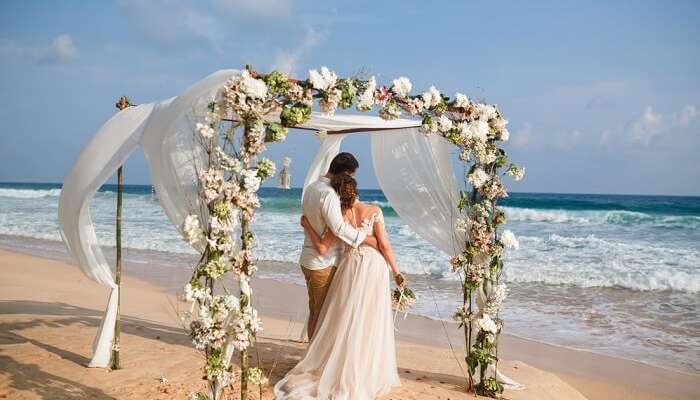 We know you've always wanted a fancy beach wedding in some traditional attire, all within your budget. Well, in Fiji, you can surely live that dream! Promising nothing less than a fairytale experience to you and your bae, the various beach resorts in Fiji offer gorgeous spaces to host marriage ceremonies. With beautiful chapels, coral lagoons, to lush tropical gardens, you'll be spoilt for choice with the number of wedding venues Fiji will serve you on the platter! Just pick venue of your choice and have a memorable wedding affair that will make a gorgeous wedding album with the perfect backdrops, making your friends and relatives jealous! You can also opt for the traditional Fijian wedding ceremony on the beach, where you will have warrior guards and village flower girls for company during the holy procession.
Best resorts for wedding in Fiji: Qamea Resort And Spa Fiji, Likuliku Lagoon Resort, Royal Davui Island Resort, Paradise Taveuni, Outrigger Fiji Beach Resort
Further Read: 10 Best Islands Around Bali For Some Romantic Island Hopping
Here were some of the exciting yet thrilling experiences to have on your vacation on the island to make it awesome. Spend one whole week on the island and Fiji will make you feel like you are in heaven. If you are planning an island vacation, you can also consider some of the other equally great options and take an international trip.
People Also Read:
Things To Do In Bangkok Things To Do In Ayutthaya Things To Do In Indonesia
---
Looking To Book A Holiday Package?
Book memorable holidays on TravelTriangle with 650+ verified travel agents for 65+ domestic and international destinations.
---
Comments
comments