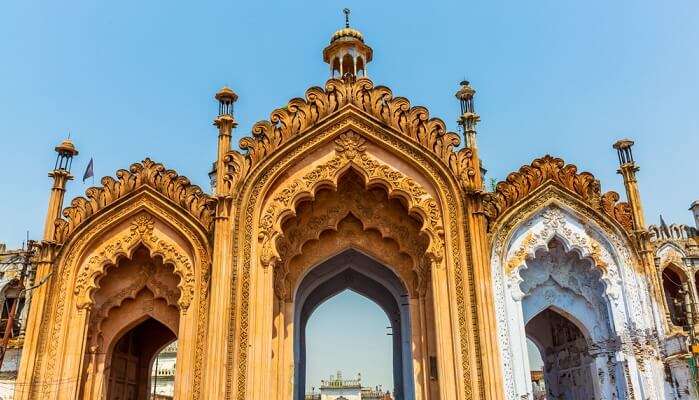 Lucknow is the epitome of Uttar Pradesh's culture, with its fascinating culinary history, bustling marketplaces, and the exemplary practice of Adab and Tehzeeb that is popular across the country. While planning a comprehensive itinerary for this vibrant capital city can be overwhelming, a guide to help you experience the best this destination offers can help you explore Lucknow like never before. In this list, we're covering some of the most fun things to do in Lucknow, from learning about the city of Nawabs to some of this region's incredible nature, plus landmarks and attractions you must observe on your journey.
Popular Adventurous Things To Do In Lucknow
In addition to the touristic attractions in and around the city, Lucknow is also the best place to immerse yourself in activities ranging from cultural to sports that help you feel close and connected to the place during your trip. Let's dive deeper with our top picks for things to do in Lucknow.
1. Learn About Local History At The Memorial Museum

Image Credit: Pat Reynolds for flickr
To learn more about the rich historic past of Lucknow, stop by the Memorial Museum. It's located near Qaisar Bagh and tells the story of the Lucknowi people during India's first war of Independence. This is an exhibit-based museum where the artifacts are arranged in chronological order to help build a timeline of the events that took place during the freedom struggle. The two-storied institution has four galleries on the ground floor and seven in the basement that tourists can explore.
16 Popular Hill Stations Near Lucknow For An Enthralling Vacay In The Himalayas In 2022!
2. Experience The Serenity Of Nature At Nawabganj Bird Sanctuary

Image Credit: Yoc2007 for Wikipedia
While Lucknow itself is one of the few cities in India that managed to maintain a green balance with rapid urbanization, you can enjoy the bliss of nature at the Nawabganj Bird Sanctuary. Although it's located in the Unnao district, a region accessible if you take a slight detour from the busy Kanpur-Lucknow highway, escaping into the wetland can make you forget about where you are as you are carried into a sanctuary that boasts 250 species of migratory birds. There is also a deer park and lake that are worth photographing as you explore this place. It is also one of the most fun outdoor activities to do in Lucknow.
3. Step Back In Time With A Walking Tour Of The City

Image Credit: Rajesh_India for flickr
Uttar Pradesh's maverick city, Lucknow is dotted with landmarks, attractions, and historic sites unlike any other, and it is proud of it. The best way to learn more about these cultural symbols is by heading out for a walking tour of the city with a local guide to narrate the tales, help out with uncommon insights and take you to places unknown to the touristic eye. It is one of the best things to do in Lucknow if you want to truly understand this place.
20 Best Restaurants In Lucknow You Must Visit In 2022 To Eat And Feel Like The Nawabs Do!
4. Indulge In Endless Servings Of Kebabs At Tunday Kababi

Image Credit: Matt Stabile for Wikimedia Commons
This is something for food enthusiasts who believe that the best way to understand a destination is through its most popular cuisine. A popular Awadhi cuisine that traditionally consists of over 160 spices, at Tunday Kababi, you can indulge in a wide variety of melt-in-the-mouth kebabs. Established in 1905, it is fascinating to note that the establishment has held on to its original bones even after a century, but the flavorsome menu managed to remain the same, offering the authentic taste that became more of a legacy for the many generations that passed down the recipe.
5. Shop 'Til You Drop At Hazratganj

Image Credit: Mohd Aram for Unsplash
A staggering display of local stores, traditional craft shops, retail markets, and more, Hazratganj is a centrally located shopping district. If you are looking for activities to do in Lucknow, people watching here as you try the traditional cuisine here at the curbside shacks is something not to be missed. You can find everything from Chikankari fabric to wooden handicrafts that depict the city's culture, and the pocket-friendly prices are perfect for getting yourself a souvenir (or two!) before your departure.
12 Places To Visit In Lucknow That Showcase It's Grand Culture In 2022
6. Unwind After A Busy Day At The Janeshwar Mishra Park

If slow-walking around a park lake during sunset is your way to unwind after a busy day of exploration, you'll be in heaven at the Janeshwar Mishra Park. Wander through walkways and gardens, browse their eateries offering regional snacks, and even pick up a takeaway to savor back at your residence. As the sun sets, the reflecting on the water makes for a calming scenery to observe and reflect on your journey in this city.
Privately Run Tejas Express From Lucknow To Delhi Is The First In India
From the iconic Memorial Museum to the Janeshwar Mishra Park that is perfecting for relaxing, if you enjoyed our pocket guide for the fun things to do in Lucknow, don't forget to check out our Lucknow packages to plan your trip.
For our editorial codes of conduct and copyright disclaimer, please click here.
People Also Read:
Things To Do In Sikkim Things To Do In Shillong Things To Do In Dehradun