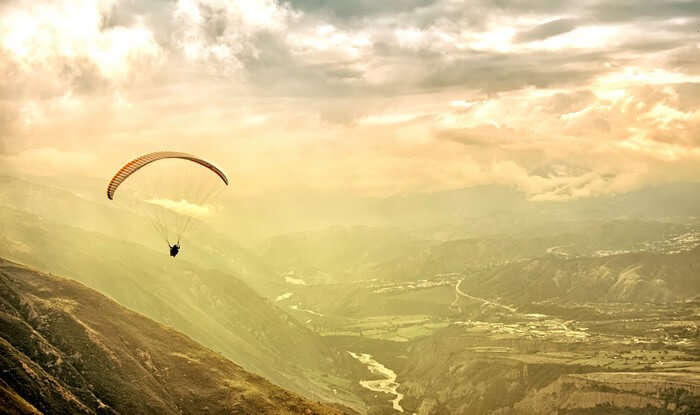 Mussoorie is among the many wonderful hill stations in India that offer adventurous escapes. Located in Dehradun district of Uttarakhand state, it is popularly known as the Queen of Hills for the Himalayan resources that it has been blessed with. Any idea of vacationing or adventure in North India is incomplete if you have not kept Mussoorie in mind. Check out our guide to the top things to do in Mussoorie. Myriad adventure activities, several breathtaking landscapes and the best of shopping spots in hill stations of India — Mussoorie has it all.
Top 13 Things To Do In Mussoorie
Among all the several activities, we bring you a list of 12 best things to do in Mussoorie. Make your getaway to the hills memorable with these exhilarating activities:
Trekking
Hiking
Adventure Sports
Rock Climbing
Paragliding
Rafting
Roller Skating
Winemaking
Shopping
Food Tour
Fishing
Wildlife safari
Boating
1. Trekking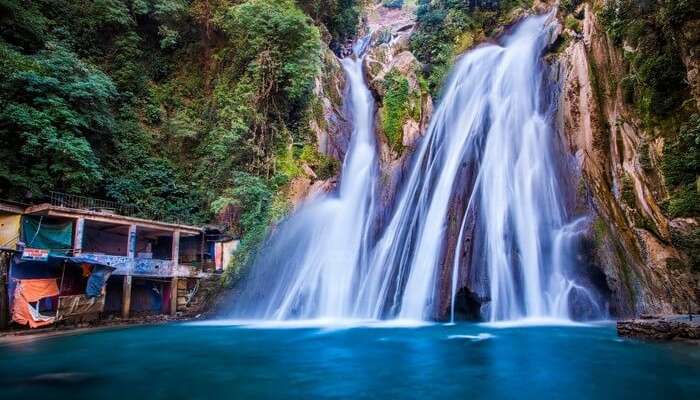 In the foothills of Garhwal Himalayas, Mussoorie is known as the gateway to Yamunotri and Gangotri shrines. Apart from several treks and temples, the town has lakes, gardens, waterfalls, and a lot more to keep a traveler hooked to its charm when trekking in Mussoorie. This is one of the most popular things to do in Mussoorie.
Major attractions: Kempty Falls, Happy Valley, Camel's Back Road, Gun Hill, Mussoorie lake, Jwalaji Temple, The Mall, Lake Mist
Must do: Sightseeing in Mussoorie is altogether a different experience if it is combined with Cable Car ride and Sky Bridge. Here are the details:
Cable Car: It is a 5-10 minutes ride from Jhulaghat to Gun Hill (2530 m high). The services are available between 10 am to 7 pm in winters and 8 am to 10 pm in summers.
Cost: INR 75 for a round trip
Sky Bridge: This is the longest hanging adventure bridge in India made by wire, ropes and bamboos. It is a 300 ft long hanging bridge at a height of 80 ft, and can hold only 25 at a time.
Cost: INR 300
Must Read: 10 Best Restaurants In Mussoorie For A Fine Dining Experience Amidst The Nature
---
Uttarakhand Holiday Packages On TravelTriangle
Witness the beauty of Uttarakhand and indulge in spiritual pilgrimages, adventure sports, and treks. Visit Nainital, Rishikesh, Haridwar, Auli, Jim Corbett, and more. Get best holiday deals on TravelTriangle.
---
2. Hiking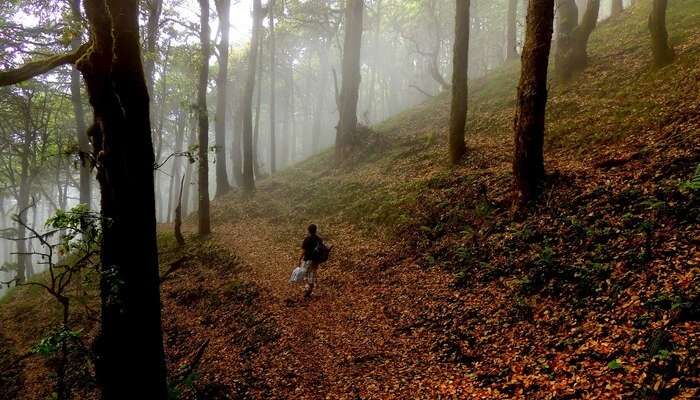 Mussoorie is full of mesmerizing landscapes. Majestic mountains and lush green valleys, drenched in floating clouds, make walks and treks hard to forget. Walking towards the Happy Valley from Library Head, from Valley View to Clouds End, and from Waverly Convent to Company Bagh are some of the best things to do in Mussoorie. Walk down these roads and lanes you would know why walking is the best way to explore mountains. There are many trekking and camping options while you explore the wonderlands in Mussoorie, including:
Nag Tibba Summit
Bhadraj temple and forest trek
Har ki dun trek
Yamunotri Saptarishi Kund trek
Dodital trek
Get the thrill of adventure by taking up treks and camping trips at Mussoorie. These undiluted times spent with nature provide you the much needed time for self.
Best time for trekking and camping in Mussoorie: All around the year except the monsoon months of June, July, August, and early September.
Trekking and Camping operators: Trail hikers, Garhwal Mandal Vikas Nigam Ltd., Gio Adventures
Cost: The cost varies from one trek to another keeping in view the time taken, size of the group, distance and the quality of facilities provided.
Suggested Read: Top 18 Places To Visit In Uttarakhand
3. Adventure Sports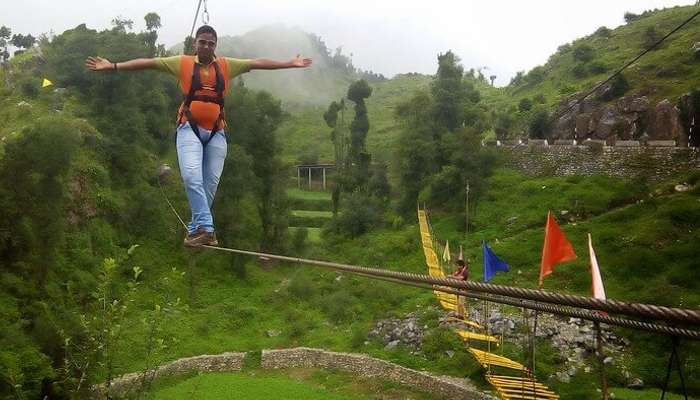 Open for public, first time in the world, Skywalk is one of the most fun things to do in Mussoorie. Fancy walking on a 360 ft long single wire rope at a height of 120 ft with free hands — excited? Safety is ensured as you are attached to a supporting wire with the help of a harness. While on a Zipline adventure, you are harnessed on wire rope with the help of pulley at the higher end and then made to slide with speed of 50 km per hour to the lower end of a 330 ft long vertical. Zip Swings is a mix of Zipline and Giant Swing at the height of 80 ft. Harnessed with wire rope, you first go by zipping on the rope till the middle and then swing high at 80 ft. These three make up for the most fun things to do in Mussoorie Uttarakhand for families with kids and even couples.
Cost: INR 600 onwards for Skywalk, INR 300 onwards for Zipline and Zip Swings
Suggested Read: 22 Amazing Places To Visit In Mussoorie For The Perfect Summer Getaway
4. Rock Climbing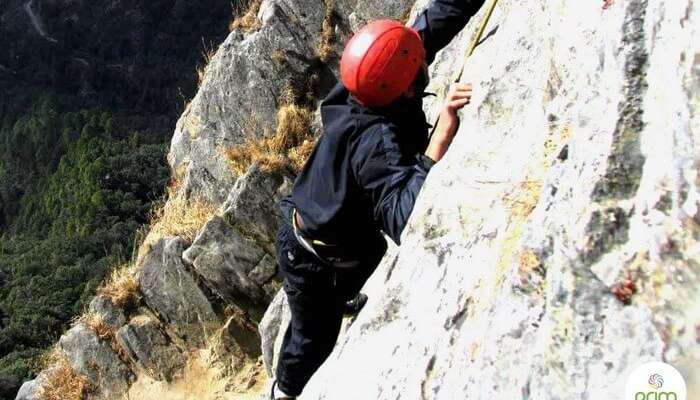 Rock climbing and rappelling have been the most conventional things to do in Mussoorie Uttarakhand. Mussoorie has various sizes of rocks ranging from 50 ft to 600 ft. One can choose according to their ability, physical fitness, and mental toughness. This is a new dimension of mountain adventure. Caving requires presence of mind, daring attitude, curiosity and guts. It involves thrill, overcoming fear, and passion for wilderness. 6 km before Dhanaulti, at Buranskhanda, there are several hidden caves surrounded by beautiful alpine meadows, trees, and breathtaking views of the Himalayan peaks. In fact, Mussoorie trekking and mountaineering are the best ways to test your strength! Mountain Biking and ATV riding give another dimension to mountain based adventure sports in Mussoorie and are the best adventure activities in Mussoorie. They are all about speed, control, and thrill and are one of the latest ways of exploring vistas of the Himalayan landscape. Rugged terrains and steep slopes, though risky at times, provide great mountain biking experience in Uttarakhand Himalayas. It's one of the most fun things to do in Mussoorie.
Cost: INR 500 for rappelling and rock climbing, INR 3600 onwards for Caving tour for a group of 4, INR 500 per hour for ATV rides and mountain biking
Operators: Zip Line Adventures
Suggested Read: Your Little Guide To Shopping In Mussoorie
5. Paragliding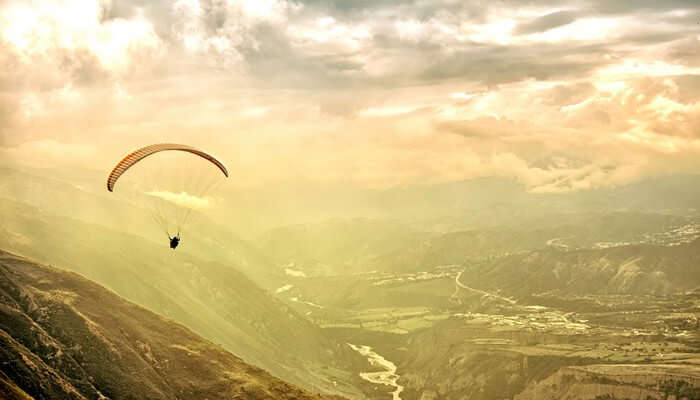 Mussoorie is one of the best destinations for paragliding in India. Paragliding operators in Mussoorie, largely, offer joyrides on a two-seater glider operated by professional pilots with over 3000 hours of flying experience. This is surely the easiest offbeat things to do in Mussoorie. It does not need any prior training or experience and one is never too young or old for it. The flights in Mussoorie are long rides of minimum 1 hour (15 km) up to 10,000 ft high.
Best time for paragliding in Mussoorie: All through the year, except for monsoons
Cost: INR 2000 onwards, a long flight of 60 minutes costs INR 10,000
Operators: Paragliding in Mussoorie, Zip Line Adventures
6. Rafting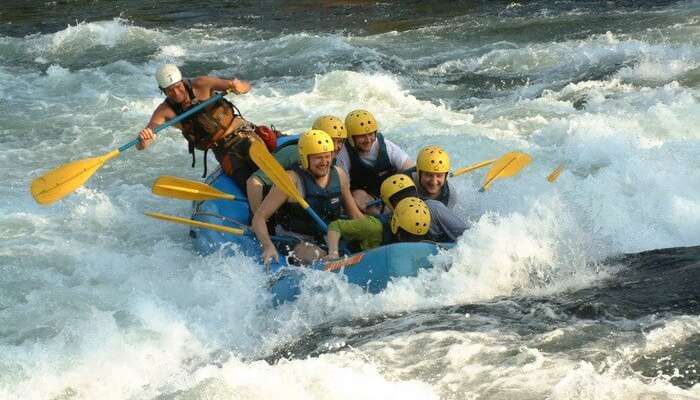 River Rafting in Mussoorie is one of the most offbeat things to do in Mussoorie. Swift-moving rivers offer a thrilling experience for white water rafters. These rivers flow through deep forests, rocky terrains, mountains and sometimes even along snowy slopes. Stretches along Alaknanda, Dhauliganga and Kali rivers have several challenging rapids. One can opt for a simple half-day tour and can raft from Barkot to Lakhamandal and Damta to Yamuna Bridge, near Mussoorie.
Best time for rafting in Mussoorie: All through the year, except for monsoons
Operators: Uttarakhand Tourism Board
Cost: These are mostly customized plans inclusive of camping and vary as per the duration and the length of the expedition
7. Roller Skating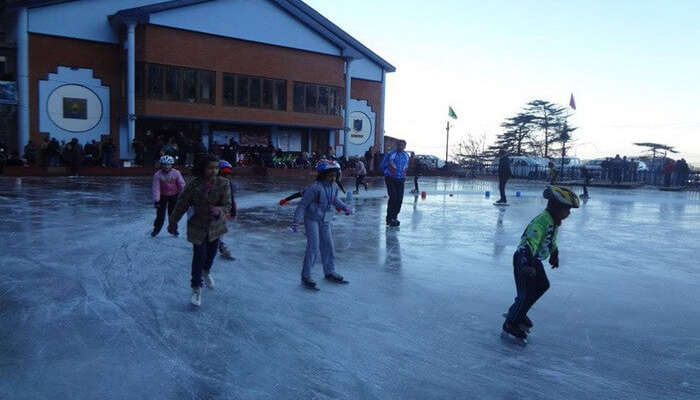 It is indeed surprising that Mussoorie has India's largest roller skating rink. If you are good at balancing, do try your hands at skating here. Give your feet some wheels, the body a swirl and you'll feel the adrenaline rush giving you a pleasant high. Among the many skating rinks in Mussoorie, Jaypee Resort's, The Rink in Kulri Bazaar and Disco Skating Rink, behind Tourist Office, are the popular ones. It is one of the most fun things to do in Mussoorie.
Operators: Uttarakhand Tourism Board
Suggested Read: 17 Amazing Places To Visit In Mussoorie
8. Winemaking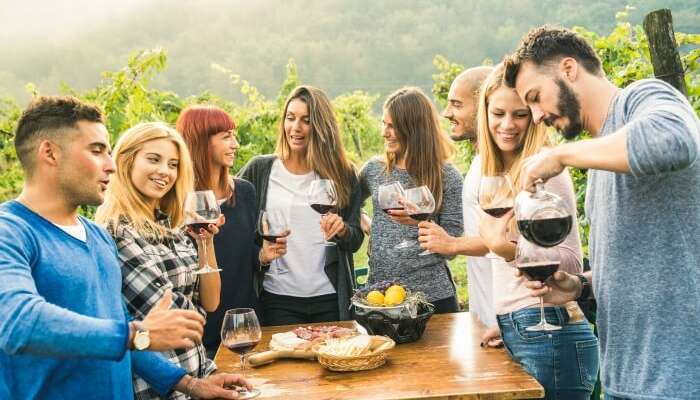 Popularly known as vinification, the process of making wine is considered as one of the offbeat things to do in Mussoorie. Mussoorie hosts several workshops that teach you the art of winemaking. One is taught to make a variety of wines from apples, pears, ginger, plum, and grapes, etc. Within a month, one can have ten bottles of exclusive wine made by their own hands. The recipes are mailed for later references. These workshops usually end with wine tasting sessions. In fact, it's one of the best things to do in Mussoorie Uttarakhand.
Location: Hotel Devdar
Cost: INR 1200
Suggested Read: Honeymoon In Mussoorie Is A Dreamy Start To A New Beginning
9. Shopping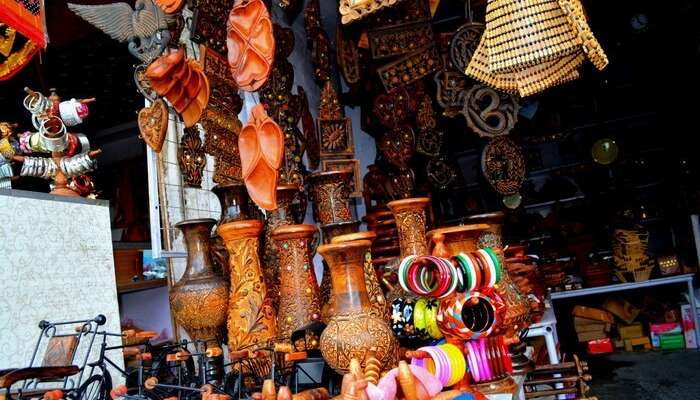 Not the adventurous kind and wondering what to do in Mussoorie? Go for a shopping gig! The main shopping areas in Mussoorie are the Library, Kulri Bazaar, and Landour Bazaar. The shops, here, sell curios, ethnic jewelry, and antiques. Beyond Kulri Bazaar a road goes 5 km up to the old cantonment area of Landour. Shops in Landour market sell Raj memorabilia, silver jewelry, and books. One can pick up beautifully handcrafted walking sticks among other things from shops on the Mall. Just below the Mall road is a Tibetan market where one can buy sleeping bags, windcheaters, sweaters and shawls at very reasonable prices. There also small scale markets located just a little distance away from Mussoorie that you can explore, and that makes this activity one of the best things to do near Mussoorie and inside it.
10. Food Tour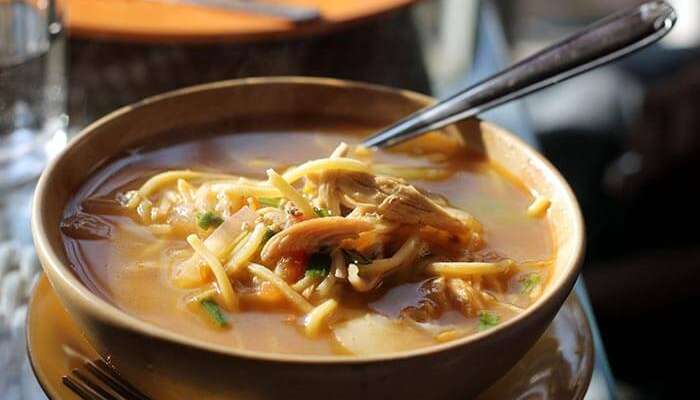 The cuisine of Mussoorie is mainly influenced by Garhwali and Tibetan food. So, you're sure to find your favorite dimsums and Thukpas and noodle soups on your trip here. Food made out of rice, lentils, pulses, meats, and milk products is what you're usually gonna come across here. Popular Garhwali dishes include Aloo ke Gutke, Jhangora ki Kheer, Bal Mithai, Singodi, Gul Gula, Bhangjeera, Malta Juice, Rose Juice, and more.
11. Fishing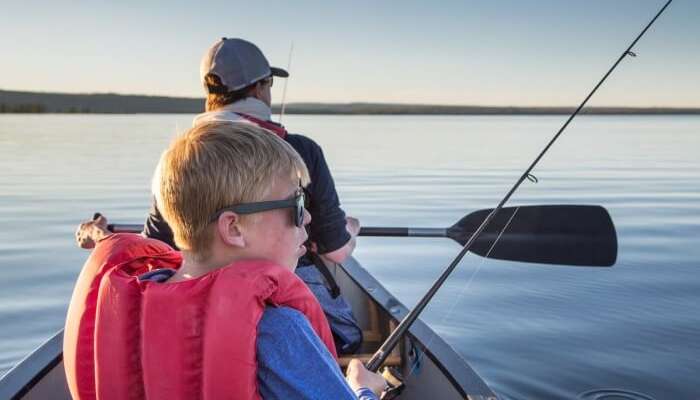 There are plenty of opportunities for fishing in fresh waters. The hill station is known for its Trout, Maund and Mahseer fish. The Aglar River and Yamuna River would provide you with ample opportunities for trout fishing. However, you will have to take permits from the Divisional Forest Officer of Mussoorie beforehand. There can't be better things to do in Mussoorie in March.
Best sites for fishing: Aglar River and Yamuna River
12. Wildlife Safari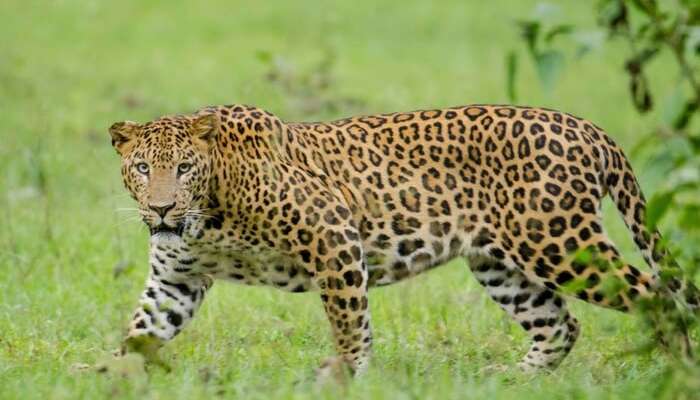 Hop on a wildlife cum sightseeing tour and make your trip memorable. The Benog Sanctuary is a must-visit for wildlife enthusiasts. The sanctuary houses Leopard Himalayan Bear, Panther and the Mountain Quail. On the other hand, Jabarkhet Wildlife Sanctuary is great trekking and camping spot. You may spot leopards at night. It houses leopards, langurs, black bear, porcupines and martens.
Best sites for safari: Benog Sanctuary, Jabarkhet Wildlife Sanctuary and Corbett National Park
13. Boating
Boating is another one of the top things to do in Mussoorie and often the first activity that one can enjoy on their trip to this hill station, as Mussoorie Lake is on the way to Mussoorie. It is a small lake where one can stop on their journey to Mussoorie. It is around 6 kms before the city centre. There are a few food stalls where one can enjoy local food and snacks and one can also go for boating in the lake. One can also stop at the lake on their way back to enjoy the views and boating here.
Location: Mussoorie Lake
Further Read: The Challenging Trek To Valley Of Flowers In Uttarakhand
That's it. We have given you one of the most complete list of things to do in Mussoorie. Plan your trip to Mussoorie and make sure to share your experiences when you are back. Know anything more about what to do in Mussoorie? Let us know in the comments below.
Frequently Asked Questions About Things To Do In Mussoorie
Q. Is there snowfall in Mussoorie?
A. You can see Mussoorie covered in thick snow in the winter months from December through February.
Q. How many days are enough for Mussoorie?
A. Mussoorie is a small hill station in the state of Uttarakhand, famous for its colonial charm. You can cover all of Mussoorie in about 2 to 3 days.
Q. What are the best restaurants in Mussoorie?
A. There are many amazing restaurants in Mussoorie that offer the best food experience to the visitors here. The most popular restaurants in Mussoorie are the following:
1. Trout House Grill & Bar
2. JW Cafe
3. The Writer's Bar
4. Regency Restaurant
5. Wisteria Deck
6. Urban Turban Bistro
Q. Are Ola & Uber cabs available in Mussoorie?
A. Ola and Uber cabs aren't available in Mussoorie as of now. You can hire Ola cabs in Dehradun.
Q. How is the road from Haridwar to Mussoorie?
A. Mussoorie doesn't have an airport or a train station and by road from Haridwar is the best way to reach the hill town. You can either hire a cab or drive your private vehicle to cover the distance of 86 km from Haridwar to Mussoorie. It is a smooth drive of 3.5 hours and the scenic route is another added advantage.
Q. Which month is best for Mussoorie?
A. Mussoorie is pleasant all throughout the year and you can visit the place anytime between October and June.
Q. Where can I go shopping in Mussoorie?
A. The following are the most popular markets in Mussoorie:
1. The Mall Road: Home Decor, outfits, souvenirs, etc
2. Tibetan Market: Hand-woven carpets, sober artifacts, inexpensive outfits and accessories
3. Library Bazaar: Wooden items, trinkets, vases, electronic products
4. Kulri Bazaar: Local handicrafts, outfits, accessories, footwear, etc
5. Classic Emporium: Handcrafted lampshades, Tibetan sculptures, accessories, etc
Q. Which is the most popular trek in Mussoorie?
A. For a perfect trekking experience in Mussoorie, you can go for either Kanatal Trek or Nagtibba Trek. Other most adventurous treks in Mussoorie are Dhanaulti Trek, Taptibba Trek, etc.
Q. What are the adventurous things to do in Mussoorie?
A. The following are the most adventurous experiences of Mussoorie:
1. Sky Walking
2. Valley Crossing
3. Zip Swing Adventure
4. Rock Climbing
5. Paragliding
6. Nature Walk
7. Roller Skating
8. Boating
9. Trekking
---
Looking To Book A Holiday Package?
Book memorable holidays on TravelTriangle with 650+ verified travel agents for 65+ domestic and international destinations.
---
People also read:
Uttarakhand in June Places to visit in Uttarakhand Places toi visit in Uttarakhand in summer
Comments
comments