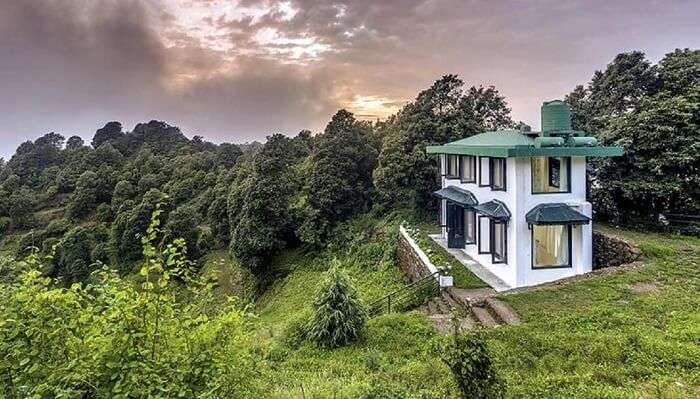 Known for its tranquility, scenic areas, and tranquility Mussoorie is called the 'Queen of the hills' for a reason. The mesmerising landscapes and the awe inspiring beauty and the gorgeous backdrop of mountains, Mussoorie is the best you can get. Villas in Mussoorie are the most comfortable accommodation for all kinds of travellers. They are equipped with modern amenities and make you feel at home. Staying with kids is the best option at these villas. You can visit Mussoorie in winter to see the snowfall. The weather is pleasant in Mussoorie in April, May, and June. July to September are monsoons and not a good time to visit Mussoorie as rains are heavy.
8 Best Villas In Mussoorie
The allure of staying in a villa when you travel to one of the most serene destinations in Uttarakhand is the ultimate luxury. Explore our list of the best villas in Mussoorie to inspire your next stay: 
1. The Dolina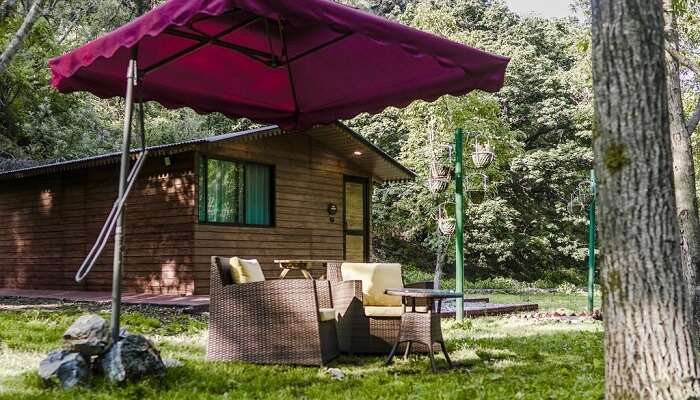 This is one of the rustic villas in Mussoorie beautifully located amidst the lush green giving the view of the mountains. All rooms have modern decor and amenities that ensure a comfortable stay. The property is surrounded by forests and is an ideal place for couples to spend time. The scenic Kempty Falls is only a few kilometers from the property. It has a wellness and spa center to pamper yourself. There are free wi-fi and parking available making a suitable place for those who come here on road trips.
All the rooms have air conditioning and heating. The villa arranges outdoor activities such as walking tours, hiking, etc. There is also a bridal suite available suitable for honeymooners. This is comfortable seating in the living area. Special diet menus are available if you need them. The flooring is made of hardwood and looks elegant. You can get a sauna and choose from various massages at the wellness center. The airport shuttle is available for a charge. The outdoor area has seating and picnic place.
Location: Bansi Ghat, Mussoorie
Price: Starting from 7845 INR
Highlights: A lovely villa in the woods with tranquility and serenity for couples and newlyweds.
36 Amazing Places To Visit In Mussoorie For The Perfect Summer Getaway In 2022!
2. Maison Villa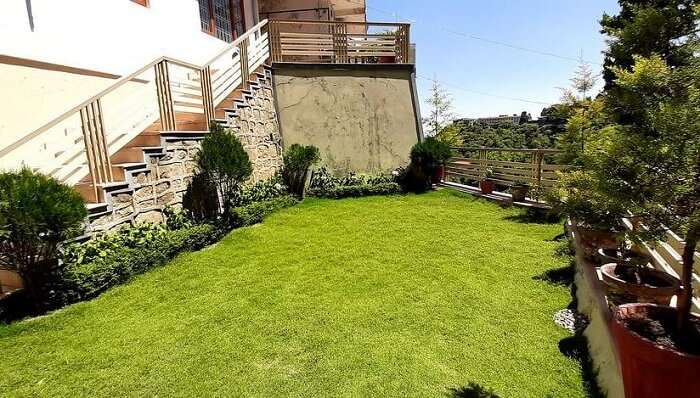 A villa with a beautiful garden makes your stay pleasant and pleasurable. This is a 3 bedroom luxury villa for rent with balconies that give a nice view of the surroundings. The kitchen is equipped with a fridge letting you store edibles and drinks. Enjoy chilled beer and heat your favourite foods in the microwave provided in the kitchen. The garden is beautifully manicured and has outdoor seating. Washing machines make cleaning clothes easy daily. A dining table, kitchen, and toaster are present to make it easy for you to cook and heat food.
The bedroom is beautifully decorated, has a large bed, and balcony, and is very spacious. The decor of the living room is urban and has a flatscreen TV for entertainment. You can stay at this place and enjoy the true beauty of nature. Most popular landmarks and places of sightseeing are at a close distance to this property which makes this one of the most popular villas in Mussoorie among tourists. Lakes and nature spots are a few kilometres from this property.
Location: Barlow Ganj Road, Mussoorie
Price: Starting from 8240 INR
Highlights: A 3-bedroom villa with all modern amenities with a view and located at a nice place lets you have a comfortable stay during vacations.
3. Deodar Estate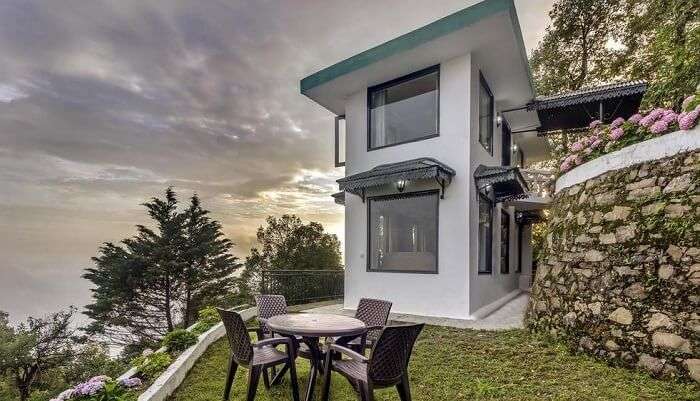 One of the most popular luxury villas in Mussoorie perched on the hilltop give a stunning view of the lush green and the valley. All the rooms are beautifully decorated and have the best furnishings and modern amenities. Enjoy breakfast and tea in the outdoor seating getting the idyllic view of the valley. Every room has a huge glass windows that give a view of the surrounding landscape. It is suitable for honeymooners, couples, and families who want to explore some of the best places to visit in Mussoorie.
The bedroom opens to a breathtaking view and is airy. Bedrooms have attached bathrooms and all the rooms are spacious. Bedrooms are decorated with royal upholstery making it look like a fairytale. Bedrooms have a dressing table, wardrobe, and ambient lighting. Enjoy the morning mist with a piping hot cup of tea and soak into the view of the mountains. Most of the markets, shops, and tourist places are 6 kilometers from this property.
Location: Bhataghat, Mussoorie
Price: Starting from 4860 INR
Highlights: A stunning villa with a breathtaking view ideal for those looking for solitude and nature away from the hustle-bustle.
Camping In Mussoorie Is Real Fun. Here Is All You Need To Know!
4. Aspen Villa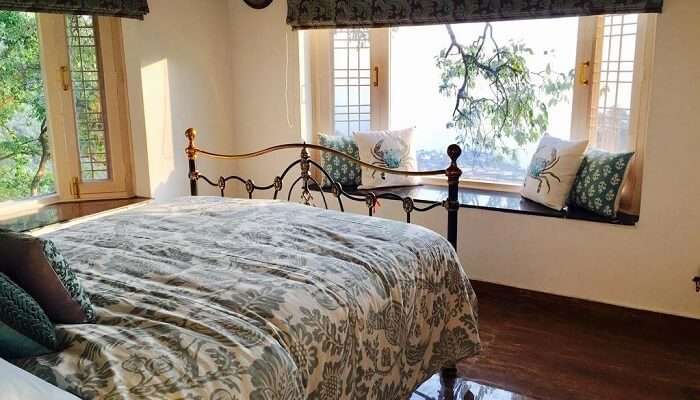 This is a one-bedroom villa that offers a stunning view of the mountains and is perched at an altitude. Enjoy the cold mist of the morning with delicious breakfast and tea in the patio soaking in the beauty of the surrounding landscapes. It has a shared kitchen and lounge area. All the rooms are beautifully decorated and provide a magnificent view of the mountains. It has a garden, patio, and terrace. All the rooms have a private entrance.
Rooms have intercom facilities making it easy for you to make a request for any service at the villa. You can request for special diet menus for no charge. Parking is available but there is no internet service at this villa. The outdoor area has seating, garden, BBQ facilities, dining, and patio. You can spend your holidays in peace and tranquility at this villa. The staff speaks English, Hindi, and French. Air conditioning and heating are present in all rooms.
Location: Barlowganj, Mussoorie
Price: Starting from 6720 INR
Highlights: A beautiful villa set in a tranquil location that gives a stunning view of the mountains and has all the modern amenities.
5. Aamod KV Villa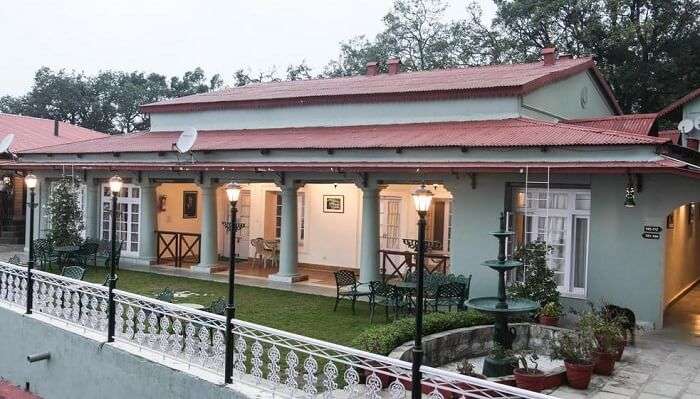 This is one of the most luxurious villas in Mussoorie that is built in the Victorian style. The estate is spread across 6.5 acres of land. It is close to the Mall road which has all the shops and markets. All the rooms come with an excellent view of the mountains and valleys. Free parking and wi-fi are provided for guests. The dining room is 35 seater and serves a sumptuous meal. Presidential, royal, deluxe, and woodhouse are the suites to choose from.
The restaurant is placed in a location that provides a stunning view of the forest. A nice place to stay with kids. Children's playground, board games, and cycling are the activities provided for kids. Security and front desk are available 24×7. The villa also has CCTV with a live recording for provided extra security for its guests. This is a pet-friendly villa and comes with excellent amenities and facilities in every suite.
Location: Mall Road, Mussoorie
Price: Starting from 4250 INR
Highlights: A beautiful mansion with a breathtaking view of the mountains and forest for a reasonable price set in the best location.
19 Things To Do In Mussoorie For A Hill Station Holiday Experience In 2022
6. La Villa Bethany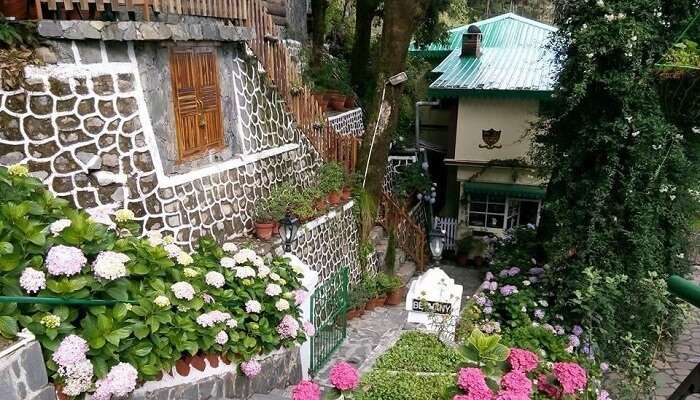 Experience the grandeur of an English home decorated in colonial style and has scenic landscape gardens with beautiful flowers and lush greenery as this is one of the most luxurious villas in Mussoorie. It overlooks the mountain and gives an excellent view of the bedroom. It is close to the market and local shops. You can choose from various suites available at this villa. Log cabin, deluxe suite, and suite rooms. The common area includes a garden that is beautifully manicured.
You can enjoy morning walks surrounded by beautiful pine and deodar trees and scenic views of the mountains. The rooms have wooden flooring, comfortable bed, excellent view from the windows, and colonial-style rooms. You can enjoy your time reading in the library or have a good time chatting in the outdoor seating in the beautiful garden. This villa is pet-friendly and is equipped with all modern amenities.
Location: Landour Cantt, Mussoorie
Price: Starting from 12600 INR
Highlights: A beautiful villa for family and group travellers who love the beautiful view of the mountains and doon valley. It has colonial architecture and beautiful rooms not found anywhere else in Mussoorie.
7. Cottage in the Clouds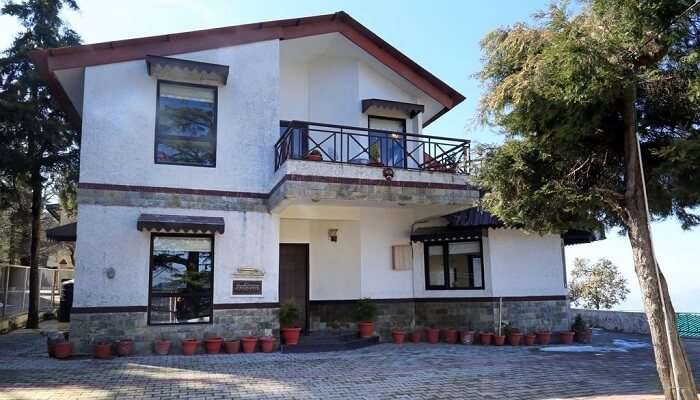 Get a magnificent view of the clouds and mountains while staying at one of the best villas in Mussoorie. It has a wide balcony with seating where you can enjoy breakfast and tea getting a view of the mountains. All the rooms have beautiful decor. This is the ideal accommodation for couples and families. You can enjoy your honeymoon staying at this villa. Enjoy the mist of the morning and the romantic setting of nature during the dusk. Every bedroom gives a stunning view of the surrounding nature.
Location: Library Chowk, Mussoorie
Price: Starting from 15,120 INR
Highlights: You can have the entire place and enjoy holidays in idyllic settings. The villa has modern amenities and driver facilities to take you around the town.
9 Most Adventure Sports In Mussoorie That Will Thrill You Up From Head To Toe
8. Atwilla's Nest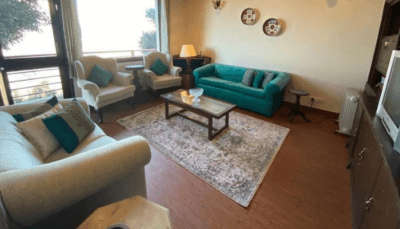 Just a stone's throw away from Camel's Back Road which is located at a distance of 1.7 kilometres from this Mussoorie villa, Atwilla's Nest is a prime establishment for adventure travellers who want an accessible stay near waterfalls in Mussoorie. Atwilla's is a vast property with 3 bedrooms and 3 bathrooms that can accommodate both small and large groups for stays ranging from weekends to months. There's an open terrace to enjoy panoramic views of the city after sundown and a vegetarian menu to accommodate any dietary preferences. 
Location: Cottage A, Valley View Cottages, Sri Nagar Estate, Mussoorie, Uttarakhand 248179
Price: Starting from 16,000 INR
Highlights: Access to patio and a mountain view from your window. 
Mussoorie is one of the most romantic destinations with idyllic landscapes and mountain views. Adventure enthusiasts and nature lovers call it a heaven for trekking through picturesque valleys and paragliding through the mountains. Also, the gorgeous villas in Mussoorie add to the experience. So, don't wait anymore. Plan a trip to Uttarakhand and have the time of your life!
For our editorial codes of conduct and copyright disclaimer, please click here. 
Frequently Asked Questions About Villas in Mussoorie
Which villas are best for families in Mussoorie?
The Dolina, Aspen Heights, and Cottage in the clouds are best suited for families.
How much would a villa in Mussoorie cost?
On average, a villa in Mussoorie costs 7356 INR per night.
Do prices change over the weekend?
The prices change frequently based on various factors. Find out the prices from various websites to get the best offer.
Which are the budget-friendly villas in Mussoorie?
The Log House, The Dolina, and Deodar Estate are the most budget-friendly villas in Mussoorie.
What is the best villa for couples?
Cottage in the clouds and Deodar Estate are suitable for couples.
Do all villas have free wi-fi and parking?
Only a few villas offer free wi-fi and parking. Check the amenities provided by the villa before booking one.
Are all villas pet-friendly?
Pets are not allowed on most of the villas. Only a handful are pet-friendly and allow pets free of charge.
---
Looking To Book A Holiday Package?
---
People Also Read:
Villas In Nashik  Villas In Indore  Villas In Santorini
Comments
comments