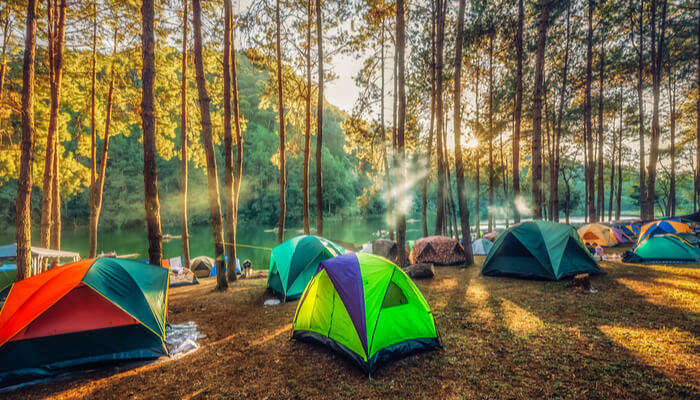 If your dream of a perfect holiday includes tranquil hills or untouched nature, then Mussoorie will welcome you in the best way. It mostly enjoys a pleasant type of climate throughout the year. The natural beauty of the hills makes it a very popular choice for honeymooners. Apart from being beautiful and splendid, Mussoorie is also ideal for trying out adventure sports. There is a long list of adventure sports in Mussoorie, each of them offering breathtaking experiences.
9 Best Adventure Sports In Mussoorie
Since the list of adventure sports can be long, we intend to provide you the best information about those. You can then plan your trip in a hassle-free way.
1. Sky Walk

It will be right to say that Skywalk is not for faint hearts. If you are an adventure enthusiast who doesn't fear height, then SkyWalk Mussoorie will be a treat for you. You will have some best moments of your life here trying out this sport once you let the fear-free. You will walk on a wire on a certain height, usually, it is 120 feet with both your hands out in the hair. You will be provided with enough safety equipment that will keep you from falling, but if you manage to make it right, you will have a panoramic view of the mountains and lush greenery covering the entire city. It is one of the best adventure sports in Mussoorie to try.
Location: Snow Adventure Zone, 6 km before | Dhanaulti, Mussoorie 248001, India
Best time: 9.00 AM-6.00 PM.
Price: Starts from INR 300 per person.
Must Read: 19 Things To Do In Mussoorie For A Hill Station Holiday Experience In 2022
2. River Rafting

River rafting is another thrilling adventure sports that you can try in Mussoorie. Most of the river flows through the dense forests. This type of rafting is organized in a group of people. They are given a boat and life-saving jackets. You should have a little skill and knowledge of rowing the boat. Sometimes, the river gets high and the water level rises to a great extent. You should be very cautious during this phase though you will be given the safety equipment, a rope that keeps you connected to other boats. If you want, you can also take a guide during these sports who can guide you in a better way. It is also better if you know how to swim. It can save you from any type of risk.
Location: Barkot to Lakhamandal, near Mussoorie.
Timings: 10.00AM-3.00AM
Price: It mainly depends upon the distance you are traveling.
Suggested Read: Mussoorie In December In 2022: Explore The Queen Of Hill Stations This Winter
3. Climbing

One of the main attractions of Mussoorie is rock climbing. Many organizations organize this adventure. Every type of precaution is taken so that the tourist does not face any issues while climbing their way to the top, but it does require a certain strength to climb the rock. This sport also needs little practice and attention at the same time. Generally, the length of the routes of climbing is about 82ft or 164 ft. The tourists are tightly tied with a heavy rope so that they can climb up the rocks comfortably. It is said that Mussoorie has the highest number of natural rocks, which makes it natural heaven for rock climbing. As these rocks are natural, they have a rough surface and various types of curves. While climbing you should be well aware of the curves and rough surface. It is better to wear heavy clothes during climbing rocks.
Location: Dhanaulti, Mussoorie
Timings: 8.00 AM-3.00 AM
Price: INR 600/ per person.
Suggested Read: 30 Resorts In Mussoorie You Must Stay At For A Laid Back Retreat In 2022!
4. Rappelling

Rappelling is another important fun sport that is organized in various parts of Mussoorie. It simply means descending by mountains with the help of various types of ropes and other accessories or tools. It is also considered as one of the prime activities that one can indulge in Mussoorie. The tourists are generally tightly tied to a rope or cable for safety purposes before they climb up the cliff or raffle down. Sliding down to the mountains and witnessing the amazing scenic view of the hills and natural splendor will leave you awestruck.
Location: Buranskhanda, Mussoorie
Timings: 8.30AM-2.00PM
Price: INR 600/ per person.
Suggested Read: Made With Plastic Bottles, Mussoorie's "Wall Of Hope" Will Remind Visitors Not To Litter
5. Camping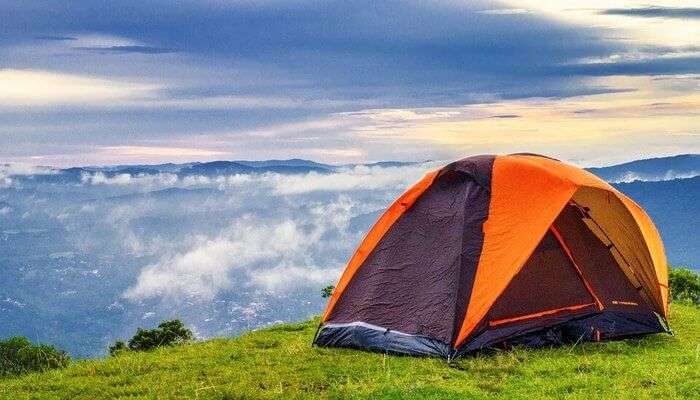 If you are always excited to cherish the natural beauty of the place closely, then it is better to go with camping. You can go with the Bamboo huts or the Deluxe huts whichever is preferable to you. All these huts have attached bathrooms with it and come with modern-day amenities. Apart from this, there are Alpine tents for adventure lovers. Most of the tents will provide you with a clear view of the Himalayan ranges. You can also witness the beauty of the thrilling valleys and deep forest from such tents. Camping can be counted as one of the best adventure sports in Mussoorie for couples. Camping can give you a very thrilling experience especially during the night time. If you are lucky you can encounter various types of roars of wild animals. Generally, fires are lit up in front of the camp during the night time so that no wild animals can attack it. Safety measures are always taken by the organizers or providers.
Location: Dhanaulti, Mussoorie.
Price: Bamboo tents INR 1600/ per person and Deluxe tents INR 1200 / per person.
Suggested Read: 10 Best Restaurants In Mussoorie For A Fine Dining Experience Amidst The Nature
6. Mountain Biking

It is another great sport that can help you gain an experience like never before and you surely will get addicted to it. Riding around the hills with a bike is a bliss. Most of the mountain bikes are durable and they tend to provide better performance. Dhanaulti is counted as one of the most noted and best spots for adventure sports in Mussoorie. Riding a bike along with the hilly areas and the rough roads will give you a different experience. They are far different from normal roads. However, you should be very cautious while taking the turns because turns in hilly areas are quite stiff and narrow. You should also be aware of and follow all sorts of traffic instructions. There should be proper control over the speed. All of this can prevent you from accidents. Drive slowly and enjoy the natural beauty of the hills.
Location: Dhanaulti, Mussoorie
Price: INR 3,500/ for 1 night and 2 days.
Suggested Read: 36 Amazing Places To Visit In Mussoorie For The Perfect Summer Getaway In 2022!
7. Paragliding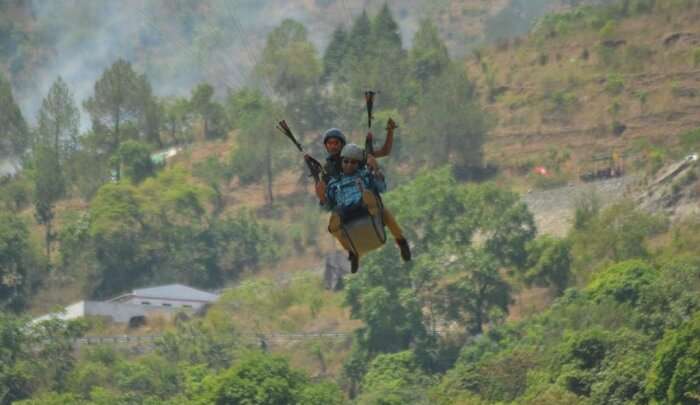 If you have a dream to do paragliding then Mussoorie is the best place. Paragliding over the lakes of Mussoorie will provide you a great chance to view the beauty of the lake from a great height. Some special trainers or instructors are always there to assist the visitors. You can also perform paragliding over the valleys to get a beautiful view of the valleys and mountains that are the main reason behind the ever-lasting natural beauty of Mussoorie.
Location: Mussoorie Lake, Dhobi Ghat, Mussoorie, Uttarakhand 248179, India
Timings: 10.00 AM-6.00 PM.
Price: INR 3500/ per person duration 10mins, 5 Km. Height is about 4000 mt.
Suggested Read: A Detailed Guide For Shopping In Mussoorie On Your 2022 Vacay!
8. Zip Line

The other name of the Zipline is flying fox. It is one of the most thrilling and exciting adventures that you can take up in Mussoorie. It will be amazing to fly over the Alpine forest and river at a speed of 90 kmph. You should have the patience and interest to perform this adventure. Although prior protection and safety are provided by the trainers, you have to be courageous. Many organizations conduct this sport. You can choose the one that is favorable for you. It is also a very famous or popular adventure sport in Mussoorie Uttarakhand and most tourists go for it since it gives thrills.
Location: Mussoorie and Dhanaulti
Timings: 9.00 AM-4.00 PM
Price: INR 500/ per person length 330 ft and speed 50 mph.
Suggested Read: These 15 Cottages In Mussoorie Offer A Holiday Like None Other In 2022
9. Valley Crossing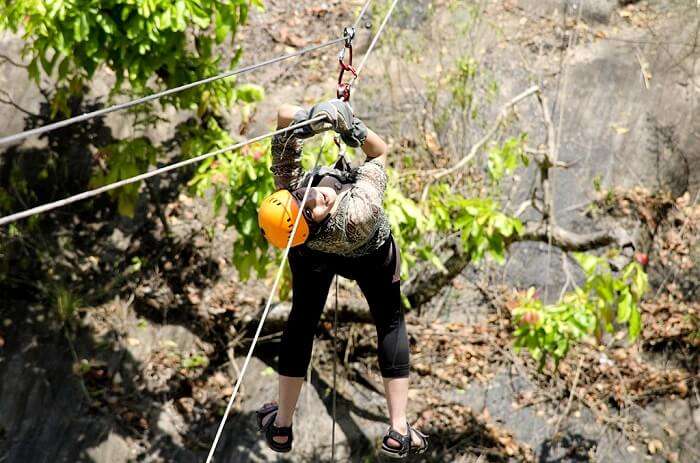 Crossing the valley in Mussoorie and Dhanaulti is very popular. You will be traveling at a speed of 70kmph. The whole thing is done with the help of a pulley that pulls the hand of the visitor from one place to another. It seems almost like a commando. The more you will pull the rope the more you will cross the valley swiftly. Prior arrangements are made by the organizers. You should be steady and hopeful. There are two parallel lines in valley crossing.
Location: Dhanaulti, Mussoorie.
Timings: 8.30 AM-3.30 PM
Price: INR 500 per person at a length of 240ft and height of 60 ft.
Further Read: 15 Best Places To Visit Near Mussoorie For An Unending Affair With Nature In 2022!
There are a lot of adventure activities that are conducted in Mussoorie. If you are planning trip to Mussoorie or something different from the traditional way of the outing, then it is best to go with these types of adventure sports. They are not only challenging but very refreshing at the same time. As winter is quite heavy in Mussoorie so it is better to avoid any type of adventure sports in Mussoorie in December.
Disclaimer: TravelTriangle claims no credit for images featured on our blog site unless otherwise noted. All visual content is copyrighted to its respectful owners. We try to link back to original sources whenever possible. If you own rights to any of the images and do not wish them to appear on TravelTriangle, please contact us and they will be promptly removed. We believe in providing proper attribution to the original author, artist or photographer.
Frequently Asked Questions About Adventure Sports In Mussoorie
Is Mussoorie ideal for adventure activities?
The valleys and mountains are always ideal for various types of thrilling adventures. There are ample options before you and you can choose the one that is convenient for you. Most of the adventure activities are conducted within the lap of the valleys.
Which can be the best time to visit Mussoorie?
The best time to visit Mussoorie is during summer months when the climate is at its best for a hilly region and you can perform any activity when the fog is almost nil.
Are there any age limitations for this adventure sports?
For some sports, there is, but that too differs. You should enquire about it before trying the sports.
Is it better to try such sports during the weekends in Mussoorie?
Generally, the weekends remain crowded with people. So, it is best if you try such sports during normal working days. The pressure remains much lower and you can enjoy it to the fullest.
Is it better to make prior booking of adventure sports?
It is always better to make prior bookings provided the organizers accept it. If there is an option, you should go ahead with it. Otherwise, you can go to the spot directly and make bookings.
Can we enjoy adventure sports along with our family and friends?
Several such adventures can be done along with the family members. To name a few, bike riding, camping, etc. can be easily done along with your friends or family members.
Are adventure sports expensive?
To some extent, it is not costly because the organizers provide all the necessary equipment along with the costumes. Even in many cases, it also depends upon the different organizers. You should enquire about the price before taking the adventures.
Is it necessary to know how to swim for the river rafting?
It is always better to know swimming if you are availing water sports activities. Although the organizers provide all necessary precautions still there may be a risk. Knowing swimming will be an additional advantage in this case.
---