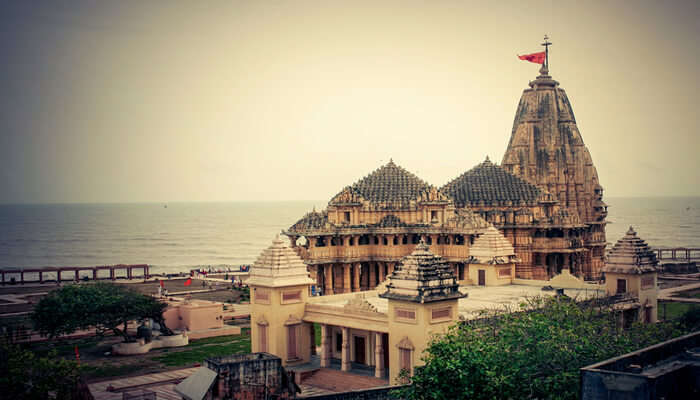 Somnath sounds familiar, doesn't it? But all you know it for is Somnath Temple. How unfair! Yes, as there are many other things to do in Somnath that one must try. Somnath is quite an important place for people who go on a Lord Shiva pilgrimage. It is the place where the Triveni Sangam which is the confluence of the meeting of the three main rivers- Kapila, Hiran, and Sarasvati. There are many things to do in Somnath, provided you are in for a little spirituality on the way. Soma, the Moon God was cursed once and to do away with the curse, he bathed in Sarasvati river. That's how the place got its name- "the lord of the moon". There are quite a few things to do in Somnath temple and you will have fun along with it. If you want to gain some positive vibes, then you have to visit this place and the other places around it. You need to trust us when we say that Somnath is not only for the older citizens. If you are still wondering what to do in Somnath, then follow us as we will tell you what to do exactly.
11 Best Things To Do In Somnath
If you were wondering what are the popular things to do in Somnath then here is a list of those. Check it out to have a good time.
1. See The Beautiful Suraj Mandir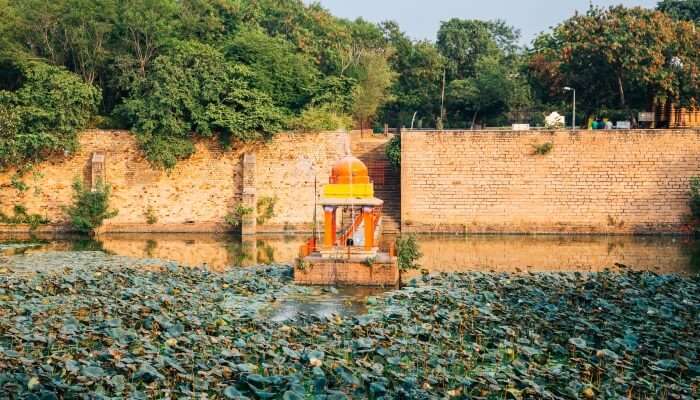 Visiting Suraj Mandir is considered to be one of the best things to do in Somnath Gujarat. In front of the temple, before you enter, you will see one image of the Lord Surya with his seven horses and two wives along with him. This is just above the entrance doorway. Now, when you enter the shrine, there is this circumambulatory passage where there are three image niches, were one on each of the north, south and west sides. You will see that each passage contains the idols of Lord Vishnu and Lakshmi Devi, Lord Brahma with Sarasvati Devi, and Lord Shiva with Parvathi Devi.
Ideal for: Families.
Location: Near Triveni Ghats, Somnath 362268
Entry Fee: No entry fee
Must Read: 51 Incomparable Places To Visit In Gujarat For A Memorable Trip In 2022
2. Visit Laxmi Narayan Temple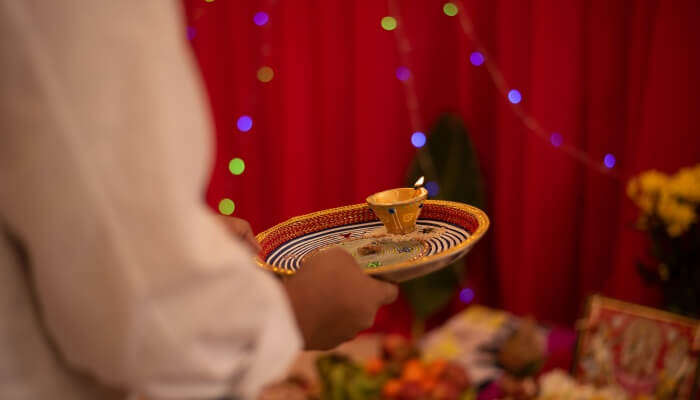 This is located on the banks of Triveni Tirth and this temple is a must-visit. One of the best things to do in Somnath is going and visiting this place. This temple was built by Raja Sahil Verma and is quite famous for the carvings on the 18 pillars that have the Gita or the sacred message given by Krishna. You will see this temple near to Gita temple. So, when you go to Laxmi Narayan Temple, then don't forget to visit the Gita temple.
Ideal for: Families
Entry Fee: none
Location: On the banks of Triveni Tirth
Suggested Read: 52 Intriguing Tourist Places In Ahmedabad For Your Gujarat Getaway In 2022
3. Witness Dehotsarg Teerth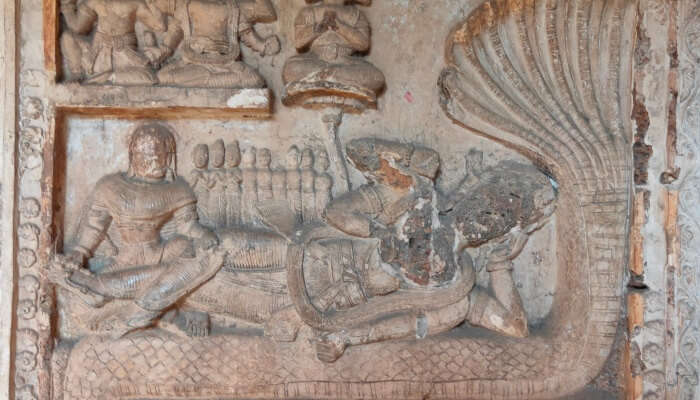 The Dehotsarg Teerth is located on the Hiran river banks and is just one and a half kilometre away from Somnath Temple. Bhagvan Shree Krishna took his journey to Neejdham from this place and visiting it is one of the most famous things to do in Somnath. There are a lot of accounts maintained as to how the divine Lord Shri Krishna's journey to Neejdham took off from here. It is also maintained in the Mahabharata and the Shrimad Bhagwat. Even in Vishnu Puran, you have the mention of this place
Ideal for: Everyone
Location: On the banks of Hiran
Suggested Read: Shopping In Gujarat: 10 Incredibly Awesome Places That Will Tempt You To Splurge More!
4. Visit Somnath Temple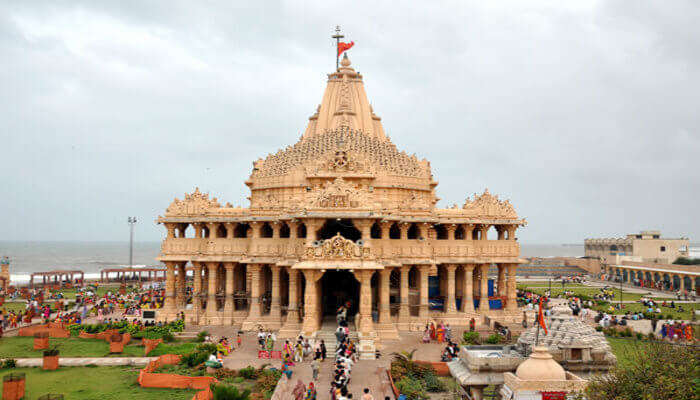 As we know, visiting this temple is one of the top things to do in Somnath itself. It was built by Lord Soma in gold when it was first built. Then in silver by the sun god Ravi (some say Lord Ravana) and in wood by lord Krishna and in stone by the Solanki Rajputs in the 11th century. Now, the present time we worship was built in 1951 and it was the seventh construction of the temple. This temple was invaded by the foreign invaders 17 times but every time it was restored to its original sheen and glory.
Location: Somnath Mandir Road, Veraval, Somnath 362268
Ideal for: Everyone.
Suggested Read: Top 8 Places To Visit In Gujarat During Monsoon To Enjoy This Season In 2022
5. Check Out The Panch Pandav Gufa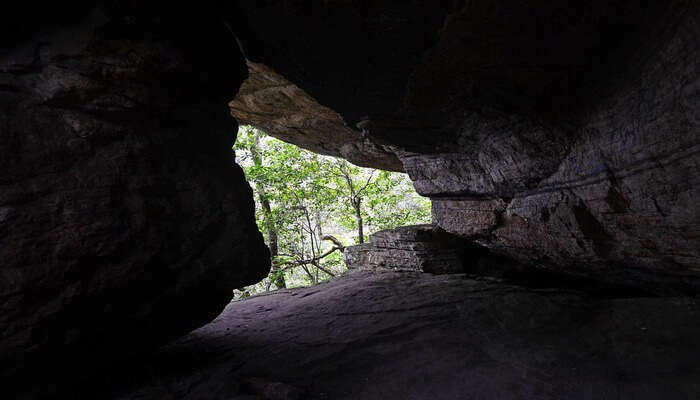 Image Credit: nuzree for Pixabay
Have you ever read the Mahabharata? The Panch Pandavs- namely Yudhistr, Bheema, Arjuna, Nakul and Sahadev along with their mother have spent their time in their exile term. This is basically a cave temple and is located in the Lalghati which is near the Somnath town and visiting it is one of the popular things to do in Somnath. The Late Baba Narayandas discovered this temple in 1949. Apart from that, this Gufa has shrines that are dedicated to Lord Hanuman, Lord Shiva, Lord Ram, Lord Lakshman, Sita Devi, and Goddess Durga.
Location: Prabhas Patan, Somnath 362268
Ideal for: Everyone
Suggested Read: 10 Best Places To Visit In Gujarat In Summer For An Enthralling Holiday
6. Seek Blessings At Shree Parshuram Temple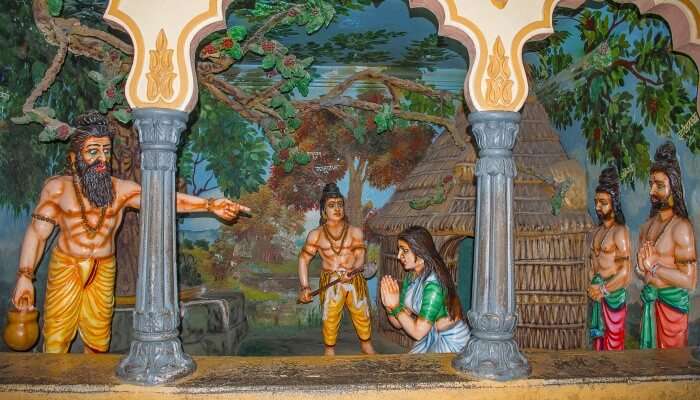 Who hasn't heard of Lord Shree Parshuram? Well, then when you marvel at him for his strength and courage you need to visit his temple too. It is also called as the Somnath Parshuram. One of the most famous things to do in Somnath is to visit this temple. This temple is on the Triveni Tirth river and this is the very spot where Lord Somnath relieved Lord Shree Parshuram of the curse of "Kshatriya Hatya". This temple has some main structures like Sabhamandap, central mandap and also one GarbhaGriham. You will also witness that there are some small shrines here that are dedicated to Lord Hanuman and Lord Ganesh.
Location: On the banks of Triveni Teerth
Timings: 6 AM – 6 PM
Entry Fee: None
Suggested Read: 17 Historical Places In Gujarat That Uncover A Legendary Past
7. Explore Gita Mandir: Birla Mandir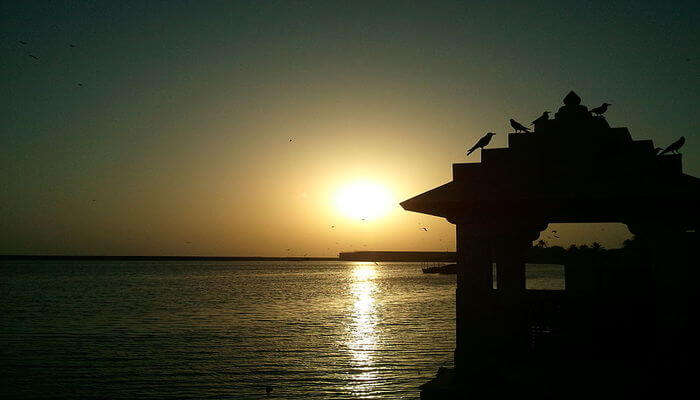 Confused why we called this the Birla Mandir? Well, Gita Mandir in the Somnath was built in 1970 and one of the most famous attractions in Somnath. This was built by the Birla's who were of the Dehotsarg Campus. They are the most beautiful representation of the Hindu holy book, Shrimad Bhagwat Geetha and therefore visiting it is one of the best things to do in Somnath. The whole Gita has been carved into the 18 pillars of the temple. That's why it is so famous and there are a lot of paintings of Lord Krishna in this temple. The temple also has the idols of Lakshmi- Narayan and Lord Sita Ram on each side of Lord Krishna. As we understand, this temple is dedicated to Lord Krishna.
Timings: 6 AM – 6 PM
Entry Fee: No fee
Location: Somnath, Veraval, Gujarat 362268
Suggested Read: 7 Haunted Places In Gujarat That Will Scare You Out Of Your Wits In 2022
8. Bhidbhanjan Mahadev Temple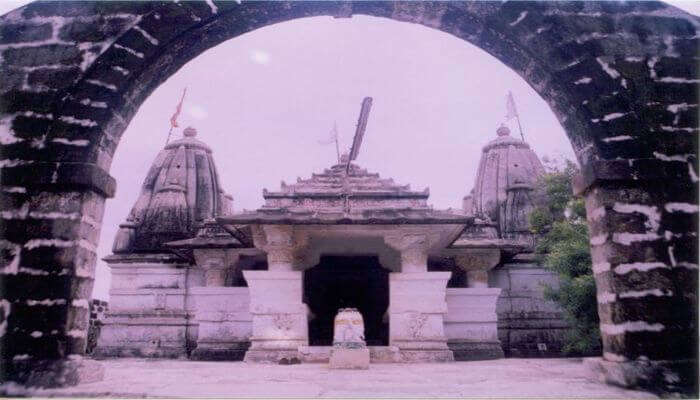 One of the best things to do in Somnath is to visit the famous Bhidbhanjan Mahadev Temple. This is close to the Triveni tirth and also known to be one of the stopping spots in the pilgrimage This mandir is close to the architecture of the Gita mandir. Do you know why this temple is famous? It is because it can make any of your wishes come true! This is dedicated to the Lord Vishnu and is built by the modern architecture style,
Timings: 6 AM – 6 PM
Entry Fee: No fee
Location: Somnath, Gujarat 362265
Suggested Read: 10 Exciting Things To Do In Saputara To Make Your Gujarat Getaway More Fun!
9. Witness The Confluence At Triveni Ghat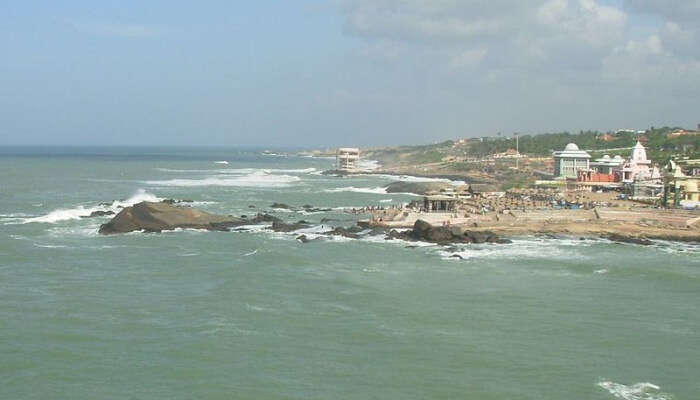 Triveni is the place where the three holy rivers meet. This Ghat is also known by the other two names like Triveni Sangam and Triveni Sangam Snanghat and visiting it is one of the most famous things to do in Somnath. The three rivers merge here namely Sarasvati, Hiranya, and Kapila before they merge into the Arabian Sea. They say that if you take a dip in the holy waters of the Triveni Ghat, you will be rid of all your sins and attain the ultimate Salvation by merging with God himself.
Entry Fee: no fee
Timings: all-day
Location: Somnath, Gujarat.
Suggested Read: 17 Famous Festivals In Gujarat To Celebrate In 2022 With Joyous Fervor
10. Catch Some Waves At Somnath Beach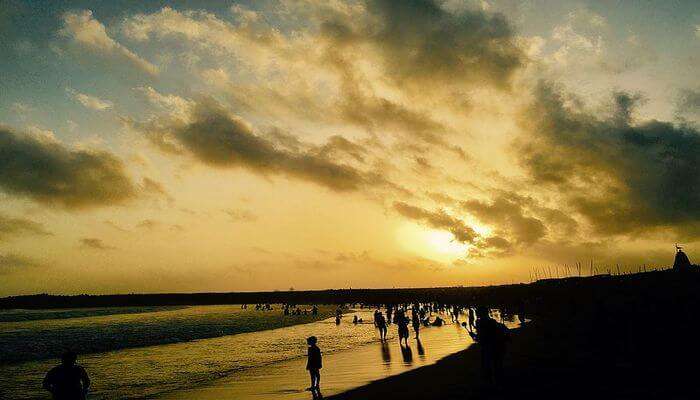 A real treat for the eyes and the soul is the Somnath Beach. You will love the clean and the mesmerizing shores to spend time with your friends and family which is one of the top things to do in Somnath. You need to however keep in mind that you cannot enter the waters when there are high tides and when the weather is unpredictable. This happens during the monsoon when there are frequent showers. You will need to know that the water here can get pretty unpredictable and therefore you are advised to stay a safe distance from it when you are going in monsoons.
But during the other times, this beach is the most stroll worthy beach you have ever seen. Since it is Somnath, you can visit the temple and then in the evening, watch the sunset here
Ideal for: Everyone
Timings: 7 AM – 7 PM
Location: Near Access Road to Temple, Somnath, Gujarat 362268
Suggested Read: International Kite Festival In Gujarat 2022: Join The Uttarayan Celebrations This January
11. Visit the Prabhas Patan Museum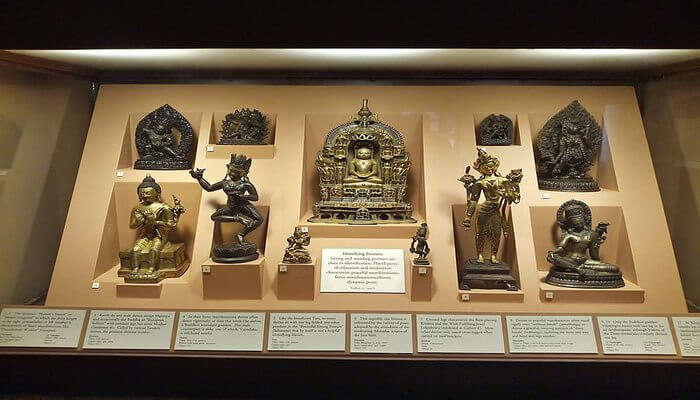 When you are done with all the spiritual places, you might be wondering what to do in Somnath. Well, you have the Prabhas Patan Museum. This tells you about the city past and there is a huge collection of old stones, old sculptures, and a few temples remain. All of them have been restored and kept here so that the exhibits look unique and attractive enough for the public to come and visit it. Here, you will find the original five Somnath Temple's antiques and this museum is maintained by the Somnath Trust.
Ideal for: It is great for people who are history buffs.
Entry Fee: INR 5 per person
Timings: 10.30 AM – 5.30 PM
Location: Near Check Post, Somnath 362001, India
Further Read: 43 Famous Historical Places In India To Visit In 2022
So, these are the top things to do in Somnath, Gujarat. Apart from all these places, you have the Junagadh Gate which is one of the other attractions of Somnath. After you make your way to Somnath, you will realize that this is the only way that you can enter the city of Somnath. So, every inch of Somnath holds some of the other importance. Did you know that the Junagadh Gate was partly destroyed by the Muhammed of Ghazni? Hence, no matter which place you missed on your trip to Gujarat, do not miss this place at all. You will learn a lot about Hindu scriptures and the native Somnath people who were humble and down to earth.
Disclaimer: TravelTriangle claims no credit for images featured on our blog site unless otherwise noted. All visual content is copyrighted to its respectful owners. We try to link back to original sources whenever possible. If you own rights to any of the images and do not wish them to appear on TravelTriangle, please contact us and they will be promptly removed. We believe in providing proper attribution to the original author, artist or photographer.
Please Note: Any information published by TravelTriangle in any form of content is not intended to be a substitute for any kind of medical advice, and one must not take any action before consulting a professional medical expert of their own choice.
Frequently Asked Questions About Things To Do In Somnath
What is Somnath famous for?
Somnath Temple is located in the Prabhas Patan which is near Veraval in Saurashtra on the western coast of Gujarat. It is believed to be the first among the twelve jyotirlinga shrines of Lord Shiva. People who are strong believers of the existence of Lord Shiva, it is an important pilgrimage place for them. Also, one of the most famed tourist spot of Gujarat.
What can I buy in Somnath?
You can shop quite some things in Somnath. You have a lot of varieties like wall hangings, quilts, cradle clothes, animal trappings and also marriage costumes. You will find that everything is worked upon very hard. They are either embroidered, decorated with beadwork or appliqued.
What is the best time to visit Somnath Temple?
The best time to visit the Somnath Temple is from September to March. The winters, you can avoid because of the cold. If you do not want to be when the crowd is going to be, then you can visit in the summer and the winter season.
How can I go to Somnath by train?
You can reach Somnath by rail. Veraval railway station is like 7 km away from Somnath. You have well connected daily trains to Ahmedabad and there are a few other cities like Jabalpur, Pune who have frequent train service from Veraval too.
Who destroyed Somnath?
Way back in 1024, the shrewd ruler Muhammed of Ghazni raided the Somnath Temple and boke the jyotirlinga despite the pleas of the Brahmins not to break it. He took away the wealth of almost 20 million dinars.
How can I go to Somnath from Dwarka?
If you want to go to Somnath from Dwarka, then it is 231 km. If you go by train, then it is 398 km away. There are trains which can take you to Somnath from Dwarka and they are Okha Somnath Express. The time of travel is 8 hours 40 minutes.
How can I go to Somnath?
You can also go to Somnath with the help of private buses. These run daily from different cities like Porbandar, Rajkot, Ahmedabad. If you go by train, the Veraval railway station is the nearest.
Why was the Somnath temple built?
History claims that the original Somnath temple was built by the Chandra Dev or the Moon God and it was made of gold. After it was razed to the ground, the King of Lanka, Ravana built it with silver. But when the silver temple was knocked down again, it was constructed by Lord Krishna with wood.
---