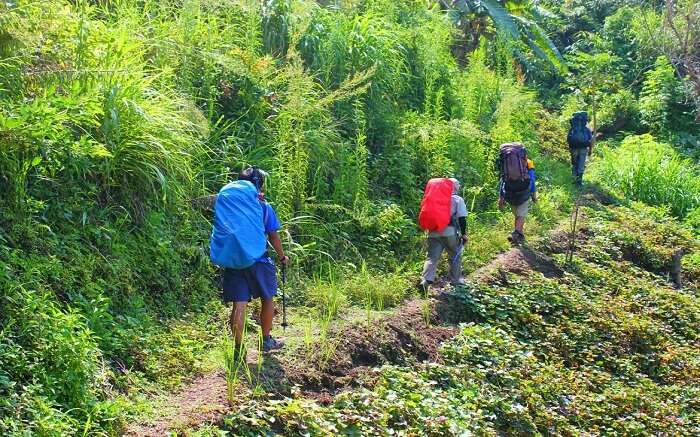 Sri Lanka, the island nation resembling a gleaming point towards the south of Indian mainland, offers plenty of nature's dose of awesomeness to its travelers. With all the temples, monasteries, and historic structures, Sri Lanka thrives amidst the dominating presence of the lush landscapes. The tropical paradise enjoys a thick blanket of green and is often lauded by adventure seekers. Kandy in Central Sri Lanka enjoys the dominating presence of lofty landforms and mountain ranges, which makes trekking in Kandy a popular activity. Home to awesome tea plantations and biodiverse rainforest, Kandy must be on every nature seeker's bucket list.
Kandy's vast nature primarily comprises of Knuckles Mountain Range, Alagalla Mountain Range, and Wasgamuwa National Park and if you are really curious, there's a lot of activities that can be pulled off, which includes trekking. Mountain biking, bird watching, and rafting are some of the other most popular things to do in the mountains and rainforest covered areas of Kandy. Here's all you need to know about trekking in Kandy.
Best time to go on trekking in Kandy
December – April is the best time to visit Kandy mountains. The weather is mostly dry and makes for the pleasant weather to go out and explore the great outdoors of Sri Lanka.
---
Looking To Book An International Holiday?
Book memorable holidays on TravelTriangle with 650+ verified travel agents for 65+ domestic and international destinations.
---
Best places to go trekking in Kandy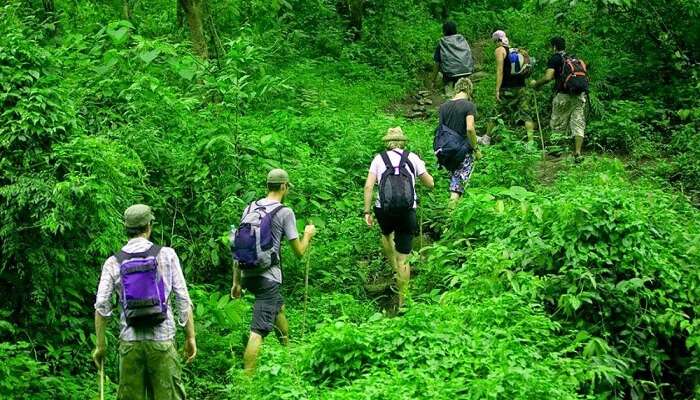 Image Source
Though a major part of trekking and day hiking is done by the travelers in the Knuckle Mountains Range, there's a lot more to be explored in Kandy. Alagalla Mountain Range is another vast landform that presents a challenging trail along with lush greenery and amazing biodiversity. Knuckles mountains being the largest in the region has plenty of trails running to the top.
Suggested Read: 8 Best Places To Visit In Kandy – Sri Lanka's Spiritual Capital
1. Knuckles Mountain Range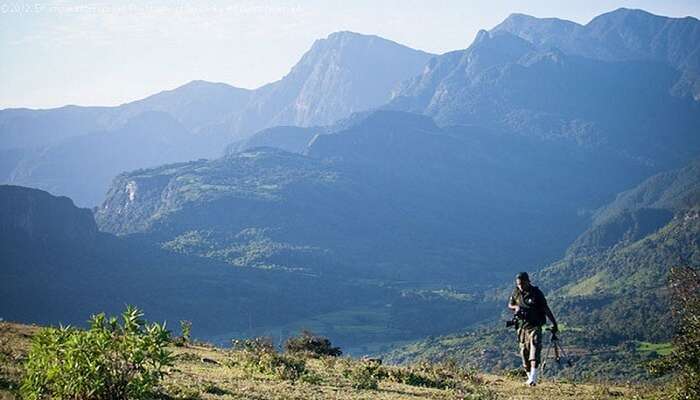 Knuckles mountain range encompasses two major towns in Sri Lanka – Matale and Kandy. It can be more evident with the fact that Knuckles form a major portion of the central province in Sri Lanka. The UNESCO world heritage site is loaded with an array flora and fauna, and exciting trail endowed with waterfalls, rivers, and tropical forest.
There are quite a lot of trails in the Knuckles that have been deemed fit for trekking by the forest department. These trails boast of wonderful campsites and enormous nature that make trekking here a memorable incident.
Maximum altitude gained: 1200 meters
Suggested Read: Top 10 Things To Do In Kandy For Couples That Assure Ultimate Fun In Sri Lanka!
Two of the most popular trek routes in the Knuckles Mountain Range
i) Hunasgiriya route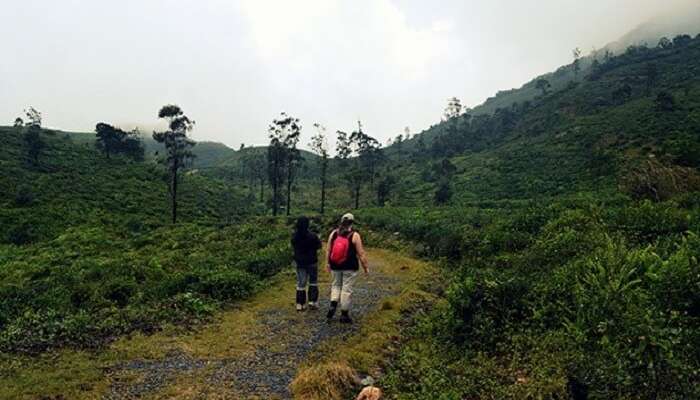 31 km of the ride by road. As you take the A26 from Kandy on your way to the Knuckles, the imposing views would leave you overwhelmed. You would find yourself lost in the magical world all around created by mountains, valleys, lakes, and tea estates. The 12-km trek to the Knuckles is an enchanting one with a medium difficulty level. The entire trek also encompasses 3 km walk close to the Mini Worlds End.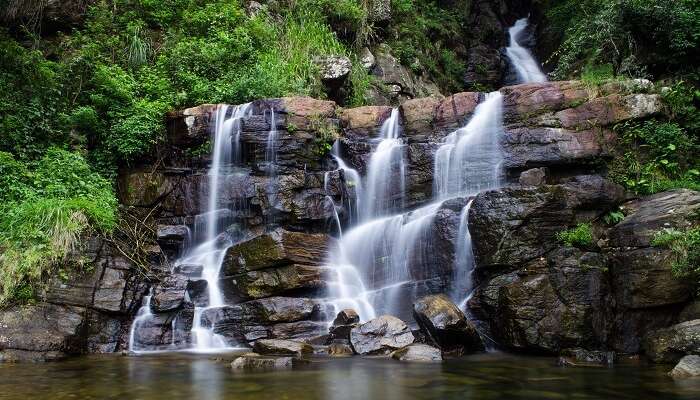 There are plenty of birds, forests, and streams all around to enchant you. The trail is fairly flat as you near the Mini Worlds End, but it's an upslope thereafter. You have to pay an entrance fee to enter the Knuckles. If you want to experience the remarkable nature of Sri Lanka and spend some moments free from
Trek length: 12 km
Total trek duration: 7 hours approximately
Difficulty: Medium
ii) Rangala route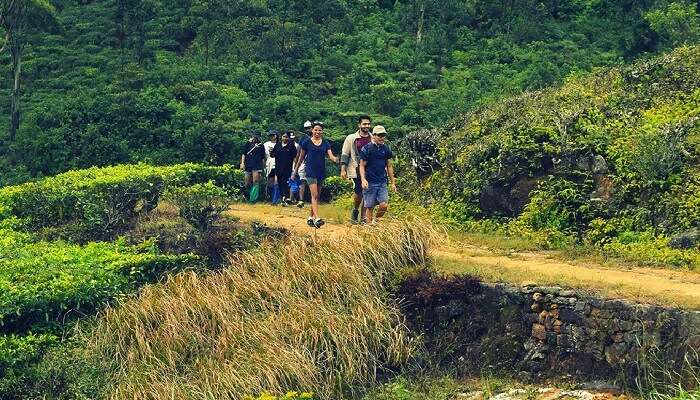 Image Source
If you are someone who loves challenges and like to tread extreme terrains, then Rangala route leading to the Knuckle top is perfect for you. The enchanting trail takes you through panoramic vistas comprising of lush green tea-estates, forests, and temple. Uneven as it is, the trail is mostly upslope and is difficult to climb. By the time this trail ends, there is a river along the trail that cascades into 5 different waterfalls.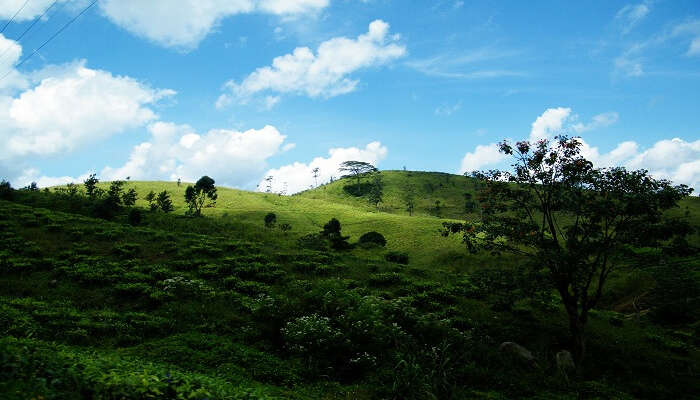 The Rangala Trek also requires you to have wonderful walking shoes and a proper hat. The last leg of the trek is of around 4 km which takes you top to the waterfalls. This is one of the highlights of the trek and must not be missed by any nature seeker.
Trek length: 26 km
Total trek duration: 6-8 hours approximately
Difficulty: Hard
Suggested Read: Incredible Things To Do On A Family Trip To Sri Lanka For A Wowsome Experience!
2. Alagalla Mountain Range
Alagalla mountain range mostly offers intermediate level trekking trail and is famed as a renowned hiking spot in Central Sri Lanka. However, getting to Alagalla Range must not be easy. With two points to enter the mountains, you can choose either depending upon the accessibility and distance from your stay.
The first one starts from Ihala Kotte railway station while the other one will be from Pilimathalawa via Poththapitiya. Both of these points are a mere 2-hour drive from Colombo. Ihala Kotte route is slightly difficult because of the kind of steep climbs it offers.
Maximum altitude gained: 1150 meters
i) Alagalla top trek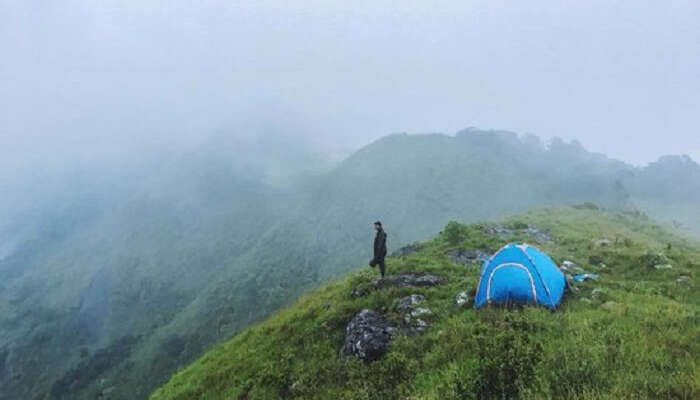 Image Source
The best way to summit Alagalla is starting the journey from Poththapitiya bus stand. The trail covers terrific greenery and tea estates en route making way for a lovely walk. You will come across tea factories, plantations, and a few supply water tanks in the village area. The trail enters thick jungles and makes you walk on the concrete trails before entering the Alagalla Peak which is visible from a distance.
Overall the trail takes 2-3 hours to complete. And when you go there don't forget to carry along energy boosters as well as a proper head cover for yourself. While trekking during summer months can look ideal because of bright conditions and perfect green cover around, there could be fewer water points for you. Therefore, try to carry sufficient water before you begin the trek.
Suggested Read: Sri Lanka Travel Tips: 16 Dos And Don'ts For A Memorable Vacation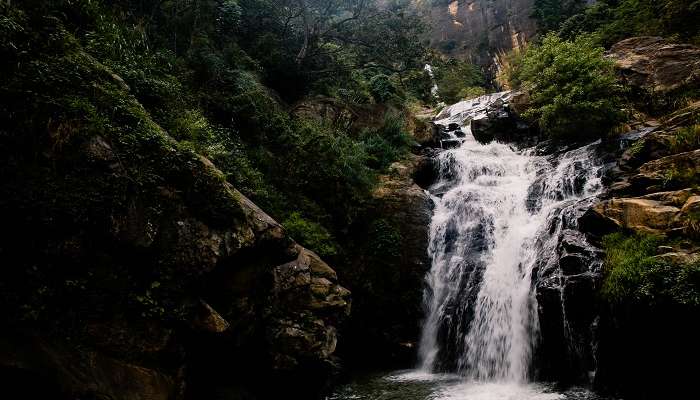 At the Alagalla summit, you will find a small pinnacle that rests on the top of rocks. It is believed that local warriors used it as a watchtower during the war with Britishers. While climbing this won't be a smart idea, you can always go for it keeping basic climbing tactics in mind. 1.5 km from the Alagalla top, you can spot a pagoda located towards the other end. if you plan to go camping at the top, you can do it here. Be wary of the wild animals here, especially the pigs.
The Pagoda is situated at the other end. So you have to go around the pinnacle and reach to the ridge. There you will find a small path which goes towards the jungle and you will have to walk around 1.5 Km to reach the other end. This is the area when you need to camp if you are planning to stay overnight on top of Alagalla. There are plenty of camping sites within the jungle. Be aware of wild pigs.
Trek length: 10 km (approximately)
Total trek duration: 4 hours approximately
Difficulty: Medium
Hidden in nature's awesomeness, these trails make the best of trekking in Kandy! If you are planning a trip to Sri Lanka anytime soon then this activity must be on your bucket list for trekking is the most appropriate way to behold Sri Lankan nature from close quarters.
Further Read: 8 Best Things To Do In Kandy To Bedazzle Your Sri Lankan Vacation
---
Looking To Book An International Holiday?
Book memorable holidays on TravelTriangle with 650+ verified travel agents for 65+ domestic and international destinations.
---
Comments
comments