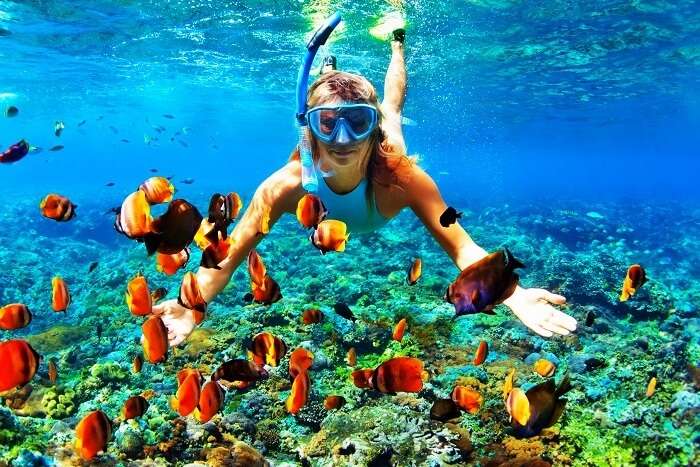 We all must have heard – "to travel is to live," about a thousand times at least by now. As much as that quote has inspired many travelers to trot around the globe, it takes a lot of time, planning, and effort in deciding what kind of a trip would actually suit us the best.
As much as traveling with family, friends, spouse, or going solo are the famous types of trips that majority of us are aware of, take a look at these 15 types of trips that will invoke the wanderlust in you to embark on a trip of a lifetime. Off you go!
15 Types Of Trips To Enjoy Once In A Lifetime
15. A Single Yet Ready-To-Mingle Trip

For those who're looking forward to meet new people and make friends on the go without compromising on their space and privacy, going solo yet with a group of like-minded people happens to be one of the best types of trips to take. And group tours are actually in now days!
                                             Suggested Read: 10 Inescapable Traits Of An Avid Traveler!
14. A Trip Full Of FamJam

Well who wouldn't want to go on a holiday of a lifetime with their favorite bunch of people? Call them your gang or partners in crime, a hep and happening trip with family members is the perfect kind of fam jam full of fun and frolic that one looks forward to on a vacation.
13. A Friends-Only Trip

Of all the types of trips that exist on this list, this is the one that needs no introduction at all. Being the most famous of all, the world seems to be full of amazing holiday destinations when it comes to traveling with friends. Also, being a type of a trip that gives you a different kind of rush, a friend's only trip is the one which is most preferred (unless you're a loner) by travelers across the world.
12. A Siblings-Only Trip

Don't believe in once in a lifetime family vacations? Then take a trip with your siblings. Solving dual purpose, it not only gives you access to some extra budget from your parents (given that you have younger siblings who are unemployed) but also gives you enough time and privacy to bond with your so-called partner in crimes and not-literally forever enemies.
Suggested Read: Zodiac Signs And Their Travel Traits: Let The Stars Guide You To Your Next Holiday Destination
11. An All-Girls Or An All-Boys Trip

This is the real deal. An all girls or an all boys trips are the types of trips which comprise of ultimate fun, extraordinary ideas, and cool vacation spots. These trips may not happen necessarily for bachelorettes or bachelor parties, but they are also meant for travelers who would like to have some heart-to-heart talks, create inexplicable memories, and just be themselves.
10. A Volunteer Trip

While the cause for which one volunteers may differ from traveler to traveler, the types of trips based on volunteering are experiences that are somewhat like the barter system. When one signs up for volunteering towards any cause in any part of the world, it automatically cuts down some of the expenses like accommodation or meals which results to be an advantage for the travelers. It not only gives you an experience, but also helps in managing your finances better and travel more. Sounds good?
9. A DIY Trip

In life, and in general, any task which one completes all by their efforts and hard work are the ones that bring a sense of pride, joy, and achievement. And the same is true when it comes to DIY (do-it-yourself) trips. When you try to figure out your travel plans all by yourself without a set itinerary, those are the kind of trips which are apt to be categorized under "once in a lifetime trips". And these are trips that let you discover maximum number of hacks to travel more and save more as well.
                                           Suggested Read: 10 Packing & Luggage Hacks For The Smart Traveler
8. A Cruise Trip

Being the master of your ship might not happen but you can surely set the sails right when it comes to going on a cruise travel. Cruising through the crystal clear waters and getting exposed to an adventurous way of traveling across different parts of the world, is something only a cruise trip can make it happen. Whether local or international, it is a must to experience a cruise trip of a lifetime.
7. An Adventure Trip

If you're one of those travelers who think – "what is life but one great adventure", then nothing would excite you to the bones more than an adventure trip. Be it trekking, mountaineering, camping, or watersports, allow the destination to chose you, and let the lights guide you through the journey of your adventures.
6. A Luxury Trip

For those who like to live life king size, a luxury trip happens to be one of the best types of trips for them. From living in a palatial hotel to relaxing their nerves through spa therapies, nothing beats the comforts and convenience that a luxury trip wraps you in.
Suggested Read: Travel Etiquettes Around The World That Everyone Needs To Follow – With Examples!
5. A Getting-Back-To-Your-Roots Trip

Ever tried to trace where your forefathers are from? Well off-lately, travelers have been exploring destinations of a lifetime which happen to be the places where their roots are. From relaxing countryside to refreshing mountains, embarking on a trip that leads you to explore the real you is something every traveler should have on top of their list.
4. An Impromptu Trip

In simple words, this is what packing your bags right away means, literally. When a trip happens in a planned and organized manner, the traveler only thinks in one direction. Whereas the real fun lies in an impromptu trip wherein you have no idea what's going to happen next. And that my friend, is what the real thrills are made of and life is all about!
3. A Road Trip

This can be either in a car, a bus, a traveler van, or a bike. Road trips are like eating street food in Delhi. You go to eat one dish but you're hardly aware that no one can have just one. Similarly, road trips give you an advantage of exploring multiple destinations on one single trip. Taking you through the rugged terrains and unexplored landscapes, hitting the road has so far been the best of all types of trips that a traveler can take.
                      Suggested Read: 15 Best Travel Bloggers On Instagram You Need To Follow Right Away
2. A Solo Trip

While "need some me-time" might sound too cliched, solo trips have been on the rise and are the most preferred types of trips now days. Buying all the peace and quiet that one needs on a vacation, a solo trip is related more to finding a deeper connection with travel by traveling safe and on your own. After all, those who fly solo, end up with stronger wings!
1. A Do-Nothing-At-All Trip

For those who've mastered the art of doing nothing at all, it is indeed an achievement. And for those who think the struggle is real, this is the best of all types of trips to take wherein you can literally be in your pyjamas the whole day, cut yourself off from the virtual world, bask in the sun, play with your dog, paint the town red, read a book, or maybe, just stare at the wall. Interesting much?
Trippin' already? So which type of trip are you planning to embark upon? Do tell us in the comments below.
---
Looking To Book An International Holiday?
Book memorable holidays on TravelTriangle with 650+ verified travel agents for 65+ domestic and international destinations.
---