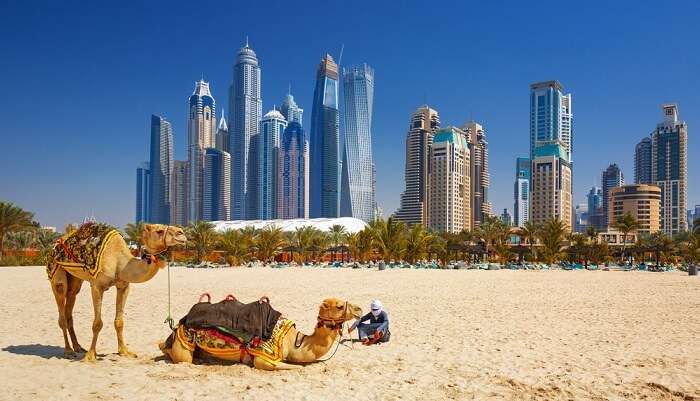 UAE Tourism is creating one streak after another. Last week, Indian rupee being accepted at Dubai Duty-Free for shopping made it to the headlines. This week, UAE announced visa on arrival for Indian passport holders.
Say what?
Yes, if you are an Indian passport holder, you can get a visa on arrival in UAE as per the conditions laid down by GDFRA. Hoorah! Looks like someone has been making efforts to improve their diplomatic relations with India.
The maximum duration for which you can stay in UAE on visa on arrival is 14 days. However, you may wish to extend your stay for 28 more days by paying a nominal renewal fee of Dh 250 and service fee of Dh 20.
Suggested Read: Hold On To Your Money Because Indians Can Now Shop At Dubai Duty-Free Using Rupee

The visa on arrival will be available at all the ports in the UAE. This measure has been taken to ease the entry of people in UAE without having them to go through multiple checkpoints and get a nod from various authorities.
Here is the catch though.
It is only applicable for those who hold a residential visa from the UK as well as the European Union or a green card in the US. The validity of the residential visa and applied passport should be less than six months. So, if you are an NRI and have family members back in India, visiting Dubai just got easier and hassle-free for you.
Suggested Read: Is It Safe For Females To Take A Solo Trip To Dubai? Sushmita Says 'Hell Yeah'
This still does not mean that you should have a Green Card or UK residential visa to enter the UAE. You can still plan an awesome sauce holiday to Dubai and Abu Dhabi to enjoy a spectacular time. Dubai has become incontestably one of the most popular and preferred destinations for tourists, thanks to its amazing architecture and shopping avenues.