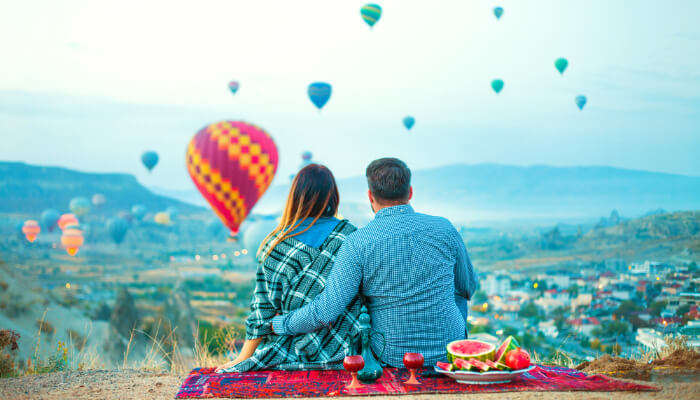 Turkey, a destination that can make millions fall in love- either with the place or with the fellow humans, blankets hidden jewels that reeks of romance immensely. With little hints of mystique in nooks and in the air, the day of love, Valentine's day in Turkey is celebrated in the most charming way possible. With streets being decorated with red balloons, bakeries selling heart-shaped pastries and cookies, old ladies selling red roses, bars hosting lover-special parties, and the essence of love spread all over, visiting Turkey on Valentine's Day cannot get better. Celebrating Valentine's Day might not be a traditional festivity of Turkey but Turkish people surely know their tales of romance and love. Check out this guide about how one can make this special day a little more special for their loved ones when traveling to Turkey around the 14th of February!
Weather In February In Turkey

The weather in February in Turkey is nothing less than a crowd-pleaser. With pleasant and cool climate encircling the atmosphere as it is still mid-winters, this weather simply adds that little touch of extra to an already alluring experience during Valentine's day in Turkey. The temperatures in February hovers around 11 degrees Celsius during the day time while it can drop down to as low as 3 degrees Celsius. One might also experience rainfall in some regions of this country, which makes this destination all the more romantic and perfect to express your love to your significant other!
Top 3 Places To Visit On Valentine's Day In Turkey
One can find romance and charm in every nook and corner of Turkey. But if someone is looking for top destinations for Valentine's day in Turkey, these places have earned the top rank. Take a look and start marking your favorites already!
1. Alaçati

Teleporting people to fairytale land, Alaçati is a town in Turkey that is known for its laid-back atmosphere and stone-walled architecture. With its narrow yet bustling streets lined with an extensive number of cafes, restaurants, and artisan stores, this destination in Turkey reeks of romance. The tranquility and lesser crowds during the winter season give full privacy to couples to spend some time alone. Alaçati is one of the most romantic places for Valentine's day in Turkey, without any shadow of a doubt. Elegance oozing out of the residential buildings, walls in the streets adorned with colorful and fragrant flowers that make the whole town smell fresh, and the beautiful cobbled paths make this destination stand out like no other place.
Must Read: 82 Best Places To Visit In Turkey That Must Be On Your Itinerary In 2022
2. Istanbul

A city that shouts romance, Istanbul is a destination in Turkey that is all about historic landmarks and ancient architecture. The scenic views and picturesque landscapes are enough to make one embrace the love that is spread in the atmosphere. Surrounded by hills and seas that are spread as far as the eye can see, Istanbul is magical in its own way. Not only in nature, but there are also numerous activities that usually take place in Istanbul to celebrate such a special day including speed dating, a special menu at the hotels, jazz performances, stand up comedy, and much more. This destination is one of the best to celebrate Valentine's Day in Turkey.
Suggested Read: Turkey In September: The Ultimate Guide For Exploring The Land Of The Legends!
3. Cappadocia

Appealing to all the couples out there, Cappadocia reeks of love and romance from every nook. Often tagged as the most romantic destination to visit in Turkey, Cappadocia is all about rugged yet impressive rock formations, historic landmarks, and the lavish resorts to reside in. This is the location in Turkey that offers some of the most beautiful views of sunsets and sunrises. The peacefulness that encircles the atmosphere of Cappadocia is definitely unmatchable and makes everyone wish that they could stay there for as long as possible. From wine tasting to a hot air balloon ride over the town, Cappadocia is home to many such romantic experiences that would make Valentine's Day in Turkey one of its kind.
Suggested Read: 5 Historical Caves In Turkey Which Will Give You Some Serious Adventure Goals!
Top 4 Experiences For Valentine's Day In Turkey
Turkey oozes of romance and love on each day, Valentine's day or no Valentine's day. But here are a few romantic experiences that one should definitely indulge in to celebrate Valentine's day in the most Turkish way possible. Take a look!
1. Hot Air Balloon Ride

Valentine's day in Turkey would definitely be incomplete without gliding atop the mesmerizing hills, witnessing sunrises in the most enchanting way possible. The hot air balloon ride in Cappadocia with the partners give travelers an opportunity to feel the essence of love as the first ray of sun falls on both. Along with sunrises, this experience also offers some impeccable views of Cappadocia that is spread below, making both fall in love with each other as well as the city, yet again!
Suggested Read: Turkey In October: Witness The Land Of Aladdin At Its Best!
2. Wine Tasting

If your idea of a getaway is indulging in some lip-smacking wines that makes one crave for more and more, then going for wine-tasting in the vineyards of Arcadia would definitely turn out to be a great idea. Valentine's day in Turkey is more about unfolding more layers about each other, allowing each couple to simply get closer. Wine tasting tour on Valentine's day would help both of you increase your knowledge about the types of grapes, processes, formal ways of having wine, and much more.
Suggested Read: Celebrate 2022 Christmas In Turkey And Make It Merry With These Fantastic Experiences
3. Turkish Bath

One of the most intimate and passionate forms of expressing love is definitely by indulging in the world-famous Turkish baths. Offering a variety ranging from ancient traditional baths to exotic Hammam Bath experience, Turkish Bath is one of the most exciting experiences that couples can be a part of together. This romantic experience can be tried in Istanbul and leaves no stone unturned to rejuvenate and relax the mind, body, and souls of both the partners. Some of the famous Turkish bathhouses are Beylerbeyi Hamam, Cagaloglu Hamam, Galatasaray Hamam in Beyoğlu, and Cemberlitas Hamam.
4. Idulge In Delicacies in Asma Yapragi, Alaçati

Image Courtesy: weheartalacati
For those couples who seek to enjoy a candlelight dinner in a hidden gem of a restaurant should definitely visit this jewel in Alaçati, one of the top restaurants for Valentine's day in Turkey. The gorgeously lit courtyard adorned with little candles and fairy lights makes this restaurant extremely vibrant with an essence of happiness spread all around. The open kitchen in this restaurant gives travelers and locals an opportunity to witness the arts of culinary science. This super romantic place is known for its lamb, mezze platter, fried zucchini blossoms, and much more.
Suggested Read: 7 Therapeutic Hot Springs In Turkey Everyone Who Searches For Tranquility Should Visit
What To Wear On Valentine's Day In Turkey

Since February is still mid-winter season in some regions of Turkey, including all the romantic destinations such as Istanbul, here is what to wear on Valentine's Day in Turkey for both men and women.
Men: It is a bitter cold in February in Turkey. One should pack as many woolens as one can. Warm jacket, overcoat, woolen socks, gloves, leather jacket, scarf, trousers, jeans, sweaters, and hoodies should be a part of whatever outfit one chooses to put on.
Women: Women are expected to really dress up for the evenings in Turkey, but still keep it low key when it comes to showing off some skin. Since it is chilly in February, one can simply put on stockings, boots, long overcoat, warm dress, scarf, jeans, woolen socks, sweaters, jeans, and other warm clothing items. One can barely see any bare arms or plunging necks in public. To blend and also protect oneself from the cold, one should take a pashmina along with the outfits they chose to put on.
Further Read: 8 Impeccable Museums In Turkey To Embrace The Deeply Rooted Turkish History!
So now that you have read about how Valentine's day in Turkey is celebrated, what are you waiting for? Head to this destination and surprise your partners with that romantic side of yours. Be it a hot air balloon ride or a Turkish bath, Turkey is full of experiences that one tends to remember forever. Plan your Valentine's special vacation to Turkey now and add that little touch of romance to your life!
People Also Read
Valentines Day In Canada Valentine's Day In Montreal Valentine's Day In Russia