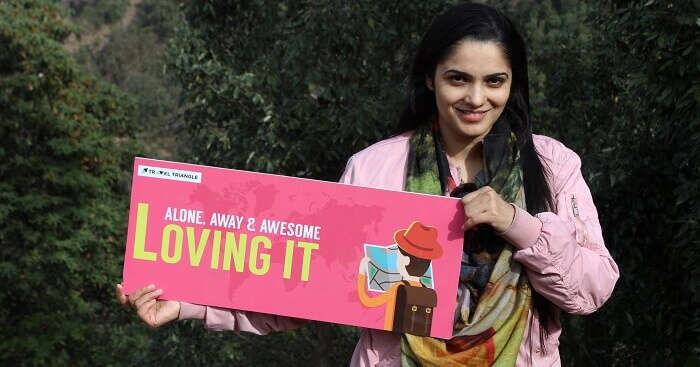 The best of adventures often come unannounced. In a quest to try something new on their travels, Vandana and her family decided to welcome 2017 TravelTriangle style in a weekend trip to Dhanaulti. A chilly weekend, warm and welcoming people, and lots of adventure activities stood waiting for them in Dhanaulti.
Trip Duration: 1 night/2 days
Cost: INR 3299 per person on quad-sharing basis
Inclusions: transportation (via volvo), accommodation, meals, and DJ night with bonfire.
2016 was almost about to finish, and with that comes the toughest question of the year, " new year's ka plan hai". The question that everyone wants to answer, yet half of the people don't know the answer right till the very last day.
Weekend Trip To Mukteshwar: How Aishwarya Planned An Ideal Adventurous Escape From Delhi
I saw TravelTriangle posting a bunch cool promo posters on their Facebook page inviting people to celebrate the new year in one of their handpicked destinations across north india. The weekend trip to Dhanaulti caught my eye, as the destination was relatively unexplored and away from the traditional picks made by travelers.
I submitted a request on the TravelTriangle website and soon enough, I received call from a representative who helped me understand the package and it's itinerary. My family had put total faith in me regarding the booking. The plan forwarded to me by TravelTriangle seemed adventurous and exciting. So I went ahead and booked 7 spots for my family and me for Dhanaulti.
Day 0: New friends and new adventures
We were told to assemble at Akshardham Metro Station in New Delhi by 8 pm. An hour later, with 36 other travelers, divided in 2 deluxe buses, we began our journey to Dhanaulti. As we began our journey, we were welcomed on our bus by the TravelTriangle social media representative Pranav to the weekend trip to Dhanaulti.
Trip To Mcleodganj & Triund Trek: Tejal's Joyful Weekend Escape
As it was our first time, traveling in a large group with other unknown travelers, it was a nice start where Pranav initiated ice-breaking activities.
Initially, I was caught off-guard when he started asking people to introduce themselves and sing a song on the mic, but eventually that began the trip on a very fun and entertaining note. We ended up singing and talking with our group members till late night.
Day 1: Adventure camping in Campo Royale
Suddenly, a gust of chilly winds woke me up. I saw myself staring at a random tea stall outside the bus window and it was 6 am. My fingertips were freezing. The hills had certainly arrived.
We stopped over at Mussorie for a cup of tea. Although, a bit hesitantly, I stepped out of the bus to see a beautiful sunrise. We arrived at our camp site at 7am and checked in.
Radhika's Quest For Peace & Beauty Brought Her To Dhanaulti…And Left Her Mesmerised
Post breakfast, we were given a few hours to relax. After taking a short nap, we trundled out for adventure activities in Dhanaulti. We did a variety of adventure activities beginning with ziplining from tree trunks and ending with burma bridge, mowgli walk, and suspension bridge.
After the adventure activities, we had a late lunch in the camp followed by a family photo session. Afterwards, the group was scheduled to go sightseeing in Dhanaulti but we opted to stay back at the camp and enjoy the surroundings. The view from the camp looking at the hills was amazing. A perfect place to sit, relax,and introspect in solitude.
As day turned into night, the temperature in Dhanaulti started dipping towards zero. Although, our campsite started to warm up with some DJ music and bonfire at 7 pm. The whole family came out and enjoyed the bonfire and music. Snacks, good music, and lots of dancing is how we spent our final evening of 2016.
Paragliding, Bonfire, & Shooting Stars: Her Whimsical Weekend Adventure In Bir Billing Is Stealing Hearts
We partied up until midnight and congratulated one and all a happy new year before heading back to our tents to sleep.
Day 2: A fresh start in 2017
The next morning we woke up, had breakfast at 8 pm, and got ready to check out. 2017 started with bright morning sunshine and a nice cup of tea. We started back for Delhi at 10 am from Dhanaulti. On our way back, we had a good time in the bus getting to know other travelers. We arrived in Delhi at 10 pm.
Initially, I was a bit skeptical about booking a package via TravelTriangle. However, now looking back, I think I made a really good decision to go on a weekend trip to Dhanaulti. Not only did I enjoy this trip with my family, but I also got to experience the joy and happiness of the new year with travelers from all over India. What started as a trip with 36 strangers, turned into a lovely experience where I made good friends.
High Points:
The experience of meeting and traveling with new people was a lovely first to start off 2017.
Low Points:
The places where food can be had in between the to and fro journey needs to be identified better.
Tips To Travelers:
People who have never tried traveling in a group of unknown travelers, should definitely give it a go.
Do you think you need a dose of wanderlust? Explore the magical hills of Dhanaulti with a specialized package designed by TravelTriangle.
---
Long Weekend Trips Starting @ Rs 3499/-
Take a trip to spend the upcoming long weekend with your buddies.
✓ Stay at 4 star rating hotels with local sightseeing, meals and transfers.
✓ Travel in AC coach round trip (from Delhi).
✓ All Inclusive Deal– Camping, Jeep Safari & Trekking as per itinerary
✓ Sign up NOW to celebrate the long weekend out of town!
---
Comments
comments