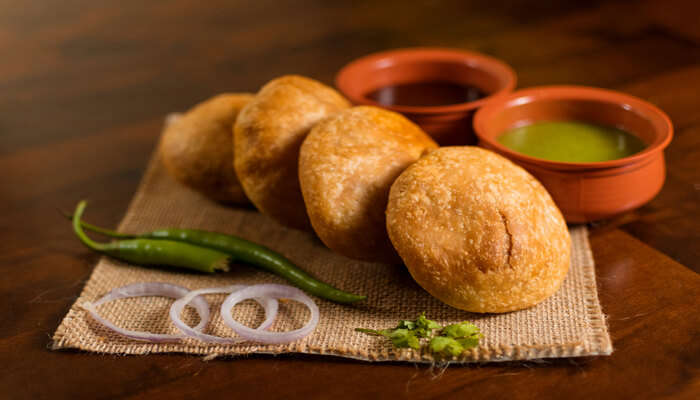 Situated on the holy banks of river Ganga, Varanasi is the city of Lord Shiva that enchants visitors with exquisite views of its 84 ghats. This place is the center of attraction for tourists from all around the world. But spirituality and beauty aren't the only things that bring people here. Besides a tourist spot, Varanasi is also known for its delicious cuisine that people love to try when they're in the city. In fact, many find Varanasi food to be better than that of its neighboring cities like Jaunpur, Allahabad, Patna, and Nalanda. And if that doesn't compel the foodie in you to book a trip, the following list of the best dishes to try in Varanasi definitely will!
8 Must-try Varanasi Food Items
The following food items must not be missed when you're in this holy city, especially the street food, which is even a favorite of foreigners that come here.
1. Kachori Sabzi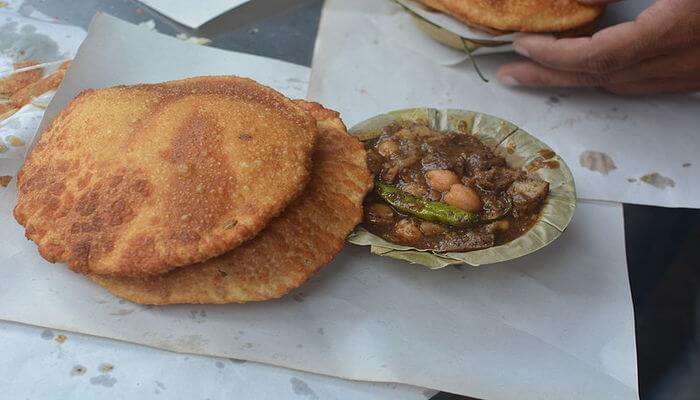 With the start of the day in Varanasi, the best breakfast in the form of breakfast is kachori sabzi. Kachori is made up of stuffed spices and lentils inside it. And its companion, sabzi is made up of boiled potato fried in vegetable oil and then mixed up with selected spiced to bring its color as well as taste.
Location: Every nuke and corner of the city
Price: INR 30 to 50
Must Read: 25 Places To Visit In Varanasi In 2021 For The Best Of Culture, History, & Spirituality
2. Malaiyyo (Stuffed Butter Foam)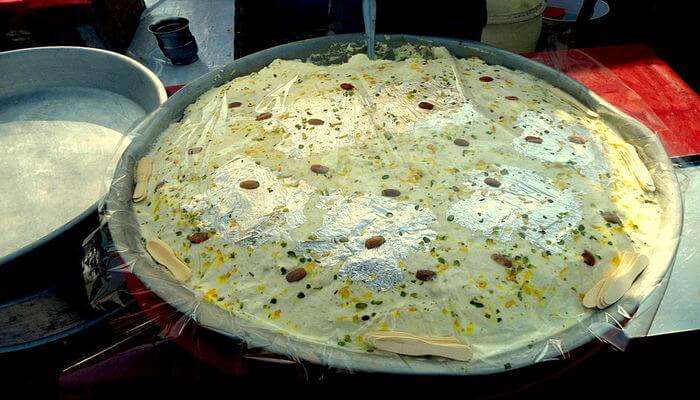 Makkhan Malaiyyo or stuffed butter foam is another popular food in the streets of Varanasi. Milk froth is flavored with saffron, almonds, and cardamoms. This is served in the mud pot. This rich creamy froth of butter will melt in your mouth and left a creamy impression upon you. The Ghats of Varanasi are rich in this type of food serving. Having a spoonful of Malaiyo in your hand and sitting near the banks of Ganga adds charm.
Location: Godowlia Chowk
Price: INR 40 to 50
Suggested Read: Top 10 Summer Festivals In India You Shouldn't Miss In 2021
3. Chana Dahi Vada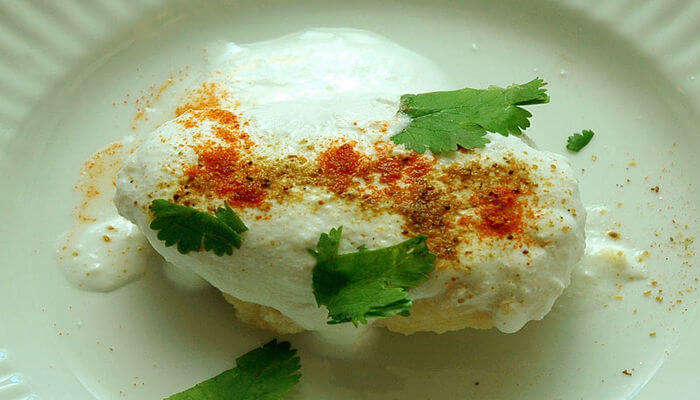 The curd lovers would like this another delicacy of Varanasi. The milk cheese is dipped in the sweet yogurt with a tasty combination of spices. After that, it is decorated with the coriander leaves for an appealing look. The chutney of tamarind and chilli adds more taste to this, however, it depends on the customer. This is a perfect dish to enjoy with nearer and friends.
Location: Everywhere in Varanasi
Price: INR 80 to 150
Suggested Read: The Ultimate List of Adventure Holidays In India For Summer 2021
4. Choora Matar (Fried Soaked Rice With Peas)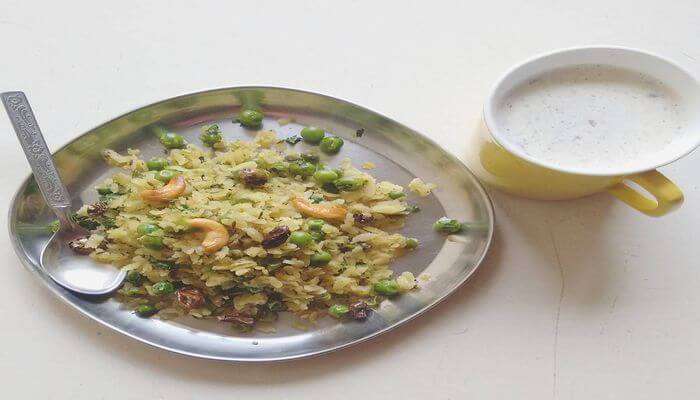 Varanasi food stall starts decorating in the winter evening with this delicious evening snacks. This food item is often cooked in almost every house of Varanasi as the evening dish. The dish is made with flattened rice soaked in ghee or vegetable oil with green peas with other added spices. It tastes good when there is a cup of tea with it.
Location: Street-side stalls near the ghats
Price: INR 60 to 80
Suggested Read: 15 Places To Visit In India In April 2021: Beat The Heat This Summer Like A Pro!
5. Thandai And Lassi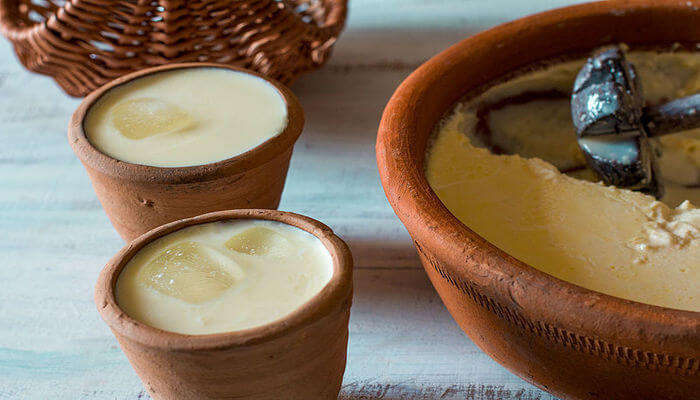 The city of Varanasi is a large scale milk producer, so one can find a large number of milk products all around the Varanasi. Thandai is made from seasonal fruit puree. Lassi is made from the curd with added sugar and rose water. This is one of the most common food-items in every nuke and corner of Varanasi. It is served chilled with the toppings of rabri floating on it. There is also a special lassi where toppings of fruits are there.
Location: Ravidas Gate
Price: INR 30 to 90
Suggested Read: 15 Amazing Wildlife Sanctuaries In India For Adventurous Safaris And Encounters With The Wild
6. Baati Chokha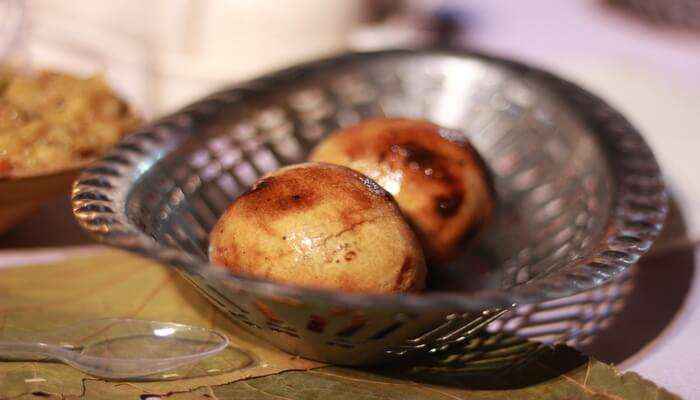 Baati chokha, also famous as litti chokha, is a famous food of Bihar now savored in the streets of Varanasi almost everywhere. It is a tasty snack in Varanasi. Baati is made with wheat, round in shape, stuffed with sattu and chokha is the mixture of mashed potato and brinjal with added spices for taste. People like to keep chokha less spicy. It is served hot with sprinkled ghee on it. Desserts taken after this tasty food adds more love to this beautiful and delicious food item.
Location: Several kiosks in Varanasi, Baati Chokha Restaurant Telibagh
Price: INR 50 to 80
Suggested Read: Delhi To Mumbai In 10 Hours By Train Now Made Possible By Indian Railways
7. Tomato Chaat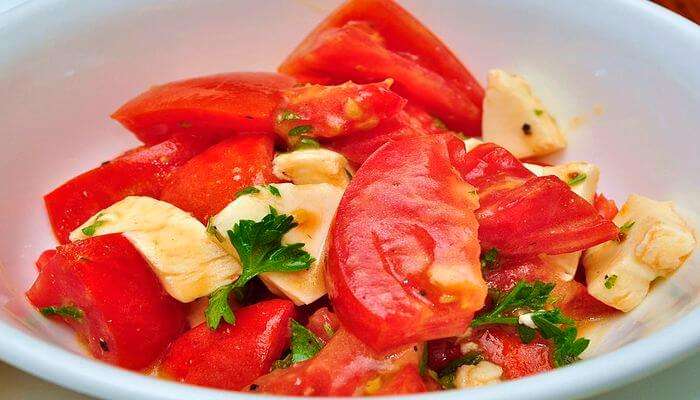 Varanasi has its way of preparing tasty chaat with tomatoes and various other materials. You can find this only in Varanasi. It is a spicy blend of coriander, boiled potatoes, green chilies, pounded ginger, and addition of spices. It is served in a bowl made of leaves. Other delicious materials are also added as per the convenience of the customers.
Location: Godowlia Chowk
Price: INR 50 to 100
Suggested Read: Choose The Best Travel Insurance In India In 2021 With Our Guide
8. Paan (Betel-nut)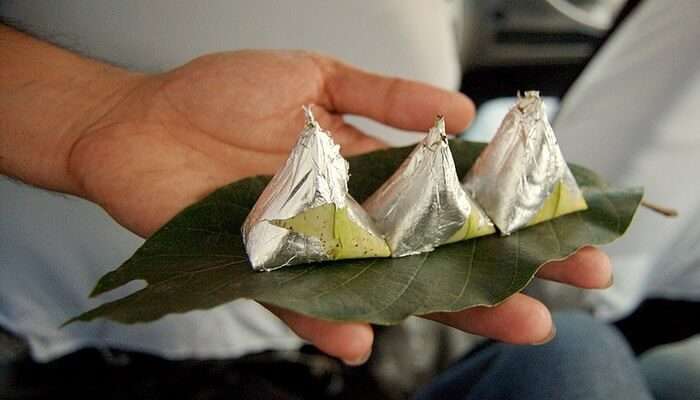 Banaras is famous in the whole of India for its Pan or betel and nut. In almost every mouth of Varanasi people, you can find this combination of betel and nut. This has its variety in different aspects. This is preferred by almost every age of people. Now this famous food item of Varanasi is projected at the world level. For its costly version, it is stuffed in the works of gold and silver making it the costly paan of the place.
Location: All paan shops in Varanasi
Price: INR 5 to 30 rupees
Further Read: Sea Ports In India: Know About The Important Ports Which Stands As A Glory Of The Country!
So, which of these awesome Varanasi food varieties are you going to munch on first? Connect with TravelTriangle's expert agents and plan a great holiday in Varanasi to enjoy its delicious culinary delights and its rich heritage.
Frequently Asked Questions About Varanasi Food
Q. How to reach Varanasi?
A. The nearest airport to Varanasi is Varanasi airport which is 22 km away from the city center. The nearest railway station is Varanasi Cantt railway station. You can take a bus, taxi, or auto rickshaw from these places to get anywhere in Varanasi.
Q. Are there any good hotels in Varanasi?
A. Yes, Varanasi has a range of good budget and luxurious hotels equipped with modern facilities and designed to provide every bit of comfort to visitors.
Q. Where can one eat in Varanasi?
A. Varanasi has plenty of street-side stalls, dhabas, low-budget eateries, and high-end restaurants where people can enjoy the variety of Varanasi food.
Q. What is the best time to visit Varanasi?
A. September and October is considered to be the most ideal time to visit Varanasi.
People Also Read:
Street Food In Delhi Street Food In Jalandhar Street Food In Gwalior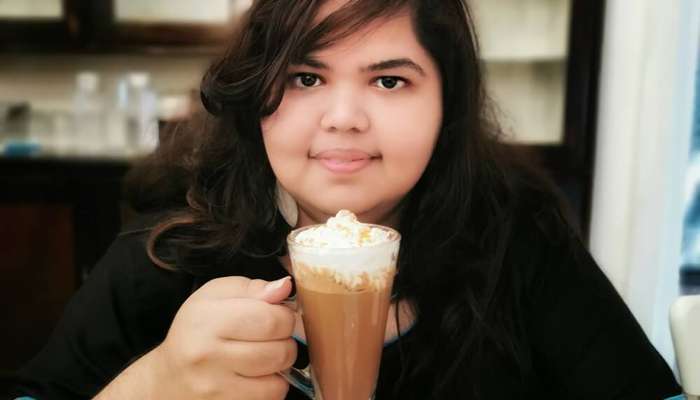 Comments
comments