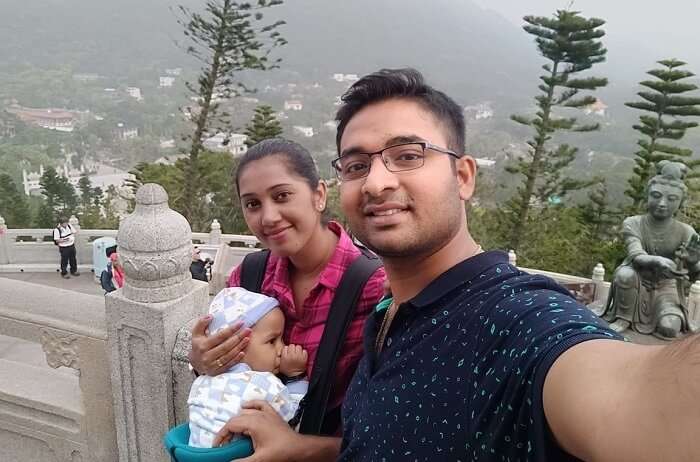 Offering a scenic feast, Hong Kong's enchanting islands, and neighborhood offers much for the travelers to explore and gets them on toes. With one of the world's smoothest transport system, sprawling parks, and great historical and geographical gems, travelers find Hong Kong a happening city because of the various things to do in the city that keeps both adults and children engaged all through their awesome holiday in the city.
When it comes to our recent travelers, their excuse of going on a 4 nights 5 days family trip to Goa was to celebrate their child's first birthday in style. With enough to offer to both the parents and the child, there could not have been a better place than Hong Kong to celebrate their child's birthday in the most unexpected ways and take him to the various must-see places in Hong Kong for a lifetime memorable expereince. Here is a quick peek into all they encountered on their family trip to Hong Kong.
Details of our family trip to Hong Kong
Trip Type: Honeymoon Trip
Cost: INR 40700
No. Of People: 2
Duration: 6 Nights 7 Days
Inclusions: Accommodation, Breakfast, Airport Transfer, Sightseeing
 45 Most Delightful Tourist Places In Hong Kong On Your Trip In 2022
Places to Visit when on a family trip to Hong Kong
1. Hong Kong At A Glance


After we landed, we were pleased to find that it was raining and the weather was very pleasant. We realized that this was probably the best time to reach Hong Kong. After resting for a while on the day we reached Hong Kong, we set on to explore the city with a night tour. What attracted us most were the glistening sky scrapers that ran all into the sky. The streets were bustling with the noise of the warm and friendly locals. We took a junk boat ride through the Victoria Harbor and it was a great expereince riding through the high towers, with soothing background music. The ride de-stressed our minds and body completely and we were all the more excited for our upcoming adventures.
World's Longest Sea Bridge Connecting Hong Kong & Macau With China Is Now Open
2. The Peak Tram Illusion

Riding on The Victoria Peak Tram was also an expereince we would count on while on our family trip to Hong Kong. The tram was the world's steepest ride which took us about 396 meters above the sea level. At a certain level, we felt that the buildings were leaning at a certain gradient. At the peak, we found a great number of shops and restaurants and also an amazing collection of the must-visit places in Hong Kong.
 Top 10 Hong Kong Food Items To Try On Your Next Cantonese Holiday
3. DisneyLand




As, it was my child's birthday today, we decided to celebrate it in the best posssible way and therefore, we visited the Disneyland. Seeing all the cartoons wandering right in front of us reminded me of our days when we used to watch them on television and never thought that someday we would actually get to visit these wonderful places. We could see our child's excitement in the glitter of his eyes and besides that, we were actually more excited than him. We also saw an artificial man-made animal and also clicked, any pictures with the cartoons, and movie characters. Above all, the light and sound show at Disneyland was a great success and expereince one must not miss.
4. Ocean Park



We were surprised to see the animas who were so well-trained. We were happy to see that there were baby strollers available which made it easy for us to carry our child. The Dolphin Dance was the major highlight of the show and something that caught our attractions to the core. We also enjoyed a ride to the man-made underwater park.
5. Cable Car




Totally impressed by the rules and regulations of the country and on reaching the cable car spot, we were impressed to see that there were no VIP rules and people were waiting very patiently in long queues. Moreover, the ultimate experience in Hong Kong that I recommend people to take when on a holiday is the cable car ride. It is one of a kind experience where we were greeted by vistas of the sea and the rolling greens. The breathtaking panaromic views made our day. On reaching the top we visited the various Buddha stupas and dined at the Punjabi Dhaba available.
Here's a glimpse of our customized itinerary
Day 1: Arrival and Night Tour
Day 2: Disneyland Tour
Day 3: Ocean Park Tour
Day 4: Lantau Island Tour
Day 5: Departure Back Home
Wow moments on our famiy trip to Hong Kong
The cable car ride experience and Disneyland were the attractions that caught our attention the most.
Our experience with TravelTriangle
Abhishe was the guy who assisted us with our family trip to Hong Kong. We were happy about the fact that TravelTriangle provided us with quotes that suited our needs. The TravelTriangle folks also customized our package well which were totally in sink with our flight. We only had an issue with one of the drivers on the trip, however, that was taken care of when we informed the TravelTriangle assistant. Overall it was a great expereince.
Your common queries
Q1. What is the best time to visit in Hong Kong?
One must visit Hong Kong in the winter season which is between the months of November and April.
Q2. How long should I spend in Hong Kong to explore the city?
To explore the entire city, you must take a 5 dayso 7 days trip to Hong Kong.
Q3. What are the things that one can shop at Hong Kong?
When in Hong Kong one is bound to buy fortune cats which are a lucky charm of the place, you can also shop jewelry and Buddha idols from the local markets.
Q4. Is it easy to get along the city in Hong Kong?
Yes, Hong Kong provides an easy transport system for tourists to get along. Metros are available for the guests to commute locally. We hired sharing cabs which were also an easy way to get along the city.
 5 Enchanting Monasteries In Hong Kong To Attain The Eternal State Of Nirvana!
With an iconic skyline and lush protected nature, Hong Kong will surely satiate the wanderlust in your weather on a family vacation or a honeymoon trip. If you too wish to explore the city at its best, customize your holiday package from Travel Triangle for a hassle-free experience.