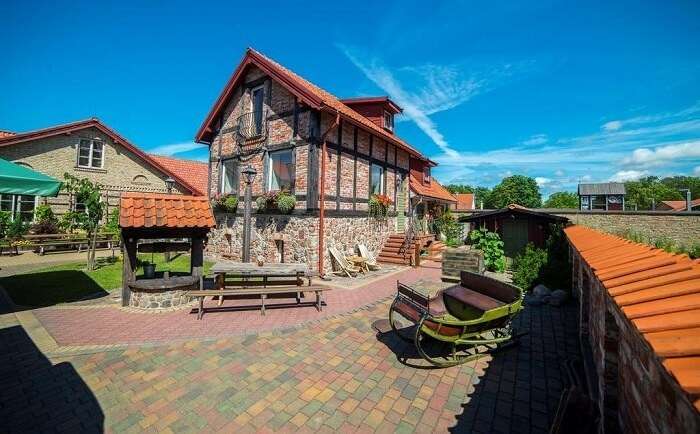 Latvia is one of those countries that have a mix of culture, tradition, and history. If you gorge around the middle city of the Baltics, you are going to be faced with the crazed daze of the hedonistic party joints but if you delve deeper into the outskirts and the backcountry, you will definitely get a taste of what the real Latvian culture and traditions behold. The one thing, apart from its cities and the majestic architecture, which defines Latvia, is the immense amount of villas that litter this country all over.
10 Best Villas In Latvia
While to afford villas in Latvia might seem a bit far fetched, these are actually a very nice alternative for staying in a hotel when comparing the prices.
1. Vējciems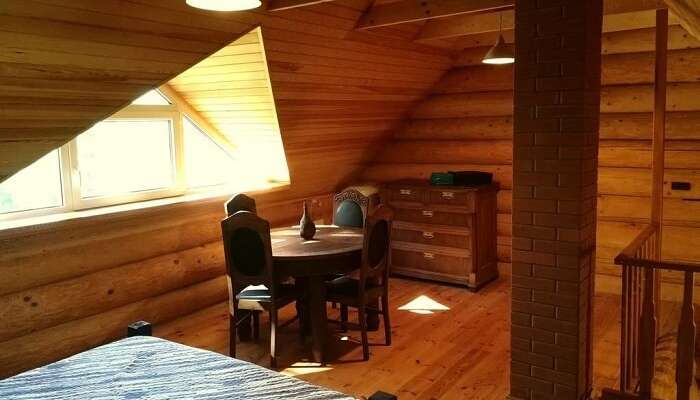 Located in the Kurzeme Region, specifically in Liepene, Vējciems is one of the most popular accommodating villas around in Latvia. The property is located in quite a close proximity to the beach and is often considered as one of the most affordable options around the area. Apart from the basic amenities that come with every villa like a well-equipped kitchen, bathroom, and even a satellite connection flat screen TV, it also has a barbeque spot and even offers water sports facilities which are pretty awesome. The property does offer grocery delivery so you can get everything right to your doorstep. Apart from that, it does come with a sun terrace and offers you a wide range of activities to indulge in.
Location: Liepenīte, Tārgales pag., Ventspils nov., Liepene, LV-3601, Latvia
Tariff: 70 euros per night
Suggested Read: 10 Best Villas In Berlin That Offer A Luxurious Stay Experience!
---
Europe Holiday Packages On TravelTriangle
Explore the most beautiful places to visit in Europe, from Paris to the Venice canals and from the Greek islands to the Swiss alps. Book customized packages by expert agents on TravelTriangle. Inclusive of airport transfers, cab, resort, sightseeing and meals. Best holiday experience Guaranteed. Book Now
---
2. Kempings Videnieki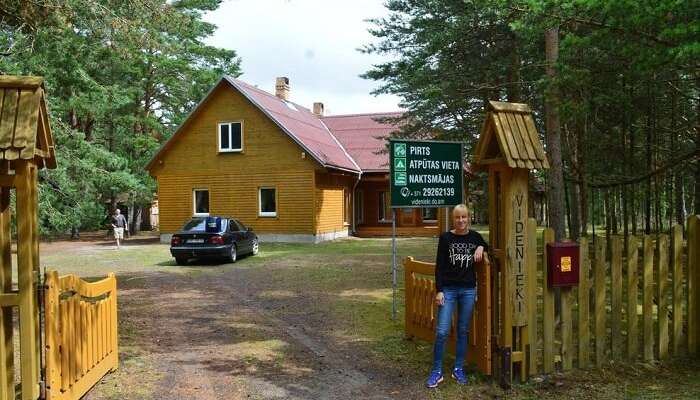 Image Source
Next on the list of the best villas in Latvia is the Kempings Videnieki. It is situated in Liepene as well and is very closely located to some of the most popular sightseeing spots around the property. Not only an outdoor pool, but the villa also comes with an indoor pool as well. You can even access the free Wi-Fi connection in the public areas in the villa. It is located a mere 800 m away from the beaches of the Baltic Sea which do make up for an amazing spot to just relax and catch up on time. It comes with a well-equipped kitchen and mini bar and even a communal sauna for you to relax and just have the time of your life in.
Location: Videnieki, Liepene, Tārgales pag., Ventspils raj., Liepene, LV-3601, Latvia
Tariff: 80 Euros per night
3. Brīvdienu Māja AMRAI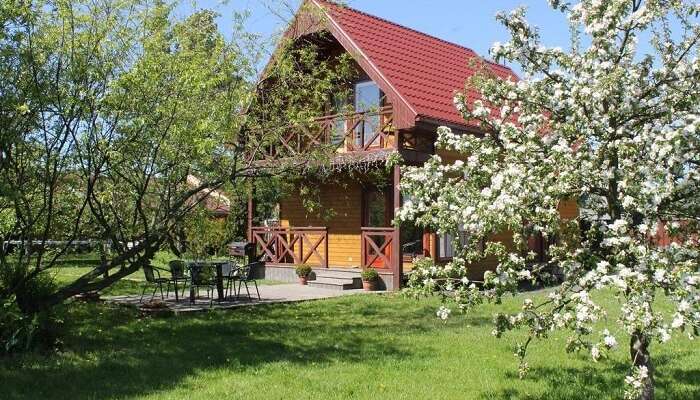 Image Source
If you wish to rent out a villa which is located away from the hustle and bustle of the civilization and is somewhere quiet and nice, the Brīvdienu Māja AMRAI is actually quite an amazing option for you to look into. It is located in the remote area of Ventspils which is situated around 6 km from the Baltic Sea. The kitchenette comes completely equipped with all the necessities and provides you with an overall experience altogether. The grocery stores are located around 500 m away so you can get your supplies easily without any hassle and even the nearest International Airport is just 6.4 km away and to top it all off, you get free barbeque facilities and an accessible terrace.
Location: Skrundas iela 39, Ventspils, LV-3602, Latvia
Tariff: 26 euros per night
Must Read: 9 Villas In Melbourne Where One Can Enjoy A Relaxing And Luxurious Stay While In Australia!
4. Viesu Nams Zītari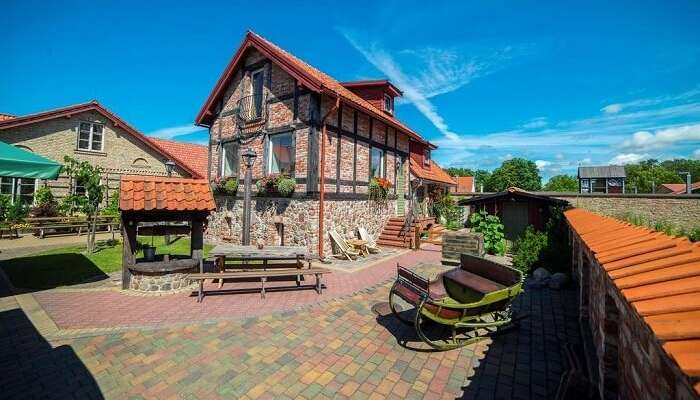 Image Source
The Viesu nams Zītari is considered as one of the best holiday villas in Latvia mainly because of the location of the property. It is situated in Ventspils and is in the prime location, which is a mere 90 m away from the Venta River and just 2.4 km away from the Baltic Sea altogether. Apart from offering you with a free Wi-Fi, it also does provide with amazing restaurants around and a summer garden too which is perfect for enjoying the summers in Latvia. Much like any other villa, even this one comes equipped with all the basic necessities like kitchen equipment, bathing essentials, and even a television to keep you entertained.
Location: Tirgus iela 11, Ventspils, LV-3601, Latvia
5. Guest House Podnieki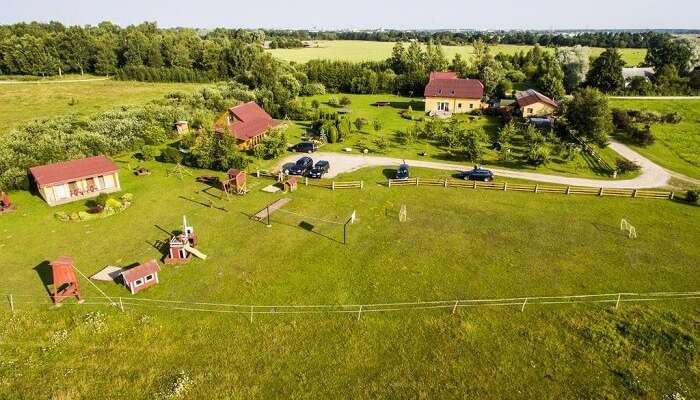 The Guest House Podnieki is a family run business who aims to provide the visitors with an overall amazing experience when it comes to their stay in the amazing villa-like houses around in Latvia. Even this one is located in Ventspils and is one of the most popular spots around to stay in because of the picturesque location it is based around. Apart from the free private parking facilities, you can enjoy free Wi-Fi and all the basic amenities that you will need to lead a very cheerful and comfortable stay around the place. It also has a sauna and other activities like horse riding which makes it an amazing experience.
Location: Robežu iela 185, Ventspils, LV-3621, Latvia
Tariff: 50 Euros per night
Suggested Read: Villas In Los Angeles: 10 Places For A Perfect Staycation In The Heart Of Hollywood!
6. Kupfernams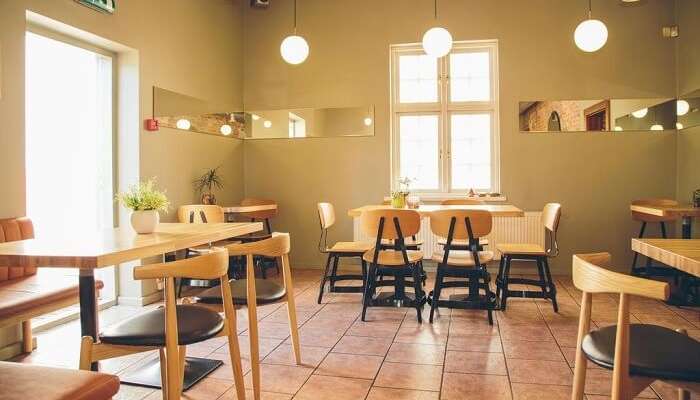 Image Source
If you wish to stay in somewhere that's attached to the history of Latvia, the villa of Kupfernams is the perfect one. Not only is it considered as one of the most popular luxury villas in Latvia, but it is also known around for existing in a building which dates back to 1820. It is situated in the heart of Ventspils and offers the guests with amazing rooms made completely from the woodwork. The rooms are quite contemporary styled which is one of the primary things that does attract the guests. The place does spice it up with a breakfast buffet and even get professional massages and other pamperings done upon request.
Location: Kārļa iela 5, Ventspils, LV-3601, Latvia
Tariff: 37 Euros per night
Suggested Read: 8 Best Villas in Madrid For 'Maravilloso' Staying Experience On Your Trip to Spain
7. Viesu Nams Dzirkaļi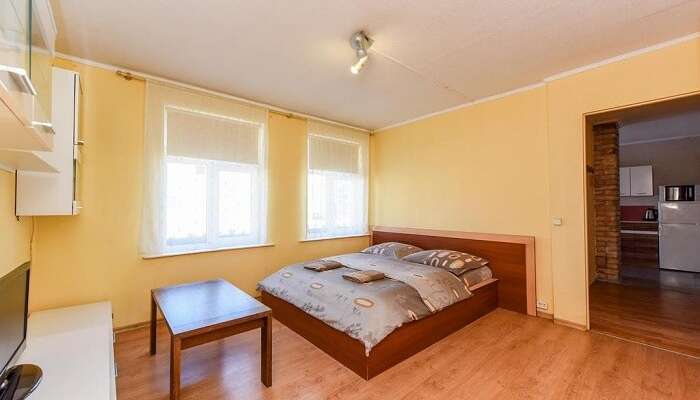 If you wish to stay in close proximity to the beautiful beaches of the Baltic Sea, the Viesu Nams Dzirkaļi is the perfect place for that. It is located in Ventspils, just a 500 m away from the main beaches of the Baltic Sea. Every room in the villa is well furnished with all the necessities, especially the kitchen and the bathrooms. The guests have free access to the Wi-Fi and even get free barbeque equipment right at their disposal which is definitely an added bonus. The restaurants and grocery stands are located within 300 and 400 m distance.
Location: Kr. Valdemara iela 31, Ventspils, LV-3601, Latvia
Tariff: 18 Euros per night
8. Spicīte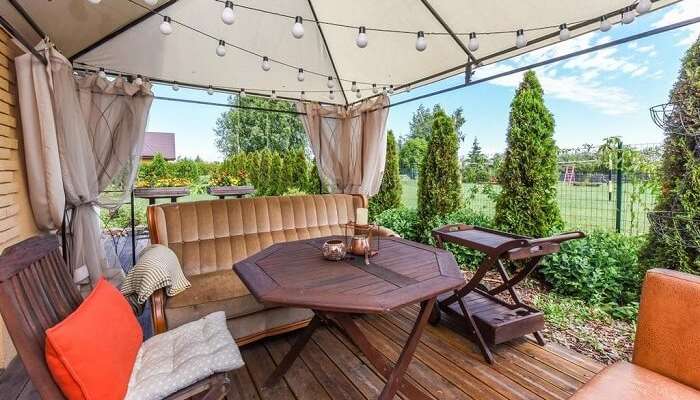 Image Source
Majority of the tourists who have stayed in Spicīte have described this place like a dream. The interiors and the rooms are just too good to be true which is what makes it so popular around the area altogether. It is situated just 2 km away from the Baltic Sea and comes with its own playground area and even all the barbeque facilities. You can enjoy free Wifi and chill around on the terrace too.
Location: Saulstari, Cirpstene, Varves pag., Ventspils, LV-3623, Latvia
Tariff: 40 euros per night
Suggested Read:7 Best Villas In Slovenia For A Soothing Stay In This Gorgeous Balkan Country!
9. Atpūtas Vieta Buki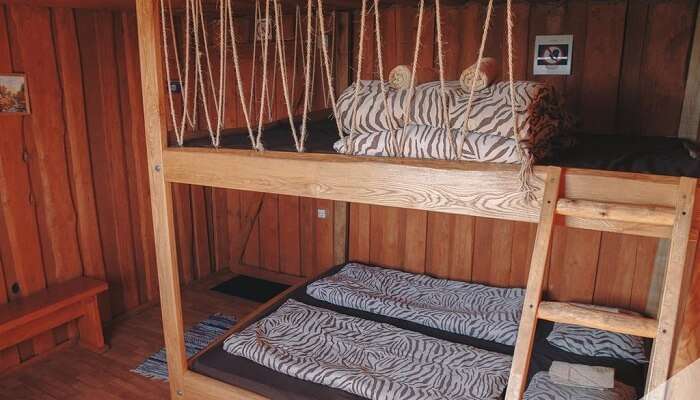 Image Source
As hard is it to pronounce the name, the place is just as beautiful. It is located around 6.7 km away from Ventspils and is situated in quite a remote and quiet place. You get to have your own patio and even terrace for you to breathe in the fresh air around. It comes well equipped with all the necessities and will provide you with a very comfortable stay altogether.
Location: Buki, Vārves pag., Ventspils nov., Ventspils, LV-3623, Latvia
Tariff: 25 Euros per night
Suggested Read: Staying At These 10 Luxurious Villas In Canada Will Spoil You For Sure!
10. Dekšņi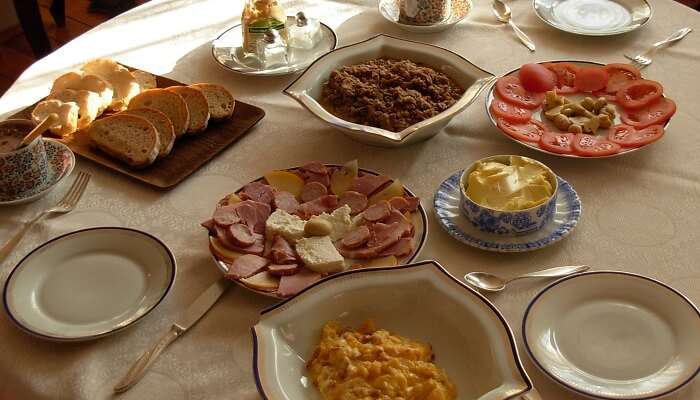 Image Source
Located just around 100 m away from the Puze Lake, Dekšņi is quite a popular choice when it comes to the villas around in Latvia. Apart from the indoor swimming pool and the sauna, the guests are provided with a well-equipped kitchen and bathroom with all the essentials. Even the surroundings provide with an amazing option for a plethora of activities to indulge in.
Location: "Dekšņi", Popes pag., Ventspils nov., Pope, LV-3614, Latvia
Tariff: 24 Euros per night
Further Read: 10 Luxurious Villas In Sydney Where One Can Experience A Lavish Stay While In Australia!
Villas around in Latvia are quite abundant. Owing to the growing demands, it is most likely that you might end up not finding good options in last minute bookings, so make sure that you book everything beforehand to avoid that issue altogether. And these villas will be your good to go accommodation options while vacationing in Europe.
---
Looking To Book An International Holiday?
Book memorable holidays on TravelTriangle with 650+ verified travel agents for 65+ domestic and international destinations.
---
Comments
comments