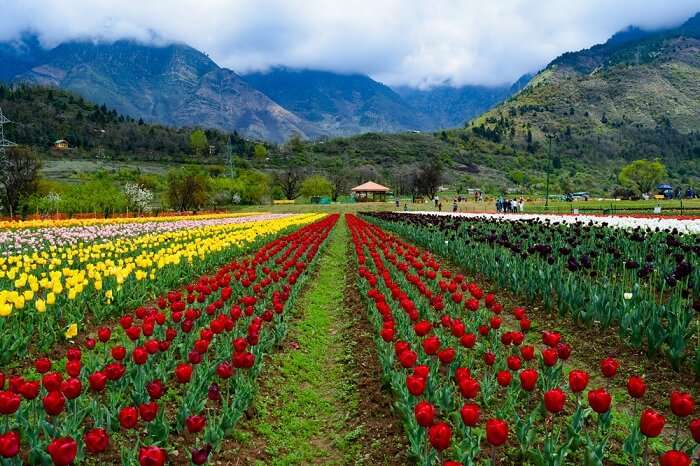 Kashmir is home to a magnificent garden that's alive with colors as far as the eye can see. Indira Gandhi Memorial Tulip Garden Srinagar is Asia's largest such garden. It's awash with dozens of varieties of tulips and other flowers like daffodils. With its terrific location – at the foothills of the Zabarwan Range – Tulip Garden in Srinagar is a veritable Eden.
It doesn't bloom all-year-round, however, so you need to plan your vacation carefully. The best time to visit Tulip Garden in Kashmir is from March to May.
About The Tulip Garden
Tulip Garden Srinagar opened to visitors back in 2007. The aim was to boost tourism and floriculture in the region and the undertaking was a success. In fact, the garden was ranked among the top 5 tulip destinations in the world at the Tulip Summit in Canada in 2017. While the garden itself is a sight to behold and you could spend hours just exploring it and admiring the flowers, the highlight is the annual festival that runs in spring, between March and May, depending on when the flowers bloom. This year, Tulip Garden Kashmir 2018 was held from March 25th onwards.
Must Read: 10 Best Resorts In Srinagar: A Taste Of The Kashmiri Heritage With A Touch Of Royalty!
Tulip Garden Highlights
Tulip Garden in Srinagar offers plenty of experiences for the travelers to engage in. Find below a list of top highlights that justify the reputation of these mesmerizing wonders of mother nature.
1. Terrific Varieties of Tulips
The varieties of tulips on display rightfully steal the show at Tulip Garden Srinagar festival. Even the rare Queen of the Night variety can be seen. In 2017, there were over 40 types of tulips exhibited and several lakhs of flowers in bloom.
2. Tourist-friendly Amenities
The Tulip Garden Srinagar festival has steadily evolved into an event that aims to provide visitors with an even more enriching experience. In 2018, the venue provided free Wi-Fi, washrooms for differently abled people and more drinking points.
3. Souvenir and Food Kiosks
No trip to Kashmir is complete without taking home a few souvenirs. If you're visiting the Tulip Garden in Srinagar during festival time, you can pick up traditional handicrafts from kiosks set up outside the garden area. You can also savor Kashmiri cuisine at the food stalls.
Suggested Read: 15 Things To Do In Srinagar That Will Make You Fall In Love With The Kashmiri Charm!
Best Time To Visit Tulip Garden Srinagar
The best time to visit this paradise is during the annual festival that's held in the month of March, April or May. However, the exact dates can change depending on the weather so keep an eye out for updates.
Whether you choose to visit during the festival or otherwise, Tulip Garden Srinagar timings are 9am to 7pm.
Suggested Read: 20 Best Hotels In Kashmir For Both Luxury And Budget Vacationers
Tulip Garden Srinagar Entry Fee
Entry is a very nominal INR 50 for adults and INR 25 for children.
When Will Tulip Garden Kashmir 2020 Be Held?
Tulip Garden Srinagar opening dates for 2020 are from 1st to 30th April. Make sure to keep your calendar free during this itme of the year. 
Nearby Attractions To Explore
Tulip Garden Srinagar's location allows you to take in some of the best attractions in Kashmir located nearby like those below –
1. Dal Lake
Kashmir's top attraction shouldn't be missed. Houseboats dot the surface and the Pir Panjal mountains stand tall and proud in the background. The lake looks fabulous any time of the day but try to visit in the morning when the floating market opens. It's one of the few such markets in India and offers a glimpse into the daily life of locals.
Location: Srinagar, Jammu and Kashmir, India
Suggested Read: 38 Best Places To Visit In Srinagar In 2022 That Should Be A Part Of Your Itinerary
2. Mughal Gardens
Just a short distance away from Tulip Garden Srinagar is the Mughal Gardens, a selection of pleasure gardens built during the era of Jahangir. They include Shalimar Bagh, Nishat Bagh, Chashma Bagh and Pari Mahal. With water channels cascading down terraces, colorful flowers and large trees peppering the gardens, the serenity washes away the cares of the day and leaves you feeling utterly relaxed.
Location: Chinar chowk, Shalimar, Srinagar, Jammu and Kashmir 191121
Timings: 9AM-7PM
Entry Fee: Adult – INR 20, Child – INR 10
Suggested Read: 30 Unbelievably Beautiful Places To Visit In Kashmir
3. Shankaracharya Temple
Perched on Shankaracharya Hill and overlooking Srinagar is Shankaracharya Temple, dedicated to Shiva. It dates back to 200 BC with the present structure probably built in the 9th century AD. It was believed to have been built by Raja Gopadatya although some say it was the work of Sandiman.
Kashmir is one of the most scenic places you'll ever visit. If you love nature and want to experience it up close, this is where you need to be. Visit during Tulip Garden Srinagar season and watch nature put on a spectacular show of colors. Kashmir Tulip Festival 2020 in April is when the magic happens.
Location: Durgjan, Srinagar, Jammu and Kashmir 190001
Timings: 7AM-8PM
Entry Fee: No Entry Fee
Suggested Read: Asia's Largest Tulip Show Goes Live In Kashmir & It's The Best Thing You'd See This Spring
Interesting Facts About Tulip Garden, Srinagar
Tulip Garden hosts a spring special festival to celebrate the blooming of tulip buds. The festival takes place between March and May
Tulip Garden is a seven-terraced garden that is located on a mountain slope
This Garden is home to 15 lakh tulips of 46 different varieties
Tulip Garden can be reached easily using local and private transport both
This Garden not only blankets tulips of basic colors, but also of varied hybrid shades
Tulip festival exhibits an extensive variety of hybrid tulips as well as standard tulips including two-colored tulips, fringed tulips, single late tulips, Triumph tulips, Rembrandt, and much more
The trees surrounding this garden showcases colorful blossoms and flora, making the whole view look more scenic
The Dal Lake that has tulip montages reaching to it envelops an ample amount of surreal floating fountains
Further Read: 38 Best Places To Visit In Srinagar In 2022 That Should Be A Part Of Your Itinerary
Looking at all the gorgeous pictures above, we are sure you are now craving for a visit to this magnificent garden. Needless to say, do plan a visit to this attraction when planning your trip to Srinagar. And if you have already visited it, tell us how it was in the comment section below.
Frequently Asked Questions About Tulip Garden, Srinagar
Where is the tulip festival in the Netherlands?
Most of the Tulip farms are located close to Holland and Noordoostpolder in the province of Flevoland.
Looking To Book A Holiday Package?
Book memorable holidays on TravelTriangle with 650+ verified travel agents for 65+ domestic and international destinations.
People Also Read:
Rose Garden Chandigarh Law Garden Ahmedabad Dutch Garden Surat