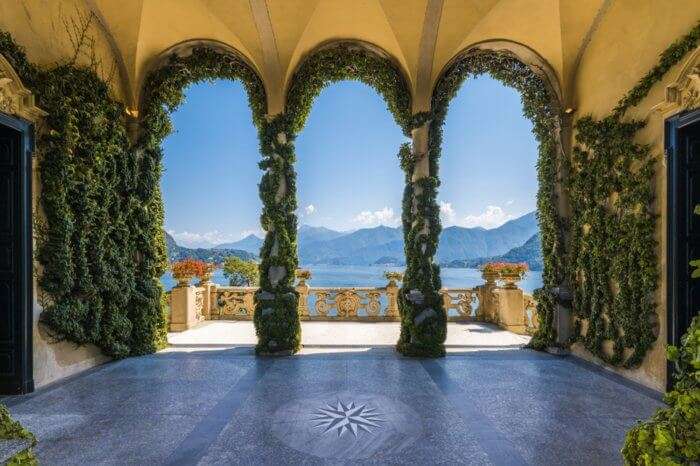 Located on the South Coast of Sri lanka Weligama is a small town. The term "Weligama" connotes "sandy village". It is a very peaceful place for spending a perfect holiday. If you wish to spend some days lonely then this can be the best one. It is a great fishing place. Average people in this place lead their livelihood by fishing. The sea is quite calm in this area and so people mostly prefer to enjoy the beauty of the sea. Apart from this, there are numbers of hotels and villas in Weligama that can be found here. The tourist who comes here enjoys most of the time by sitting in front of the sea. The color of the sand is pure white.
Top 10 Villas In Weligama
Now, let's have a glimpse at some of the beautiful villas in Weligama hat are located in this land. They are simply beautiful. The luxury villas in Weligama are well maintained and have all the basic facilities. Take a look!
1. New Bay View Villa
This villa is a sea facing villa and has all the latest amenities. Most of the rooms are very spacious and people will surely enjoy its ambiance. There is a balcony that is also sea facing. The bathrooms too are well furnished and have all the basic amenities. The villa has their own pool that can be used by the visitors. As it remains fully filled so prior booking is necessary before making a plan to visit this place.
Location: 251/29a, Bandarawaththa | Kapparatota, Weligama, Matara 81700, Sri Lanka
Price per night: 4,443 INR
Ratings: 5/5
Website
Must Read: Kalutara Travel Guide To Explore This Adventurous Place In Sri Lanka
2. Halala Kanda Weligama Luxury Villa
The look of the villa is stunning and it is well maintained. It is a perfect place for relaxing and resting. The whole villa is in a 2-acre land and it has a 23m pool that can be used only by the visitors. The villa is fully staffed with trained staffs and chefs. If you wish then you can also cook with the chefs. That would really be a good idea. There is a security guard for the villa. In order to garden, there is one full-time gardener. The villa has 5 bedrooms and 5 bathrooms.
Location: Weligama, Matara, Southern Province
Price per night: 51,271 INR
Ratings: 5/5
Website
3. La Cannelle Cinnamon Plantation Villa
It is really an excellent and perfect place to tune with nature. The whole villa is surrounded by trees and greeneries. The villa is about 5 minutes walk from the beach. Sunset and sunrise will be an amazing experience to see from this villa. There is a balcony where you can sit and enjoy the morning tea. There are 2 bedrooms and 2 bathrooms in this villa and all are well maintained.
Location: Weligama, Matara, Southern Province
Price per night: 18,735 INR
Ratings: 5/5
Website
Suggested Read: 7 Best Hostels In Weligama For A Budget-Friendly Stay In Sri Lanka
4. Kumara Luxury Villa
A villa is a perfect place for relaxation and enjoyment. The whole ambiance is very nice and people can stay here freely. You can easily watch the local wildlife from this villa. There are house staffs that can cook special and delicious dishes for the guests. If you sit in the balcony you will see various types of birds in the trees. Sometimes you can also find monkeys. It will be a great time to spend here.
Location: Weligama, Matara, Southern Province
Price per night: 42,315 INR
Ratings: 5/5
Website
5. Shantha Surf Villa
The villa consists of 3 bedrooms and 3 bathrooms. By sitting in the balcony you can enjoy the beautiful sunset on the water of Kada Baddegama. This is really a fantastic experience. The villa is very cozy with comfortable furniture and beds. The whole atmosphere is also great. There is a big lobby area at this villa. The villa is perfect for two small families.
Location: Weligama, Matara, Southern Province
Price per night: 916 INR
Ratings: 5/5
Suggested Read: 10 Gorgeous Villas In Kalutara One Must Visit To Experience A Lavish Stay In Sri Lanka!
6. Colonial Villa
Comprising of 3 bedrooms and 3 bathrooms the villa also provides air conditioners in all the rooms. The villa is located just 5 minutes from the turtle bay and the city. There are staffs who take utmost care of the guests. All the rooms have the basic facilities that are quite nice. You can also sit on the balcony and spend a good time.
Location: Weligama, Matara, Southern Province
Price per night: 3,173 INR
Ratings: 4/5
7. Villa Polhena
The 2 bedroom and 2 bathroom villas are located very close to the Polhena beach, Sri Lanka The kitchen is fully equipped with the latest things like dishwasher, chimney, micro oven, etc. Almost all the things are well maintained and neat. This villa is ideal for a small family. Even a solo tourist can also opt for this villa. The whole stay will be perfectly fine in this villa. The rooms are very spacious.
Location: Weligama, Matara, Southern Province
Price per night: 6,065 INR
Suggested Read: Talalla Beach: A Guide To The Most Serene Sri Lankan Beach With Turquoise Waters
8. Villa Summer Style
This villa is very stylish and made with the present fashion. Most of the things inside the villa are very colorful and matched with each other. There are two floors in the villa and all the rooms are very well maintained. The bathrooms have geysers and other facilities. Free wi-fi facility is given to the tourists. In addition, they can spend time watching TV and listening to music. The rooms have modern beds with high –quality bed sheets. Other things are also provided by the villa owners.
Location: Weligama, Matara, Southern Province
Suggested Read: Anuradhapura Homestays: For A Relaxing Vacation Amid The Stunning Sri Lankan Landscapes!
9. Dilana Villa
This villa offers perfect accommodation with furnished rooms and bathrooms. There are good facilities that are provided to the tourists. These are satellite televisions, free wi-fi access, furnished kitchen, etc. People will really enjoy staying in this place. Free parking facility is also provided to the guests. The villa remains filled with people especially during the weekends and during special occasions. So it is better to make a prior booking before planning to go there. Without booking it is not a wise decision to come to this villa. Most of the villas have their own developed websites and the booking can be done through such websites.
Location: Weligama, Matara, Southern Province
10. Pradee Villa
It is located in a bit remote place, but the beauty of the villa cannot be described in words. The facility of hiring a motorbike and rental cars is also available. It is best to take those services. There is also one common lobby area that can be used by the tourists. There is some open space in the villa that can be used for sitting and other outdoor activities. The villa comprises of 3 bedrooms and 2 bathrooms. It will really be a great experience to stay in this villa.
Location: Weligama, Matara, Southern Province
Further Read: Tangalle Beach: A Handy Guide For Exploring This Sri Lankan Beauty!
If anyone is willing to explore Sri Lanka then they can initiate the plan. There are ample places of residence in Sri Lanka. Most of the places are perfectly made for the tourists. Sri Lanka is a very beautiful land. It seems that it is a paradise. Every year many people come to this beautiful place for exploring and cherishing its beauty. There has been a great development in this country within a few years. Now it is the perfect time to discover the Weligama villas. So, get packed and book your trip to Sri Lanka right away as you will surely love the stay and the whole ambiance of these villas!
---
Looking To Book An International Holiday?
Book memorable holidays on TravelTriangle with 650+ verified travel agents for 65+ domestic and international destinations.
---