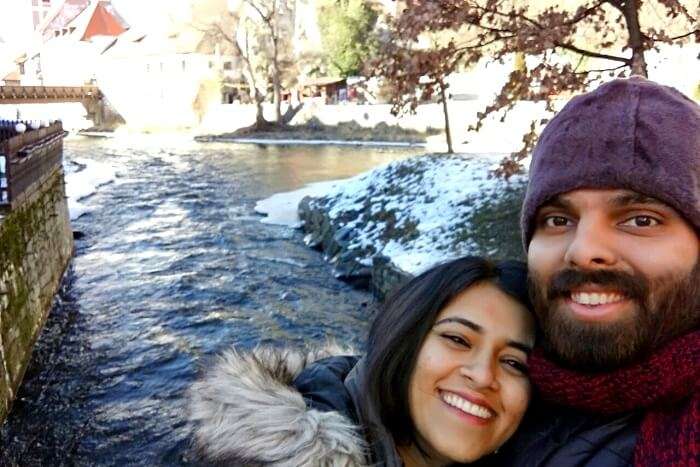 The real beauty of Europe lies in its roots, its real gems are found by walking that extra mile, and real love is found while opening up to new experiences. Vishal went on a 10 nights/ 11 days honeymoon trip to Europe, trying authentic cuisine, witnessing incredible cities, and checking off items of his bucket-list.
Trip duration: 10 nights/11 days
Trip cost: INR 2,40,000
Trip inclusions: Flights, transfers, accommodation, sightseeing, and breakfast
Month of travel: February
Weather: -3 degrees to 16 degrees celsius
Visa Requirement: Schengen Visa
We were pretty much decided on which cities we wanted to visit in Europe. I got to know about TravelTriangle via an internet advertisement. After submitting a query on their page, I soon got a call from a TravelTriangle destination expert to understand my requirements. I selected the package given to me by Travel Troops Global Pvt Ltd.
We were chuffed to bits as the journey of our lifetime was taking shape. To spend time on a trip to Europe with my wife was a blessing in itself.
Paris: The city of love
Honeymoon Trip To Europe : Finding Love In The Bohemian Heartland
We boarded the flight from New Delhi, and arrived in Paris at 4 pm. We took a cab from the airport and checked into the centrally located Hotel Gaston. Afterwards, we decided to go out at 7 pm and visit the Arc De Triomphe. Although it was quite cold, the romantic spark of the city was still alive.
Visiting historical monuments in Paris
Next morning, we were planned for a trip to Versailles Palace and Grounds. We were told to assemble at Louvre, from where we would board a bus and commence our trip to Versailles. With the help of an audio guide in our preferred language, we completed the sightseeing tour.
Post lunch, we visited the Aerospace Museum, which surprisingly didn't have many people on that day. The museum was near the airport, so by the time we reached back to the hotel it was already 7 pm. Afterwards, we had dinner outside and called it a night.
Most Popular Euro Trips To Plan 2022's Ultimate Escape
Experiencing the magic of Disneyland in Paris
Honeymoon Destinations In Europe: Explore The Lesser Known Gems In 2022
The next day of our trip to Europe was spent entirely in Disneyland. It was a thoroughly enjoyable day as we spent an entire day roaming around the park visiting rides, buying souvenirs, and movie theme based attractions. We left Disneyland at 7 pm for dinner, and subsequently went back to the hotel for the night. Yet another item checked off our bucket list. Our favorite ride was The Buzzsaw .
10 Cheapest Cities In Europe Where Backpackers Can Travel On A Budget!
Witnessing Mona Lisa and the Eiffel Tower
The next day, we started with a visit to the Louvre Museum. We visited the Museum to see the world's most famous painting- the Mona Lisa. We spent around 3 hours at the Louvre seeing various works of art before leaving for lunch.
Post lunch, we took a romantic Seine River Cruise that took us around Paris, in a charming boat. As the cruise ended, it was evening and onwards we went to visit Eiffel Tower.
Our final day in Paris ended with a romantic dinner at the top of the Eiffel Tower. At times like these on our trip to Europe, I felt frozen in time.
Useful travel tips for Paris
Louvre Museum is huge. It's better to buy a guided audio tour or you'll get lost in the maze of hallways and miss the artworks you want to see.
I felt one day wasn't enough to explore Disneyland. There were two parts to Disneyland and each part had 40-50 rides. It is advisable that people should stay at the Disneyland Hotel for one night.
Dispelled a myth that Disneyland is for kids. In fact, it has a lot to offer in terms of rides and attractions for adults.
The food on our trip to Europe, and especially in Paris, was delicious. Despite being vegetarians, we enjoyed the traditional sweet delicacies of France like croissants and doughnuts. Although, the food in Europe mostly consists of various types of meat, my wife and I decided to have only continental food on our trip to Europe.
31 Traditional Festivals In Europe That Will Up The Fun Factor Of Your Euro-Tour In 2022
Hotel review
We had a comfortable stay at the Hotel Gaston. The rooms were a bit small, but overall the amenities were pretty good, hotel was centrally located, and the staff was very courteous.
My rating: 3.5/5
Prague: Nightlife and the Old European charm
The next day, we had breakfast and checked out of the hotel in Paris. We took an afternoon flight and arrived in Prague at 5 pm. We checked into the hotel and afterwards, went outside to explore the Venceslav Square. We tried a few pilsner beers, and then local cuisine for dinner.
Sightseeing in Prague
Why Sabyasachi's Trip to Europe Is The Mother Of All Vacations For Art, Culture and Luxury!
The next day of our trip to Europe, began with a sightseeing tour of Prague. We boarded the bus and visited the Prague Castle and the Old Town. We spent a few hours in The Old Town, which had a lot of places to visit like a clock tower, church, and a museum.
In the evening, we visited the iconic Charles Bridge followed by a romantic dinner cruise in the Vltava River. Prague at night, is one of the most scenic places I've ever seen.
Day trip to Cesky Krumlov
This day we went for a day trip to the quaint and scenic town of Cesky Krumlov. Post breakfast, we boarded the sightseeing bus at 10 am and reached Cesky Krumlov at noon. The town was even more beautiful than it looked in the pictures.
Kaushic's Trip To Europe: The Perfect Vacation For A Family That Loves To Travel
Covered in a white blanket of snow, the town felt like we entered a set of the medieval movie. The town and it's edifices were more than 500 years old. It had a lovely church, fantastic alleyways, and charming restaurants. We left Cesky Krumlov at 5 pm and arrived back at the Park Inn Hotel, Prague.
Later in the evening, we went to the grounds of the Prague Castle and spent a couple of hours with each other. Post dinner, we returned to the hotel at 10 am and rested for the night.
Useful tips for people traveling to Prague
Try the local pilsner beer, as Czech republic is one of the oldest places in the world to have breweries.
Cesky Krumlov is a highly recommended place for everyone going on a trip to Europe.
Book a hotel which is centrally located, which in turn will save you lots of money in transfers.
Exchange your money at the hotel in Prague, they gave the best rates.
Hotel Review
Park Inn Hotel was the best place we stayed on our trip to Europe. It was close to the river, tram station, and all the famous monuments. The food was excellent, amenities were top class, and the staff made efforts to make our stay special.
My rating: 4.5/5
Rome: Witnessing the history of Europe
The next day, we had a late breakfast and checked out of the hotel in Prague. With another afternoon flight, we arrived in Rome at 5 pm. We checked into the Hotel Villa San Lorenzo Maria, and rested for a while. In the evening, we didn't do much except visit a restaurant for dinner and go back to sleep.
Sightseeing in Rome
DO NOT Leave For Europe Without Packing These 8 Things
This day on our trip to Europe, we went on a sightseeing tour in Rome. We started at 11 am by visiting the Colosseum and Roman Forum. We took a break for lunch, and then continued by visiting the Pantheon and the Trevi fountain till the evening.
Sitting at the Trevi fountain just after sunset and soaking in the vibrant atmosphere was just incredible. After having dinner at yet another street restaurant near Trevi, we returned back to the hotel and called it a night.
Seeing the Pope in Vatican City!
On the penultimate day of our trip to Europe, we visited the Vatican City. We took a metro rail to Vatican and arrived at 8.30 am. When we arrived, at the church right next to the St Peter's Basilica, we found out that the Pope will be addressing the mass at 9 am. So with a stroke of luck, we got a rare sighting of the Holy Father. Afterwards, the guide accompanied us to the Vatican Museum.
Post lunch, we visited the stunning Castle St Angelo built just outside the Vatican city. Our guide also told us that we could visit a restaurant at the top of the castle. Surprisingly, not many tourists knew about that cafe making it a nice secluded and peaceful spot. In the evening, we returned to Rome and celebrated my birthday. My wife arranged a cake for me to make my birthday all the more special. We ended the day with champagne and dinner.
The next day, we had breakfast and checked out of the hotel in Rome. We left for the airport at noon and took our flight to back India at 3 pm.
Europe Tour: The True Essence Of Europe Captured In A Span Of 8 Days
Hotel Review
I felt that the Hotel Villa San Lorenzo wasn't modern in it's amenities. The building, rooms, and amenities had an outdated feel to it Also, the hotel was located far away from all the touristy locations. Although, it had a bus stop, but the bus services stopped at 10pm and after that the only option left was taking a cab.
My rating: 3/5
Useful tips for people traveling to Rome
Have delicious and economical food at the food stalls right in-front of the Colosseum and the Trevi fountain.
Buy a Roma pass that gives free access to public transport and free into two museums for 72-hours. The pass costs EUR 38.50 per person for an adult.
Take a guided tour of all the major places of Rome like Colosseum, St Peter's Basilica, and the Pantheon because otherwise it becomes hard to cover the best aspects of these famous monuments.
Buy skip-the-line passes to visit St Peter's Basilica, Colosseum, and other famous places in Rome or else you'll end up wasting two or three hours in the entrance queue.
Wanted to visit the Catacombs in Paris and Rome, but due to the lack of time we couldn't. It is highly recommended for history lovers to visit this place on their trip to Europe.
What began as idea to cover the famous places of Europe on a honeymoon with my wife, became a reality and exceeded my expectations thanks to TravelTriangle. A major portion of our bucket-lists as a traveler got covered in this epic trip to Europe.
Not only did we visit few of the most beautiful and culturally rich places in the world, we also fell in love with each other more than ever. I never could have imagined going on this adventure with anyone else other than my wife. A true blessing for us, in the form of a charming honeymoon trip to Europe.
Best moments of our honeymoon trip to Europe:
Seeing snow in Prague and Cesky Krumlov was a memorable experience.
Visiting Disneyland in Paris was my most enjoyable day in Europe.
Low points:
The hotel in Rome could've been better.
Dreaming of a similar honeymoon? Book the perfect Europe honeymoon package and relive the history and love of Europe!
---
Looking To Book An International Honeymoon?
Book memorable honeymoon on TravelTriangle with 650+ verified travel agents for 65+ domestic and international destinations.
---
Comments
comments