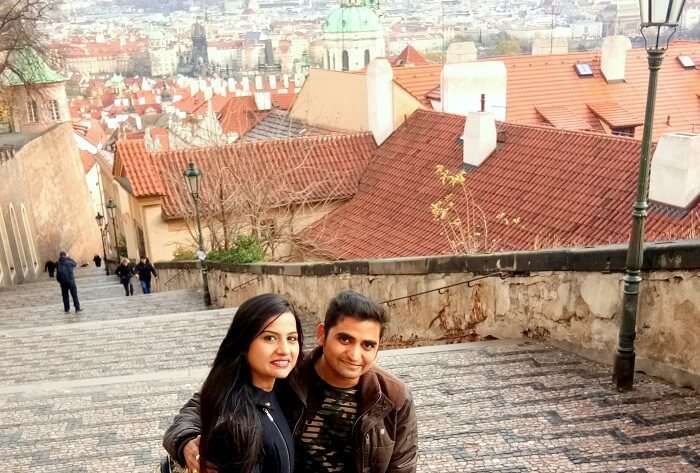 Pick up your pen and take note of Vitrag's incredibly informative 8 nights/9 days romantic vacation to Central Europe. Make the most of his experience as he traveled through the heart of cultural and historic Europe, to witness some of the most incredible sights a traveler can witness.
Traveling has come naturally to me ever since I was a kid. Exploring fascinating places with my family was the thing I looked forward to the most. Years went by, but the passion for travel never waned.
Luckily, my wife also shares a passion for travel that compelled us to plan for a romantic trip to Europe. For the past few years, many of our friends and family had traveled to Europe and come back singing countless praises for the land. That motivated us, even more, to write our own fairytale adventure to epic cities like Vienna and Prague.
Our Romantic Trip To Europe Was No Less Than A Second Honeymoon
Details of our romantic vacation in Central Europe
I got to know about TravelTriangle when I researching for Europe tour packages on Google. I downloaded their app and submitted a request for a quotation. Their service was incredible as I had 24*7 support even before the package was booked.
The price given to us by Pick Your Trail was reasonable for a 9 day romantic trip to Europe. Had I done all of the bookings myself, it would have cost me more or less the same. But to let someone else handle the headache of arranging everything was worth the investment.
Trip Cost: INR 2,03,000
Trip Duration: 8 nights 9 days
Agent Name: Pick Your Trail
Inclusions: Flights, transfers, accommodation, breakfast, sightseeing, and visa assistance
Exclusions: Meals, extra expenses, and entry fee
Itinerary of our romantic trip to Europe
Day 1: Arrive in Vienna- transfer to hotel- overnight stay at hotel
Day 2: Breakfast- full day Vienna Hop On Hop Off Bus Tour- overnight stay at hotel
Day 3: Breakfast- leisure day in Vienna- overnight stay in Vienna
Day 4: Breakfast- check out from hotel- train to Salzburg- leisure day- overnight stay in Salzburg
Day 5: Breakfast- full day Hop-On Hop-Off City Tour- overnight stay at hotel
Day 6: Breakfast- check out from hotel- train to Prague- overnight stay in Prague
Day 7: Breakfast- full day Hop-On Hop-Off City Tour- river cruise- overnight stay in Prague
Day 8: Breakfast- full day Cesky Krumlov sightseeing tour- overnight stay in Prague
Day 9: Breakfast- check out from hotel- transfer to airport- return flight to India
Check-list before going on a romantic vacation in Central Europe
Top Places To Visit In Europe With Friends For A Kick-ass Holiday Like Ours
As a traveler, I am very particular about the little details of the trip I'm going to. Being a vegetarian provides another set of challenges in Europe. Therefore, there were certain things we kept while traveling as a couple to Europe.
1. Flight seat selection
Do an early web-check in and select the flight seats yourself. If you are a couple, there are some rows having only two seats. Couples should select a row having two seats on the extreme left or right side (one window seat). Before leaving, it is wise to check premium economy fare. If the fare is not much higher, I recommend an upgrade to Premium Economy over Economy for flights having a duration of more than 8 hours.
2. Travel card
You can either buy travel a card from your bank (ICICI or axis or HDFC preferably) or a one currency card from other travel retailers. If you are traveling to a single country, opt for a single currency card at your bank and vice-versa.
The benefit of issuing a card from your own bank overtaking a card from a travel retailer is that you can recharge your bank-issued travel card online if you need more money, while the external travel retailer cards don't have an option to recharge the card further.
3. Sim card
If you buy a matrix or any other sim card from an airport, it would cost more than INR 2,500-3,500. Instead, I bought a B-Free sim card for 10 Euro from a convenience store in Vienna, and activated the B-Free large package, which gave 1000 minutes, 1000 SMS, 7-8GB data for 30 days valid for entire continental Europe without any extra roaming charges.
4. Hotels
In hindsight, I felt that spending big money on European hotels (at least in Vienna, Salzburg, and Prague) is not worth it, as none of them offer four-star hospitality. They don't accompany you to your room and show amenities, they don't send someone for luggage assistance, and they charge for everything ranging from water to adapter for charger.
For vegetarians- not much food is available for breakfast except bread, butter, and fruits). Therefore I feel booking a cheap hotel or an Airbnb is much wiser. In a rented apartment, vegetarian travelers can have an entire kitchen to themselves wherein they can cook food for themselves.
Make sure of mentioning about the need for a double-bedroom if you are a couple, else you might get a room with two single beds. Make sure about specific room view you want while booking– Garden facing, city facing, interior view, exterior view etc depending on hotel prices and reviews.
Check for nearby vegetarian or Indian restaurants while selecting a hotel.
Vienna: The best of history and culture in Europe
Ideal duration: At least 2-3 days recommended
The preferred mode of transport: Public transport is great if you research about directions, pickup and drop points, bus/tram/metro routes etc. All these details can easily be obtained from Google Maps.
Our tour operator booked a Hop-On Hop-Off City Tour from Vienna sightseeing company. The tour was great as we were given an audio guide inside the bus and wifi. The city tour has four lines (Red, Green, Yellow, and Blue).
Our Trip To Europe Was Every Foodie's Dream Come True!
Places we covered in Vienna:
Red Line: Opera House and St Stephen's Cathedral near Opera House
Blue Line: Giant Ferris Wheel & Madame Tussaud's Wax Museum and Danube tower
Yellow Line: Schönbrunn Palace
Salzburg: Mozart's backyard
Ideal Duration: 2 days minimum. If you have time, 3-4 days.
We booked a full day Hop-On Hop-Off City Tour and the Bavarian Mountains and Salt Mines Tour next day.
We didn't like the Hop-On Hop-Off City tour in Salzburg. We could have explored the city on our own in a better way using public transport. After talking to other travelers, we found out that the Sound of Music Tour was better than the sightseeing tour itself.
Places we covered in Salzburg:
Salzburg Fortress (Hohensalzburg Castle): A must-visit castle with entry fee at EUR 15 per person for a standard ticket. We needed at least 5 hours to explore the castle. Although, travelers can spend the whole day over there.
Old Town: A common attraction in every big city in Europe, the Old Town was a charming throwback to time.
Mozart bridge: A romantic area nearby the train station. Loved the quiet and peaceful stroll we took around the place.
Bavarian Mountain and Salt Mine Tour: This tour was the best part of our romantic vacation in Europe. The full-day tour was filled with picturesque views and breathtaking scenery.
A Romantic 10N/11D Honeymoon Trip To Europe
Restaurants in Salzburg:
Spicy Spices: (Must visit if you are Indian/pure vegetarian)
Organic pizza: Serves vegan pizza
Lucky Food Truck near Mirabell Palace (adjacent to the Church)
Prague: The lively party city of Central Europe
Ideal Duration: 3 days
Our romantic vacation in Central Europe carried on to our final destination- Prague.
We had a Hop-On Hop-Off City Tour in Prague which included a 90-minute Prague Castle Tour, one hour Jewish Quarter Tour, and an hour-long Vltava River Cruise. We really enjoyed all these tours in Prague, but it is recommended to book a separate one-day guided tour by using public transport.
Places we covered in Prague:
Old Town Square and nearby streets
Prague Castle: A must-visit place that should be discovered with a guided tour. We took almost 3 hours to complete the tour.
Charles Bridge: Considered as the most romantic spot in Prague, this bridge had an undeniable charm.
Cesky Krumlov day tour: Another town that is a must visit for travelers going to Prague. Located 180 km from Prague, Cesky Krumlov can be visited on a charming 9-10 hour guided tour by Prague Bus Tours agency which includes lunch and pick-up drop from your hotel.
Amazing Places To Visit On A 9N/10D Honeymoon To Europe
In the past 9 days, my wife and I were lucky enough to visit some of the most pristine destination on our romantic vacation in Europe. We saw the best of art, culture, and history in three fabulous and dynamic cities that are renowned for its glorious past.
Special thanks to TravelTriangle and Pick Your Trail for providing round-the-clock assistance and making sure that nothing goes wrong on our romantic vacation in Central Europe. My wife and I both admired traveling with a setup that was so efficient, effortless, and enjoyable.
Certain things to keep in mind while traveling in Europe:
Water is chargeable at every restaurant. However, tap water is free and drinkable.
If you are a vegetarian, make sure you ask either for vegan food or vegetarian food without eggs and fish. They may not understand vegetarian and may consider eggs and fish in vegetarian.
Don't exchange your currency at an airport or a train station, as they charge a higher convenience fee for exchanging money.
Carrying gloves, cap, and muffler along with jackets to a winter destination is a must
Central Europe has some gems that every traveler should cherish. Book your Europe tour package and witness the magic of medieval art, culture, and history!
---
Looking To Book An International Honeymoon?
Book memorable honeymoon on TravelTriangle with 650+ verified travel agents for 65+ domestic and international destinations.
---
Comments
comments