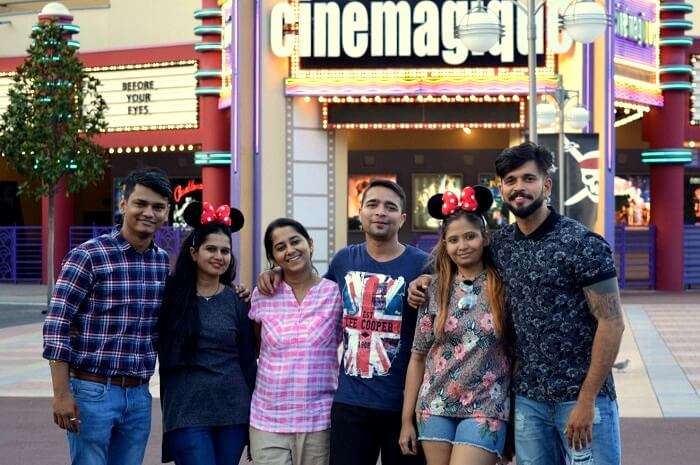 All of us have one place on our bucket list, which we yearn to explore until we finally tick it off, and in our case it was Europe. While everyone loves to wander for the fulfilment of their own desires, I travel because it helps me create new memories with my loved ones. And so, taking the decision of exploring the places to visit in Europe with friends was the best thing my wife and I did!
Since I prefer luxury over adventure any day, and love having a holiday that's not only hassle-free, but also soul-satisfying, I was looking for someone to plan our Europe trip. While looking up for agents online, I came across TravelTriangle and their packages immediately caught my attention. It was really impressive to see how they helped us get in touch with the best travel agent, and managed our whole holiday so efficiently.
Our Trip To Europe Was Every Foodie's Dream Come True!
Trip Type: 10 Days 9 Nights friends trip
Cost: INR 2,46,942 for my wife and me from Hub HolidayCom
Inclusions: Airfare, accommodation, city taxes on hotels, breakfast, transfers from and to the airport, sightseeing, GST, transport tax, and travel insurance.
Exclusions: Lunch, dinner, Visa assistance, and Visa fees
Here's a brief itinerary of our 10 days trip to Europe with our friends:
Day 1, 2 & 3 in Paris: Stay at Hotel Villa Royale Montsouris, visit Disneyland, Eiffel tower, Louvre Museum, Notre Dame Church, and spend the evening on a cruise
Day 4, 5 & 6 in Switzerland: Visit Zurich, Chocolate Factory and Glacier Museum in Lucerne, enjoy a ferry ride, take a cable car ride to Mt. Titlis, visit the Hanging Bridge; further head to Interlaken and Grindelwald, and explore its streets
Day 7 & 8 in Italy: Explore the streets of Venice, walk on the Rialto Bridge, hop-on hop-off ferry ride for visiting various churches and other attractions; Head to Rome via train, stay at Hotel Palladium
Day 9 in Vatican City: Leave for Vatican City, take a guided tour of the city, and explore the streets
Day 10 in Italy: Return to Rome, visit the Colosseum, shopping, and then leave for the airport
Spellbinding Places To Visit In Europe With Friends
During the 10 days in Europe, we explored and witnessed quite a lot, and it felt magical. A small tour of three countries, and their splendid beauty made it an experiential holiday, and here's why you must visit them too.
1. Paris: Falling In Love
Top 20 Things To Do In Switzerland On Your Europe Holiday In 2022
Paris is rightly called the city of love, and there is no denying that our Europe trip kick-started on a romantic note because of this place. We arrived at the Paris Airport around 6:30 in the evening and reached our hotel by 9. Even though the hotel was located in the heart of the city, there wasn't much left to do since most of the eateries and stores had closed down. To our luck, we found one Indian restaurant for dinner and called it a day post satiating our hunger pangs.
The next day of our trip was loaded with fun and unique experiences. While I had been to Disneyland Hong Kong in the past, the Disneyland here was way better. A whole day here made every moment a beautiful memory, and seemed absolutely perfect for the kid in us.
The last day in Paris was quite eventful. We ditched the hop-on hop-off bus and took the metro to experience a comfy local feel. The 24 hours metro pass cost us 23 Euros for two people.
DO NOT Leave For Europe Without Packing These 8 Things
From visiting Louvre Museum to the Notre Dame Cathedral, it felt like we had seen the secrets behind Paris' beauty. But, to our surprise the Eiffel Tower is actually the most shining gem in the crown of this city, and also one of the best places to visit in Europe with friends. While the Mona Lisa painting in the museum left us in awe, the view of the tower at night sweeped us off our feet.
Top 20 Things To Do In Switzerland On Your Europe Holiday In 2022
What made the day even better was the cruise ride in the evening. The view of the city from it was gorgeous and all of us were smitten by it. After the ride, we took a long walk till the Lock Bridge, saw a lot of live street performances, and indulged in the local cuisine on our way back to the hotel.
2. Switzerland: Touring Zurich, Lucerne, Mt. Titlis, Interlaken, and Grindelwald
The morning of the fourth day of our trip, we took the Eurorail for Zurich, Switzerland. As soon we reached the city, we took a Swiss pass which granted access to all the public transport, museums and other activities for free.
Post that, we headed towards Lucerne and reached there by 4 in the evening. The exploration started with the Glacier Museum from where we went to the Chocolate Factory, and then took a ferry ride. The lake seemed beautiful and serene. It was more than a one hour ride, and the historical tales of the audio-guide made our experience more enriching.
The next morning, we checked out of the Ibis Styles Luzern City Hotel in Lucerne, kept our luggage in the holding area, and boarded a train to Mt. Titlis. Upon reaching the base of the mountain, we took the 360 degree cable car ride to reach the top. The view of Switzerland from the summit was breathtaking.
Our Trip To Europe Was Every Foodie's Dream Come True!
Next, we walked up to the Hanging Bridge and spent quite a few memorable moments there, after which we took a train back to Lucerne, picked up our luggage and headed to Interlaken. Fortunately, it was the Swiss National Day and the whole town was celebrating with fireworks. It was undoubtedly one captivating sight.
We spent another day in commuting to Grindelwald, where we took the cable car to reach the summit of a town called First, which is known for adventure activities like parasailing and zip lining. From here, we left for Interlaken again in order to reach Zurich since there was no direct rail connectivity between Grindelwald and Zurich.
Here's How To Spend A Weekend In Most Beautiful European Cities
The last day went by in exploring the city of Zurich. Brimming with spectacular architecture, it is amongst the beautiful places to visit in Europe with friends. We also visited the shopping streets and then the Zurich Lake before taking an overnight bus to Venice.
3. Italy: Living like the Venetians and Romans
We reached Venice at 8:30 in the morning, and relaxed for a while after checking into Hotel Garibaldi. Being in Italy called for a pizza and we couldn't resist ourselves for long. After lunch, we headed to the Venice Island, where the weather was pretty hot. Instead of giving up, all of us decided to still explore the city with the help of Google Maps.
The canals, the bridges, and everything around looked right out of a movie, and it was a treat to our eyes. If you love photography, I can vouch that you wouldn't be able to keep your camera away for long.
Googling our way to the Rialto Bridge, we came across a lot of shopping stores and eateries. To our surprise, Venice also had budget vegetarian restaurants. Though, the highlight of the day was meeting the richest guy of India – Mr. Mukesh Ambani in the middle of the shopping streets of Venice. Interacting with him was an out of the world experience, and an absolute delight.
10 Most Beautiful Rivers In Europe For Cruise Journeys
The next day, we got on the 24 hour hop-on hop-off ferry ride, and explored the famous churches and various islands in Venice. After seeing the making of Morano glass, we came back to the station and boarded a train to Rome.
Upon reaching Rome around 11:30 in the night, we checked into Hotel Palladium. The city looked great even at night, just like a picture taken out of a history book. The Colosseum was one of the most charming sights in Rome, and I'm glad we could witness its beauty on a Sunday morning.
12 Best Places To Visit In Estonia In 2022 For Seeking The Ultimate Adventure
4. Vatican City: A historical day out
On day 9th of our Europe trip, we visited the Vatican City. This place seemed crowded and taking a guided tour to learn about the city seemed like a better option. Our guide took us to different attractions and narrated everything so well, that it felt like we were in a documentary.
15 Free Things To Do In Europe For Backpackers And Budget Travelers
We also wanted to explore a nearby fort, but because of its entry fee we, decided to drop it, and took a hop-on hop-off bus to return back to Rome.The last day was mostly spent shopping, after which we bid farewell to Europe and left for the airport.
Overall, it was one hell of a holiday! We did miss out the Gondola ride and the view from the top of the Eiffel Tower, but the rest of the experiences made up for it. Needless to say, Paris, Switzerland, and Italy are great places to visit in Europe with friends .
High Points Of Our Trip To Europe
Witnessing the beauty of the Eiffel Tower at night
Sailing through Venice
An evening in Rome, and visiting the Colosseum
The gorgeous views from Mt. Titlis
Tips For Future Travelers
A water bottle costs nearly around INR 1000 in Europe, prefer carrying an empty bottle to save money. The streets have a proper provision of drinking water.
Commute via public transport like the hop-on hop-off bus or the metro since it saves a lot of money, and also offers a great experience of exploring the city.
Most of the hotels have friendly and experienced staff, take their inputs for your trip itinerary since it can make your overall experience a lot better.
The Notre Dame Cathedral is a beautiful place to visit in Paris. It's vibrant and is lined with shopping stores and eateries. Make sure you visit there.
The Eiffel Tower is no ordinary place, and you will surely agree with me once you see it with your own eyes. Just try and schedule your visit in the evening. There is nothing better than the view of the well lit tower.
The currency accepted at most of the places in Switzerland is Swiss Francs, so avoid carrying too much of Euros. Prefer having a Credit Card with you for all your transactions.
Pack an extra windcheater, warm cap, and gloves.
Don't forget to take a good camera along.
Our Europe trip with TravelTriangle was an extraordinary affair, absolutely hassle-free and super well managed. I'm glad that we booked our trip with them and had the time of our lives!