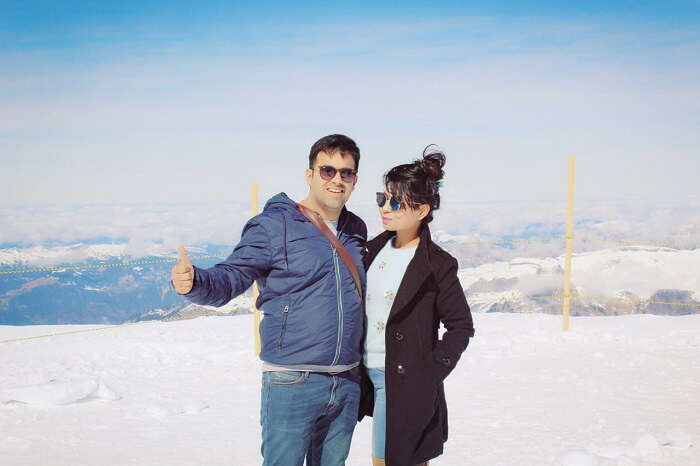 Culture, history, significance, and natural beauty is something you'd find best of on a 9 night-10 day package honeymoon trip to Europe. Kunal and his wife traveled to London, Paris, and Switzerland to realize their dreams of visiting an incredible continent with unparalleled beauty and deep cultural heritage.
Trip Duration: 9 nights/ 10 days
Trip Cost: INR 2,90,000
Agent Name: Duniya Safari
Month of Travel: March 2017
Inclusions: flights, transfers, accommodation, breakfast, sightseeing, and train pass
Exclusions: other meals, entrance fee, visa fee
The planning our dream honeymoon began well in advance. We got married in December 2016, but our package was booked in June 2016. We decided to visit Europe in March 2017, as we wanted to wait for the cold winter months to get over and visit the continent in a slightly mild season.
The places we covered in Europe were always a dream destination for me while growing up. As an Indian kid coming from humble beginnings, the culture and movie influence at home certainly played a part in inspiring me going to all these amazing cities in Europe with my wife.
Must Visit Places On A 10N/11D Honeymoon Trip To Europe
As luck would have it, my wife as well was fond of Europe and had never been there herself. So, the decision was made easily and the only hurdle left was attaining a visa for all of places.
Day 1: The adventure to Europe begins
We boarded our flight from New Delhi that flew via Istanbul to London. We arrived at 4 pm and proceeded towards the hotel for check in. As soon as, we drove into the city, for me it felt like love at first sight. The culture, people, architecture, and the environment had me loving London already.
Our hotel was near the Westfield Mall, a grand and luxurious mall which is equivalent of thirty football grounds! We visited the mall, and explored the place as much as we could. Over there I bought a European sim card, and had Indian food for dinner. The food options in London were great. No excuses for homesickness in terms of food atleast.
A Romantic 10N/11D Honeymoon Trip To Europe
Review of Copthorne Tara Hotel:
On our first day, we were disappointed on seeing how small the rooms were. We got our rooms changed the next day.
Our rating of Copthorne Tara Hotel: 3/5
Day 2&3: Sightseeing in the bright red bus
With our two-day pass for a Hop-on Hop-off bus service, and London eye we decided to explore the city. It felt convenient for us to have all passes arranged for the major monuments so that we didn't waste time during the trip trying to sort out where to go.
Traveling in the traditional open-roof bus, it was a memorable experience. The weather held up pretty nicely for us and we even managed to get in a day of sunshine in London (which is pretty rare in March).
We started by visiting the Buckingham palace, followed by the horse guards parade and finally the London bridge. We went to the top of the tower which had a glass viewing box.
Ticket cost (London Bridge Tower): INR 800 (ticket was available in the bus only).
We started with the red line of the sightseeing bus service. We clicked a lot of pictures at London Bridge. From there we boarded our river Thames cruise that took us to London Eye.
Kaushic's Trip To Europe: The Perfect Vacation For A Family That Loves To Travel
We returned later at night, well past the closing time of the sightseeing bus schedule. As a result of that, we had to walk a few kilometres, which to be honest, in a city like London didn't feel taxing because after every street we were witnessing something new and unique.
That very day I had walked around 7-8 kms in London while sightseeing. Normally, I won't do that back home, but I guess the cities of Europe were fascinating enough for me to explore them by foot.
Bus tour 2 day pass cost: INR 2,400
The next day, the Hop on Hop off bus tour continued. We decided to check out the blue line route. The first stop was Madam Tussauds, but we didn't go inside because the queue just to enter the museum was too long. So instead, we saw the Hyde Park, Lancaster Gate, and Piccadilly. We returned to the hotel a bit early at around 4 pm and rested for a while.
A few hours later, we went back to the Westfield mall in the evening for shopping. I got myself some clothes from Zara, and a few souvenirs for my family. For dinner, we had indian food again in that mall at a restaurant called Indigo which served authentic Indian food like aloo sabzi and poori chhole.
Day 4: Traveling to the city of love
Why Sabyasachi's Trip to Europe Is The Mother Of All Vacations For Art, Culture and Luxury!
The next morning after breakfast, we boarded a train ride from London to Paris. The train had wifi and a nice canteen for its passengers.
The moment we got off the train in Paris, cab drivers started hounding us for a taxi ride. There was full bargaining going on as the taxis didn't have meters for use. So finally, a taxi we bargained with, charged us INR 3,500, which we felt was expensive, for a distance that was only 15 mins away from the train station.
After checking in, we had tickets for Eiffel Tower at 4 pm. We adored the beautiful monument for a few hours, clicked pictures around it, and absorbed in the beautiful view. The time spent at the most romantic monument in the world with my wife, was truly special. Later on for dinner, we had Indian food at a Pakistani restaurant.
Review of Mercure Alesia Hotel
We were promised a 4 star hotel, but upon arrival we saw that the quality of the hotel was sub standard.
Our rating of Mercure Alesia Hotel: 3/5
Day 5: Magical Disneyland in Paris
This was one of the best days of our honeymoon trip to Europe. We decided to utilize our free day by visiting Disneyland. Right from the roller coaster rides, other theme rides, and entertainment shows, Disneyland is wonderland for people of all ages.
Again, we faced taxi problems outside Disneyland as the cab drivers wanted figures as high as INR 10,500. Then we finally decided to use the underground train which was much cheaper, and only a five-minute walk away.
Day 6: Moving from Paris to Interlaken
Review of Weisses Kreuz Hotel
The view of the mountains was breathtaking, as we were given a front facing room. Probably, the best hotel we stayed in our trip.
Our rating of Weisses Kreuz Hotel: 5/5
After taking an early morning train from Paris, we arrived at our hotel in Interlaken at 2 pm and had food in a Kashmiri restaurant 2 mins away from our hotel. The best part about Switzerland was it's connectivity of trains. I had gotten a swiss rail pass included in our package which would give us access to as unlimited train rides across switzerland during our honeymoon trip to Europe.
Had fast food on the day we arrived because most of the shops and restaurants close pretty early in Switzerland.
Day 7: Journey to the top of Europe
Honeymoon Trip To Europe : Finding Love In The Bohemian Heartland
The next day, we had a train to the top of Europe- Jungfrau. The train connectivity again, was something that made our stay in Switzerland very comfortable. The station was nearby our hotel and trains leaving to Jungfrau used to arrive once every 20 mins.
We reached Jungfrau after a scenic two hour train ride. As the snow was still fresh, it made for spectacular viewing as the train cut through the snow laden mountains heightening the charm of our honeymoon trip to Europe.
Jungfrau is famous for chocolates, so we decided to taste some. Since we found them so delicious we bought a few more to take back home. Since we got free in Jungfrau at around 2 pm, we decided to take a train directly to Bern to do some shopping.
The only minus point in Switzerland was, that the place is very expensive. We returned back to the hotel in Interlaken for the night
Day 8: Train from Interlaken to Lucerne
Top 20 Things To Do In Switzerland On Your Europe Holiday In 2022
We checked out of Interlaken at 11 am for Lucerne. The train timings were flexible so we weren't worried about reaching the station on time. After arriving in Lucerne, Interlaken seemed average. The city was way more beautiful than I had ever imagined. Even the market in Lucerne was bigger than the ones we saw in Interlaken.
In the evening, we did some shopping in Lucerne and explored the city by foot. Since the evening was free, we pretty much spent time with each other in a picturesque city like Lucerne.
Review of Des Alpes Hotel
The hotel was very beautiful. We had a comfortable stay in Lucerne, as the hotel complimented the beauty of the city.
Our rating of Des Alpes Hotel – 4/5
Day 9: Visit to Mount Titlis
10 Cheapest Cities In Europe Where Backpackers Can Travel On A Budget!
The next day, we traveled to Mount Titlis via train. This train ride was my favorite during our honeymoon trip to Europe. As the train climbs up the beautiful alps, I felt stunned by the views on offer and awestruck by the engineering brilliance that made a rail track cut through the daunting mountains.
After the train ride, we took a revolving gondola ride to the top of Mount Titlis. I've done Gondola rides in India before, but this was by far the most scenic and longest (20 minute) gondola ride we've ever been to.
Even at the top of Mount Titlis there are some lovely restaurants (where we had food) and chocolate shops for tourists. We spent a few hours at the top admiring the view and clicking pictures before we started back for the hotel in Lucerne.
Day 10: Saying goodbye to Sweet Switzerland
DO NOT Leave For Europe Without Packing These 8 Things
Finally, came the final day of our honeymoon trip to Europe. We checked out of Des Alpes Hotel in Lucerne and took a train to Zurich. From there on, we bid adieu to our adventure in Europe to head back home to New Delhi.
With stories, gifts, souvenirs, and countless memories, my wife and I flew back home from an unforgettable honeymoon trip to Europe. We both felt closer to each other with our bond strengthened for the new chapter of our lives. After this trip, I'm certain that this wasn't the last time we traveled to all these places.
High Points:
Time spent in London was memorable. The culture and atmosphere of the city was special. Next time, would love to go there for a longer time.
The scenic beauty of Switzerland had both of us enchanted.
The best place we visited on our honeymoon trip to Europe was Mount Titlis.
Low Points:
The hotels in London and Paris could've been better.
Paris didn't live up to our expectations. Felt a little unsafe during our stay.
Tips to travelers:
Buy swiss pass which gives you access to unlimited free train and bus rides within the duration of your pass.
London is great place to visit for people who love to shop.
Travel across Europe and fall in love with its history and culture Book your Europe honeymoon package and enjoy like Kunal did!
---
Looking To Book An International Honeymoon?
Book memorable honeymoon on TravelTriangle with 650+ verified travel agents for 65+ domestic and international destinations.
---