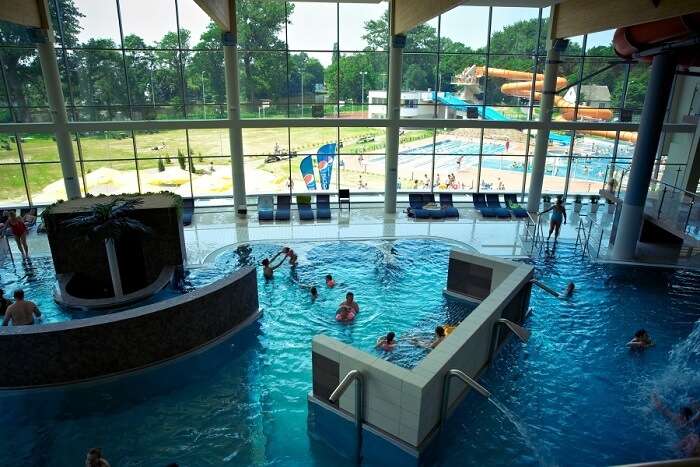 Water Park is basically a theme park having play zones in water. Water parks in Poland are significant with its uniqueness in pulling numerous visitors every year. These water parks have fine class housing with choices of both inside and outside facilities. The economic development is far better in the present time in these waterparks. Water Parks in Poland can proudly show off its quality with unbelievable play zones in compared to others.
Poland being one of the big countries in Central Europe has many water parks in the country. The scenic view of the parks in the country invites people from many other places of the world.
Top 10 Water Parks In Poland
While you may still be wondering what's in store in this charming land of Poland for all water-babies, here's a list of all the best water parks exclusively for you!
1. Reda Aquapark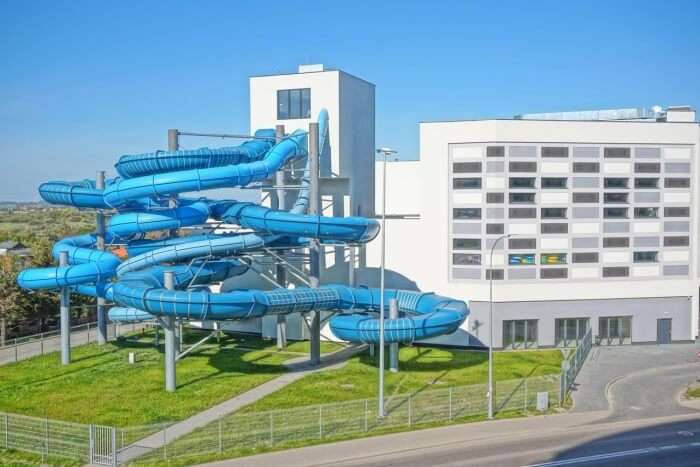 Reda Aquapark is one of the most famous theme parks in Poland. It is situated at a distance of fifteen minutes to the northern part of Gdynia. The park has facilities of five slides along with an esteemed island pirate's substance with a unique affection of being a shark water park in Poland at which one could also proceed with a rubber circle. The park is frequently seen with an extended line at the end of weeks. Apart from these, this park is the best theme park in the country.
Location: Morska, Reda, Poland
Timings: 9:00 AM to 11:00 PM
Must Read: 7 Days In Spain: Witness The Splendid Sceneries Of This European Country In 2022
2. Termy Maltanskie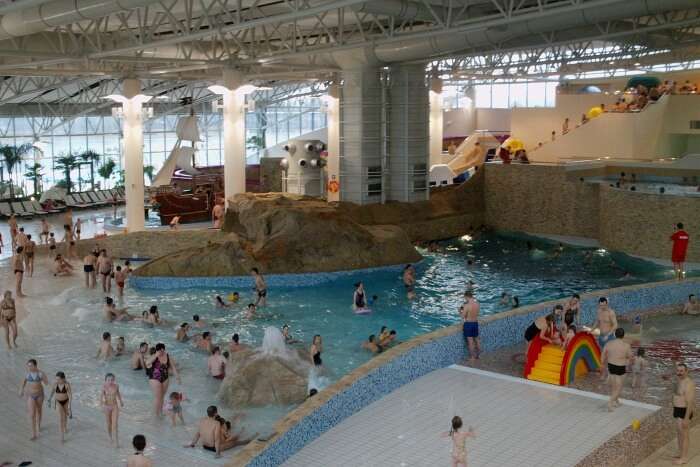 This theme park is a modern and up to date park and one of the biggest water dance area and amusement zone in Poland. It is situated at the edge of the lake of Malta in the center of Poznan. The park has facilities of 18 water dance areas and amusing bathing place, 14 distinct shower rooms, and executive health club and with 17 therapy rooms. There is also an uncommon facility of diving from the inner area to the outer area.
Location: Termalna, Poznań, Poland
Timings: 9:00 AM to 11:00 PM
3. Baths Chocholowskie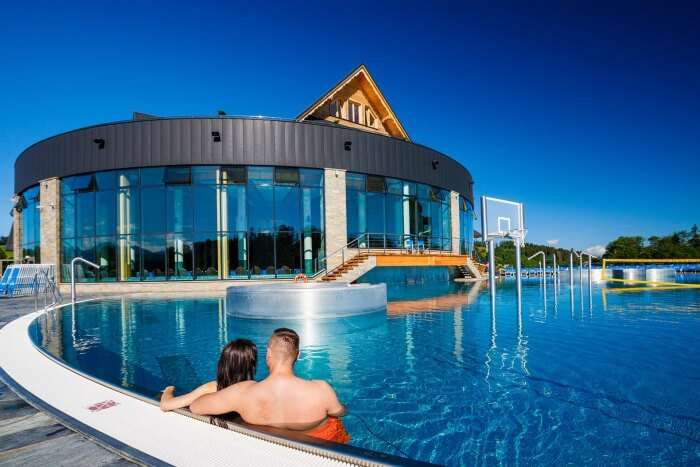 This park is one the foremost theme park for children with an outside bathing area that usually attracts children. "Chocholowskie Hip Bath" is one of the places that invite people from all ages. The house has a bathing area of not less than thirty tanks of water with distinct quality, a healing zone with sulphide water, stable hurricane. The transposition of water in the bathing area is 32 to 36 degree Celsius. People can also take rest near the outside bathing area in winter. This place is a perfect place for family in vacations.
Location: Chochołów, Chochołów, Poland
Timings: 9:00 AM to 10:00 PM
Suggested Read: Paragliding In Austria: Head To These Amazing Destinations In The Heart Of Europe In 2022!
4. Water Park Krakow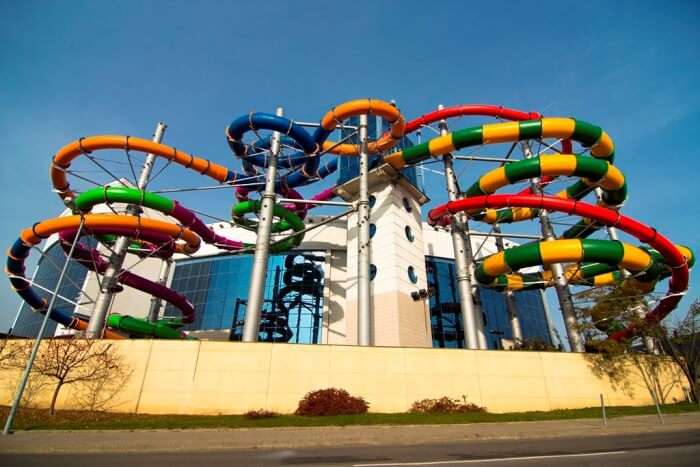 Krakow is one of the best water parks in Krakow Poland. This theme park is very big in size occupying an area of 800 m of water sliding for all kind of ages. Some of them also hold effects of sound and water in it. The park has facilities of tarragon and raider play zone, therapy sprays, walls to climb, incentives, sways and many more. This is an unbelievable theme park that children will remember most on it.
Location: Dobrego Pasterza, Kraków, Poland
Timings: 8:00 AM to 10:00 PM
5. Wroclaw Water Park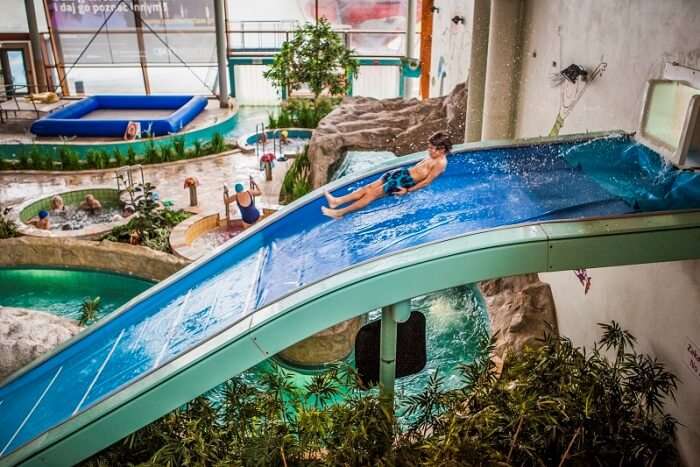 This water park was finished in the year 2008. This is one of the exceptional water parks in Wroclaw Poland. In Wroclaw, this is the single place children would say to have fun with friends. The principal affections of the park are the inside and the outside amusement bathing areas having its water slithering. It also has facilities like motivational machines, idle river, and other activities, gym, eating house and many more.
Location: Borowska, Wrocław, Poland
Timings: 5:40 AM to 11:00 PM
Suggested Read: Museums In Austria: 8 Amazing Storehouse Of History And Art In The Heart Of Europe
6. Aquapark Fala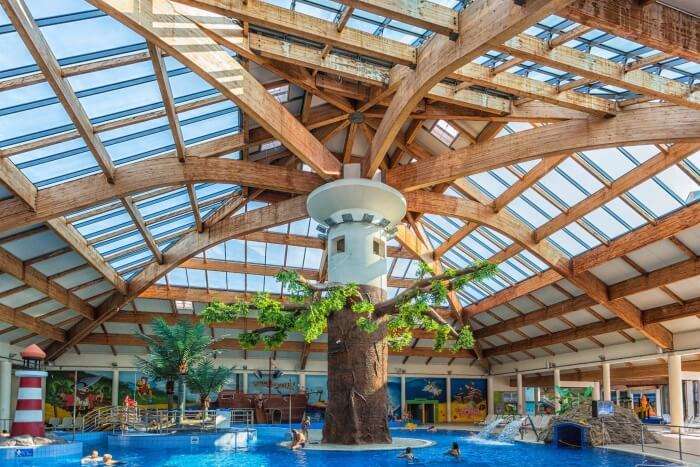 Aquapark Fala park is completely a new park situated near to the heart of the city to the horticultural gardens and next to the railway station of Lodz, Kaliska. Possessing four inside bathing areas with many sliding, and one bathing area with a swinging machine. It also has a bathing zone for children including three playing areas along with three outside bathing areas. It also has seven toilet rooms, one big hot tub, warm reclining chair, an inside water glide and to have fun on a fierce river.
Location: aleja Unii Lubelskiej, Łódź, Poland
Timings: 9:00 AM to 10:00 PM
7. Park Wodny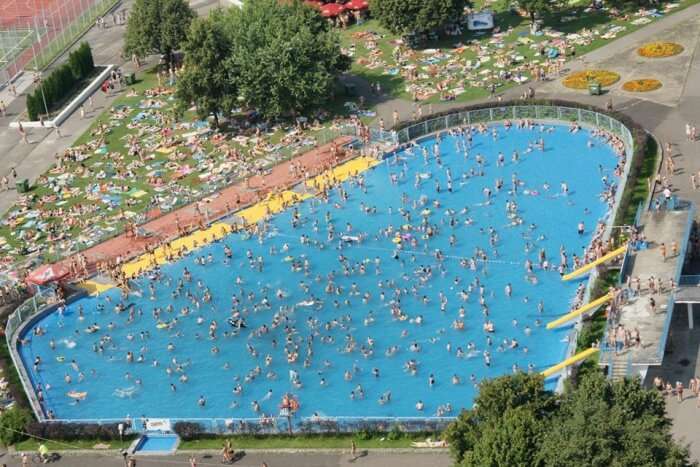 This park covers an area covering meters of 800 of sliding that seems to be crushed up, gravel ascending walls, a hanging river, a rope walk of a floating bridge, a rowing bathing area for children, along with sweat room and water therapy with a motion. The park has eating facilities at the aqua bar in the house of the bathing area. The park also includes eating houses, a lodge, activity store, thrilling gallery, beauty parlor and a playground for kids.
Location: Dominika Merliniego, Warszawa, Poland
Timings: 6:00 AM to 10:00 PM
Suggested Read: Sweden In March 2022: 10 Eye-Catchingly Beautiful Places To Visit In Europe's Svedala!
8. Dinolandia, Inwald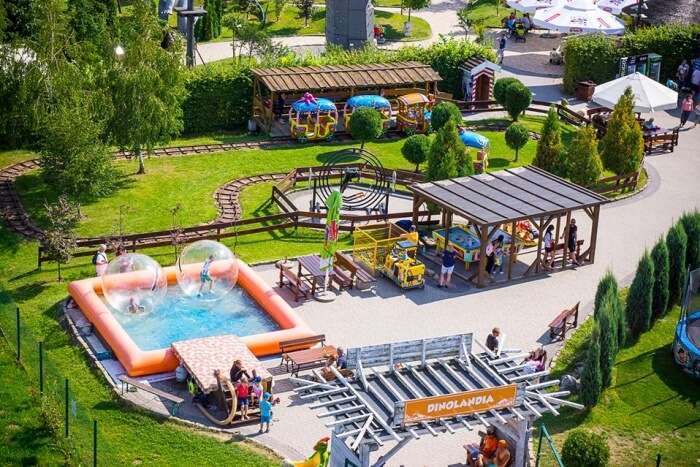 Dinolandia theme park is located in the Lesser province of Poland in Europe. The park opens from 9:00 am to 5:00 pm. This is a park full of dinosaurs in the real size of it and was manufactured in a very authentic way. The park is an amusement place for children. Parents can have a wonderful time with their kids out there on weekends as well as in vacations. The other attractive zones in the park are with fox flying. Facilities of food like eating houses and frozen yogurt are also available there. Entry fee is equitable. In fact, this theme park of Dinolandia is a better place for children to come and have fun.
Location: Wadowicka, Andrychów, Poland
Timings: 10:00 AM to 4:00 PM
9. Aquapark Kalisz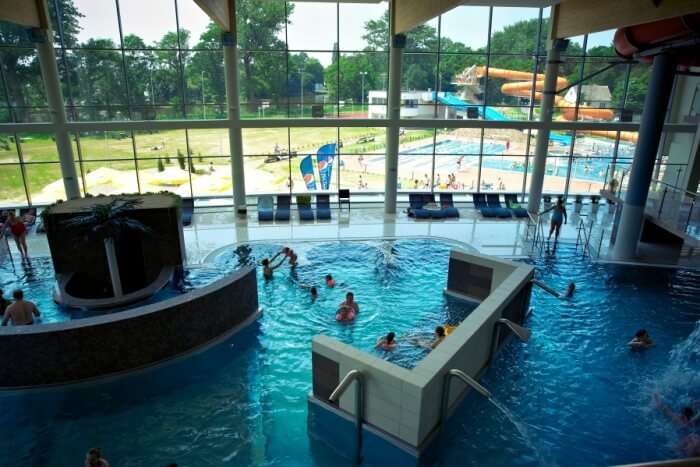 This is a theme park in Kalisz in Poland. It has facilities like sliding, holiday bathing areas with an area of 25 meters. Other facilities for visitors are sweat rooms, gym practices, ice skates etc. The park also provides with different bath chairs for car resting, entry, lift, toilet etc. The park is good for children. It also provided eating houses for visitors. The park opens at 6 am from Monday to Friday and on Saturday and Sunday it opens at 6:30 am. Closing time is the same for all the days at 10 pm. Time spent by visitors here in the park is normally two hours every day.
Location: Sportowa, Kalisz, Poland
Timings: 6:00 AM to 10:00 PM
Suggested Read: 17 Spots For Snorkeling In Europe Every Underwater Enthusiast Must Visit In 2022
10. Aquapark Kutno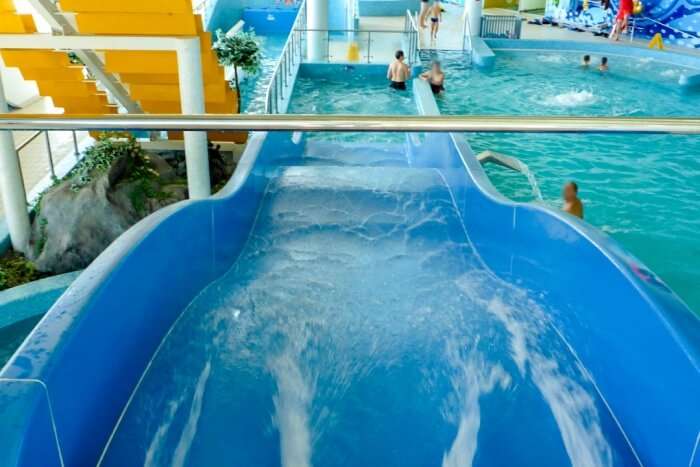 This is a theme park situated in Kutno in Poland. Facilities available are holiday bathing areas with fountain, sliding and streams, sweet room and restroom. The park also provides with different bath chairs for car resting, entry, lift, toilet etc. The park is good for children and is rated thoroughly. The park opens at 6 am from Monday to Sunday and closes at 10 pm every day. On every Christmas, the duration of the time changes on Monday and Tuesday.
Location: Tadeusza Kościuszki, Kutno, Poland
Timings: 6:00 AM to 10:00 PM
Further Read: 13 Frolicsome Beaches In Europe For All The Excited Beach Bums Across The Globe
With attractiveness of these places and the amusing parks in the country signifies a refreshing zone for people and it especially invites children to have their best time out there with parents every year. So, what are you waiting for? Plan your next trip to Europe for a reviving holiday experience in this country!
---
Looking To Book An International Holiday?
Book memorable holidays on TravelTriangle with 650+ verified travel agents for 65+ domestic and international destinations.
---