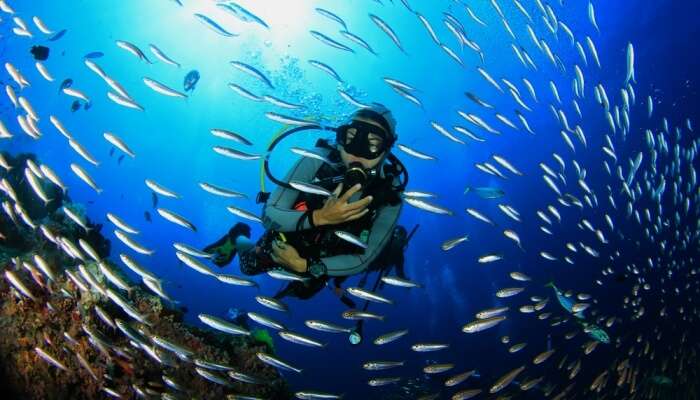 Located on Thailand's southern coast, Krabi is a picturesque main town in the province of Thesaban Mueang (Krabi). Krabi Besides the overwhelming travel operators, an array of guesthouses, and souvenir shops, Krabi has much more offer beneath its surface. This Thai beach destination is quite popular and is home to more than 150 islands, 150km coastline, white sandy beaches, huge limestone cliffs, a jungle-covered interior, waterfalls, sea caves, and exotic wildlife. With all this and more, Krabi is the perfect destination for an adventure-filled holiday. Be it a family vacation or a trip with friends, there is everything to meet everyone's taste with a range of water sports in Krabi.
8 Top Water Sports In Krabi
We have listed a few top water sports in Krabi that you must try for an adrenaline-pumping trip. Make sure you book each water sport via a certified and experienced operator and only use quality equipment for all.
1. Snorkeling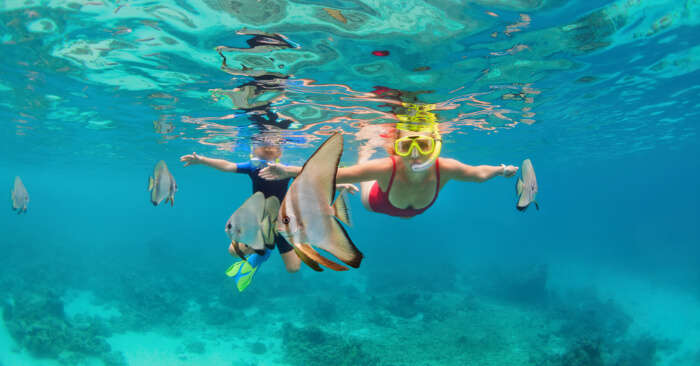 Start your adventure journey in Krabi with snorkeling in the enormous coral reefs and exotic aquatic life. Snorkeling allows you to see and enjoy tropical fishes and beautiful corals underneath the water. It is one of the best water sports in Krabi that is similar to scuba diving but it does not make use of any equipment. The individuals will just have to wear a mask, a pair of flippers and dive in the shallow water to encounter the beautiful marine life.
You can swim and snorkel near the Phi Phi Island which is surrounded by coral formations, colorful and vibrant fishes at the Lohsmaha Bay. The alluring Hin Klang is quite famous for open-sea snorkeling, it's clear sparkling water is a delight to swim in. You can also find the do snorkeling at the Ao Maya and Ao Lo Sama and see the coral gardens, reef fishes and leopard shark.
Location – Phi Phi Island, Hong Island, Koh Lanta and Koh Rok
Adventure level – Easy
Cost – 5060 INR or 78 USD
Ideal time – November to April
Must Read: Islands Near Krabi: Head To These Awesome Islands For A Relaxing Vacay!
2. Windsurfing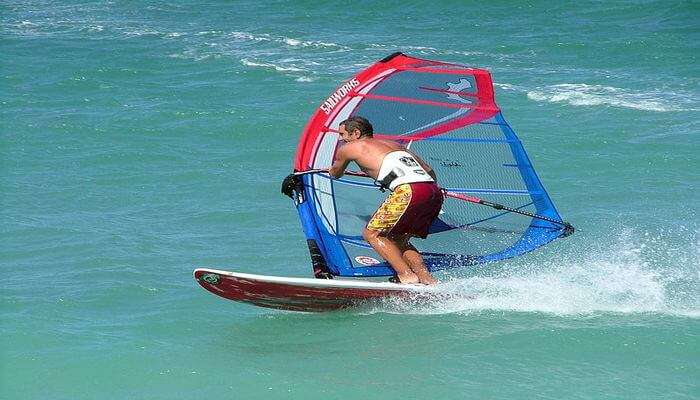 Love surfing and sailing? Well, windsurfing gives is one of the best water sports in Krabi that gives you the best of both these worlds. Zone out from this hustle-bustle and get yourself into this fulfilled and refreshing activity. Windsurfing is a famous sport in Thailand, Asia and Krabi is the perfect destination for the same all thanks to its gentle waves, picturesque views and perfect wind and weather conditions. The curling waves, stunning backdrop, gentle breeze hitting your face, and crystal clear waters all together make windsurfing a must-try water sports in Krabi.
Good balance, strength and a little training, that's all it needs to do this sport. But don't worry if you are not a professional at this, a couple of sessions are enough to make you ready.
Location – Koh Lanta
Adventure level – medium to high
Cost – 7846 INR or 120 USD
Ideal time – November and April (depends on wind-conditions)
Suggested Read: Scuba Diving In Krabi: 5 Ultimate Diving Spots That Will Leave You Thrilled In 2022
3. Scuba Diving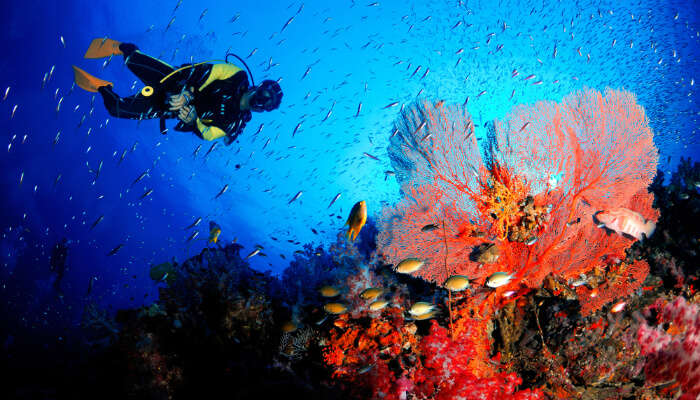 Krabi is an ideal place to learn diving with numerous shops providing scuba accreditation at affordable prices. Surrounded by limestone towers and coral reefs, Krabi is a perfect playground that delivers you a fantabulous scuba diving experience. Scuba Diving is a must-do if you are up for snorkeling in Krabi. Wear your mask, suit and equipment and dive into the water to see this underwater life.
Krabi underwater world allows the divers to see the frequent reef fish making it the most loved water sports in Krabi. If you love Nemo, try diving deep into the sea to see the cute clownfishes (read Nemo). Also, the opportunity to explore various bays and coves and relax on the sandy beaches is unmissable.
Location – Ao Nang Bay, Ko Ha Yai Caverns, Hin Daeng Hin Muang and Phi Phi Islands
Adventure level – easy to moderate
Cost – 5326 INR or 82 USD, 2 dives
Ideal time – November to April
Suggested Read: You Must Try Krabi Snorkeling At These Places At Least Once Before You Die
4. Sea Kayaking And Canoeing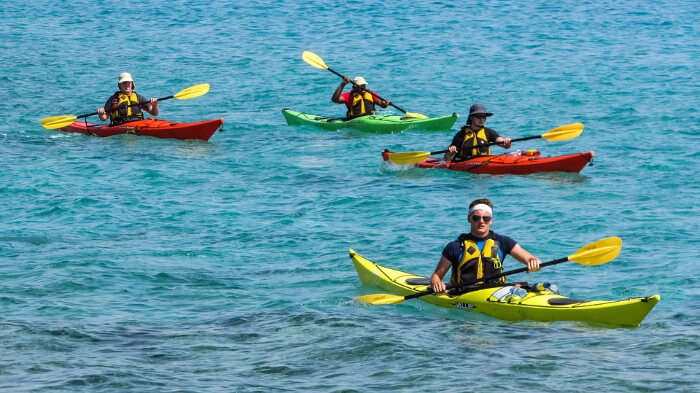 If you are planning to get a sneak peek at the natural and raw beauty of Krabi, then is the kayaking and canoeing are the ones for you. This one among the mellow water sports in Krabi is loved by all and suits all age groups from small to old.
Come and sit on your boat and sweep through the hidden sea caves, dense mangroves, large limestone cliffs, and spectacular lagoons. Sea Kayaking is another best thing to do here which gives you a chance to explore the vastness of the sea and witnessing the mesmerizing views on the way. If not just puddle along the coastline and spend your leisure time. Anything you pick, it is sure to take away with you a lifetime memory with you.
Location – Thalane Bay, Talabeng Island, Tung Yee Peng, Koh Panek and James Bond Island
Adventure level – easy
Cost – 1569 INR or 24 USD
Ideal time – April-May or September-October
Suggested Read: 10 Indian Restaurants In Krabi: Get The Taste Of Desi Zayaka In Thailand In 2022!
---
Planning your holiday in Thailand but confused about what to do? These Thailand travel stories help you find your best trip ever!
---
5. White Water Rafting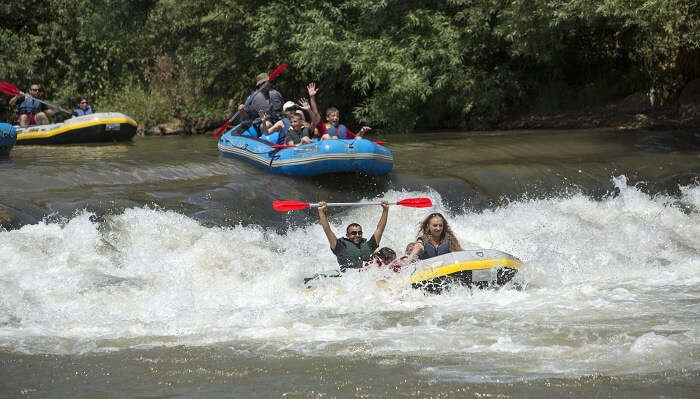 White Water Rafting is a new water activity offered in the Krabi by some local companies. This year-round water sports in Krabi takes you through the flowing water at excitedly high speed. Songpak is a river with fast-flowing water having rapids of difficulty levels to give you an adrenaline-filled course. Paddling forth the wild river water fighting through the difficulties to stay afloat makes this sport worth a try. It is a safe sport to try and you need not be a professional at this. The tour operator organizes all kinds of safety precautions and provides equipment.
Location – Songpraek river
Adventure level – moderate to high
Cost – INR 2260 or 35 USD, per head
Ideal time – any month
Suggested Read: The Best Oasis Of Thailand: 8 Best Beaches In Krabi One Should Explore In 2022!
6. Wakeboarding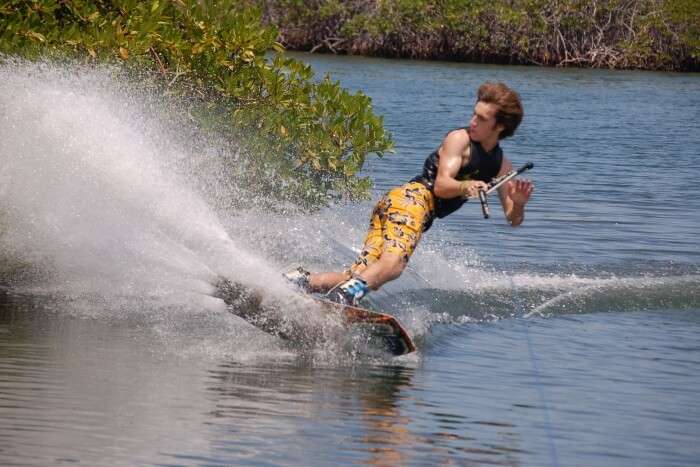 Love surfing but are completely new and inexperienced? Wakeboarding is the best sporting activity that fills this place. It is of the fast-growing adventure water sports in Krabi requiring a great level of physical fitness. All you have to do is mount yourself on the board, catch hold of the cable tightly that is latched to the speeding boat and set go. As the boat races forward you head off with it at an insane speed and experience the rush of waves below your feet. This sport is an extraordinary combination of thrill, fun, and speed.
Location – Ao Nang beaches
Adventure level – moderate to high
Cost – 588 INR or 9 USD
Ideal time – any month
Suggested Read: Shopping In Krabi: 10 Places To Stop By In This Lesser Known Paradise For Shopaholics
7. Kite Surfing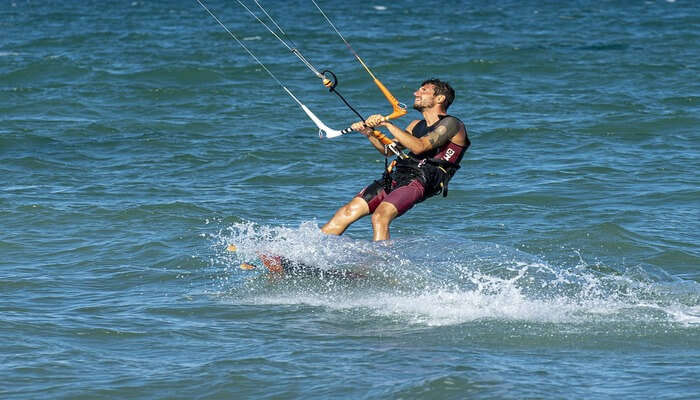 Kitesurfing is perfect for those who love challenges and extreme water sport. All that you need is a good breeze, adventure spirit and right gear to perform this sport. You will have to stay on the board, hold the steerable kite and jump high up in the air when a giant wave comes. The controlled kite zips you around on the waves, all you need to do is maintain proper balance. A little practice and a few tries can make you better at this sport.
Location – Ao Nang beach
Adventure level – moderate to high
Cost – 2159 INR or 34 USD
Ideal time – December to February
Suggested Read: 45 Breathtaking Places To Visit In Krabi In 2022 For A Relaxing Thai Vacation
8. Parasailing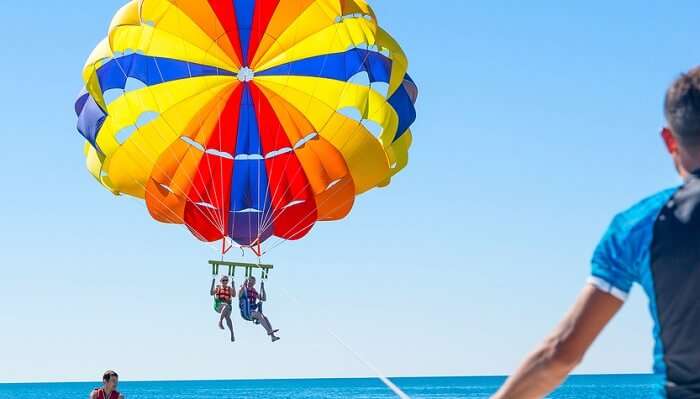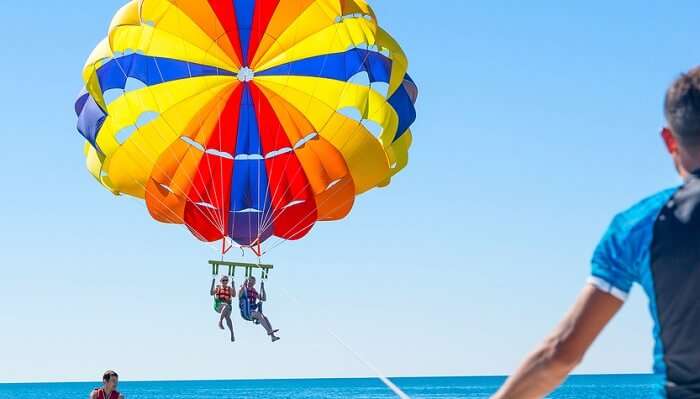 Parasailing in Krabi, Thailand, is becoming quite popular among the tourists who love to enjoy the unique and bird's eye-views of the sea and the surroundings. If you want to fly like a bird in the sky, then you should definitely go for this exhilarating activity. You will be given a parachute, towed behind a motorboat. As the boat kick-starts and drives off, you are released into the sky to fly like a kite in the air. However, parasailing in Krabi is also a fairly cheap activity and you can also try this with your better half.
Location – Four Island
Adventure level – easy to moderate
Cost – 1600 INR or 25 USD
Ideal time – December to February
Further Read: Kayaking In Krabi: A Handy Guide For 2022 To Sail To The Hidden Islands
From mind-boggling water adventures to high voltage action, Krabi has it all to keep the adventure junkies hooked. The turquoise waters of Thailand offer you quite a range of water sports in Krabi for a thrilling ride and a vacation to remember. All these activities are sure to offer you the thrill, ultimate fun, and frolic on your Thailand holiday.
Frequently Asked Questions About Water Sports In Krabi
How many days do you need in Krabi?
Krabi is the best place for a full-filled vacation, to admire the natural beauty and sandy beaches. The itinerary of Krabi might take 1 to 7 days depending on your choices to exploration.
What should I wear in Krabi?
Lightweight clothing is recommended as the weather in Krabi is humid and hot, also be sure to carry sunglasses, beachwear, sunscreen, and flip-flops.
How do you get from Bangkok to Krabi?
Traveling to Krabi from Bangkok is quite easy and you will just have to catch a train to Surat Thani and then take a bus or taxi to Krabi.
---
People Also Read:
Water Sports In Maldives Water Sports In Egypt Water Sports In Gokarna
Comments
comments