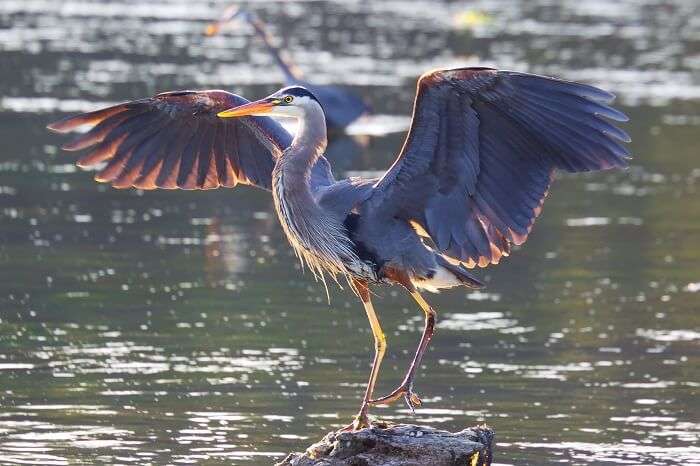 Blessed with some of the most spectacular natural sights and vistas, Canada is a nature lover's dream destination and one of the best countries in the world to let loose your wild side. From the magic of Northern Lights to the mirror-like emerald glacial lakes, breathtaking hiking trails and gorgeous natural parks, Canada gives you a chance to uncover nature's best-kept secrets. As you embark on high-adrenaline rush adventures or unforgettable road journeys across this beautiful country, the magic of Canada overwhelms your senses. Most Canadian cities are home to some exceptionally well-maintained zoos that allow you to admire and interact with the unique wildlife of the region.
Top 10 Zoos In Canada One Must Visit
The fantastic zoos in Canada serve as a great family destination and offer a chance to walk the wild side. Here's our list of the best Canada zoos for a tete-e-tete with some amazing wildlife
1. Toronto Zoo
Sprawled over 710 acres in the beautiful Rogue Valley, this is the biggest zoo in Canada with over 5000 animals from 450+ species. The superbly planned and maintained zoo has been thoughtfully divided into seven zoo-geographical regions showcasing animals from various continents in their natural habitats. With 6 miles of walking trails, a discovery zone with interactive wildlife experience, fun Splash Island and some thrilling animal-themed rides for your little wildlife explorers, the zoo offers a memorable experience that's educational as well as entertaining.
Don't miss out on these: The special Great Barrier Reef and Tundra Trek exhibits, Waterside Theatre and animal Keeper Talks and feedings to get up close and personal with your favourite animals.
Location: 2000 Meadowvale Rd, Toronto, ON M1B 5K7, Canada
Timings: Daily, 9:30AM-4:30PM
Entry Fee: $18/child (3-12 years); $23/adult. Summer prices are slightly higher.
Must Read: 10 Top Indian Restaurants In Canada To Savor Authentic Indian Curries
2. Calgary Zoo
Located on the lovely St. George's Island on the Bow River, the Calgary zoo is without doubt one of the best spots in the city for a fulfilling day out with family. With over 100 unique species of animals and myriad interesting engagement activities and events, this is one is a gem amongst the numerous Canada zoos and aquariums. From the Canadian Wilds section that is home to bears, wolves and whooping cranes to the thrilling Destination Africa and fun land of Lemurs, there are so many fascinating habitats, animals and birds to keep you occupied throughout the day. The Conservatory Gardens & Butterflies section is a beautifully preserved living library of trees and plants.
Don't miss out on these: The fascinating new Panda Passage featuring the Giant Pandas, safari brunch on Sunday mornings and the luminous Zoolights during Christmas time.
Location: 210 St. George's Drive NE, Calgary, AB T2E 7V6, Canada
Timings: Daily, 9AM-5PM
Entry Fee: $19.95/youth (3-15 years); $29.95/adult
3. Edmonton Valley Zoo
One of the best zoos in Canada offering fun and education for the entire family, the Edmonton Valley Zoo is home to more than 350 native and exotic animals representing 100 different species. This small zoo focused on animal conservation aims to provide an intimate experience to the visitors with engaging animal interaction programmes. Located on the banks of the North Saskatchewan River, the lovely zoo is divided into various habitats including the Arctic Shores with harbour seals, fur seals and Arctic ground squirrels. The red pandas and Asian elephant Lucy are the biggest attractions.
Don't miss out on these: The New Entry Plaza with the otters and state-of-the-art education facility, the Wander Trail along the river with native flora and fauna.
Location: 13315 Buena Vista Road & 87th Avenue, Edmonton, AB T5J 2R7, Canada
Timings: 10AM-4PM (Mon-Fri); 9AM-5PM (Sat-Sun)
Entry Fee: $10.25/adult, $9.25/youth (13-17 yrs); $6.25/child (2-12 yrs)
Suggested Read: 10 Mosques In Canada Whose Beauty Will Overwhelm You
---
Looking To Book An International Holiday?
Book memorable holidays on TravelTriangle with 650+ verified travel agents for 65+ domestic and international destinations.
---
4. Granby Zoo
Located just an hour's drive from Montreal, this is amongst the most amazing zoos in Canada and one of the star tourist attractions of Quebec. Sprawled over 60 acres the zoo showcases more than 1000 animals from 200 different species and offers wholesome entertainment for the entire family. Established in 1953 as a sanctuary for many endangered and exotic animals, the Granby Zoo now include a petting zoo, monorail, water park, amusement park and jungle training camp for kids along with many exciting exhibits.
Don't miss out on these: The interactive dinosaur exhibit is a huge hit with kids, feeding rays and birds, the thrilling Amazoo water park.
Location: 1050 Boulevard David-Bouchard N, Granby, QC J2H 0Y6, Canada
Timings: Varies depending on the season & month. Check
Entry Fee: $14.99/child (3-1 yrs); $2.99/adult
5. Magnetic Hill Zoo
This modern and family-friendly zoo boasts of an interesting line-up of 600-plus indigenous and exotic animals from Asia, Africa and Americas as well as a Discovery Centre. With its focus on protection of animal species, public awareness and education about the different habitats, Magnetic Hill Zoo is home to Amur tigers, lemurs from Madagascar, Gibbon apes and many more animals. Being the largest zoo in Atlantic Canada, it has fantastic displays, petting and feeling areas as well as special camps and events for children all year round.
Don't miss out on these: Boo at The Zoo (October), Wild Lights (Dec-Jan) and Zookeeper programme for kids.
Location: 125 Magic Mountain Rd, Moncton, NB E1G 4V7, Canada
Timings: Daily, 10AM-4PM
Entry Fee: Vary between $5-11 for children and $9-15 for adults depending on the season.
Suggested Read: Feel On Top Of The World At This Suspension Bridge On Whistler Mountain In Canada
6. Greater Vancouver Zoo
Counted amongst the top ten zoos in Canada, this animal haven spread over 120 acres in the Fraser valley provides a comfortable home to 140 species of rescued, donated and orphaned animals. You are welcome to bring in your own wagons, rollerblade, bikes and skateboards to explore the zoo and step into the wild! With nice enclosures for the animals and a fun train ride to explore the zoo, the place makes for a fantastic family break.
Don't miss out on these: A Night in the Wild in summers is a whole lot of fun and so are the Junior Zoologists Day Camps for kids.
Location: 5048 264 St, Aldergrove, BC V4W 1N7, Canada
Timings: Daily, 9AM-4PM
Entry Fee: $17.89/child; $24.19/adult
---
Planning your holiday but confused about where to go? These travel stories help you find your best trip ever!
Real travel stories. Real stays. Handy tips to help you make the right choice.
---
7. Assiniboine Park Zoo
Spread over 80 acres, this is one of the largest and most impressive zoos in Canada with over 200 fabulous animal and bird species from across the world. In operation for more than a century, the fantastic zoo is open all year round with many indoor and outdoor exhibits allowing you to admire & interact with the amazing animals. From reindeers to red fox, grey wolves, American Elk, harbour seals and the hugely popular polar bears, the zoo has an enviable range of exotic animals. The Australian Walkabout, Animals of Asia and Butterfly Garden exhibits are great fun for the entire family.
Don't miss out on these: Kinsmen Discovery Centre, award winning Journey to Churchill exhibit that takes visitors on an unforgettable adventure to the land of polar bears.
Location: 2595 Roblin Blvd, Winnipeg, MB R3R 2N7, Canada
Timings: Daily, 9AM-4PM
Entry Fee: $11.25/child (3-12 yrs); $17.75/youth (13-17 yrs); $20.50/adult
Suggested Read: Canada Nightlife: A Traveler's Guide To How Canadians Like To Party
8. Riverview Park and Zoo
One of the few free zoos in Canada, this secret gem tucked away in the greater Toronto area offers a rendezvous with myriad wild animals, a splash pad in summers, lovely walking trails and a miniature train ride. This cool small zoo features 28+ exhibits and 45 species ranging from two-toed sloth to emu, wallaby, Sichuan Takin and meerkats. Spread over 55.5 acres the park also has cool playgrounds for the little ones and features beautiful gardens.
Location: 1300 Water St, Peterborough, ON K9J 6Z5, Canada
Timings: Daily, 9AM-4PM
9. Cherry Brook Zoo
Spread over a beautiful 5-acre woodland in New Brunswick, the zoo is home to many endangered and exotic species like the snow leopard, Siberian tiger and Goeldi monkey. The small friendly zoo has an excellent workforce which takes good care of the 85+ animals from 35 species. The animals look happy and content in the natural woodland setting and the kids can watch animal feedings even for big cats like snow leopards.
Location: 901 Foster Thurston Dr, Saint John, NB E2K 5H9, Canada
Timings: daily, 10AM-4PM
Entry Fee: $5.5/child; $8.5/youth; $10.5/adult
Suggested Read: Hanging Hotel In Canada: Free Spirit Spheres Are Here To Satiate The Wanderlust Of Free Souls!
10. British Columbia Wildlife Park
As you're still wondering how many zoos are there in Canada, let's take you to this 106-acre wild life park & zoo in a beautiful and peaceful setting that finds a place in our list of best zoos in Canada. Along with being the largest breeding facility for burrowing owls, this sprawling park hosts 65 wildlife species that you can see up and close. The kids are sure to love the train ride through the park, petting zoo and the play areas.
Location: 9077 Dallas Dr, Kamloops, BC V2C 6V1, Canada
Timings: 9:30AM-4PM (Sat-Sun)
Entry Fee: $8.45/child; $12.45/adult
Further Read: Canada Travel Tips: For A Perfect Holiday In The Largest Country Of North America
With such a large number of zoos in Canada, you don't ever need to worry about keeping your kids happy when visiting the beautiful Canadian cities. Make sure to stop by at some of these fantastic spots for a rendezvous with exotic animals from across the world. But before that make sure to take a look at the customized Canada holiday packages with TravelTriangle and enjoy the close view of the Canadian wildlife at these zoos.
Frequently Asked Questions About Zoos In Canada
Which are the best zoos in Canada?
The famous zoos of Canada are mainly, Toronto Zoo, Calgary Zoo, Edmonton Valley Zoo, Assiniboine Park Zoo, Granby Zoo, Magnetic Hill Zoo, Greater Vancouver Zoo, etc. If you want to experience the wildlife in its natural habitat, you could visit any of the Canada national parks.
Which is the best zoo in Canada?
There is no doubt that Toronto Zoo will be on the top of the list. Spread over 710 acres area, this zoo has 5000 animals of more than 450 species. Seven geographical regions are created to give a natural habitat to the animals. This is also the biggest zoo in Canada.
What types of animals can you see in Calgary Zoo?
This zoo is the home of various wild animals from Canada, like wolves, bears, and cranes. Besides that, you can also meet lemurs, panda, and different species of birds here.
What to expect in Edmonton Valley Zoo?
At this zoo, you can visit more than 350 animals of nearly 100 species. Among those Arctic ground squirrels, seals, fur seals, red pandas, etc. are famous. You can't leave this zoo without meeting Lucy, the Asian elephant.
Are there any sloths in Toronto Zoo?
Yes, there is a sloth in Toronto Zoo. It is named Bob. You can meet him along with lots of other animals once you visit the Toronto Zoo.
What to visit in Riverview Park and Zoo?
This is one of the free zoos in Canada where you don't need to pay any entry fee. Here you can visit a two-toed sloth, emu, Sichuan Takin, wallabies, and meerkats.
Why Is Greater Vancouver Zoo Special?
You can expect to visit numerous animals when you visit the zoo. But, here, you can take your bike, rollerblade, skateboards, and wagons to explore the zoo.
Which types of animals can you see in Magnetic Hill Zoo?
You can visit Madagascar lemurs, Amur Tigers, Gibbon Apes, and lots of other animals. This is the largest zoo in Atlantic Canada.
---
Looking To Book A Holiday Package?
Book memorable holidays on TravelTriangle with 650+ verified travel agents for 65+ domestic and international destinations.
---