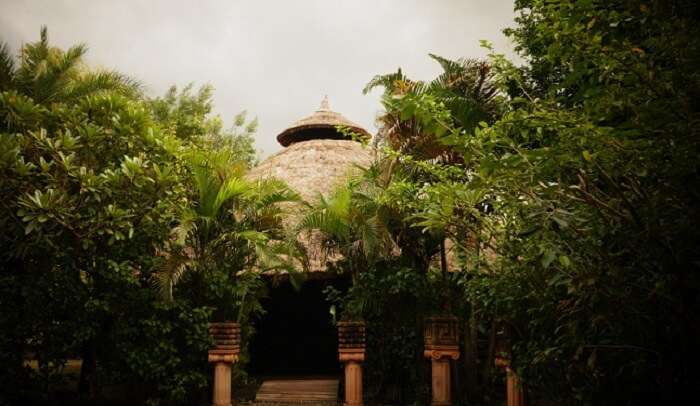 Visiting a majestic and lush location like Jim Corbett could only mean adventure for our group. We were a group of three looking to have an extravagant experience in the lap of the famous Jim Corbett National Park. To be honest, the adventure started way before we reached the actual location with the bus journey, eerie tales about mysterious hill stations, the coconut tree ghost, and the anticipation of the journey ahead.
Our 2 Days Stay At Lohagarh Corbett Resort was our planned destination as it had an authentic vibe and at the same time was close to nature. The place had a rustic appeal and plenty of silence to offer a break from the city hustle – just what one needs from a vacation.
Details Of Our 2 Days Stay At Lohagarh Corbett Resort, Ramnagar
Duration of Stay: 1 Night 2 Days
Price: INR 8,000 onwards per night
Number of People: 3 Adults
Number of Rooms: 2
Inclusions: Accommodation, In-room facilities, Sightseeing, Breakfast, Dinner, Hotel Transfers
Exclusions: Safari, Personal Expenses
How We Came Across This Property?

Through multiple recommendations from colleagues and friends, this resort had been on our minds and it did not disappoint us. Lohagarh Corbett Resort is a serene resort touching the boundary of the forest at the Jim Corbett National Park. Right at the heart of nature, it was an amazing decision for our break from the city hustle.
The best thing about this jungle-based theme resort is that they offer a blend of luxury living and adventure. Moreover, the three of us like to be connected with nature and a lush environment around, it was truly a spectacular travel experience.
A Short Trip Exploring Best Places In And Near Jim Corbett
Top 4 Experiences At Lohagarh Corbett Resort
Listed below are some of the highlights of our stay at Lohagarh Corbett Resort.
1. Lychee & Mango Farm Tours

Ever noticed Mango trees at night? Like mammoth monsters looking at you. Those were the images in our heads. But it turned out to be a myth. Firstly, the ride towards the farm was truly adventurous in a four-wheel drive, driven by the resort staff, and one that followed a trail created in between the jungles.
A mere 10-minute drive away from the resort, we came across acres of Mango and Lychee trees. Overnight rain did spoil a little of our sport but it did not stop us from smiling under the shade. Located adjacent to the farm were countless Lychee trees.
Sorry, no fruit is what we got – off-season!
12 Wallet-Friendly Resorts And Hotels In Jim Corbett National Park In 2022!
2. Safari

One of the greatest perks of our 2 days stay at Lohagarh Corbett Resort was the thrill of jeep safari. We planned our visit during the mid of December, therefore, making it a great time for jungle safari at Jim Corbett. The adrenaline rush of spotting many wild animals such as elephants, deer, and especially the majestic Royal Bengal Tiger so close really made our day. Without a doubt, jeep safari turned out to be the highlight of our tour.
Due to the proximity from the resort, we opted for jeep safari at Bijrani Zone. However, one can also opt for elephant safari and canter safari in the following eco-tourism zones of Jim Corbett:
Dhikala Zone: Royal Bengal Tiger, Hog Deer, Elephants, Ramganga River, Sal Forest
Jhirna Zone: Leopard, Tiger, Sloth Bear, Wild Boar
Bijrani Zone: Royal Bengal Tiger; Sal Forest
Sitabani: Migratory Birds; Elephants; Deers; Sitabani Temple
Durga Devi Zone: Tigers; Leopards; Gray Headed Fishing Eagle; Long Tailed Broadbill
3. Village Tour

We prepared ourselves for a refreshing village tour at Lohagarh Corbett Resort but what better way to rejuvenate than subsuming the smell of a native village. Luckily for us, Lohagarh Corbett Resort resides in the proximity of 4 villages, 2 of which are literally the backyard of the resort.
We decided to stroll together without any guide as we were looking for a genuine experience. We met a few village kids, saw people cooking in fire stoves, and a beautiful hut.
4. Sports


A blend of luxury and adventure, this resort provided us a memorable experience. With the provision of indulging in various outdoor sports like cricket, badminton, football and indoor games like chess, ludo, carom, we did not have a dull moment here.
With thick natural trees, mango orchards, humming forest birds, our staycation was definitely worth the wait. We will surely go back with a bigger group – the More the Merrier!
A Friends Trip To Jim Corbett Filled With Adventure & Luxury!
Rooms & Facilities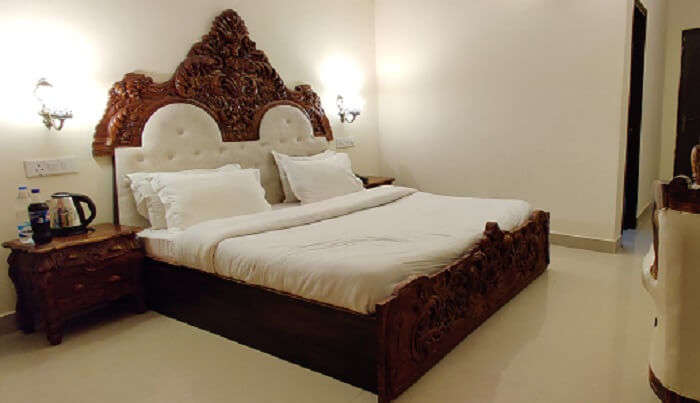 The entire ambiance of Lohagarh Corbett Resort along with the rooms showcases an amalgam of forest-inspired theme paired with a touch of luxury. The property offers you five different categories of rooms. They are categorized as follows:
Jungle View Suite
Deluxe Room
Luxury Room
Village Theme Suite
Luxury Village Theme Room
The words rustic and royal perfectly describe the ambiance of the Luxury Room in which we stayed. It was equipped with one king-size bed, antique-style lamps, a TV, an electric kettle, and other in-house amenities. Moreover, the bathroom was beautifully designed in forest theme and had ample space. Also, just outside our room was a sitting area where we enjoyed our morning tea while soaking in the warmth of sunlight. Best of all, our room also had a back door that opened to a widespread farm offering views of lush greenery and picturesque sunset. In all, we found it to be a space perfectly built for rejuvenation and inducing a sense of calm.
2 Day Weekend Trip To Jim Corbett: A Blissful Experience
Dining At Lohagarh Corbett Resort



No travel experience is complete without delicious food. With a great buffet, we were spoiled for choices. A big thumbs up to the taste and spread for both vegetarian and non-vegetarian food. We even availed room service on a lazy evening and their warm hospitality filled our hearts with warmth.
Right next to the fine dining ambiance is their beautiful open area where guests can have a good time relaxing and sipping drinks.
What Makes It Unique?
There were plenty of options that you can choose to do while at Lohagarh Corbett Resort. As young people, we decided to relax under the sun, gaze at the stars and explored the whole resort completely. Here are some unique experiences:
1. Stargazing

As the dusk fell and the sky turned darker by every passing hour, we realized that the location of this resort makes it a perfect spot to stargaze. Luckily, the night we stayed there was a clear night sky and it poured in the morning, therefore, making it all the more apt for stargazing. Moreover, no light pollution from the nearby village further added to the experience. We went on from spotting Orion to Taurus, then Gemini, and then unknowingly broke into endless conversations. If only it wasn't winter, we could have done that all night.
2. Open Area


Located in a scenic spot close to nature, the resort has a wonderful open area. This unique combination of luxury and nature is a haven for nature lovers. The chorus of the forest birds is music to ears and the lush green environment is a soothing balm to the city eyes. Multiple seating areas, antique lanterns, and beautiful pathways further added to the appeal of the resort theme.
3. Ambiance, Sunset

Suddenly, you realize the essence of time. Amazing time is what had passed as the three of us sat down sipping our beverages and observing the sunset. At this time, everything around us seemed peaceful. And the sunset added to that feeling. Our trip had recharged us to a fabulous point and now all we wanted was to go with the flow.
Time For An Adventurous Retreat At Jim Corbett (INR 4,099/- Only!)
How To Reach Lohagarh Corbett Resort

Lohagarh Corbett Resort is situated at a distance of 18 km from Ramnagar Bus Station. They provided us with hotel pick-up and drop facilities and therefore reaching the property was not much of a hassle. In order to reach Ramnagar from Delhi, there are many ordinary, AC/Non AC, and Volvo buses available from Anand Vihar ISBT that one can choose to take. Apart from UTC run buses, many private buses also run on this route. We chose to make an overnight journey by bus and covered the distance in approximately 6 hours. It was raining when we reached the bus station, thankfully, our driver was already there to drop us to the resort.
Venturing Into Jim Corbett Wildlife For A Thrilling Escape Was The Best Decision Ever!
Our 2 days stay at Lohagarh Corbett Resort was truly a memorable one. Be it a family holiday, staycation with your friends or just a weekend break, we recommend this resort without a doubt. It is an awesome place with an appealing environment. Their outdoor area is perfect for photography and video shoots. Adorned with beautiful flowers and greens spread over, they have really put in the effort to make it a safe haven for different types of travelers. They welcomed us with smiles and we left the resort with countless memories. Plan a trip to Jim Corbett and stay at this marvelous property experiencing heartwarming hospitality amidst a lush green forest.