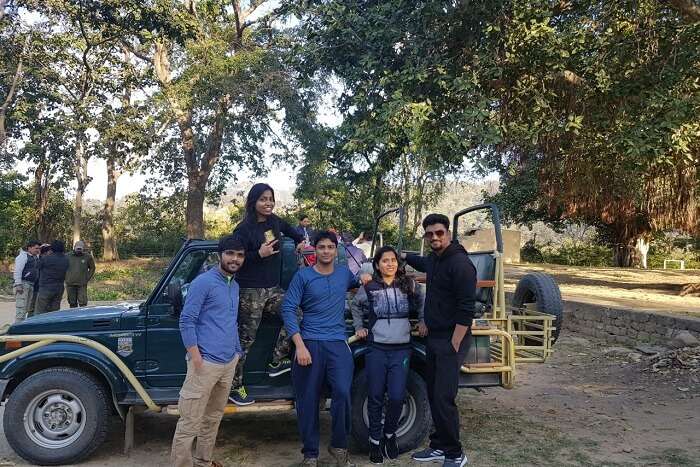 Beautified with an alluring landscape including rivers, forests, and hills outside the park, Corbett is more than just a national park. It is the oldest established national park and animal sanctuary in India and captivates wildlife aficionados worldwide. Housing about 480 varied species of flora and fauna, this destination gives a great chance to witness the wild beasts enjoying freely in their territory. While Jim corbet is a hub for wildlife and nature lovers, there are various places to visit near Jim Corbett where travelers can enjoy what nature has to offer. Like many travelers, check out how it intrigued Tapan & his friends and offered them experiences to be cherished forever.
My friends and I was searching for some weekend getaway destination just to relax and calm our senses. Since we've already explored various hilly areas, this time we decided to give wildlife a chance. And voila! we all opted for Jim Corbett wildlife experience in unison. We wanted a package that would take care of our budget as well as time. And, there couldn't have been a better trip planner than TravelTriangle. They provide us what exactly we were looking for and above all, it was organized in such a manner that we explored almost everything this place has got in just 2 days.
Details Of Our Friends Trip To Jim Corbett Wildlife
Trip Type: Friends Trip
Cost: INR 11349
Duration: 1 Night 2 Days
Inclusions: Accommodation, Breakfast, Lunch, Dinner, Bonfire, Morning Safari, Taxes
Exclusions: Personal Expenses, Insurance
This Is How Our 2 Days In Jim Corbett Itinerary Looked Like
Day 1: Resort Check in, wildlife safari and leisure time at Kosi River
Day 2: Breakfast, Leisure time & departure
Jim Corbett Weather
We visited Jim Corbett in the month of March when the weather was quite hot during the day time and temperature must be around 30°C. However, unlike the day time, nights were comparatively colder and the temperature reached up to 8°C. We actually needed jackets to warm ourselves up. Also, since the weather was immensely pleasant at night, we could enjoy the bonfire time at the resort.
Must-Read Highlights Of Our Jim Corbett Trip
Choosing Jim Corbett for a weekend getaway turned out to be a smart decision. Within 2 days we explored more than we thought & here's how we made the most of it!
1. Jim Corbett Safari: Venturing Into Wild Territory
Eagerly waiting to see the wild creatures in their natural habitat, we left for early morning jungle safari on the first day itself. With so much excitement and thumping hearts, we were all geared up to enter the animal kingdom. Our driver was quite informative and he gave us all the instructions that we had to strictly follow. Also, he gave us insights into the beauty of this oh-so-famous national park. The safari offered us to encounter various birds and animals such as deer, elephants, langurs, peacocks, monkeys, and also, the beautiful birdlife in abundance was something which we found extremely fascinating.
We enjoyed every minute of our safari and witnessing animals doing their daily things was an experience itself! Frankly, the fear of being in the middle of the jungle was initially there, but with our excellent guide and the beauty of this place, all our fears vanished. Also, what uniquely impressed us was the cleanliness of the jungle! Not even a single wrapper or a plastic bag was there polluting the environment. Kudos to the maintenance staff and visitors who acknowledge the importance of cleanliness.
 12 Wallet-Friendly Resorts And Hotels In Jim Corbett National Park In 2022!
2. Kosi River Ghat: Delving Into Peace & Calm
Our second and last spot was the Kosi River ghat which takes pride in its scenic beauty. At the ghat, we witnessed various animals quenching their thirst and enjoying in the chilling waters. Surprisingly the water was not cold as we thought, moreover, the bright sunlight made it all the more dazzling and fun for us to get inside the river. It was such a sight to see the stones and pebbles in the river bed through the crystal clear water.
We were completely in awe of the beauty of this place as the vistas that also included a fusion if greens were something that we will never forget. It is indeed one of the best peaceful places I've personally visited so far. There were also some temples nearby which were adding great value to the sanctity of ghat. After having fun and clicking pictures madly, we headed back to our resort.
Shopping In Jim Corbett
Shopping was actually not in our minds, so we didn't go ahead with it. However, we came across many shops and there was a local market near Garjiya Devi Mandir. Also, the guide recommended us to visit Corbett Souvenir Shop which is one of the renowned souvenir shops in Corbett. Housing a variety is interesting and creative objects such as t-shirts, pen stands, hunter jackets, coffee mugs, coasters, and many more. Also, marble carvings and wooden handicrafts can be easily found here. Apart from this, there are various local markets in Jim Corbett from where visitors can buy various artistic souvenirs and gifting options.
Hotels In Jim Corbett
There are plenty of resorts in Jim Corbett area and that so, under budget. The resort where we stayed was "Tusk and Roar" where we had a blast. while staying at the resort ensuring about it was utterly awesome. We found the rooms to be spacious, clean and immensely maintained.
The hospitality from the staff that we received was commendable and the room service was undoubtedly smooth. Also, the best part of our stay was the games and recreational activities that were offered to us including badminton and volleyball. Additionally, the staff also arranged bonfire and music for our entertainment and that made our trip utterly awesome!
A Short Trip Exploring Best Places In And Near Jim Corbett
Some Must-Check Jim Corbett Travel Tips
1. Keep seated in your vehicle as it may get risky if you get down
2. For your as well as the safety of wildlife, maintain a proper distance from animals
3. Don't litter in order to keep the cleanliness maintained
4. Please refrain from doing any kinds of pollution and keep the park pollution-free
5. Avoid listening to music while you are in the jungle
6. Do not try to provoke animals and make them do something beastly
7. Keep insect repellants, first aid, and sanitary requirements handy
8. Keep some woolens as the nights are colder and you will need to get something to warm up
 A Family Weekend Trip To Jim Corbett To Cherish Our Bond Of Togetherness!
Our Experience With TravelTriangle
This was our first trip with TravelTriangle and we are highly satisfied with everything they offered us. Especially the budget was designed in such a way that we didn't have to worry about anything including traveling, local sightseeing safari tickets, accommodation, food, etc. Moreover, our agent Pranav Gupta was extremely helpful and informative. He provided us a perfect customized trip as we wanted and made sure that we do not miss out on anything.
 30 Resorts In Jim Corbett For 2022 That Are Definitely A Class Apart
Housing more than 500 species of flora and fauna, Jim Corbett National Park greatly intrigues naturists and adventure seekers. Tapan and his friends took some time off to witness the famous Jim Corbett wildlife and came across many thrills. If you also wish to have a face to face with wilderly creatures and chase the adventure, then sign up for a Jim Corbett trip with TravelTriangle.
Frequently Asked Questions About Jim Corbett Wildlife
How many days are required for touring the Jim Corbett Wildlife Park?
2 days are enough to spend in Jim Corbett and enjoy a fascinating trip amidst the wildlife.
What are the activities lined up for Jim Corbett Wildlife trip?
Safari wildlife, chilling at Kosi River are some of the activities lined up in the Jim Corbett Wildlife trip.
Where to do shopping in Jim Corbett?
Garjiya Devi Mandir has a nearby local market, handicrafts and gifting shops are easily found in the Jin Corbett. Take recommendations from travel guides to visit shopping at cheaper rates.
What are the important things I should keep in mind, while on a trip to Jim Corbett?
The tips are given below:
-Don't get down the vehicle until it does not stop.
-Try to maintain some distance from the wildlife as there are many dangerous ones too
-Do not throw wrappers or litter around.
-Smoking is prohibited.
-Do not plug-in your headphones or earphones as any animal might attack you when you are not even aware of it.
What is the highest and lowest temperature in Jim Corbett?
The highest temperature is 30-degree Celsius and the lowest is the 8-degree Celsius.
Which zone is best in Jim Corbett?
The best zones where you are likely to spot a tiger and enjoy a complete safari tour are bijrani safari zone and dhikala Safari Zone. Also, the jeep safari tours are offered in two shifts and travelers can opt for as per their preferences.
What is the best time to go to Jim Corbett?
During the winter season, which is from November to February, travelers are allowed to enter all the zones. Because of the favourable weather conditions, animals come out of their cocoons, therefore, the chances of spotting most of the animals are high.
Is December a good time to visit Jim Corbett?
Yes, since the temperature in December is quite low, all the zones of the park are open for tourists. You will be able to spot various animals and most likely you will find the tiger sun bathing.
Are private vehicles allowed in Jim Corbett?
No, private vehicles are strictly prohibited inside the Corbett Tiger Reserve.
Which are some adventurous activities in and around Jim Corbett?
Jim Corbet and the nearby areas offer visitors to indulge in various adventurous activities including river rafting, bridge slithering, rappelling, mountain climbing, nature trek.
---
Looking To Book A Holiday Package?
Book memorable holidays on TravelTriangle with 650+ verified travel agents for 65+ domestic and international destinations.
---