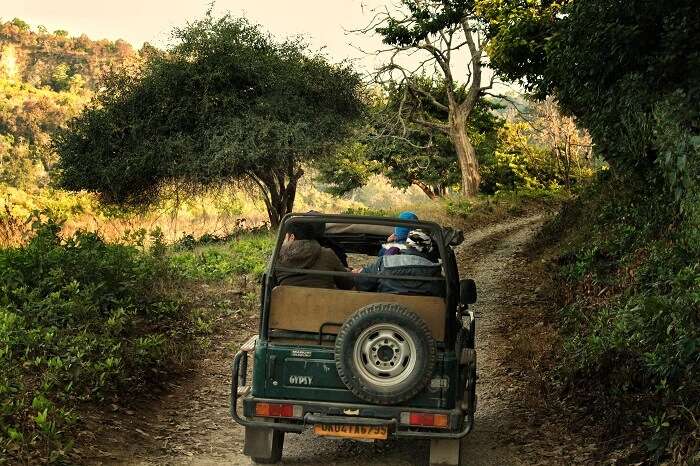 Scenic nature and offbeat adventures often go hand-in-hand. Arvind and his friends went on a 2 night 3 day weekend trip to Jim Corbett organized by TravelTriangle to celebrate the welcome of 2017. Read his account as he recollects their fun times, new friends, amazing adventures, and picturesque locations they visited. Their trip cost them a total of INR 6,000 per person on quad-sharing basis and it included their transfers, bus tickets, sightseeing, meals, and jungle safari.
Trip Cost: INR 6,000 per person on quad sharing basis
Trip Duration: 2 nights/ 3 days
Inclusions: Transfers, bus tickets, sightseeing, meals, DJ night, and jungle safari.
Weather in Jim Corbett: (2 deg to 9 deg)
My friends and I thought long and hard about coming up with a unique way to welcome 2017. Thankfully, while browsing on Facebook, I noticed a TravelTriangle advertisement for a massive weekend getaway planned for 31st December. We all unanimously agreed that this would be an ideal way to spend the new year weekend and selected Jim Corbett as our destination.
So, I called up TravelTriangle inquiring about the trip and they explained its details and inclusions. The package looked exciting, so the 6 of us signed up for the weekend trip. The booking process was smooth and soon enough we were ready for a new kind of travel where we'd a chance to meet and spend time with new fellow travelers, high on adventure.
Day 1: A DJ Night with bonfire to celebrate 2016!
A Stress-Busting Thrill-Seeking Adventure Trip To Jim Corbett
After departing from New Delhi at 10 pm in a bus, we arrived in Jim Corbett at 7 am. The night journey was pleasant as the trip coordinators Javed and Atendra, broke the ice between unknown travelers nicely. Pretty soon we were comfortable in each other's company and the idea of a group trip was already looking like a good one.
After checking into the Corbett Crown Resort, we had breakfast. We rested for a while to get a quick nap as we were scheduled for sightseeing in Jim Corbett at 2 pm. Sightseeing began at 2 pm with a visit to the Girja Devi Temple and then spent some time along the Kosi river. After lots of pictures sitting among the pebbles and a casual streaming river, we headed back to the resort.
The evening began for us with bonfire, snacks, and DJ at 7 pm. The New Year's Eve party was lit! I had a gala time with old friends and new, as we danced, drank, and celebrated the night away. We enjoyed dinner besides the bonfire and together recollected, the best moments of 2016. Later at around 2, we went back to our rooms to sleep.
Day 2: A charming evening in picturesque Nainital
Two Travelers On A Weekend Quest For Adventure: Sneh And Her Son Embark On A Trip To The Jungles Of Jim Corbett
This day, we had our breakfast around 10 am. Post breakfast, we requested Atendra to alter our itinerary slightly since all of us wanted to visit Nainital which was pretty nearby. To his credit, he duly obliged to all the travelers' request and modified the plan. Soon, we took the bus to Nainital.
We arrived in Nainital at 3 pm amidst a clear sky and chilly winds. The near freezing weather didn't seem to bother us much. The view of the beautiful Naini Lake was sufficient for us to feel motivated. And so, we proceeded for boating in Nainital (ofcourse, how can anyone not do that). One of the top things to do in Nainital, boating in the Naini Lake always envelopes you in the charm of the hills. Later, we indulged in some savoury Tibetan delicacies like momos on the Mall Road in Nainital.
We returned back to the resort at 8 pm and once again, we had a bonfire awaiting us followed by dinner. Shortly after dinner, we called it a night since we had an early start to the next day.
Day 3: Riding into the Corbett jungle
All Girls Trip To Jim Corbett: A Weekend Escape In The Heart Of Nature
The final day of our new year weekend trip to Jim Corbett was upon us. We woke up early at 5am and got ready for the jungle safari. We arrived at the entry gate via the bus and entered the forest area on separate jeeps at 6am and thus began the safari. Although, the safari lasted an hour, we weren't lucky enough to see the elusive Asian Tiger.
Afterwards, we returned to the resort and had a delicious breakfast. Later on, we checked out of the beautiful resort at 9 am and made our way back to Delhi.
Looking back at the weekend gone by, I'm glad I took a chance at experimenting with group travel. On our journey back to New Delhi, I was discussing this with my friends and the feeling was mutual. We spent an amazing weekend in Jim Corbett and Nainital! Right from our company to the location, to the food, and the ambiance – everything was perfectly managed and coordinated by TravelTriangle.
My friends and I had a wonderful time in getting to know new people and gained a new perspective on life. We were looking forward to go on more adventures with TravelTriangle.
High Points:
New Year's eve bonfire party was a really enjoyable affair.
Low Points:
Hotel staff were helpful, but not organized or proactive in the preparedness for clients.
Want your very own weekend adventure with TravelTriangle? Book now for an unforgettable travel experience!
Frequently Asked Questions About Trip To Jim Corbett
How many days are enough for Jim Corbett?
Two days are enough for Jim Corbett National Park. It gives you plenty of time to go on wildlife safari, river rafting, and enjoying the stay inside the park.
How do I plan a trip to Jim Corbett?
The best way to plan a trip to Jim Corbett is by getting in touch with a travel company that will help you with all the arrangements like transport, accommodation, food etc. It is best if you can customize your holiday as per your need and convenience.
What should I wear in Jim Corbett?
You should wear light cotton clothes during the day and pack a jacket or a shawl in the night.
What is the best time to go to Jim Corbett?
The best time to visit Jim Corbett is from November to March. This is the time when all the zones in the park are open and you have a better chance to spot a variety of animals.
How far is Jim Corbett from Nainital?
Jim Corbett is 64 km from Nainital that takes 1 hour and 43 minutes drive to reach.
What can we do in Jim Corbett?
You can take a wildlife safari, go river rafting, and visit Garjia Temple.
Is Jim Corbett open in March?
Yes, Jim Corbett is open in March.
When is Jim Corbett National Park closed?
It gets closed during the monsoon time i.e June to November.
What is famous in Jim Corbett?
Spotting tiger and river rafting are some of the famous activities in Jim COrbett.
---
Long Weekend Trips Starting @ Rs 3499/-
Take a trip to spend the upcoming long weekend with your buddies.
✓ Stay at 4 star rating hotels with local sightseeing, meals and transfers.
✓ Travel in AC coach round trip (from Delhi).
✓ All Inclusive Deal– Camping, Jeep Safari & Trekking as per itinerary
✓ Sign up NOW to celebrate the long weekend out of town!
---
Comments
comments