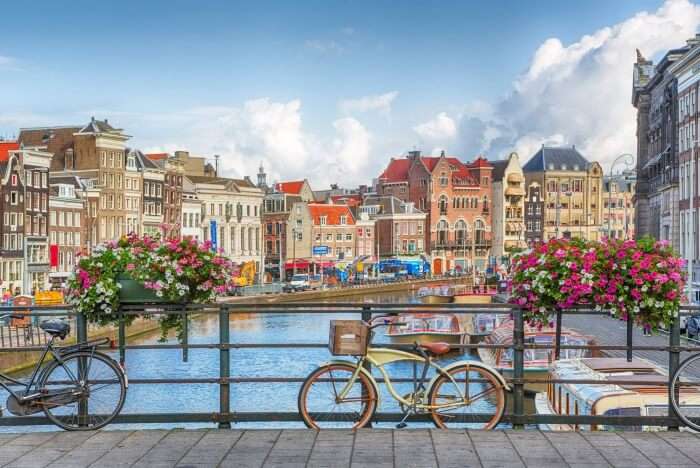 Amsterdam is an influential city with a rich history and a colorful landscape, the people here are welcoming and friendly. This is the capital of Netherlands adorned with canals and heritage buildings. Well-known for its nightlife and festivals, this city is full of attractions, whether you are traveling solo, with kids or your beloved. With so much in store, 3 days in Amsterdam may sound less to you, but with this blog post you will be able to spend these days the best way possible.
The post features day-wise itinerary, telling you about the places you can visit each day, with important tourist information about each attractions. You will also get to know average time travelers spend in the featured sites. We'll also recommend top hotels as per your budget. So, let's begin.
Day wise itinerary
Day 1 – The day we explore the museums, unwind and cruise through canals
Considering you land in Amsterdam early in the morning and are done with baggage claim and immigration by 11 am – You have enough time to head to the hotel, relax and have lunch. This day is dedicated primarily to museums, namely – Rijksmuseum and Van Gogh Museum. Museum Quarter is also an important site which you will visit during the first half of the first day of your 3 days in Amsterdam. Here is what all these three attractions will be about.
Rijksmuseum is one of Amsterdam's prime attractions, where you can witness artistry and history dating back to the middle ages. Its collection of painting is surely something that will catch your attention, as they are masterpieces created by world renowned artists; The Night Watch by Rembrandt and The Milk Maid by Vermeer are among the highlights.
Van Gogh Museum needs no introduction. It exhibits world's largest collection of the masterpieces created by Van Gogh. Sunflowers and The Potato are two of the many pieces that travelers across the world come to see.
The Museum Quarter is a picnic area where you can relax and enjoy local snacks, after hours of strolling through the museums. You can also indulge in sports and games if you are feeling refreshed.
Next, head to Vondelpark, a tranquil garden located in the heart of the city. You can also visit this right after Rijksmuseum, as it is in close proximity, merely a few blocks away. Oftentimes, during summer season, there are a number of open-air concerts organized. If you are a tea-enthusiast, you'd totally love Blauwe Theehuis, which is at the centre of the park.
As the sun sets, get ready for Canal Cruise, one of the best things to do in Amsterdam. This is a cherry on the top, especially if you are with your beloved. As you sail through the canals, you'll come across number of important landmarks. This surely is an unforgettable and relaxing experience. Since there are various organizers, you must check prices in advance. It would be a delight if you book yourself a luxury dinner cruise.
Time taken in attractions:
Rijksmuseum – 3-4 hours
Van Gogh Museum – 2-3 hours
Museum Quarter – ½ – 1 hours
Vondelpark – 1-2 hours
Canal Cruise – 2-3 hours
Must Read: 15 Best Places To Visit In Netherlands: The Perfect Mixture Of Art And Culture
Day 2 – Turning the pages of history and pub hopping to call it a day
On the second day of your 3 perfect days in Amsterdam you will dive deeper into the history and heritage of the city. You will be exploring the markets, neighborhoods and historic landmarks. Have a delicious breakfast and begin your sightseeing tour from Begijnhof Courtyard. It dates back to late fourteenth century, and though there are number of Dutch houses surrounding it, the one that stands out is a house made of woods. This is the oldest house in Amsterdam and was built in 1420. (You will have to skip this if you are traveling in large group as that is not allowed, since it is a private property).
Next, visit the colorful Flower Market – Bloemenmarkt. This aromatic escape will refresh your senses, especially if you are coming during summer or spring season. There is no way you can resist buying the flower bulbs, but there is a little restriction regarding the export of some flowers. You can look for health inspection certificate in the package to clear that out.
After that head to another prime attraction of the city, Anne Frank's House. Here Anna and her family hid for 2 years, when Netherlands was ruled by Nazis during WWII. This attraction is best visit during lunch hours, as crowd begins to flock during evening.
As the evening sets in, visit a rather posh neighborhood of Amsterdam, dotted with hypnotic bars and amazing restaurants – Jordaan. Go pub hopping here and enjoy the nightlife in Amsterdam. If you are not traveling with kids, you must head to the Red Light District – Rossebuurt, before you return to the hotel to doze off. Though this is primarily an area flecked with brothels and sex shop, you'd be pleased with the glimpses of heritage as this is one of the oldest locales of the city.
Time taken in attractions:
Begijnhof – ½ – 1 hours
Bloemenmarkt – ½ – 1 hours
Anne Frank House – 1 – 2 hours
Jordaan – 2-3 hours
Red Light District – Rossebuurt – 1-2 hours
Suggested Read: These Pictures Of Freezing Amsterdam Canals Will Make You Fall For European Winters!
Day 3 – Wandering through more iconic attractions before we fly
As your last day in Amsterdam arrives, we are considering you have a late night flight home. If you end up having an evening flight, you can skip some of the attractions, of course. The sites that you must not miss are – Oude Kerk, Royal Palace Amsterdam and Concertgebouw. Here is a breakdown of what these places are about:
Oude Kerk is a Calvinist church, built in 1306, making it the oldest building in Amsterdam. The landmark stands as an epitome of brilliant architecture, with its magnificent wooden roofs, grand windows and of course a facade that speaks perfection. Other than being an important religious site, the church also serves as a venue for various events such as World Press Photo Awards. Don't forget to stay updated with the events through its official website
The Royal Palace of Amsterdam, located at the city centre, will bewitch you with its regal architecture. This dates back to 17th century, and is open to public now. The palace showcases exhibits that gives a sneak peek of Amsterdam's history and legends.
Concertgebouw is a concert venue, unlike any other. You can book yourself a concert online through the website, or opt for guided tours. If you are visiting on a Wednesday afternoon, you may get to attend free concert.
Have your lunch at Leiden Square (Leidseplein), another upmarket neighborhood of the city. At this time of the day, you will stumble upon street artists showcasing their talents. How can you leave Amsterdam without some shopping, so next up in our itinerary is Albert Cuyp Market. This flea market is where you can find everything from food to apparels. This surely is a shopaholic's paradise.
You can cross out any attraction here as per your liking. And this brings us to the end of a beautiful trip to Amsterdam. Catch your flight and carry sweet memories with you.
Time taken in attractions:
Oude Kerk – 1- 2 hours
The Royal Palace of Amsterdam – 1- 2 hours
Concertgebouw – 2 – 3 hours
Leiden Square (Leidseplein) – 1- 2 hours
Albert Cuyp Market – 2 – 3 hours
Suggested Read: 15 Best Things To Do In Netherlands For Treating The Adventurer & Nature Lover In You
Best hotels in Amsterdam
If you are on a budget, then options you must consider are Art Hotel Amsterdam, Best Western Premier Hotel Couture, City Hub and Corendon Vitality Hotel
For someone looking for luxury hotels in Amsterdam, then the best options are – Waldorf Astoria, Hotel Pulitzer, Luxury Suites Amsterdam and Andaz Amsterdam
So, that was an ideal way to spend stunning 3 days in Amsterdam. However, if you still are looking for choices, you must browse through Travel Triangle's Amsterdam tour packages.
Further Read: 10 Essential Europe Travel Tips For The Newbies!
Comments
comments