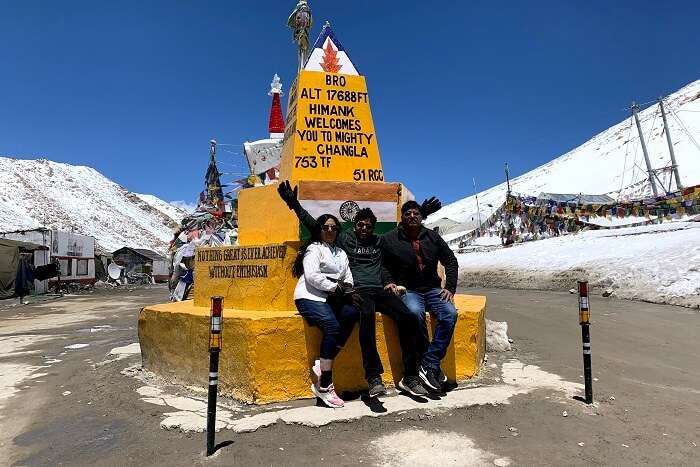 Ladakh's scenic beauty, Buddhist monasteries, and rich culture attract tourists from far and wide. But, everybody has a different reason to visit Ladakh. Some travel to the destination seeking relaxation and rejuvenation, while others drop by to explore avenues for adventure. Read on to find out what was the motivation behind Sriharsha's 6 days trip to Ladakh.
My father has a penchant for travel and adventure. But off late, his busy schedule hadn't permitted him to take a holiday. It was beginning to reflect in his demeanor. That is when I decided that the family could use some vacation time. I suggested we go to Ladakh, but dad was skeptical because of its high altitude. Fortunately, I succeeded in convincing him. Afterward, we got in touch with TravelTriangle, and our agent customized our trip itinerary according to our preferences in no time. Before we knew it, we set off for the untouched paradise on Earth.
Table Of Content
Details Of Our 6 Days Trip To Ladakh
Trip Cost: INR 73,500
No. Of People: 3 adults
Trip Duration: 6 days and 5 nights
Inclusions: Breakfast, dinner, airport transfers, English speaking driver, hotel fare, cab for sightseeing, first aid medical kit in cab, toll tax and parking fee
Exclusions: Lunch, welcome drinks on arrival, camel ride, entry fee of attractions, airfare, rafting, personal expenses, tips, travel insurance, laundry
Ladakh 6 Days Itinerary
Day 1: Arrival in Leh and evening stroll in Leh market
Day 2: Drive to Changlangla Pass and sightseeing
Day 3: Drive to Khardungla Pass
Day 4: Arrival in Nubra Valley
Day 5: Arrival in Pangong
Day 6: Departure
Weather At Ladakh
Leh and Nubra enjoy pleasant weather in the month of May. The days are sunny but the nights can get chilly. At Pangong, it was unbearably cold and windy. If you're wondering what to pack for Ladakh trip, I suggest you pack a lot of woollen clothes and layer yourselves up in the evening to avoid falling sick. Our hotel staff was kind enough to furnish us with extra blankets to keep us warm.
5 Memorable Experiences From Our 6 Days Trip To Ladakh
After a lot of thought, I have arrived at 5 things to do on a 6 days trip to Ladakh that will render your experience unforgettable. You can read them here:
1. Sightseeing In Leh Ladakh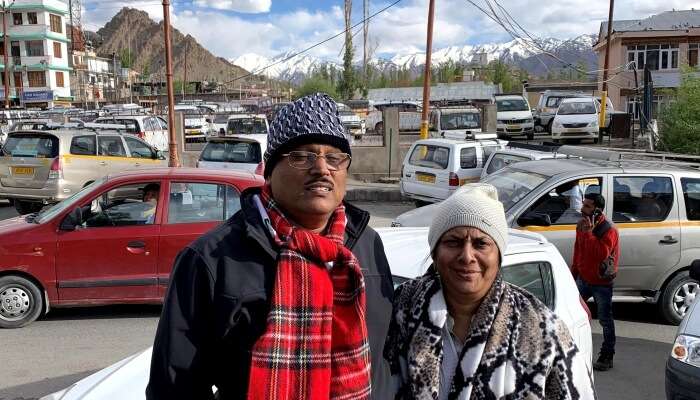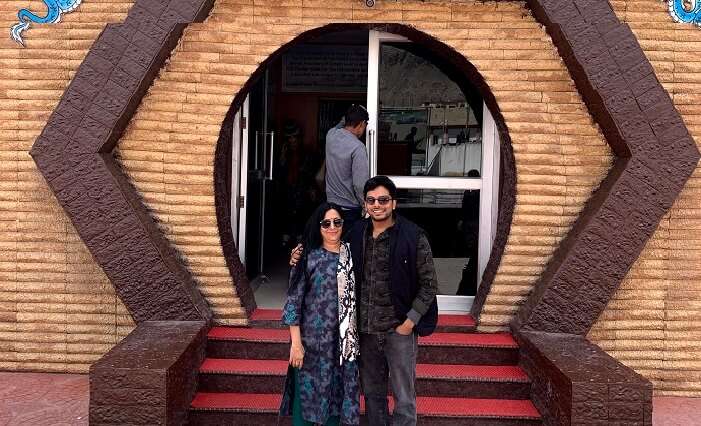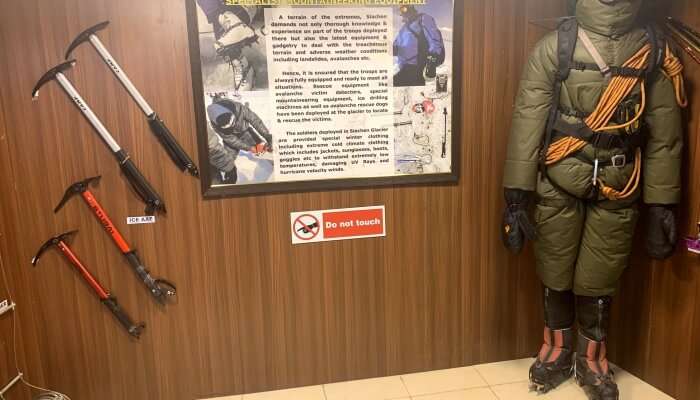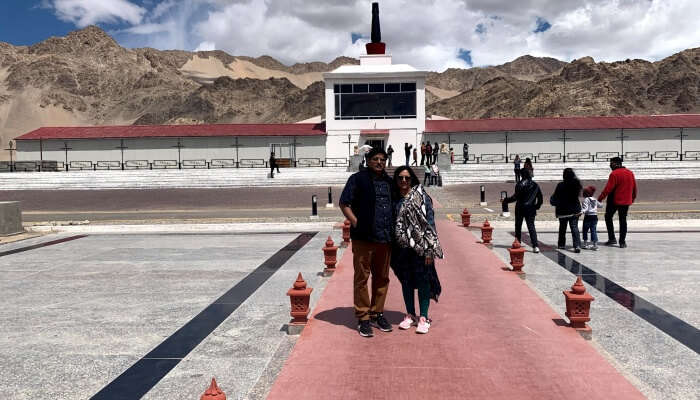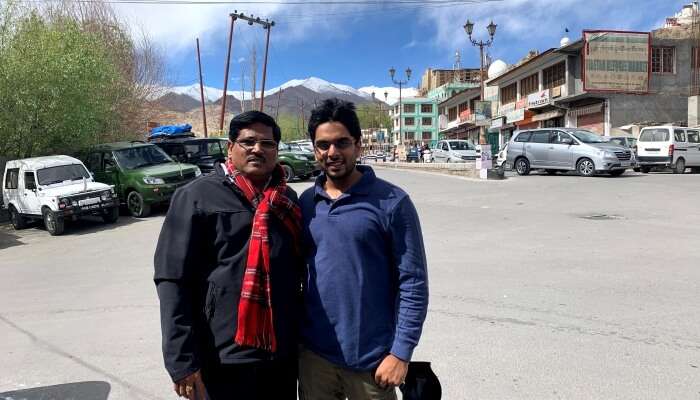 The visit to the Army Museum filled my parents and I with a sense of pride. The letter from a 22-year-old soldier which said that he'd be no more was very moving. Our trek all the way to the Leh Palace was brilliant too! I couldn't believe the magic of the Magnetic Hill until I actually saw the car moving, without any effort from the driver, on its own. This phenomena is caused by the magnetic pull of the hill. The Sangham was so beautiful to watch with the colors of the two rivers (Indus and Zanskar) coming together!
40 Best Things To Do In Ladakh That You Can't Afford To Miss In 2022!
2. Playing With Snow At Changlangla Pass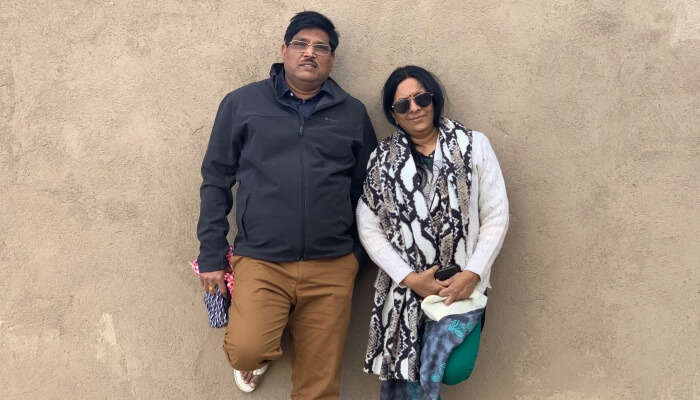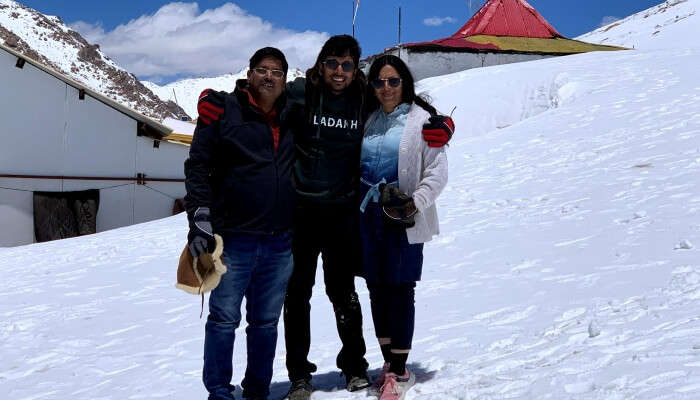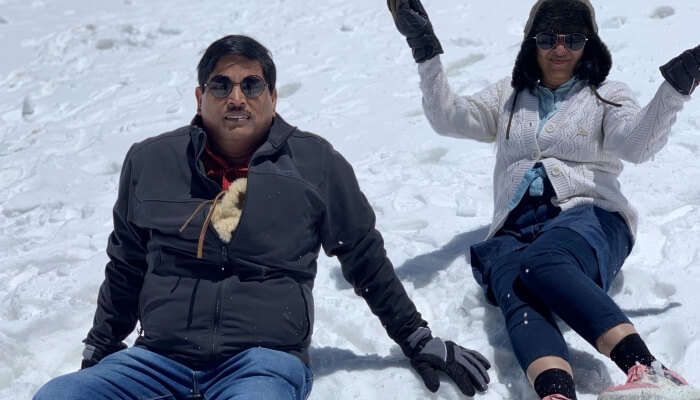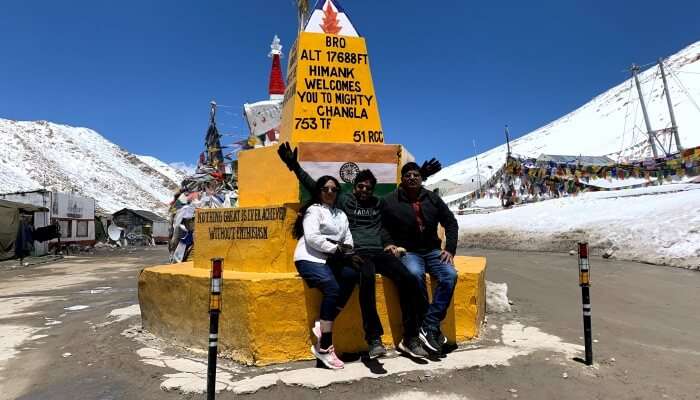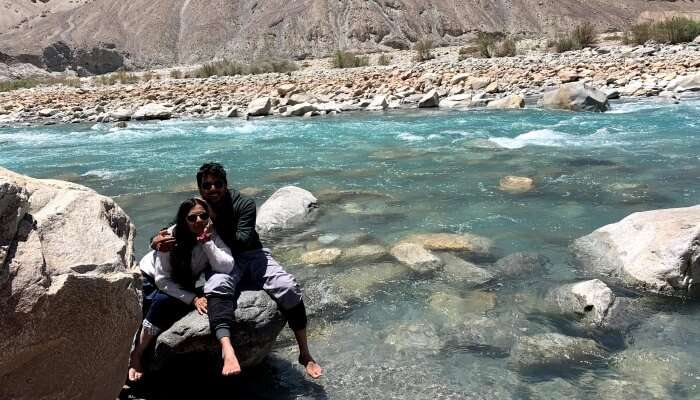 At 17,688 feet, I played with snow with my parents after 10 years. That feeling cannot be put into words. My parents transformed into little kids and threw snow at each other and everywhere else. This was one of the highlights of our 6 days trip to Ladakh.
3. Stargazing In Pangong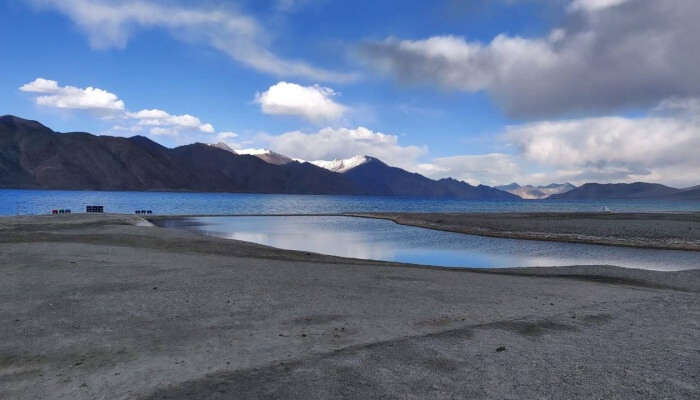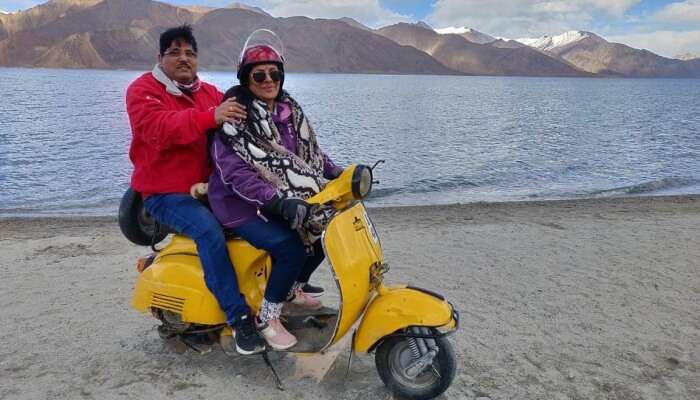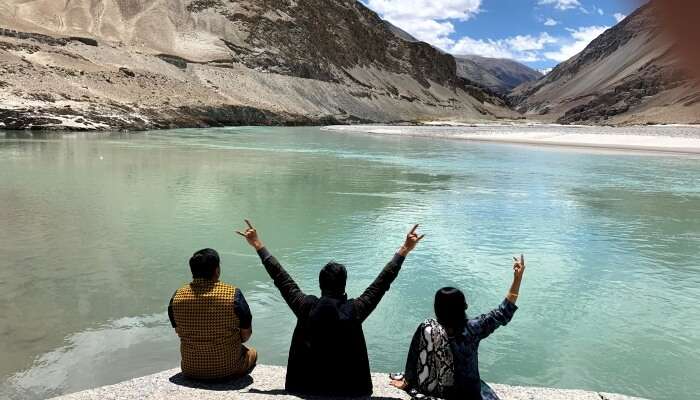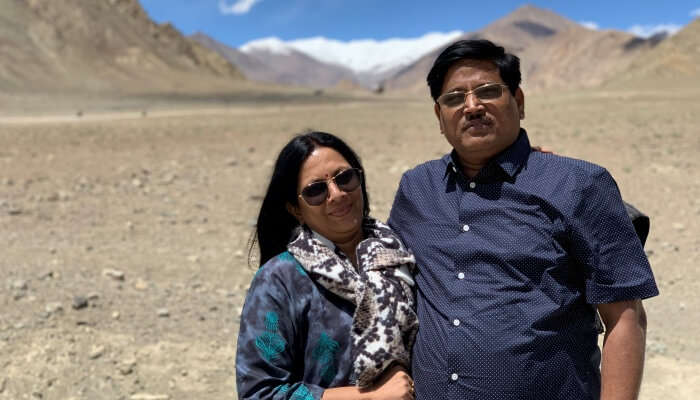 After what seemed a lengthy drive, we witnessed one of the best visuals nature has provided to mankind: Pangong Lake. The sheer beauty of the lake revitalised our weary spirits. The lake changes 5 colors over the day. A walk by the lakeside is the best stroll you'll ever take in your life. The night stay was a little bit difficult with the cold and the wind. I suggest you carry the electric blankets if possible. I dare you to go stargazing at night. The night sky is so clear and beautiful! We also went to the famous 3 idiots school and visited the monasteries in the region.
Trip To Ladakh: When In Ladakh, Always Expect The Unexpected!
4. Camel Ride At Nubra Valley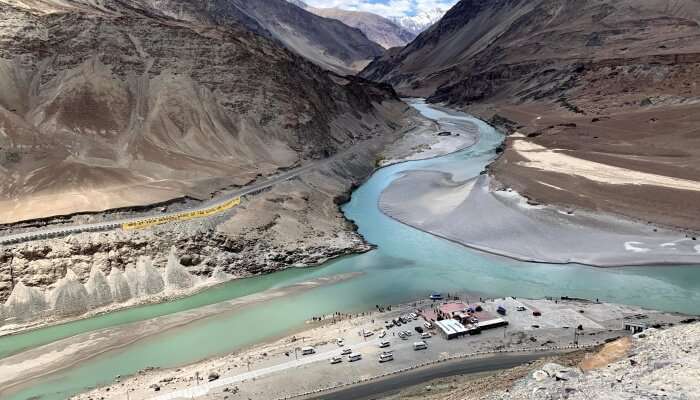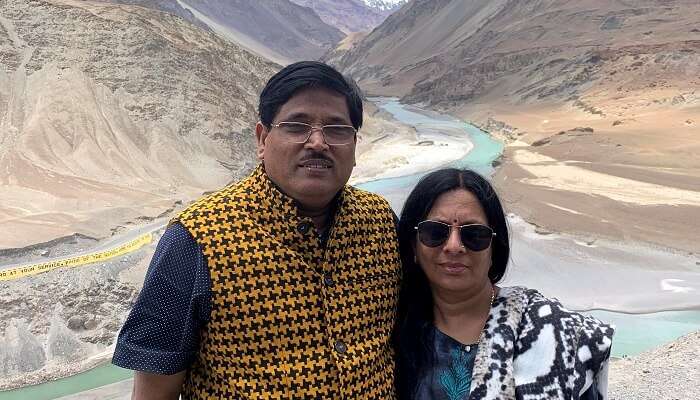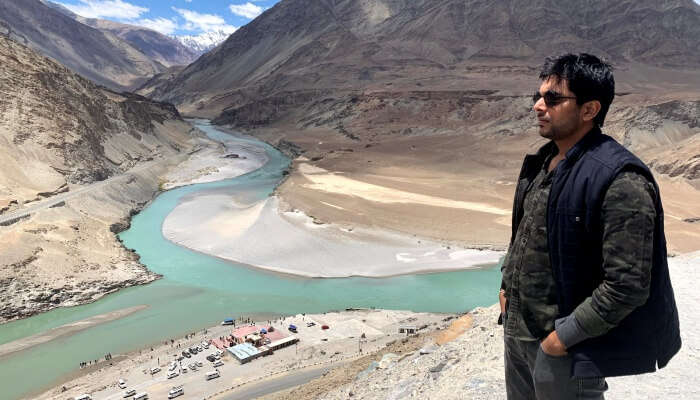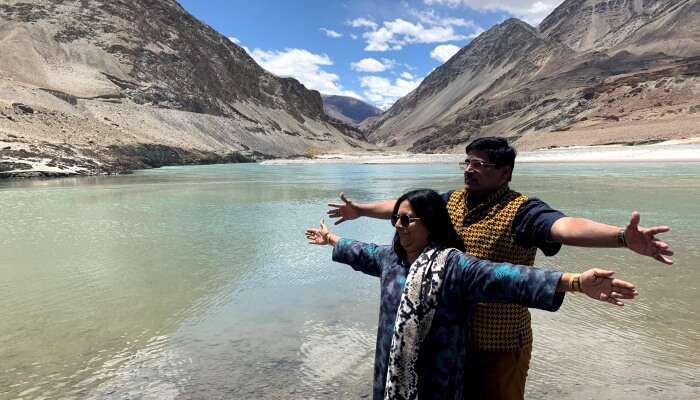 We went on a camel ride in Nubra Valley and visited the sand dunes. They took our breath away. We stopped for sometime to take it all in. After we took a few photographs, we headed to see a local dance performance. We will never forget the night stay at Nubra Valley. The camp was no less than a 5 star resort.
12 Festivals Of Ladakh In 2022 That Celebrate The Life In The Valley
5. Driving To Khardungla Pass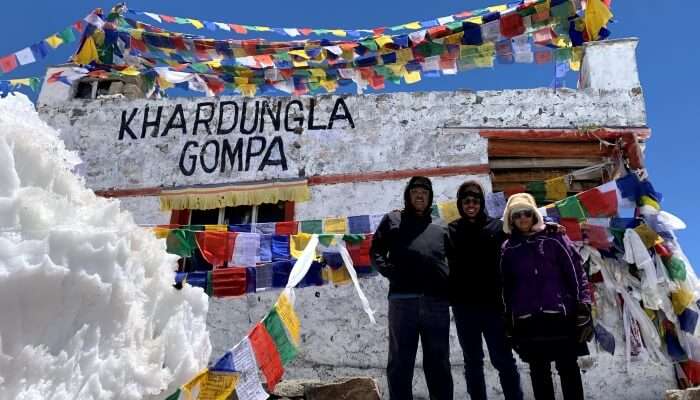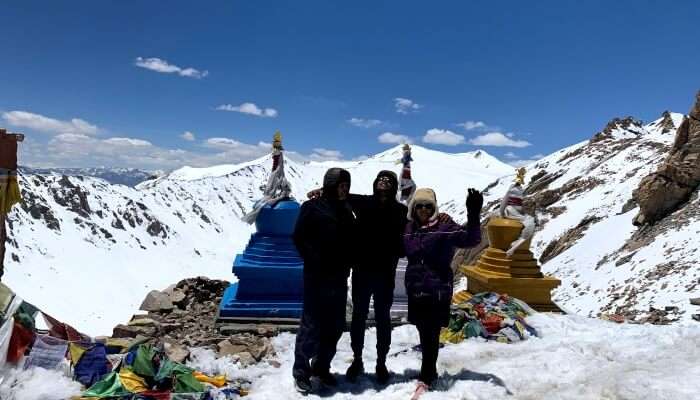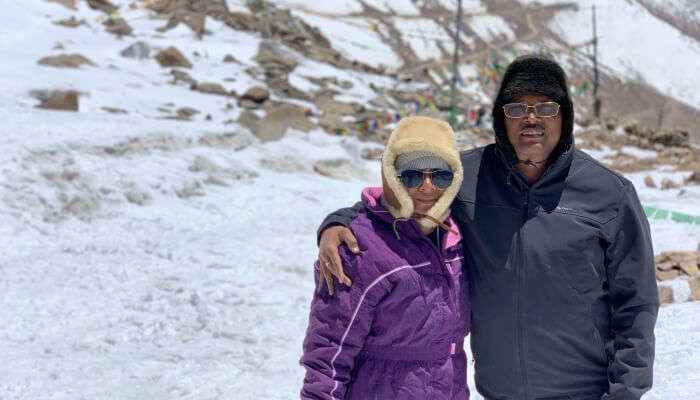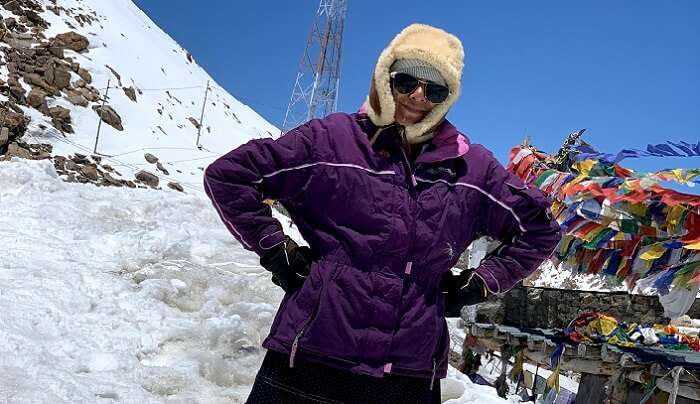 Crossing Khardungla Pass, claimed to be one of the highest motorable roads in the world, was another one of our trip's highlights. It was a wonderful experience that can't be put in words. We had Maggi and tea amidst clouds and snow and the warmth emanating from the friendly locals. I have experienced nothing quite like what i experienced up there.
 12 Astounding Spots For Trekking In Ladakh That Need To Be On Every Hiker's Bucket List In 2022
Our Hotels In Ladakh
We stayed in Hotel Singge Palace in Leh. We were well looked after by the staff who took care of all of our needs. Nubra Ethnic Camp and Resort hosted us in the valley. Don't be fooled by the tents, the service at this camp area was the best out of the lot. We spent our night stargazing, telling stories, and sitting by the fire to beat the chill. Staying in Pangong Tso Padma Camp was also an experience of a lifetime. All in all, we had a peaceful time at the hotels in Ladakh.
Restaurants In Ladakh
We came across several restaurants in Ladakh and Leh on our 6 days trip to Ladakh where we treated our taste buds to local cuisine. Their ambience is pleasing and the staff is more than willing to describe what the dish is and the ingredients that go into it. Some of the food items that one must try while one is there includes momos, noodles, spring rolls, and chilly potato.
Shopping In Ladakh
There's a small kiosk in the Leh Market where a local sells Pashmina shawls. The store keeper explained to us the entire process of how Pashmina shawls are made, even though we had informed him that we have no intention of purchasing. But his veracity and integrity made us buy three shawls. We must say, shopping in Ladakh was an altogether exemplary experience on our 6 days trip to Ladakh.
How To Reach Ladakh
The best way to reach Ladakh is by airplane. You can board any flight to Ladakh and in all peace and comfort reach the place. The other way is via road that too if you like road trips. Motorbike trips to Ladakh are the most popular ones. By road there are 2 ways to go to Ladakh – Srinagar to Ladakh and Manali to Ladakh.
Do's & Don'ts In Ladakh
Do Carry extra battery for your modile phones and camera's as electricity is a bit of a problem here.
 Take permission of the monks or the person before clicking their picture.
Do have all your documents in place and ready to show as some tourist places can only be visited on prior request.
Do not refer to google maps for time frames.
Hemis Festival 2022: Your Gateway To Enter The Magical Realm Of Ladakh
Ladakh Travel Tips
Here's a list of Ladakh travel tips that I believe will help you avoid mistakes and vacation like a pro during a 6 days trip to Ladakh:
1. Carry enough medicines as you may come face to face with unexpected situations on your trip.
2. Equip yourselves with heavy woollens.
3. Carry sunscreen with you at all times since sunlight can be very harsh during the day.
4. Cut down on single use plastic and carry a steel bottle with you at all times.
5. Carry enough cash as most shops and eateries do not accept credit cards.
Our Experience With TravelTriangle
We're thankful to the agent at TravelTriangle for customising our travel itinerary according to our preferences. Our itinerary had enough breathing space for us to take some leisure time off to do our own thing. I would even go as far as to say that the itinerary was foolproof. TravelTriangle was considerate enough to accede to most of our requests.
                                       Magnetic Hill In Ladakh: A Handy Guide To Unravel This Mystery In 2022!
I hope our 6 days trip to Ladakh inspires some of you to give in to your wanderlust and book your tickets pronto. This destination should be on every traveler's list, and for good reason. You will have the time of your life on your Ladakh trip, just like we did. Make sure to contact TravelTriangle for availing special travel deals and discounts.
Common Queries About 6 Days Trip To Ladakh
Here's a compilation of all the travel queries you may have vis-a-vis our 6 days trip to Ladakh. I am sure you will find all your queries and concerns addressed below:
What is the best time to visit Leh Ladakh?
The best time to visit Leh Ladakh is in the summer season, preferably between April to June.
How to reach Ladakh from Delhi?
You can reach Ladakh from Delhi by road via Leh Manali Highway. Ladakh is around 1011 km away from Delhi and the total travel time is approximately 24 hours. You can also take a direct flight from Delhi to Leh.
Does Leh have snow?
Yes, you will find Leh snowed in around May-June.
Which bike is suitable for Leh Ladakh trip?
The bikes suitable for Leh Ladakh trip include Mahindra Mojo XT300, KTM 390 Duke, and Royal Enfield Himalayan.
What mainly attracts tourists to Ladakh?
Traditional Ladakhi jewelry with turquoise and Tibetan handicraft items like prayer wheel and Thangka paintings mainly attract tourists to Ladakh.