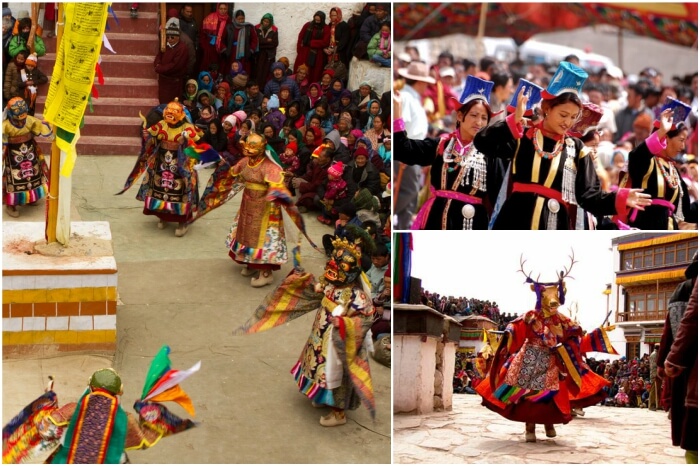 India is a land of diversities and the variety in food, culture, and festivals here makes the country an exciting proposition for explorers. To many, Ladakh is just a land enveloped by snow covered peaks and daunting passes. But what they don't know is that there are customs and festivals of Ladakh that are alluring as well.
And thus, we peep into the 10 most popular festivals of the land of high passes. Know when can you be part of these traditional celebrations, and plan a trip to Ladakh accordingly.
1. Losar: Welcoming the new year with open arms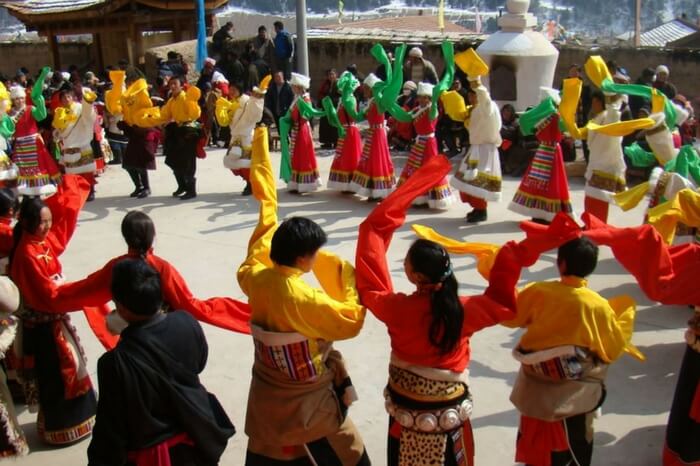 Where: Across Leh-Ladakh
When: December
One of the most popular festivals of Ladakh is Losar – a medley of cultural events, rituals, and performances. Holy fire, chant of mantras, and colorful robes set the tone for the celebrations for this festival that falls mostly in the month of December as per the Tibetan calendar.
Key attractions: Stage fight between the good and the evil, ibex deer dance
Losar 2016 date: 30th December
Must Read: 15 Winter Festivals In India You Must Attend

---
Looking To Book A Holiday Package?
Book memorable holidays on TravelTriangle with 650+ verified travel agents for 65+ domestic and international destinations.
---
2. Sindhu Darshan: Celebrating the existence of the holy Indus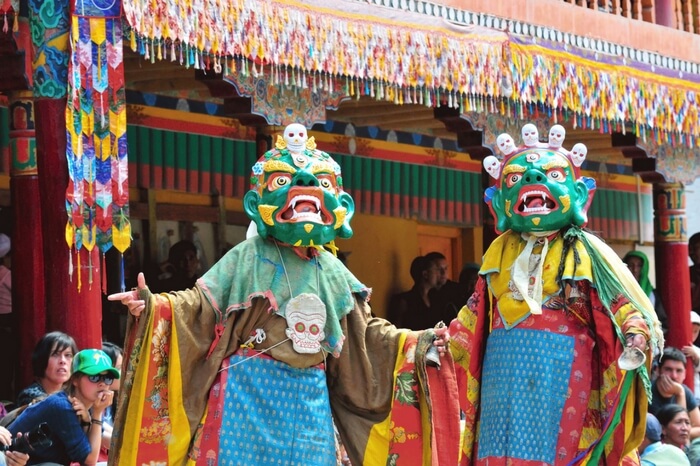 Where: Banks of river Sindhu at Shey Manla in Leh
When: June
Sindhu Darshan, celebrated on Guru Purnima, is another vibrant extravaganza of Ladakh. Through this festival, the natives commemorate the Indus River as they believe that the river plays a key role in maintaining harmony and unity among various ethnic groups and communities of India.
The 3-day festival is also a way of paying respect to the brave Indian soldiers who endanger their life to save ours. Which makes
Key attractions: Buddhist prayers by senior lamas that commence the festival, and cultural programs by renowned artists
Sindhu Darshan 2017 dates: 12th June – 14th June
3. Hemis Tsechu: A cultural extravaganza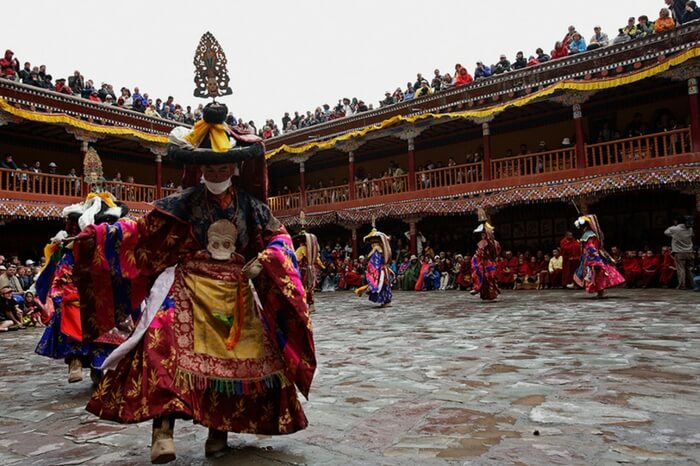 Where: Hemis monastery
When: July
Hemis Tsechu is another of the most awaited festivals in Ladakh that stretches over two days. It features a series of mask dances by the lamas of Hemis monastery and concludes with a sacrificial offering on the last day.
Key attractions: The highlight of the festival remains colorful masks and fine silk costumes worn by the dancers that represent guardian divinities to which Hemis belongs. Every dance move has a relevance and depicts the magical feats of Padmasambhava – an 8th-century Indian Buddhist master – in his eight manifestations to defeat the enemies of Buddhism.
Hemis Tsechu 2017 dates: 3rd July –  4th July
4. Ladakh Festival: Harvest symbolizes prosperity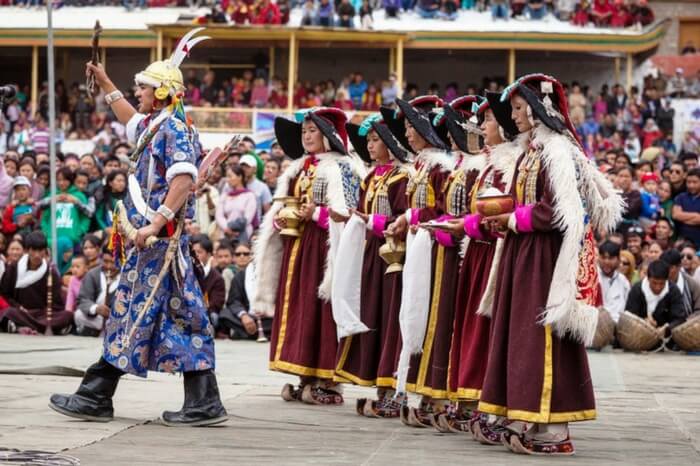 Where: Across Leh
When: September
Ladakh festival is one of the popular festivals in Ladakh that showcases the cultural diversity of various regions. Performers come from all parts of Ladakh and celebrate with utmost joy and opulence. Displaying a wide array of dance programs, traditional music performances, and colorful robes all around, Ladakh festival makes for one of the must-attend festivals of Ladakh.
Spanning over a duration of almost two weeks, the festival comes to an end at the polo ground in Leh. During this time, the religious procession crosses over from one monastery to the other, as people dance and celebrate the harvest season.
Key attractions: Archery, polo, masked dances, and concert
Ladakh festival 2016 dates: 1st September – 15th September
P.S. If you're a photographer or a culture enthusiast, we suggest at least stay to see a week of the 15-day celebrations. For a comfortable stay, find a budget option among hotels in Leh Ladakh.
5. Yuru Kabgyat: Victory of good over evil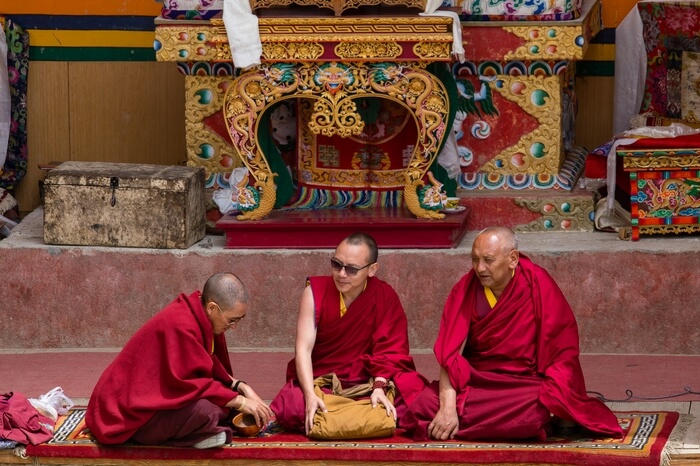 Where: Lamayuru monastery
When: July
The mystical beauty of Lamayuru monastery accompanied by the celebration of Yuru Kabgyat makes it a prime attraction for travelers in the month of July. It is a 2-day Leh Ladakh festival that brings together the people of Lamayuru where they imitate the teachings of Tibetan Buddhism by singing and dancing in a traditional pattern.
The highlights of these dance dramas are the religious teachings of Buddha, and colorful ethnic garments donned by the monks during the festival.
Key attraction: The sacred ritual of the demolition of the statue to mark the liberate the inner demons is the highlight of the festival.
Lamayuru 2017 dates: 21st June – 22nd June
---
Planning your holiday but confused about where to go? These travel stories help you find your best trip ever!
Real travel stories. Real stays. Handy tips to help you make the right choice.
---
6. Phyang Tsedup: Remembering the oracles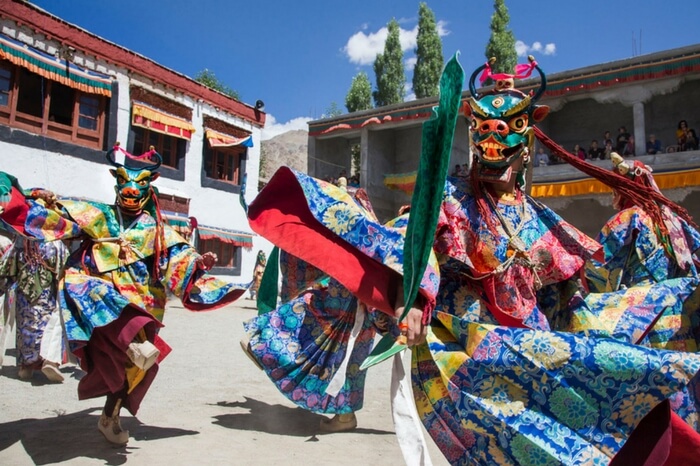 Where: Phyang monastery
When: July – August
Phyang Tsedup festival commemorates the teachings of Lord Buddha through festive celebrations. Monks don bright and colorful silk costumes, perform the sacred mask dance, and offer prayers. Dramas or 'Chhams' are performed to instill the teachings of Buddha amid high spirit and cheerfulness.
Followers also perform a pilgrimage to Thangka of Skyabje Gombo, which is considered an important ritual of this Leh Ladakh festival.
Key attraction: Display of paintings inside the monastery
Phyang 2017 dates: 21st July – 22nd July
7. Thiksey Gustor: Honoring the victors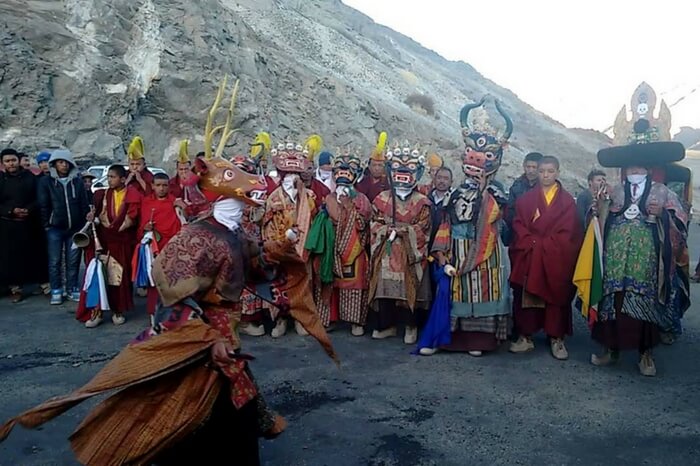 Where: Monasteries of Thiksey, Spituk, and Karsha
When: Different months for each monastery
Gustor is transliterated as 'sacrificing the 29th date'. The 2-day festival starts with chants and charms offered to god by the monks residing at the monastery. This is one of the much loved Ladakh festivals that reinstates the fact that all bad things must come to an end.
Key attraction: The second day comprises of the sacred ritual performed by the 'Black Hat Dancers' and a dough cutting ceremony of the sacrificial cake. It marks the end of the festival proceedings.
Karsha Gustor 2016 dates: 17th November – 18th November
Suggested Read: 6 Colorful Festivals In Bhutan

8. Dosmoche: Celebrating virtue amid drum and thumps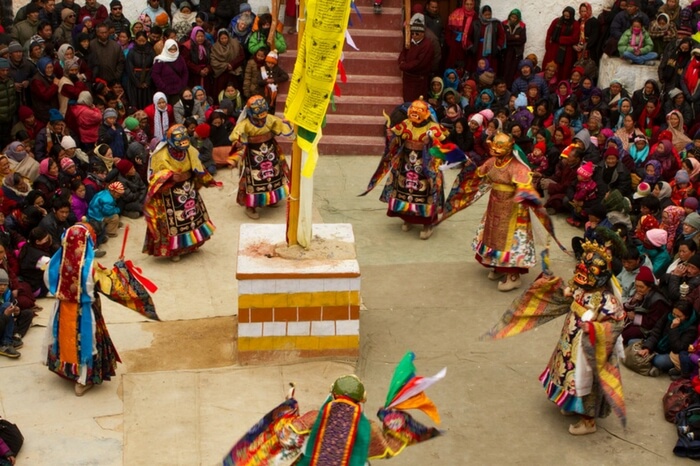 Where: All over Leh, Likir, Diskit monasteries
When: February
Started by Ladakh royals, the Dosmoche is a popular festival of Ladakh that is celebrated to ensure the safety and well-being of people living there. It is a congregation of Ladakhis masked in a fancy disguise and performing the sacred dance together. The festival goes on for two days.
Key attractions: The lamas from monasteries who are the experts in tantric practice and astrology prepare Thread Crosses – an offering that is believed to drive away all the evil spirits and demonic forces
Dosmoche 2017 dates: 24th February – 25th February
9. Matho Nagrang: Of oracles and their blessings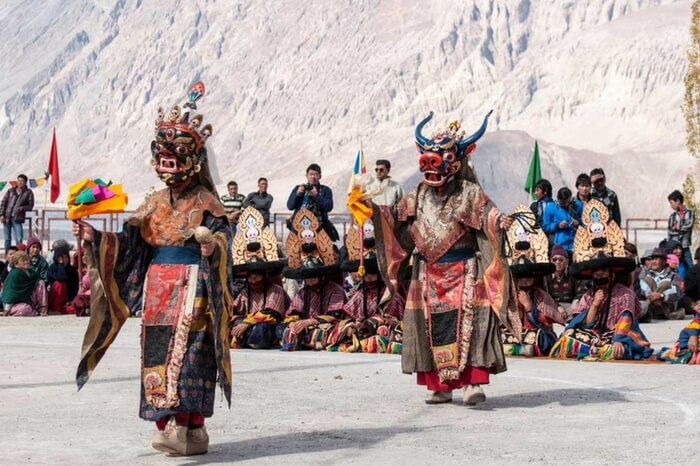 Where: Matho monastery
When: March; on the fifteenth day of the first month of the Tibetan calendar
Matho Nagrang is a two-day affair that sees monks dressed like various Ladakhi God and Goddesses. Their attire comprises of silk robes and masks.
Matho Nagrang is a huge attraction among locals as it sees the return of two oracles who spend a month meditating in isolation. They are accompanied by masked dancers as they make their coveted appearance.
Key attractions: The return of the monks and the performances
Matho Nagrang 2017 dates: 11th March – 12th March
10. Stok Guru Tsechu: The festival of commons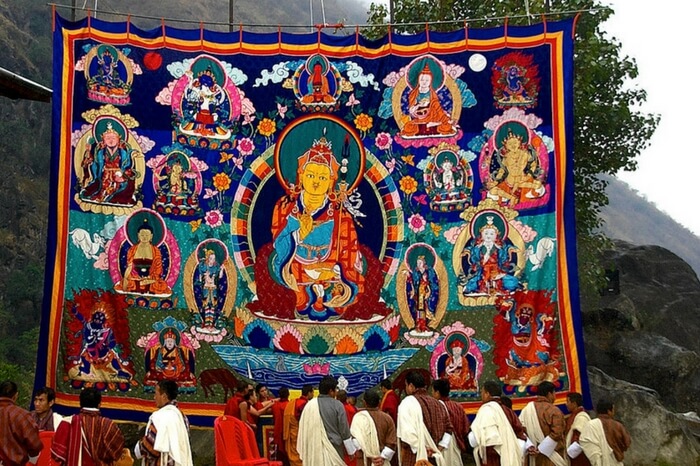 Where: Stok and Spituk monastery
When: February-March; one week prior to Matho Nagrang festival of Matho Monastery
The pride of Stok monastery, Stok Guru Tsechu is a 2-day celebration that begins on ninth day after the Tibetan new year. Prayers, dance (Cham by Lamas), music, and food are common sights during the festival, and unlike other monasteries, most of the rituals are performed by the common people.
Key attractions: Pretty much on the lines of Matho Nagrang, the key attractions of Stok Guru Tsechu are the two commoners chosen by Lamas, who are properly cleaned and prepared to receive the spirit of the deities. Masked dances by the priests add to the frolic.
Stok Guru Tsechu 2017 dates: 6th March – 7th March
Leh-Ladakh isn't just about mesmerizing escapades and imposing mountain frontiers in the north. Rather it's the contentment and celebration of every day of existence that comes naturally to them. Go on and seek happiness in the festivities there!
Further Read: 11 Best Things To Do In Ladakh That You Can't Afford To Miss!
---
Looking To Book An International Holiday?
Book memorable holidays on TravelTriangle with 650+ verified travel agents for 65+ domestic and international destinations.
---
Comments
comments