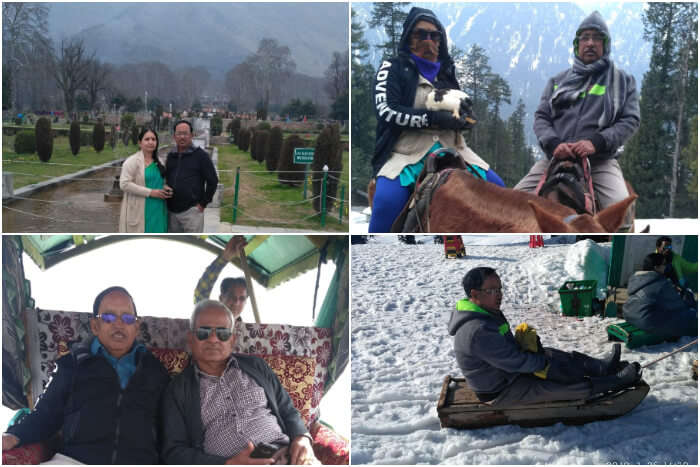 Jammu and Kashmir, the northernmost tip of India is truly a 'heaven on Earth'. But we often think that the distance of this place from major southern cities of India would make it an expensive holiday destination. But here's family from Hyderabad who made it to this winter wonderland at an expense that was not very harsh on their pockets. Know the deets of their journey and get inspired.
We were looking forward to take a break from our regular life routine and head out on a leisure family trip. Kashmir had been on our minds from a very long time. The next step was to find a good trip organiser, and this is when we got to know about TravelTriangle. From Day 1 of my interaction with them, 3 months ahead of our tour was great. The team and their agents were very helpful in guiding us till the conclusion of our tour. They planned a family budget trip to Kashmir in detail and customized it according to our budget and preferences.
Our Kashmir Family Tour Package Details
Trip Type: Kashmir
Cost: INR 26,500
Duration: 5 days & 4 Nights
No. of people: 4 Adults and 0 Children
Inclusions: Breakfast, Dinner, Hotel, Vehicle, Transfers, Sightseeing, Shikara Ride, Airport transfers
Exclusions: Lunch, Flight
20 Best Hotels In Kashmir For Both Luxury And Budget Vacationers (2022)!
Itinerary Of Our Kashmir Family Tour
Day 1: Arrival at Srinagar and sightseeing tour
Day 2: Visit Sonamarg
Day 3: Visit Gulmarg
Day 4: Visit Pahalgam
Day 5: Leave Srinagar
Have a look at how our family trip to Kashmir turned out to be a wholesome journey in spite of being within our budget:
Mughal Gardens Sightseeing Tour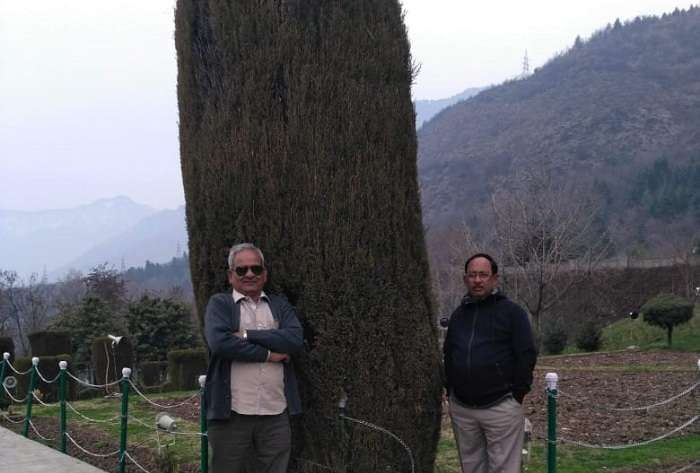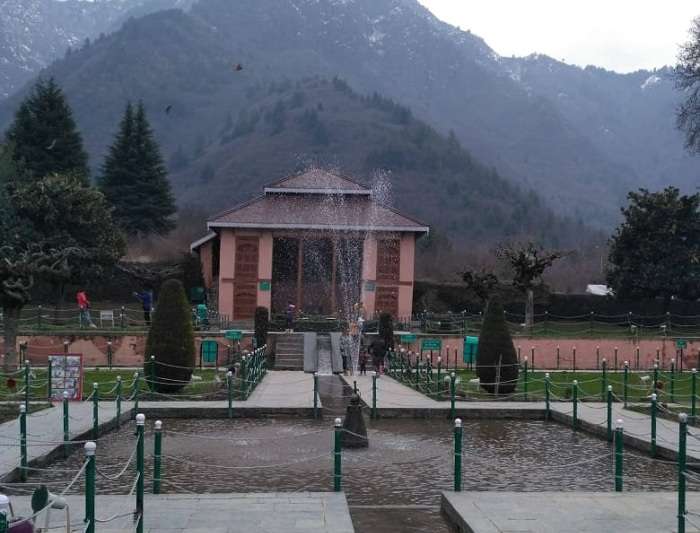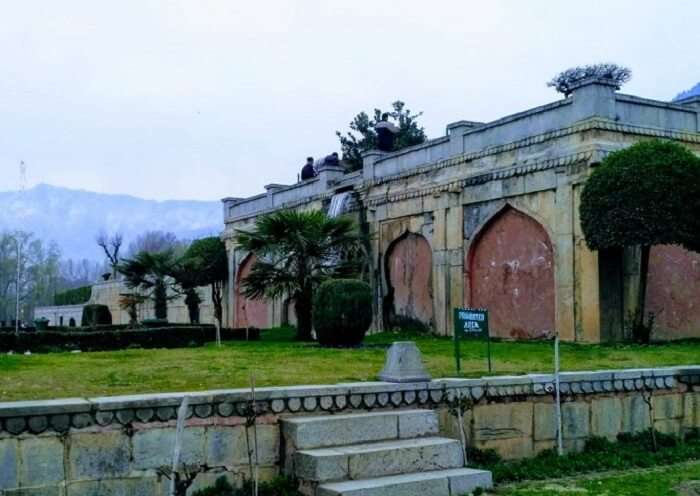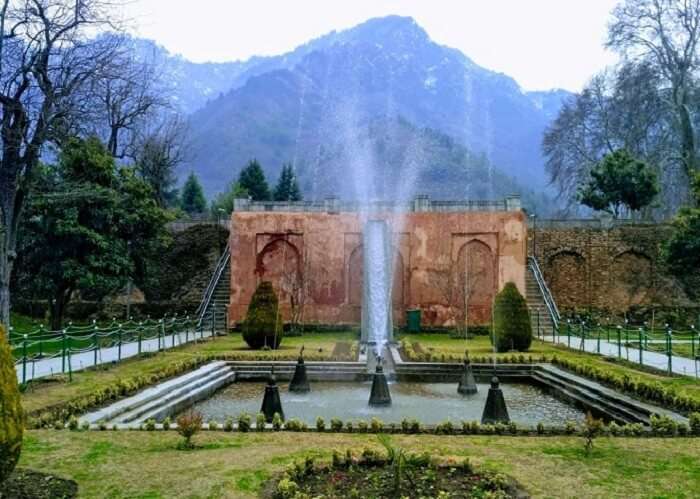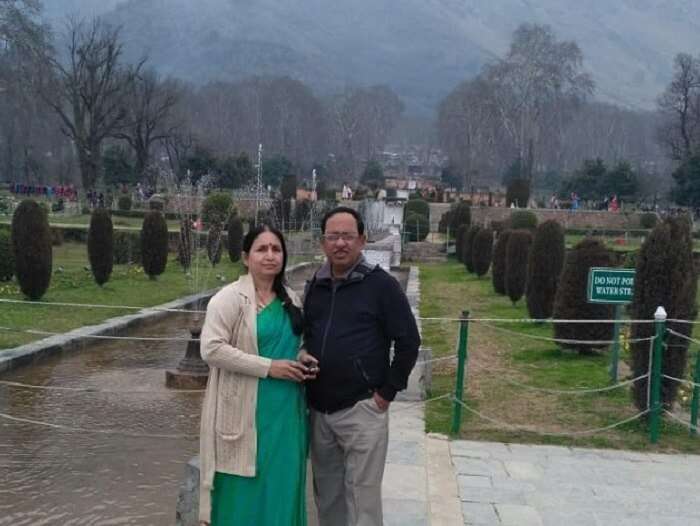 After a long flight from Hyderabad to Kashmir, we were a bit tired but our excitement level was on a big time high. Just the feeling of being in the 'Heaven on Earth' was amazing. So, we checked into our hotel, rested for sometime and headed out all prepared to be spellbound by the scenic magic of Kashmir. Srinagar is the largest city of Jammu and Kashmir, which meant there's a lot to explore here. Our first tour was to the Mughal Gardens which included a visit to the Chashma Shahi, Nishat Bagh, and Shalimar Bagh. Chashma Shahi is a beautiful one in the Zabarwan Range, built surrounding a spring. The view of the Pir Panjal mountain ranges with the Nishat Bagh in the foreground is highly picturesque. Located next to Dal Lake, this is the second largest Mughal garden in the Kashmir Valley. We also loved the time spent in India's largest Mughal Garden – Shalimar Bagh.
If you are visiting Kashmir, visiting these gardens have to be the first thing on your bucket list, as Jammu and Kashmir is blessed with some of the most gorgeous Mughal gardens in India. The aesthetics of these places will make your day, with flowers blooming in vibrant colors, lush greenery, and captivating fragrance surrounding you. The mountains make the perfect backdrop to this whole picture.
10 Magnificent Lakes In Kashmir That You Must Check Out In 2022
A Full Day Excursion To Sonamarg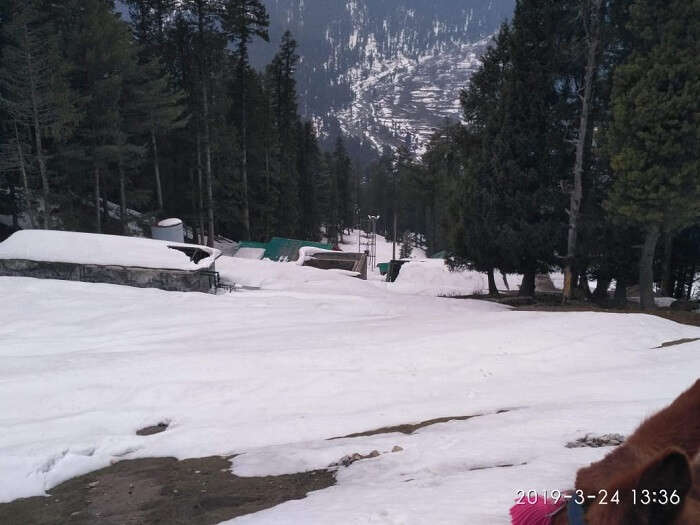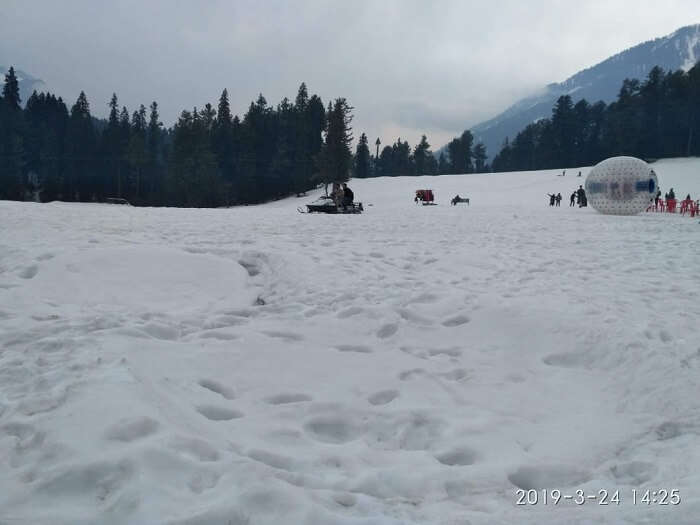 Our journey to Sonamarg started soon after breakfast. We reached this splendid valley through a 2 hours drive from Srinagar. Located at a height of 9000 feet above sea level, this hill station offers simply breathtaking views of the snow-capped mountains lined with piney trees. It seemed like 'Sonamarg', which translates to 'Meadows of Gold' had turned into a white-winter-wonderland on our arrival. And we were extremely overwhelmed seeing snow all around us. One of our best experiences here was the pony ride. We also clicked a lot of pictures to preserve this amazing experience as memories forever.
A Full Day Trip To Gulmarg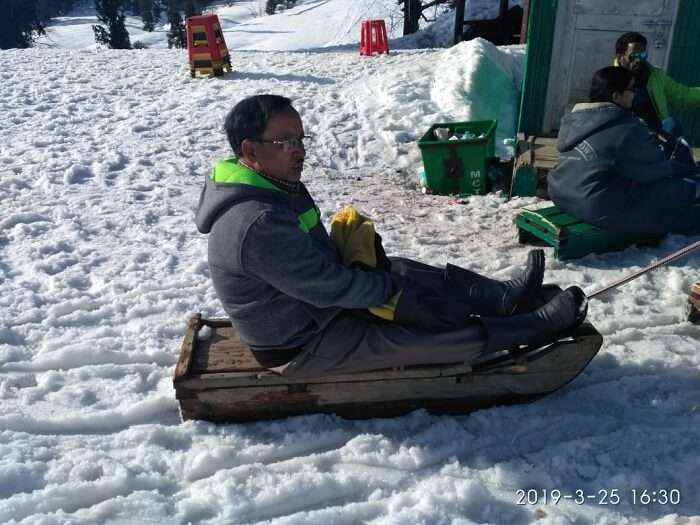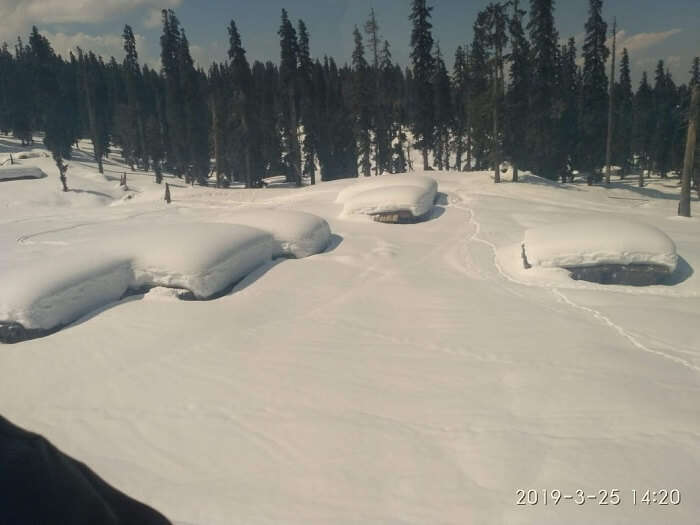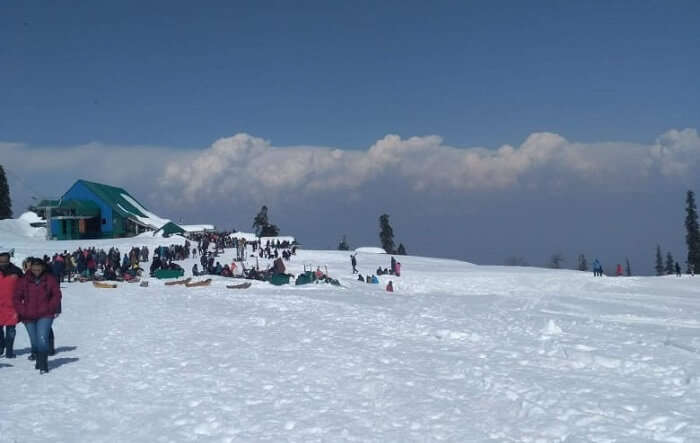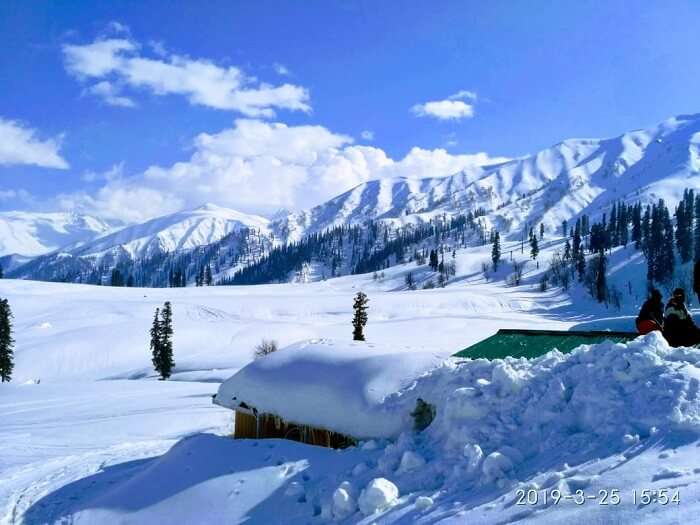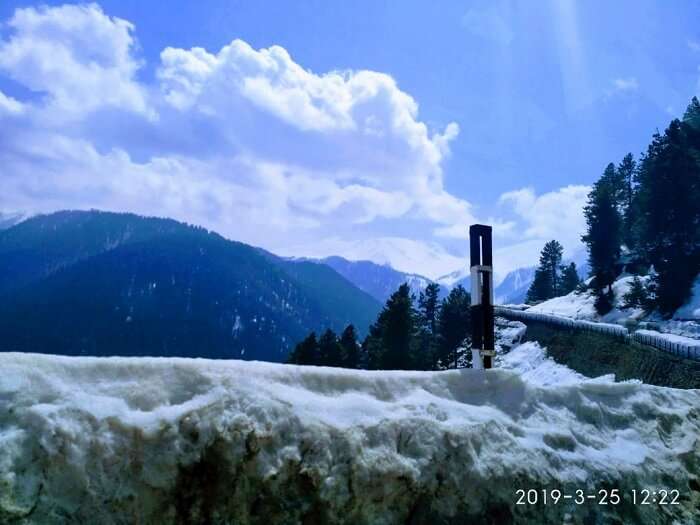 You must visit Gulmarg at least once in your lifetime. Gulmarg is located 60 km from Srinagar, and journeying through this snow laden route was a treat to the eyes. You would also be able to see Nanga Parbat if the weather is clear. In Gulmarg, we had a great time playing in the snow like kids. We also enjoyed the thrilling sledge rides on the snow. The Gondola cable car ride up to the Khilanmarg was also an amazing experience with mesmerising view of the Peer Panjal Range. Another interesting fact about Gulmarg is that it has the world's highest golf course and is also a skiing hotspot.
Bike Trip from Kanyakumari To Kashmir: A Ride Of Glory
Visit To Pahalgam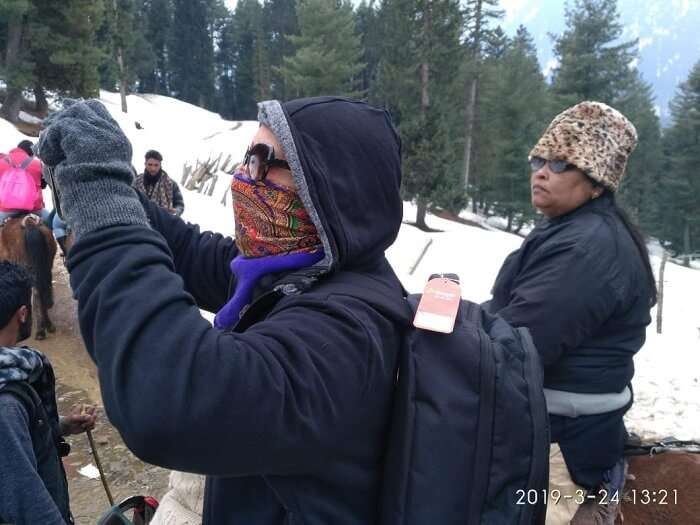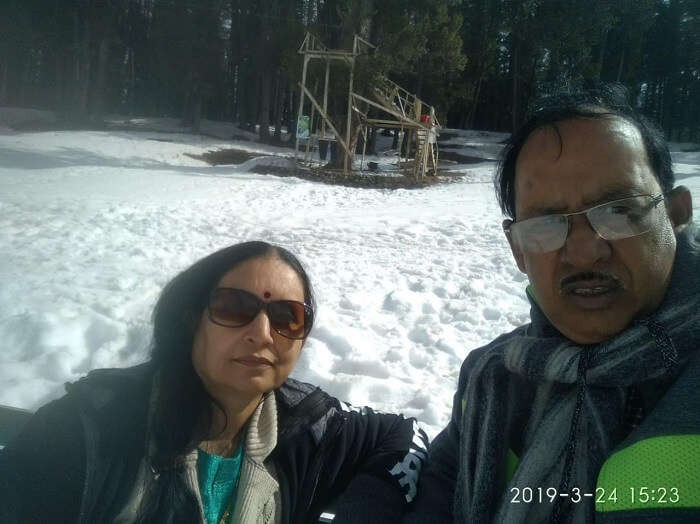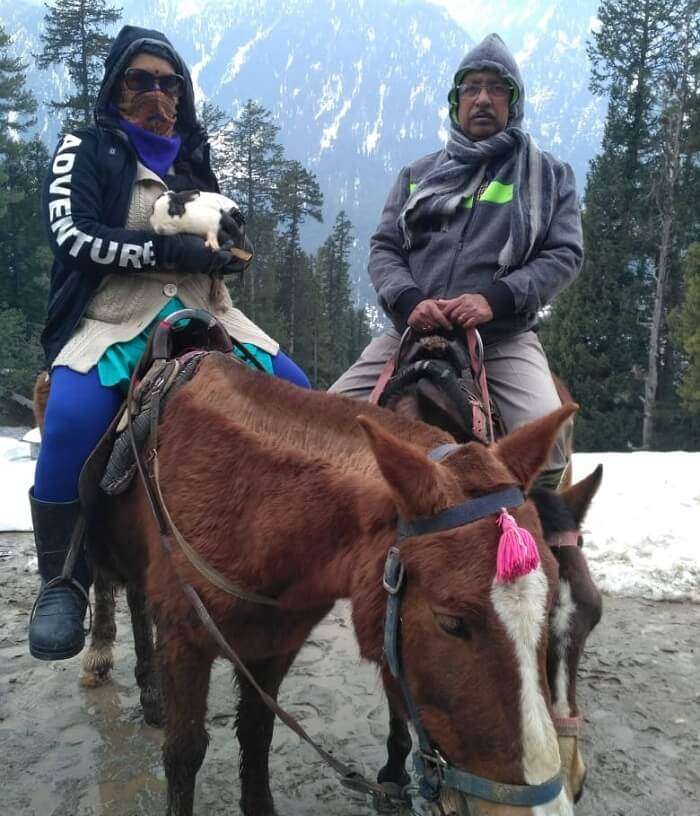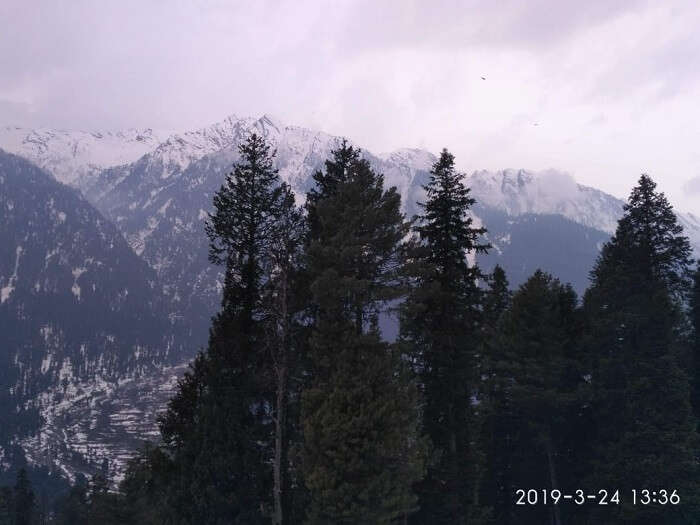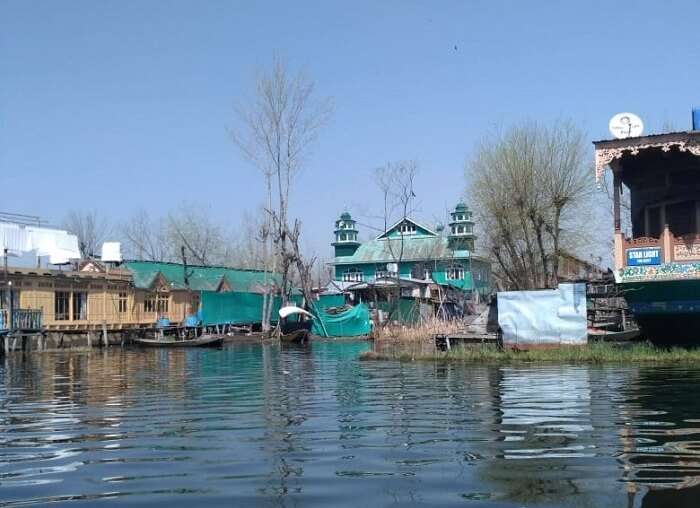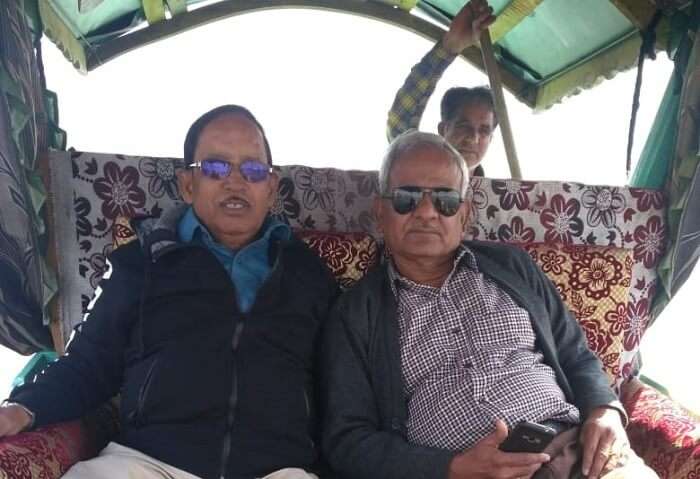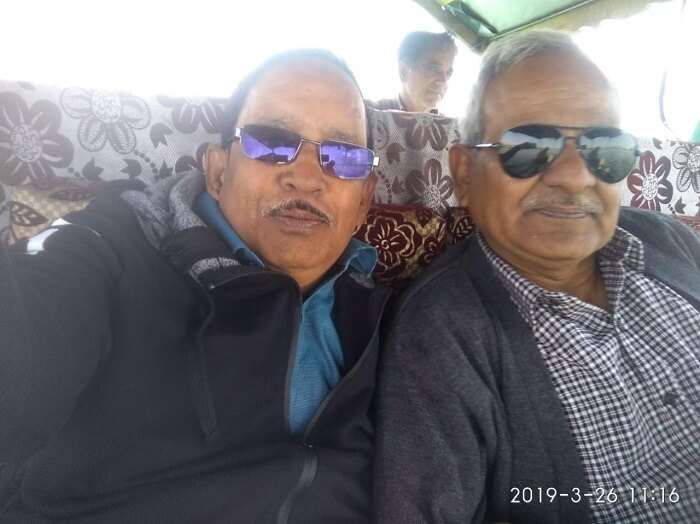 This is a serene town located about 100 kms from Srinagar which we covered through a 3 hour long drive packed with bewitching scenic views. On the way, we also visited Saffron fields and Mattan which is a holy fish temple. We also visited Awantipora, 1100 years old temple of Lord Vishnu. This wonderful ancient temple structure was built by Awantiverma. The hilly and rustic countryside and many lush rice fields made our journey simply unforgettable. The drive through the pine forest was also wonderful. After enjoying a delicious lunch at the hotel, we went out on a bridle walk and explored the place on our own.
After a refreshing day in Pahalgam, we returned to Srinagar and this was going to be our last night in this city. But there was more to this trip! We boarded a traditional houseboat and spent the night in the lake.
Travel Tips From Our Experience
Plan your Kashmir tour with reputed and reliable tour operators only
Some cab operators/driver may insist you to shop from certain shops or stalls. Don't feel compelled to do unnecessary shopping and only from places you are told
It is better to shop in Srinagar. And in case you are shopping on the to Gulmarg or Pahalgam, make sure you bargain for prices
It is better to visit Mughal Gardens during the spring season
10 Festivals In Jammu And Kashmir: A Peek Into The Rich Kashmiri Culture (2022)
Here Are The Answers To Some Of The Frequently Asked Questions About Kashmir
Q1. Is Kashmir safe for tourists?
Yes, I found Kashmir to be a safe holiday destination for travelers. Every year, large number of tourists visit this 'Heaven on Earth' to witness its awe-inspiring beauty. Not just its scenic beauty, but it's culture, food and shopping of its fresh farm grown products including fruits and dry fruits make this place worth visiting.
Q2. Which are the main tourist attractions in Kashmir region?
Gulmarg is one of the most popular places to visit in Kashmir and our personal favourite too. This snow laden paradise will spellbind you with its beauty. Pahalgam and Sonmarg are the other two most popular places to visit in Kashmir.
Q3. What is famous in Kashmir for shopping?
We had a good shopping experience in Kashmir, especially because we found that the vendors were friendly and genuine. One of the best shopping experiences was during the Shikara ride in Dal Lake. Vendors bring their boats close to your boat for selling things. The products may be a bit high priced here, but the whole experience is worth witnessing. Another thrilling place for shopping is the floating Meena Bazaar. And if you are looking forward to a budget shopping, Lal Chowk is one of the best places in Srinagar. Some of the best products to buy from Kashmir include Saffron, Dry fruits, kashmiri Tea,woollen clothing, wooden crafts, and handicrafts.
Q4. What is the main food of Kashmir?
Kashmiri cuisine is a very popular form in India. Rogan Josh and Dum Aloo are the most famous dishes of Kashmir. We would suggest you to surely try the tasty Kashmiri Yeast. Pakoras are popular snack in Srinagar and you get a variety of them. Kashmiri Pulav blended with local dry fruits is also a must try.
Q5. Which is the best month to visit Kashmir?
If you wish to witness snowfall, winter is the best time to visit Kashmir i.e. from December to February. And if you are coming on a honeymoon trip, then spring is also a great time to visit. Spring season in Kashmir lasts from March to May.
Q6. What do people wear in Kashmir?
Kashmir is a cold region so people are mostly dressed in winter clothes. Pheran is a traditional dress that people were here. And as a tourist, one can wear anything they wish to.
8 Lesser Known Secrets Of Kashmir That It Has Kept To Itself
Kashmir is truly a paradise with spellbinding scenic beauty. From Shikara rides to houseboat stays, from snow-capped mountains to colourful gardens, from dry fruits to authentic Kashmriri food, this place is full of astonishing experiences. Plan a family budget trip to Kashmir that makes you rich with such experiences without having to dig a hole in your pocket. Make some of the most unforgettable moments with your family like Raos did.