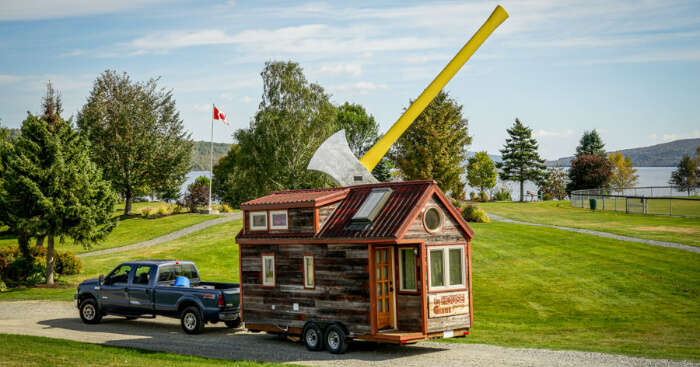 The couple from Long Island (both documentary filmmakers) fell in love with each other in North Carolina and decided to build a house that'll let them travel across the country. The tiny 130-square-foot house of Alexis Stephens and Christian Parsons has allowed them to travel across 36 US states and a Canadian province. They live a nomadic life now!
The couple first considered reducing the size of their house from American-sized homes that are around 2,500 ft when they came back from a road trip together. Parsons was the one who introduced the idea of not only down-sizing the house, but going super tiny.

Alexis said "Our personal journey to tiny living was born out of desire to simplify, create more flexibility and embrace everyday adventure."
They started the construction in the autumn of 2014, and it took them about 9 months to build the home. Stephens says that the construction was slow and long, but it was worth the wait and effort. The main challenge of the entire project was to build a house "on wheels", which comes with legal placement or parking issue.
Stephens says "Christian and I poured our hearts into the building of our tiny house, and it contains all of our belongings. The first time we took it on the road my heart was pounding, but the more we've done it, the less stressful it's become."


Although their wonderful house is small, but it has every essential thing they need during their travel. The tiny home has a kitchen, living space, bathroom, kitchen, a small refrigerator, and a small bedroom. If you're interested in their life and progress of their home, you can follow them on Tiny House Expedition.
Further Read: 15 Best Treehouses In The World That Make The Dreamiest Stay Ever