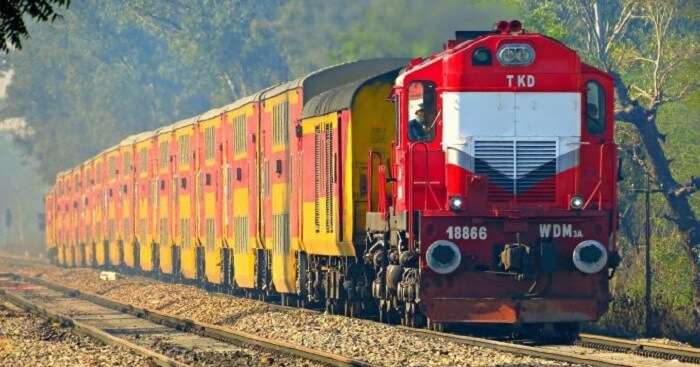 Continuing the expansion of rail network and enhancing the accessibility and comfort of travelers commuting from Bengaluru to Coimbatore, the Indian Railways is all set to commence Utkrisht Double-decker Air-conditioned Yatri Express (UDAY Express). The fully air-conditioned double-decker train, with chair car only, will be flagged-off on 10 June for its inaugural run. The flagging ceremony, it is believed, will take place on 8 June in Coimbatore. Firstly announced in Railway Budget 2016, UDAY Express trains, with their increased capacity, have been planned to be introduced into the system to ease off the traffic on the busiest route. The look and pantry of the train have been done up at Carriage Workshop, Perambur. UDAY Express comes loaded with features, many of which are one of their kind.
Highlights of UDAY Express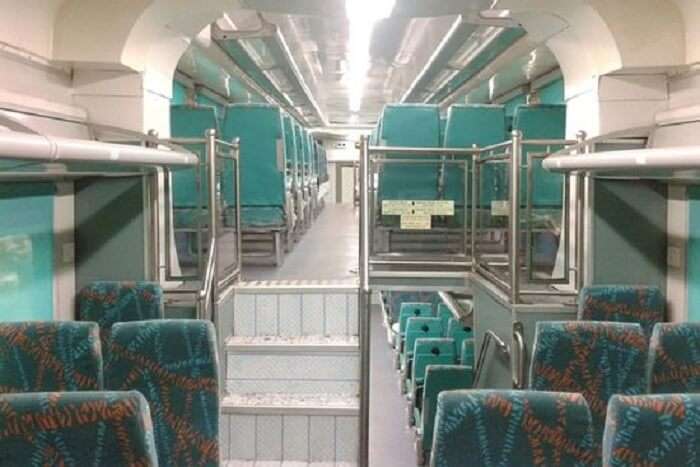 Fresh exterior look with anti-graffiti vinyl wrapping and additional mini pantry
First automatic food vending machine
Wifi based infotainment, GPS based passenger info system
Diffused LED lighting
8 double-decker coaches and two power cars
3 modified coaches for dining cum pantry area
Dining area to have automatic food vending machine
Powder-coated seats with snack tables for passengers
Coaches to seat 120 passengers (5 coaches), other 3 coaches to seat 104 passengers
LCD screens in every coach to display the upcoming destination
Top speed of 160 kmph if track conditions are desirable
Yellow and orange chosen to give the train a vibrant look
Seat upholstery to remain the same as that of Shatabdi
Spraypainted armrest and luggage racks
Toilets to be converted to bio-toilets soon
Coimbatore-Bengaluru UDAY Express to take 7 hours to complete the journey. Departure from Coimbatore at 5:40 am (all days except Monday), arrival in Bengaluru at 12:40 pm with stoppages at Tiruppur, Erode, and Salem.
The train to leave Bengaluru at 2:15 pm (all days except Monday) and reach Coimbatore at 9 pm (6.45 hours journey)
Fare will be equivalent to that of usual AC chair car train
UDAY Express schedule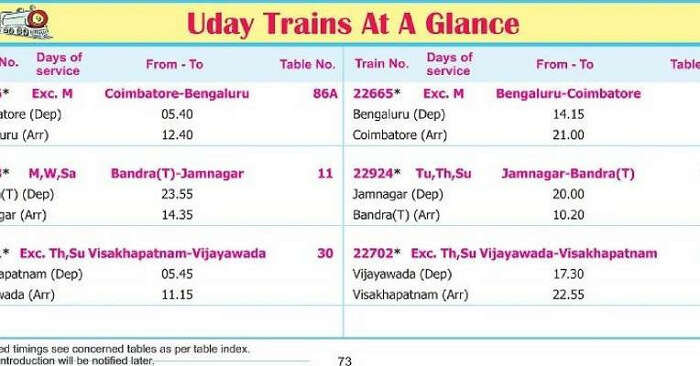 Indian Railways are in the pursuit of making hassle-free travel by trains, and UDAY Express looks just perfect for business travelers who travel from Karnataka to Tamil Nadu frequently. Indian Railways is going to begin services of two more UDAY Express trains soon. The trains will run on Bandra (T)-Jamnagar and Visakhapatnam-Vijayawada route.
I see more luxury and greater comfort! Indian Railways is definitely growing.