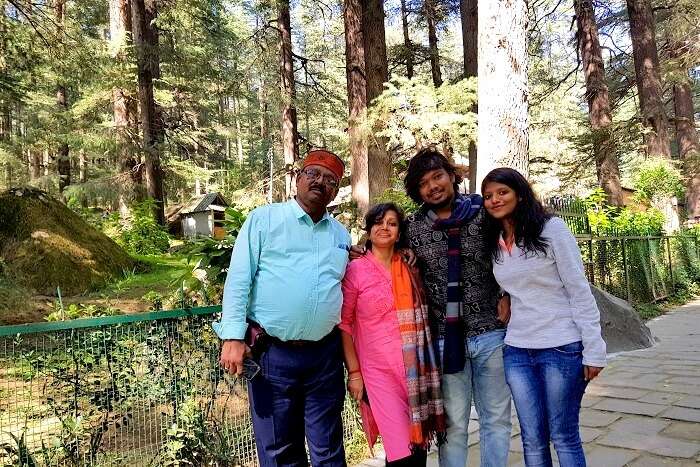 A refreshing retreat to the hills with loved ones was the perfect antidote from a taxing work schedule for a travel enthusiast like Abhijit. On a 5 nights/6 days family vacation in Himachal, they reveled in the beauty and tranquility of multiple hill stations in the Himalayas.
For quite a while, the travel-freak inside of me had been longing for an extravagant vacation to the mountains. Having been brought up in coastal Karnataka had its benefits and disadvantages. Serene and picturesque beaches were always just a walk away from home, but the mountains were always something that I had craved to see more of.
 Our Love For The Mountains Was Personified On A Family Trip To Himachal Pradesh
Details of our family vacation in Himachal
Trip Cost: INR 41,000
Trip Duration: 5 nights 6 days
Agent Name: North India Tours Travels
Inclusions: Transfers, accommodation, meals (excluding lunch), sightseeing, and taxes
Exclusions: Flights, lunch, adventure activities, and adventure sports
Our Himachal trip itinerary
Day 1: Road trip to Manali, arrival, and hotel check-in
Day 2: Drive to Kullu, river rafting, overnight stay at hotel in Manali
Day 3: Paragliding and indulging in local cuisines
Day 4 & 5: Transfer to Shimla, hotel check-in, and sightseeing
Day 6: Departure
A few weeks ago, I implored my parents to consider planning a family vacation in Himachal. Surprisingly, they were equally enthusiastic about all of us visiting snow-capped mountains. As soon we finalized the dates, I contacted TravelTriangle for Himachal family packages. Having traveled with them for three times already meant that I ha the utmost confidence in TravelTriangle providing us the most attractive rates with a flexible itinerary.
After merely a few days of correspondence, our package was finalized and all the trip formalities sorted down to the very last detail. All that remained was the packing of our bags and mentally launching ourselves into vacation mode.
Day 1: The cab journey uphill to Manali
Our family vacation in Himachal began with a morning flight from Bengaluru to Chandigarh. At the airport, the driver assigned to us was present at the exit gates. Before he would start our journey to Manali, we asked him to take us to a good restaurant for lunch- to which he duly obliged.
We finally began our journey to the Himalayas at 3 pm from Chandigarh. After a nine-hour long taxi ride filled with curves, scenic mountains, lush green plains, and quaint villages- we reached Manali at midnight. Needless to say, all we could do was unload our bags, trudge our allotted rooms and sleep the remaining night off.
Day 2: The ultimate adrenaline rush in Kullu
The next morning, we began our day with breakfast and then got ready for a trip to Kullu. Around noon, we arrived in Kullu and proceeded for river rafting. Although my family opted out of the river rafting activity, I was supercharged to do it nonetheless.
 A Fun-Filled 4 Days Solo Female Trip To Himachal
Since it was the month of September, the water was pretty cold, but thankfully the current was low. This meant that we had a good time in completing the whitewater rafting course as our raft bumped up and down the rapids towards the endpoint. After rafting, we went to inquire about paragliding but unfortunately, it was closed due to the strong winds.
From there on, we returned back to our hotel in Manali to end a really adventurous day on a family vacation in Himachal.
Day 3: Finally paragliding and some really delicious food
The next day, we were ready by 9 am for a day trip to Rohtang Pass. Although we should've reached Rohtang earlier, due to the traffic and the holiday rush it took us 5 hours to reach. After arriving in Rohtang, I saw a parachute flying across us into the valley grounds.
The wind conditions were perfect and the sun was out for a nice day of adventure on a family holiday in Himachal. While I was paragliding, my parents and sister decided to walk around the place and enjoy the scenic snow-capped mountains.
 Things To Do On A 7 Day Romantic Trip To Himachal
When we returned to Manali it was only 4 pm, so we thought of exploring the Mall road. The entire passageway of the road was filled with people and two-wheelers as the rush to buy something before Dussehra and Diwali.
Must mention: At Mall Road, Manali people must eat at the Chop Sticks Restaurant which served delicious oriental cuisine.
Day 4&5 Over to the majestic Shimla
The next day was pretty much all about traveling due to the long jams on our way to Shimla. Although, my sister and I made the full use of an opportunity to click some pictures of the natural scenery. We checked into the Shimla Greens Hotel at 9 pm, and rested for the night.
On the penultimate day of our family vacation in Himachal, we were scheduled to go for a day of sightseeing in Kufri. With all honesty, I recollect getting bored during the time we spent in Kufri.
The Level Of Thrill & Adventure Jayesh Experienced On His Romantic Trip To Himachal Is Unbeatable
There was not much to do in Kufri except getting on horseback and riding uphill to a small entertainment park called Kufri Fun World. Therefore, we cut short our trip to Kufri and returned to Shimla by lunch.
In the afternoon, we went for an impromptu visit to the Jakhu Temple in Shimla via ropeway. Later on, we finished our family holiday in Himachal by exploring the Mall Road in Shimla where we bought souvenirs, and fancy artwork for friends and family.
Must mention: The mall road in Shimla has a huge variety of shops, cafes, and restaurants of every kind. It felt like shops of a big city mall were laid out on a hilly terrain.
Day 6: The end of one adventure to begin another
The next day, we checked out of Shimla Greens Hotel to end our trip with TravelTriangle. From here I bid goodbye to my family as they boarded the cab back to Chandigarh, as I went on forward for 10 more days on a biking adventure to Spiti.
Although this was only half of what I would eventually end up seeing in Himachal, it certainly felt like the right start to a period of my life where I wanted to be a lot more adventurous. At times, bonding with my parents and sister over dinner didn't feel enough. This family vacation in Himachal, where we spent 6 days with each other, was exactly what I needed to feel more connected to the people I love the most.
 Snow Clad Mountains And Lush Green Valleys Inspire Tapan's Romantic Trip To Himachal
High points:
Seeing snow-capped mountains for the first time from such a close distance for my parents was the deal that redeemed their journey from Bengaluru to Himachal Pradesh.
The hotel in Manali was fantastic. It had great service and an incredible view of the beautiful mountain surroundings.
Low point:
The only thing that we wished we hadn't done on our family vacation in Himachal was to avoid going to Kufri altogether. There wasn't much to do over there and we didn't see spending an entire day in Kufri worth the effort.
A perfect family vacation awaits in Himachal. Book your Himachal family package to explore countless beautiful hill stations that are the pride of India!
---
Looking To Book A Holiday Package?
Book memorable holidays on TravelTriangle with 650+ verified travel agents for 65+ domestic and international destinations.
---