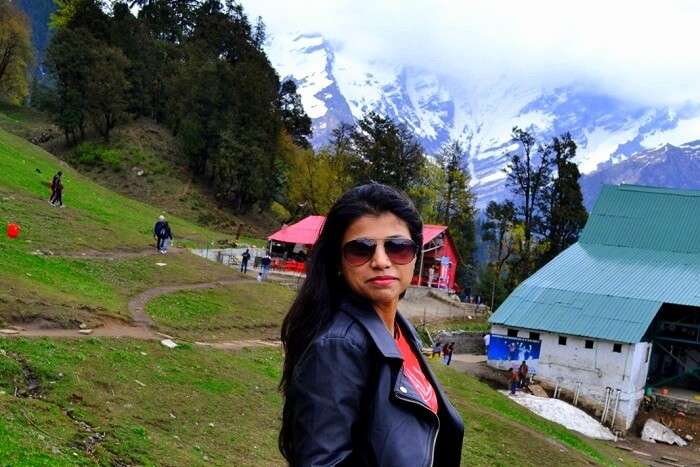 "Travel has a different meaning for everyone. For me, travel has always been about the feeling of freedom, happiness, and inspiration. It's about being able to visit a place, and connect to it on a spiritual level. When I travel, I love to explore new places and to discover the purpose of life."
Himachal Solo Trip Itinerary
Trip Cost: INR 14,500
Trip Duration: 3 nights/4 days
Agent Name: Treasure of Himalaya
Month of Travel: April 2017
Inclusions: Transfers, accommodation, meals (except lunch), sightseeing, return bus ticket from Delhi to Manali
Exclusions: flights, lunch, and activity fees
Throughout my life, I have traveled to many places across Maharashtra on weekend getaways, but my solo trip to Himachal will always have a special place in my heart. In the past few years, I have managed to cover almost all the significant beaches, temples, and resorts in Maharashtra. During my travels, I pursued my passion of photography and clicking pictures of all the beautiful things that inspired me.
Himachal, as a destination, always fascinated me because of its scenic mountains and serene valleys. There is so much to explore and visit in Himachal, that  I might need another 10 years to explore the state fully.
I was searching on google for different travel agencies and fortunately, I landed on the travel triangle website. The concept of customized holidays at competitive and negotiable prices really convinced me to buy a package from TravelTriangle.
Places To Visit On 4 Days Solo Trip To Himachal
I was particularly excited about this trip, as my solo adventures were about to expand beyond my usual trips in Maharashtra. I managed to get rid off the little anxiety that I had on my way to solo trip to Himachal by listening to some of my favorite Bollywood tracks.
Day 1: Sightseeing in Manali
I took a flight from Pune to New Delhi for my solo trip to Manali and followed that with an overnight bus journey to Manali. The next morning, upon my arrival, I checked into the Hotel Mohan Palace and got ready for a day of sightseeing.
I started my sightseeing tour by visiting the heart of Manali- Mall Road. My first impressions of the place were that over here, I can probably, shop-till-I-drop and have fun simultaneously. However, I had an itinerary to stick to and with that I moved on to visit the Hadimba Temple.
Things To Do On A 7 Day Romantic Trip To Himachal
Located on top of a hillock, the Hadimba Devi Temple is surrounded by thick deodar forests that provide a very scenic backdrop. Afterward, I traveled 6km from Hadimba temple to arrive at Vashisht temple. Situated across the Beas river, the village of Vashisht is famous for its hot water springs, and is a popular attraction among pilgrims.
Timings of Hadimba Devi Temple: 8 AM – 6 PM
Places to visit near Hadimba Devi Temple: Manu Temple, Ghatotkatch Tree Temple, Museum of Himachal Culture & Folk Art
I ended my sightseeing tour with a visit to the Tibetan Monastery which is 5 minutes away from Mall road. I also came across a few shops selling Feng-shui souvenirs and Kullu shawls at good prices for those who could bargain. In the evening, I returned to the hotel, had dinner, and rested for the night. The day one of my solo trip to Manali was truly amazing.
The Level Of Thrill & Adventure Jayesh Experienced On His Romantic Trip To Himachal Is Unbeatable
Day 2: An adventure trip to Solang Valley
This day, post breakfast, I boarded my cab and started for Solang valley. Located at an altitude of 2,560 meters, Solang Valley is famous for various adventure sports like skiing, parachuting and paragliding etc. On my way to Solang, I got incredible views of the snow-capped peaks and glaciers.
I decided to take part in thrilling paragliding and rope-way activities, for which I paid INR 1,200 and INR 650 respectively. A nice thing to see was the effect of digital India kicking in as they were accepting both card and PayTm payments.
Snow Clad Mountains And Lush Green Valley's Inspire Tapan's Romantic Trip To Himachal
Later on, I ran into some bad luck, as Rohtang Pass was closed due to heavy snow fall. Therefore, I decided to visit Gulaba where I went to the Nehru Kund. The locals believed that the Nehru Kund water had healing properties and many travelers were filling drinking water from its well. Tired and worn out after a long day of sightseeing, I arrived back at the resort satisfied with yet another beautiful day spent in Himachal.
Day 3: Seeing the beauty of Parvati valley in Kasol and Manikaran
The next day, I was scheduled to visit Kasol and Manikaran. A hub for backpackers and trekkers, Kasol was one of the places I wanted to strike off my bucket list for long. Mainly popular for a deep-rooted local culture of pot and hippie hues, there are many other things to do in Kasol even if you are not into either of those vices. The cute little village huts, lush green landscape, and the refreshing Parvati river made my journey to Kasol worthwhile.
Next up, I visited Manikaran, a pilgrimage center for Hindus and Sikhs. The place has temples dedicated to Lord Rama, Krishna, and a Gurudwara. The place is known for its natural hot-water springs and its beautiful landscape. The water is so hot that rice for the "langar" in the Gurudwara is cooked by putting it into a linen-bag and dipping it into the boiling water.
After having a delicious meal at the langar, I proceeded back to my hotel in the evening enchanted and awestruck by the beauty of Parvati Valley.
Their Amazing Family Vacation Proves Why Himachal Is Still The Perfect Hilly Holiday Destination In India
Day 4: Until next time, Himachal!
Family Trip To Himachal: Experiencing The Best Of Nature, Religion, & Adventure
Alas, the final day of my solo trip to Himachal had arrived. Since I wasn't supposed to leave till later in the afternoon, I decided to catch up on some lost sleep. I checked out of the hotel in the afternoon and boarded my bus for Delhi at 4 pm.
Hotel Review Of Hotel Mohan Palace
The hotel location was beautiful and situated away from the traffic of Manali. The ambiance was perfect, the food was delicious, and the hotel was safe and secure for a solo female traveler.
My trip to Himachal Pradesh was wonderful and a unique experience. Being born and brought up in Madhya Pradesh and working in Pune, seeing the snow-capped mountains were mesmerizing. My journey was one filled with adventure activities like paragliding and trekking.
Our Trip To Shimla-Manali In April Was Definitely A Good Idea & Worth Every Dime
The polite nature of the locals were heartwarming, which made my stay comfortable, Since I am a solo traveler and being a girl there are always safety concerns, Mohit from TravelTriangle was continuous in touch with me. TravelTriangle became a trusted website that I will always recommend to my friends and family to plan holidays through.
Wow Moments Of My Himachal Solo Trip
I will cherish the day I spent in Solang valley doing adventure activities like paragliding.
The trip to Manikaran via Kasol was completely bliss. Kasol was full of greenery and visit to the Gurudwara at Manikaran was memorable.
Himachal Travel Tips
If you are traveling solo, make sure you book through a trusted website that keeps a follow up with you.
Make sure you check temperature of the place you will be holidaying.
Make sure to carry basic medicines for cold.
5 Amazing Experiences To Be Explored In Manali In Winter 2022
The aura of the hills is incredibly irresistible. No matter how many times you visit Himachal Pradesh, you will fall in love with the place all over again. Whether it is a trip with friends, honeymoon, or solo soul searching, this place is absolutely safe and fun for all. Book your Himachal tour package and enjoy like Lovely did!
Commonly Asked Questions From Travelers
Is Kasol safe for solo travelers?
Kasol has become a popular place in the past few years. So, it is a safe place for solo female travelers. There is always plenty of young crowds visiting Kasol. So, if you are planning a solo trip to Manali, you can rest assured.
Why is Kasol called Mini Israel?
The main reason why Kasol is called Mini Israel is because there is inhabitation of Israelies in the region who have come from their country to relax in the backyards of the great Himalayans.
---
Comments
comments