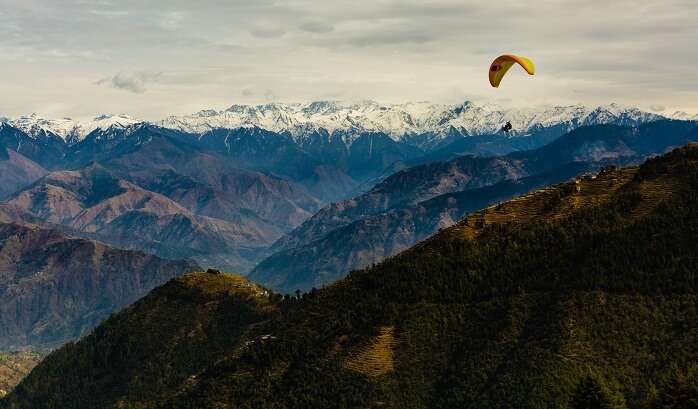 Shimla, a hub of the most popular hill stations is visited by hill lovers from all over the world. People flock year all year round to experience the outstanding views and scenic beauty offered here. Apart from this, Shimla is also widely known for being a favorite among adventure enthusiasts. This place ideally lets you experience the rush while you indulge yourself in the exciting sports available. The sports are a recreational activity that is being a favorite among all tourists. Adventure sports in Shimla has become one of the major attractions for tourists coming from all around.
Adventure Sports In Shimla Himachal
Let us discuss the wide spectrum of adventure sports in Shimla to help you plan your next trip effectively:
1. Camping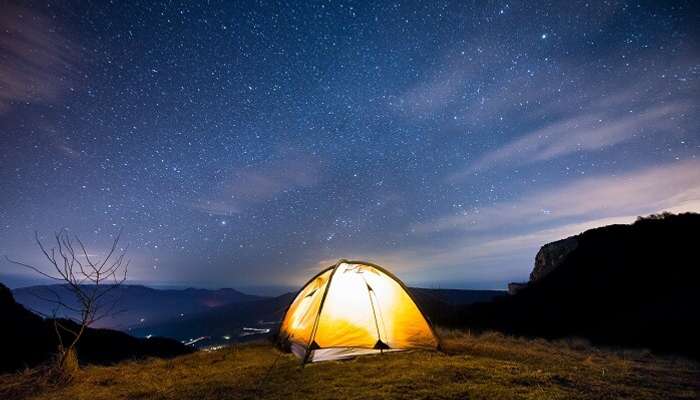 Whenever you think of camping activity, visit Shimla as it is the best place for doing so. It rightly offers the fun of camping and is situated in the lap of the vast expansion that nature has to offer. Mountains and streams surrounding the camping area where you can spend your time with the one you love. Camping in Shimla lets you camp below the starts while marveling at the beautiful sight of the surroundings. Accommodation in tents during camping offers the best experience.
Ideal for: friends and family
Best time: April to August, December to January
Cost: 2599INR – 11997INR
Location: jakhoo hill, Summer hills, Bantony hill, Observatory hill, Elysium hill
Stay options: Tents
Must Read: Trekking Near Shimla: All You Ever Wanted To Know About The 7 Surrounding Trails
2. Fishing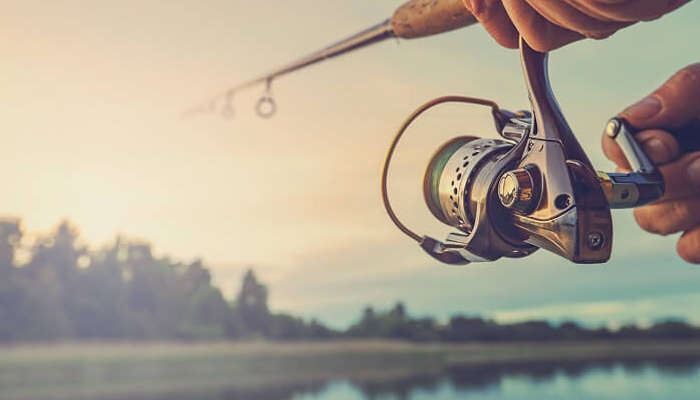 Fishing in Shimla is another popular recreation sport due to its wide abundance of shallow streams situated all over the place. These streams help the tourists to practice fishing as the popularity has named the place as 'Angler's Paradise.' Shimla is also known as the best treasure for sport fish with Rainbow and Brown, the best sport fish in the world available in abundance. Sangla valley in Shimla is also popular for its wide availability of trout population. Rohru, located in Pabbar valley, is one of the best spots followed by many others.
Ideal for: Friends, adults
Best time: March to June
Cost: 400INR onwards
Location: Rohru near Pabbar Valley, Tikri, Dhamvari, Seema, Mandil
Stay options: Cottages, camps, hotels
Suggested Read: These Resorts In Shimla Will Help You Plan A Scenic Escape In 2020
3. Trekking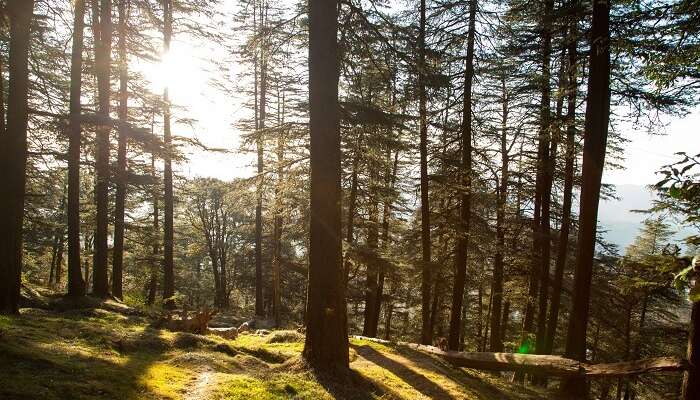 Similar to any other hill area, trekking is also one of the famous adventure sports in Shimla. The hill paradise is spread over a vast area in distinct mountain ranges of the Himalayas. The best part of trekking here involves performing heavy trekking or even opting for easy strolls in the woods. The best relaxing trek involves walking down the forest area in Jakhoo Temple, which is also popular for being the highest point in Shimla. Another recommended trek is trekking towards Banjar Valley Trek, which can be explored to experience the magical beauty of Shimla.
Ideal for: friends, youth and family
Best time: March to June, October to February
Cost: Starts from 1,650 INR
Location: Jakhoo Temple, Chadwick Falls, Kamna Devi Temple, Banjar Valley Trek
Stay options: Camps, cottages
Suggested Read: Nightlife In Shimla: Head To These Glamorous Places For A Memorable Time In 2020
4. River rafting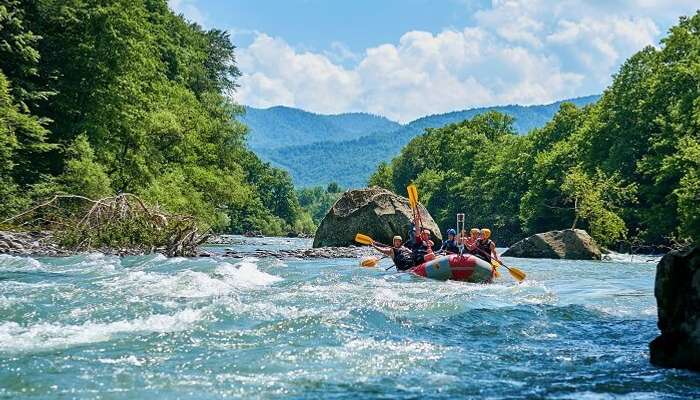 The scenic beauty is outstanding of this place along with the famous several streams and water bodies that make it a great place for water activities. One such water sport is river rafting that has become highly famous as a result of the rivers. The adventure sports in Shimla Himachal are usually preferred by youth and adults who feel a sense of excitement and rush when undergoing the activity. This is carried out in a rubber dinghy that is an inflated one. The cost of the activity usually varies depending on its duration. Chabba to Tattapani is the favored route of performing the activity.
Ideal for: friends, youth and adults
Best time: March to June, October to February
Cost: 1,500 INR per person for a stretch of 15KM. The raft can also be booked by a single person that would cost 6,000 INR.
Location: Chabba to Tattapani
Stay options: hotels, cottages
Suggested Read: Camping In Shimla: How About Some Adventure Instilled Romance In 2020?
5. Paragliding
There can never be any better paragliding activity than paragliding that lets you fly across the sky like a carefree bird. With time, this activity has caught up as being one of the best adventure sports activities in Shimla. It offers adrenaline rush while gliding through the air, which makes it a highly preferred activity among all/. Shimla calls its beauty as being undoubtedly one of the best, and thus a 360-degree view of paradise is worth it. It gets launched on lighter winds while needing less space to land. The activity is popularly done in Kangra valley that is a hub for paragliding activity.
Ideal for: Youth, adults
Best time: March to May, October to November
Cost: 2,500INR per person for a tenure of 15 to 20 minutes
Location: Kangra Valley
Stay options: Cottages, Hotels, Resorts
Suggested Read: Shimla Summer Festival: An Extravaganza For A Vibrant And Festive Atmosphere
6. Ice Skating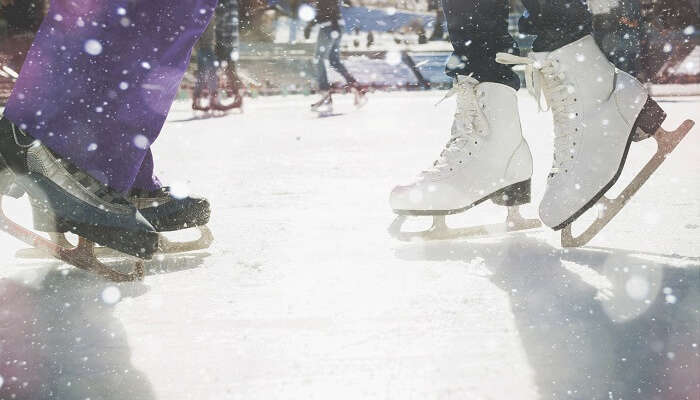 Shimla is extremely popular for the mountains that are covered with snow, especially in the winter months. The rink attracts a large number of tourists every year who reach Shimla to experience the amazing ice skating experience. The ice here is created with the help of a unique strategy adopted by the British. The forested hills are clad with thick layers of snow that make it an ideal place to perform the activity. The low temperature in winter months prevents the snow from melting, thus making this time of the year an ideal for ice skating. In addition to the mountains, there are also ice skating rinks available for beginners.
Ideal for: Youth, adults
Best time: October to February
Cost: 100 INR to 500 INR
Location: Lakkar Bazaar
Stay options: Resorts, Hotels
Suggested Read: 5 Best Places To Visit In Shimla In Summer To Escape The Scorching Heat!
7. Skiing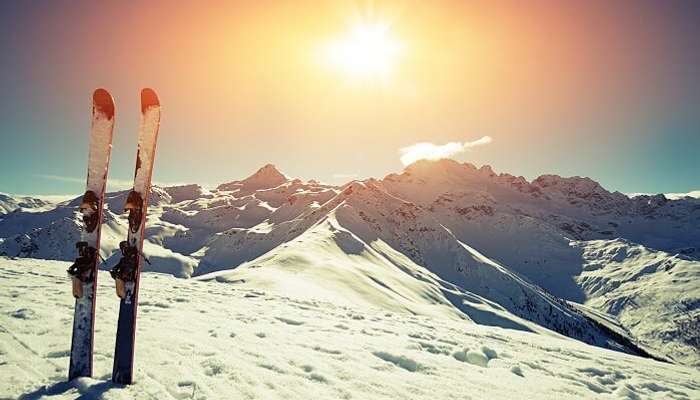 Shimla is famous for the snow-capped mountain peaks and its slopes that make skiing a popular adventure sport. Skiing in Shimla can be performed in a large array of places. Some of the major places where you can try skiing are Mahasu Ridge, located in Kufri and Hattu Peak in Narkanda. The lofty ranges make it ideal for tourists to try out the sport. The prime season of the activity starts from January and lasts till March, thus making it one among several top adventure sport in Shimla among the tourists. The place thus attracts a large number of ski enthusiasts and renders a memorable experience to all.
Ideal for: Youth, adults
Best time: January to March
Cost: INR 300 to 500 per person
Location: Mahasu Ridge, Hattu Peak
Stay options: Cottages, Tents
Suggested Read: 9 Boutique Hotels In Shimla Near Mall Road For Comfort And Ease Of Travel
8. Cycle tour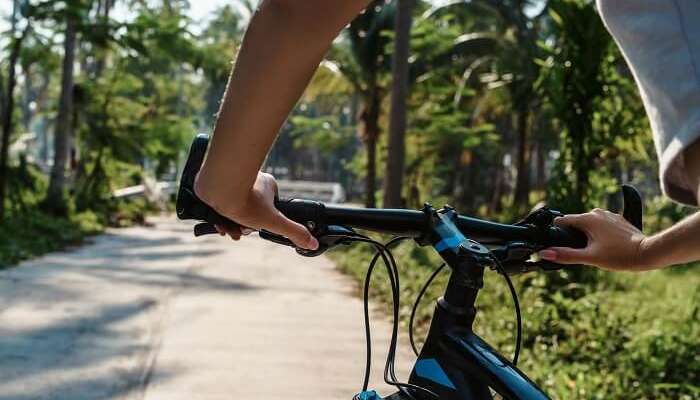 Shimla offers beautiful views, and nature lovers cannot seem to get enough of it. Cycle tour serves as a great way to explore the natural beauty along with the vast landscapes offered. Individuals looking for an ideal mode of relaxation can opt for green surroundings that can cycle through Shimla Water Catchment Wildlife Sanctuary. However, for this activity, you need to acquire prior permission from the Wildlife Department. On your cycle tour, you can meet eagles, leopards, and foxes. Hire a cycle to explore the wildlife well where you can easily spot varied species that include deers, monkeys, and leopards.
Ideal for: Friends, Couples, Adults
Best time: March to May, September to October
Cost: INR 200 per cycle
Location: NH 22, Charabra Mashobra
Stay options: Camps, Cottages
Suggested Read: Honeymoon In Shimla 2020: Guide To A Romantic Escape For Newlywed Couples
9. Mountain Cycling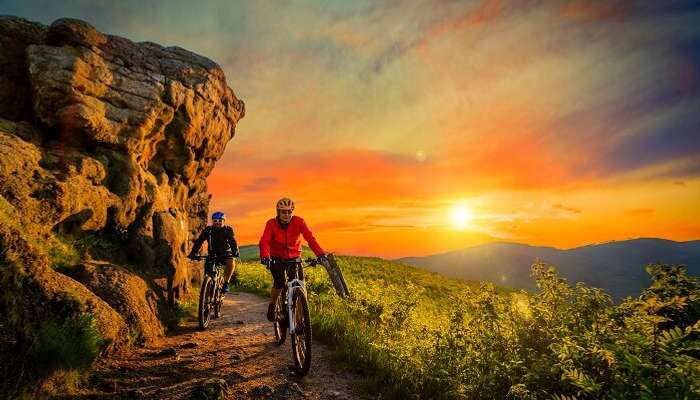 Similar to cycling, mountain biking is a popular activity among adventure enthusiasts visiting Shimla. You can rent the bike and explore the hill station as much as you wish to. It can be rented for 10 hours, starting from 9 am in the morning to 7 pm in the evening. You can make the best use of the bike while riding through the hill terrains while enjoying the fresh air intruding your soul. All you need to do is carry an ID proof to help you rent the cycle. This sport has become extremely popular in no time.
Ideal for: Friends, Couples and adults
Best time: March to Mat, September to October
Cost: Starts from INR 200 per person and is charged as per hours
Location: Cart Road
Stay options: Cottages, Hotels
Suggested Read: 5 Most Haunted Places In Shimla: Exploring The Eerie Side
10. Rock Climbing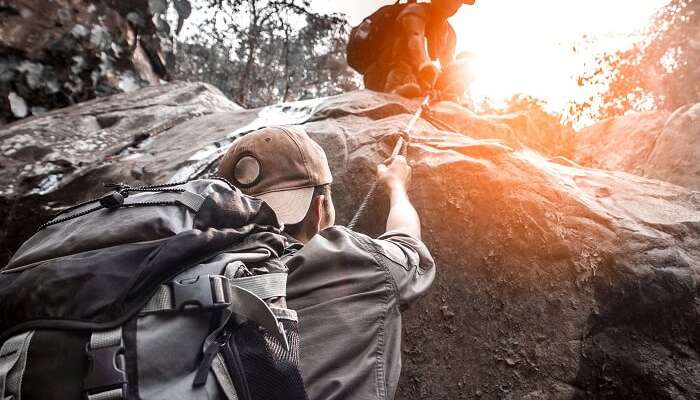 Shimla has diverse options for tourists seeking adventure, and rock climbing is one of them. It is a popular sport for individuals seeking offbeat fun. If you too are looking for experiencing the thrill of rock climbing, this is one of the best places to do so. Rock climbing is considered as being one of the best adventure sports in Shimla. While ascending the mountains, tourists can enjoy the snow-capped mountains and picturesque valleys that are a treat to the eyes. The bikes are designed in a manner that takes care of riding through the rough terrains. You are also provided with a safety harness and necessary measures to help you stay safe during the activity.
Ideal for: Youth, adults
Best time: June to September
Cost: 400 INR onwards
Location: Dhalli
Stay options: Camps, cottages
Suggested Read: These Cafes In Shimla Are A Heavenly Pit Stop For Food Loving Travelers!
11. Heli-Skiing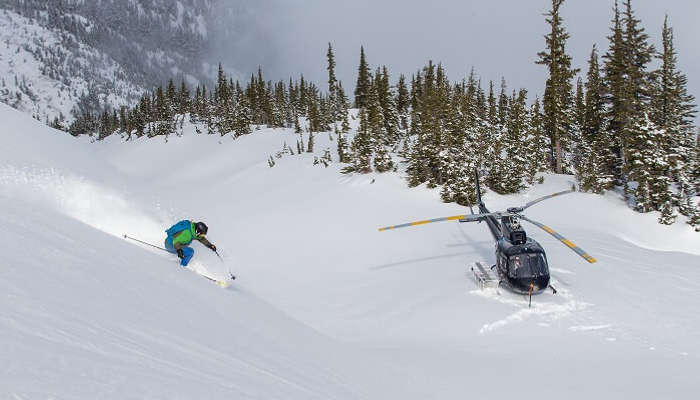 Winter blesses Shimla with varied adventure sports, and heli-skiing is one of them. This is a thrilling sport where you will be dropped by a helicopter on the top of a mountain while skiing all the way down. The helicopter lifts the adventurist from Manali while carrying them to a specified place and drops them for a thrilling experience. The slopes of Narkanda and Kufri are the best places for indulging in this activity while enjoying the natural beauty the place offers. It is offered by a private operator based out of Manali.
Ideal for: Youth and adults
Best time: January to February
Cost: 7 day packages start from 5,50,000 INR
Location: Hanuman Tibba, Rohtang Pass, Deo Tibba
Stay options: Hotels, resorts
Suggested Read: 11 Handpicked Resorts Near Shimla Which One Cannot Skip From Their List To Enjoy A Relaxed Vacay!
12. Hiking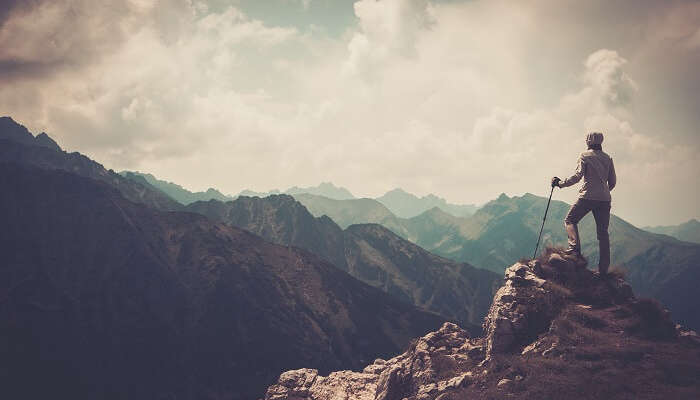 Shimla is known for its highest point, Jakhoo Hill, which is completely covered with Alpine trees. This is also famous for being the perfect escape for tourists who appreciate the calm and serene atmosphere and love hiking to it. The hilltop welcomes its tourists with a colorful temple and Hanuman statue that has been constructed off late. However, the tourists are recommended to beware of monkeys who tend to snatch the food.
Ideal for: Friends, couples and adults
Best time: March to May, October to November
Cost: No such cost, only equipment cost (100 INR onwards)
Location: Jakhoo Hill
Stay options: Camps, cottages
Further Read: 13 Places To Visit In Shimla In December 2020
Adventure sports in Shimla should be the next item on your bucket list if you haven't already done all of them. Shimla, home of snow-capped mountains, valleys, and mesmerizing beauty, serves its tourists with joy by offering several activities at reasonable prices. Make your own list of the activities you wish to do and plan your trip to himachal pradesh with TRavelTriangle and have a great time.
Frequently Asked Questions About Adventure Sports In Shimla
Q. What is the best time to visit Shimla?
A.The best time to visit Shimla is the summer season, from March to June. You can also visit during the winter, from November to February to enjoy snow adventure sports.
Q. Is Heli skiing done in Shimla? Is it expensive?
A. yes, Heli-skiing is done in Shimla by a private operator. Yes, it is expensive than other adventure sports that are done in Shimla.
Q. What can one do in Shimla?
A. One can do a large array of adventure sports, golfing in Naldehra, shopping at the Mall, strolling at Lakkar Bazaar, ride a Toy Train, and enjoy the beauty.
Q. Is adventure sport in Shimla worth the price?
A. Yes, adventure sports in Shimla are completely worth the price as you can enjoy diverse adventure sports offered in several locations.
Q. What is the average cost of adventure sports in Shimla?
A. The average cost of adventure sports in Shimla starts from INR 100 and goes up to 6000.
Q. What adventure sports are offered in Shimla?
A. A wide array of adventure sports are offered in Shimla, which includes river rafting, rock climbing, trekking, paragliding, fishing, ice skating, skiing, heli-skiing, mountain biking, cycling and so on.
Q. From where can one do heli-skiing in Shimla?
A. One can enjoy heli-skiing in Shimla from a private operator who is in charge of this sport in Manali.
Q. Which is a good adventure sport for couples?
A. Couples visiting Shimla can enjoy several adventure sports such as mountain biking, camping, hiking, trekking, cycling, fishing, and others.
---
Looking To Book A Holiday Package?
---
People Also Read:
Adventure Sports In McLeodganj Best Adventure Destinations In India Adventure Sports In Gangtok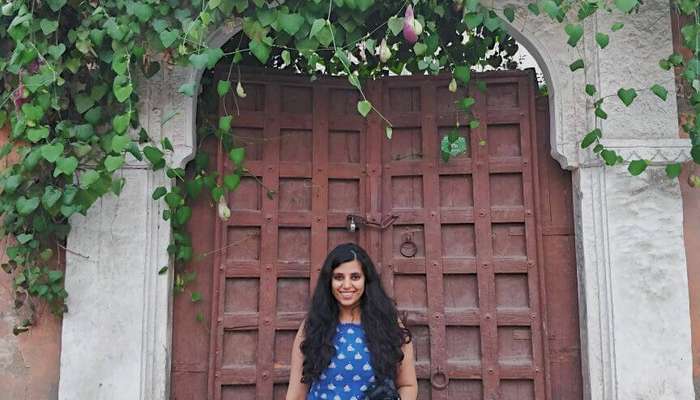 Comments
comments